Some links on this page are monetized by affiliate programs - see disclosure for details.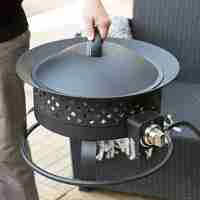 As summer comes to a close each year, a lot of people feel sad that the season is ending especially in areas where temperatures begin to drop. Shorts, flip-flops, and swimming pools are a thing of the past until the next summer rolls around. When fall comes around, there are many things to look forward to including Halloween, Thanksgiving, beautiful changing leaves, and refreshing outdoor temperatures.
Bonding with family and friends at cookouts and pool parties moves aside for autumn-friendly activities like carving pumpkins, visiting the apple orchard, and sitting around a bonfire. To turn your home into the ultimate fall retreat, all you need is a fire pit for your backyard.
Compare: The 10 Top Rated Fire Pits of 2020

Outdoor Fire Pit Shopping Guide
A fire pit is something that is used to easily and safely build a fire in your own yard. With one of these pits, you don't have to worry about burning up your grass and ruining your landscaping, and you won't have to feel worried about a dangerous fire that can quickly get out of hand. These pits are the perfect way to sit outdoors and enjoy the cooler temperatures with your loved ones without risking your safety or putting your property at risk. Some are even decorative and add curb appeal by your pool or anywhere in your yard.
What are the Benefits of an Outdoor Fire Pit?
Your home can be the perfect place to snuggle up in a warm sweater while enjoying fresh air when you add a fire pit to your outdoor décor. These are great for outdoor fall parties, enjoying in the cooler days of spring, or using for roasting marshmallows during a summer gathering. These pits keep a fire contained at just the right size, and while they do need to be monitored while not in use, they prevent a fire from easily getting out of control. These provide a warm ambiance to your yard, and a pit is perfect for almost any outdoor gathering.
What are the Different Types?
If you want to liven up your yard, a fire pit is the ideal thing to add. If you've never purchased one before, it can be difficult choosing the right one for your outdoor space. In order to make sure you purchase a pit that is functional and looks great in your yard, you first need to understand the types available for purchase.
Portable campfire pits – If you camp out often, and you don't want your fire to get out of control, a portable pit is the right option for you. These work with small propane tanks, so they light easily every time, they don't make a mess, and they're ideal for roasting marshmallows, lighting your campsite, or for keeping campers warm.
Fire bowls – These are small, portable pits that you can place anywhere in your yard. They do not require gas, so you can put them anywhere outdoors. They are lightweight, easy to move, and can be used to build a wood-burning fire without the hassle, mess, and potential danger of starting one on the ground.
Fire tables – These function just like traditional pits with the added bonus of having a table. Some are smaller, designed like coffee tables, while others are larger for dining or just chatting with friends.
Gas-powered pits – Instead of fussing with wood fires, these can be hooked up to LP gas or used with propane for a quick, safe fire for any occasion.
Which Fire Pits are the Best on the Market?
Landmann USA 28905 Super Sky Fire Pit – This model is perfect for anyone on a budget. It is a smaller size so it can fit in smaller spaces outdoors, but it is large enough to create a warm fire for any outdoor gathering. The moon and star design gives this a decorative look that is perfect for any backyard, while the price tag won't drain your bank account.
Blue Rhino GAD860SP LP Gas Outdoor Firebowl – This is an excellent addition to any deck or patio. Not only is it a fully functional fire pit, but it's also a slate and marble table that can be used to hold your drinks or just to sit around and shoot the breeze with your loved ones. You won't have to worry about cleaning up ashes or struggle to start a fire, as this works with a liquid propane tank.
Uniflame GAD1380SP LP Gas Outdoor Firebowl – This model combines the beauty of fire glass with a decorative tile table top to increase the wow-factor of your backyard. This model from Uniflame is easy to use, works with an LP tank for easy starting every time, assembles easily, and is sure to impress your friends and family.
Features to Evaluate
Before you make your purchase, there are a few things to consider. You may already have a list of must-have necessities for your future purchase, but also take into consideration these four features to ensure you make the right purchase for your home.
Type
You'll find that wood-burning pits are much less expensive than those that work with natural gases. However, they can be more difficult to start and may be more dangerous. Consider purchasing a model that can be used with a gas tank if you want a pit that's easy to start and stop and doesn't have as much mess but does cost more money.
Warranty
You don't want your product to fall apart the minute you take it out of the box or after a use or two. If something is wrong with the construction or components of your pit due to no fault of your own, you won't lose your money when you have a manufacturer's warranty backing your purchase.
Accessories
An inexpensive pit may seem like a wise investment, but if it doesn't come with a cover, spark shield, or other accessories, it may end up being much more expensive than other models that come equipped with everything you need. Look for a list of accessories that come with the pit prior to investing your money.
Type
Landmann USA 28905
In order to create a warm, inviting fire, you will need to use wood in this product.
Blue Rhino GAD860SP
This model operates with liquid propane, so it's easy to light and has less mess.
Uniflame GAD1380SP
LP gas is used to power this pit.
Warranty
Landmann USA 28905
You'll receive a 90-day manufacturer's warranty with your purchase.
Blue Rhino GAD860SP
You receive a 1-year warranty with the purchase of this model.
Uniflame GAD1380SP
Your purchase is backed with a 1-year limited warranty with the purchase of this model.
Accessories
Landmann USA 28905
You'll receive a spark guard and a poker with the purchase of this pit.
Blue Rhino GAD860SP
You'll receive a protective cover to keep your pit safe from the elements with the purchase of this model.
Uniflame GAD1380SP
This comes with a decorative white glass kit and protective cover.
Final Results: See The Best Outdoor Firepits
A great fire pit doesn't have to come at a high price, as shown by this model from Landmann USA. This pit is great for any backyard. It is made with sturdy and durable steel for years of use, and it has a great star and moon design that adds the perfect decorative touch to dress up your yard. It has a large 36" bowl that provides you with the right amount of space for a fire that will keep you and your guests warm or can be used for cooking.
This pit has a handle that spans the full diameter, so it's easy to move from place to place or take along with you on a camping trip. It comes with a spark screen to keep you and your property safe, and a poker to keep the fire going for hours. It also has a very affordable price tag, making it a great choice for the budget-minded consumer.
Pros:
It is affordable.
The moon and star cutouts are unique and add ambience to your outdoor gathering.
It has a large cooking area.
Lightweight and portable.
It is made with durable steel.
Cons:
Cooking grate and cover are sold separately, leading to additional expenses.
The spark cover rusts easily.
The paint begins chipping over time.
Wood fire pits can be a pain. You have to get the wood, start the fire, and clean up the mess afterwards. You can avoid all of that by purchasing a pit that operates using LP gas, like this model from Blue Rhino. This model is the perfect combination of functionality and beauty, boasting a slate and marble tabletop that makes this a real conversation piece.
This model has an electronic ignition that makes it easy to start, and the control panel is hidden so you have the illusion of a wood-burning fire without the hassle and the mess. This operates at 40,000 BTUs, so it puts off enough heat to fight the chill on the coolest nights.
Pros:
It has 40,000 BTUs, enough to put off plenty of heat.
The porcelain bowl and slate and marble top are very durable.
The electronic ignition makes it easy to light.
It has attractive styling.
It's easy to assemble.
Comes with a great warranty.
Cons:
It is a bit expensive.
The propane tank is sold separately, incurring additional costs.
It isn't as sturdy or as well-made as more expensive models.
The cover is very thin and feels cheap.
Add beauty to your patio, deck, backyard, or any outdoor spot with this model from Uniflame. This model works with LP gas, so you don't have to worry about cleaning up after your party or gathering. It has an electronic ignition that gets your fire started in just seconds. It has a hidden control panel to keep it streamlined and neat.
This model has a tile mantle that looks great and adds a little something extra to your outdoor gathering spot, and it comes with a white glass kit to add an amazing effect to your burning fire. Assembly is simple and doesn't require tools, so you can begin enjoying your pit in no time at all.
Pros:
It is well-designed for beauty and durability.
It is easy to light.
Large enough for any outdoor gathering.
The white glass is included and looks great.
It comes with a sturdy cover for protection.
Makes a great conversation piece.
Cons:
It is expensive.
It may rust easily if not protected with the cover.
The control panel is a bit awkward to use.
Conclusion
When you're ready to enhance your backyard, a fire pit is the way to go. These make it easy to enjoy time outdoors with friends and family when the temperatures drop, although they can also be used in warmer weather to add ambient lighting. If you're looking for a pit that truly has it all, you can't go wrong with the Uniflame GAD1380SP. Despite its higher price tag, it mixes durability with beauty that makes this a great investment for any household.