Some links on this page are monetized by affiliate programs - see disclosure for details.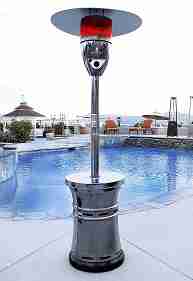 If you live in a home with a patio, you may know just how enjoyable it can be in the warmer days of spring and on hot summer days. Whether you kick back in a lounger and soak up the rays, hold a neighborhood barbecue for your family and friends, or you relax by the fire pit at night, your patio can be a very relaxing or entertaining spot during the nicest days of the year. However, it may seem as though when the temperatures drop, it doesn't get as much use as it should.
On the first days of spring or during the chilly fall season, your patio may sit unused because it's just too cold to go outdoors. Instead of using your patio just a few months out of the year, why not make it a year-round outdoor spot with the addition of a few patio heaters?
Compare: The Top 10 Best Patio Heaters of 2017

Introduction: What is a Patio Heater?
A patio heater is a type of space heater that is designed to be used outdoors. When it gets chilly outside, you and your guests may feel the need to move the part indoors where it's much warmer. With these heaters, you can stay outside in comfortable temperatures.
These are designed exclusively for outdoor use, so they're resistant to the elements, they're easy to use, and they help raise the temperature around you, so you can stay comfortable even when it's cool outside.
What are the Advantages of Using a Patio Heater?
You'll get more use out of your outdoor space when you add a patio heater. You won't have to take your family gatherings or relaxing evenings indoors when the sun goes down. Instead, you can stay outside, fire up your heater, and keep yourself and your guests warm despite the chill in the air.
Many of these heaters also have attractive styling, so they easily blend in with your outdoor furnishings and décor, and may even enhance your yard.
What are the Different Types?
Now that you've decided that you want to get more use out of your outdoor space, you might be inclined to rush out to purchase a new heater. Not so fast – you want to make sure that you get the right heater for your home. Before you make a big purchase, first stop and consider the three different types of heaters on the market.
Tabletop – These are the smallest on the market, and as the name suggests, they are designed to sit on top of a table. Not only do they put out heat, but they also enhance your table's décor. These are small, lightweight, and portable, but the big drawback is that due to a smaller size, they do not put out a lot of heat, so they are best used in smaller spaces.
Freestanding – These are very large and are designed to sit by themselves on the ground. Because they are so big, they cover a larger area, so they're great for use around a patio or pool deck. These do require a lot of space, however, so they're not ideal for very small spaces. They're also typically more expensive than other types.
Wall-mount – If you don't want to take up your floor space, you can purchase these, which are safely mounted on a wall. These produce a lot of heat and don't take up any needed floor room. However, they may be hard to install on certain types of walls, such as brick.
Which Patio Heaters are the Best Patio Heater on the Market?
AmazonBasics Havana Bronze Patio Heater – Dine outdoors with your family or enjoy a gathering with friends no matter how cool it is outside, all without breaking your budget with this model from AmazonBasics. Standout features of this model include an easy-start design, a durable and attractive finish, and wheels to easily transport it where heat is needed the most.
AZ Patio Heaters Patio Heater – This heater is more than just good looks. In addition to its modern design that complements any patio, this also puts out loads of heat to keep you and your guests warm and toasty. The propane tank is easily accessible, yet hidden so as not to detract for the look of this heater, and it also comes with wheels that make moving it easier than ever.
Lava Heat Italia LHI-ALTO-48BTU-GM-LP – This standout model not only looks great on your patio, but it heats efficiently, providing more warmth than you'll get with those cheaper heaters. This model looks great, heats well without using excess gas, and can even be hooked to your gas line for continuous use.
Features to Consider
If you want to get more use out of your patio with a heater, it's time to start shopping. Before you dive into a purchase, though, you'll want to make sure that you know exactly what you're purchasing. You want to get the most use out of your product, and by being more informed of what to look for and knowing exactly what you want, you'll be truly satisfied with your purchase. You can start with these four features, as well as anything that is most important to you.
Price
You always need to consider price before you make your purchase. However, it should never be the determining factor. After all, you don't want to purchase something just because it's cheap, but it doesn't heat your whole space or doesn't look quite the way you want it to. Consider price, but make sure that you look at all other features and factors before making your purchase.
Warranty
It is not unreasonable to expect your product to work right out of the box. You should also be able to get plenty of use out of it if you're using it correctly. If you find that your heater stops working or never works at all, don't get stuck with a lemon. Instead, get a replacement or repair at no cost to you by taking advantage of a manufacturer's warranty that protects against defects.
BTUs
How many BTUs a heating unit puts out determines just how hot it will be. With higher BTUs, the air will get warmer, and more air will be heated. If you are heating a large space, you'll need a unit with high BTUs. If you opt for a smaller one, you may need two or more to more efficiently heat the space.
Gas Source
Most of these outdoor units run on a simple propane tank, which makes them more portable and easy for anyone to use. However, some can be hooked to natural gas lines so you don't have to worry about replacing empty tanks or running out of gas in the middle of your party.
Price
AmazonBasics Havana
This is a standalone unit that produces plenty of heat at a great price.
AZ Patio Heaters
This is a mid-priced product that comes with a price tag of right around the industry average.
Lava Heat Italia LHI-ALTO-48BTU-GM-LP
This pricey product is one of the more high-end units you'll find.
Warranty
AmazonBasics Havana
Your product is protected with a 1-year limited manufacturer's warranty.
AZ Patio Heaters
You'll receive a 1-year limited warranty with your purchase.
Lava Heat Italia LHI-ALTO-48BTU-GM-LP
This comes with a 5 year warranty, one of the best in the business.
BTUs
AmazonBasics Havana
This has a heat output of 46,000 BTUs.
AZ Patio Heaters
This cranks out 40,000 BTUs to provide plenty of heat for your outdoor space.
Lava Heat Italia LHI-ALTO-48BTU-GM-LP
This has an output of 48,000 BTUs.
Gas Source
AmazonBasics Havana
This unit uses a propane tank, which is sold separately.
AZ Patio Heaters
This unit is used with a standard propane tank, which is sold separately.
Lava Heat Italia LHI-ALTO-48BTU-GM-LP
This can be used with a propane tank or it can be converted to use with natural gas lines.
Our Patio Heater Reviews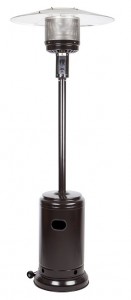 Update the look of your outdoor space while providing heat during the cooler days and nights with this unit from AmazonBasics. This not only provides 46,000 BTUs of heat, but it also comes at an affordable price. This is the ideal addition to any budget-conscious consumer's yard.
You'll have your pick from two great colors to enhance your outdoor décor: Slate Grey and Havana Bronze. This measures a full 18 x 89 inches, but don't be fooled by the size, as it comes with wheels to make it very portable. Other notable features include a sturdy base, auto shut-off option for safety, a Piezo ignition that makes it very easy to get it started.
Pros:
Easy to start
Very portable
It has an attractive design
It's very stable and sturdy
Comes with a warranty
It heats a space up to 18 feet in diameter
It has an attractive modern design
Cons:
Can't be hooked up to gas lines
The propane tank is sold separately
It's a bit loud
It is difficult to assemble

Give your outdoor area a modern touch with this heater, which looks as good as it heats. The unique design makes this one truly unlike the rest, while its performance is reliable, providing the heat you need exactly when you need it. This mid-priced unit looks superb on any patio, desk, or beside a pool to add warming ambiance for your outdoor events.
This heater is 91 inches tall and provides 40,000 BTUs of heating, enough to warm your outdoor space comfortably. Even though it's large, it's easy to move around with the included wheel assembly, and it's easy to change out the propane tank, which is hidden within the base. You'll get to choose from three colors, including Matte Black, Hammered Mocha-Bronze, and Hammered Bronze.
Pros:
CSA approved
It has a very attractive and modern design
Easy to install or replace the propane tank
Provides plenty of warming heat
The wheels make it very portable
Comes in three choices of colors
It is easy to ignite
It comes with a warranty
Cons:
Difficult to assemble
It doesn't put off as much heat as the more expensive units, so it's best in small or medium-sized areas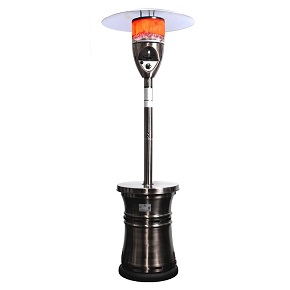 Style and performance are what you'll get with this model from Lava Heat, which really puts out heat, all while making your patio or deck look even more stylish. This model has a modern gun metal finish that gives it a sleek look, while it pumps out 48,000 BTUs, enough heat to cover about 144 square feet. Because of its design, it cools everything in a 360 degree radius, so it's just what you need to help you and your guests fight the outdoor chill.
You can use this with a standard propane tank, and it provides up to 10 hours of heating. You can also use the conversion kit to let it run on natural gas, so you don't have to worry about running out of heat mid-party. The tank is easy to access and install, this comes pre-assembled so you won't spend hours getting it ready for use, and it is equipped with an auto shutoff feature for safety.
It can easily be moved with the wheel kit, and it comes with a 5-year limited warranty. That's one of the best you'll find in the industry.
Pros:
Provides exceptional heating
It's very efficient
Can be hooked to natural gas lines for more permanent use
It has an outstanding warranty
Looks very modern and stylish
Feels very sturdy and durable
It is easy to assemble
Cons:
It's more expensive than other similar products
A Final Word
Why let your patio go to waste during the cooler days and nights when you can use it longer with the addition of a patio heater? If you're looking for a heater that has style and performance that is unmatched, the Lava Heat Italia LHI-ALTO-48BTU-GM-LP has what you are looking for.
This unit looks great, produces enough heat to warm over 140 square feet, comes with one of the industry's best warranties, and has a sturdy, durable design that will easily last from season to season. Despite its higher price tag, this unit is unrivaled in performance and is worth the extra expense.