Some links on this page are monetized by affiliate programs - see disclosure for details.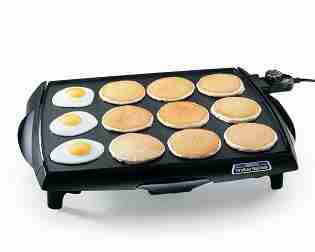 If you've ever cooked for your family or a larger crowd, you know just how messy it can be. Making a homemade breakfast takes too many pans for your bacon, eggs, and pancakes, and it creates a real mess. If you're camping out in your RV, you might not be able to cook much on your tiny kitchen stove.
Sometimes, you just need extra space to cook things, whether you want to make ten burgers for your family or need to fry up an entire pound of bacon. Instead of messing up all your pans, making guests wait for the next batch, and dealing with the hassle, why not try one of the best electric griddles?
Compare: The 10 Top Rated Electric Griddles of 2018

Introduction: What is an Electric Griddle?
A traditional griddle is used on a stovetop to provide you with a larger cooking surface. You use the burners from your oven to heat the surface, which is usually made of a non-stick metal material before you begin cooking. It works similar to a frying pan, but it provides a larger surface area for making larger portions or multiple things at one time, such as eggs on one side and bacon on the other.
An electric griddle is different, though, because it has its own heating source and does not require a stove. You simply plug in the element, adjust the temperature, then cook your food on top. It is a great option for using in your kitchen, although you can take it with you anywhere you go as long as you have access to a power outlet.
What are the different types?
If the idea of this type of cooking appliance sounds appealing, it may just be something you want to add to your kitchen. In order to make your decision a bit easier, take note of the different type of griddles available.
Griddle
A traditional electric model has a smooth, flat surface. It allows you to easily cook a variety of different items without worrying about crevices where food can stick and get burned. These small appliances can really cook just about anything, including meats, eggs, grilled sandwiches, and more.
Griddle/grill combo
If you want to bring the fun and flavor of outdoor cooking indoors, look for a griddle that has a grill insert. This grill insert is great for burgers, hot dogs, chicken, and any other type of food you would cook on an outdoor charcoal, propane, or electric grill. These inserts have ridges, so you'll get the grill marks that you would get if you used a traditional grill.
Multi-function griddles
Like the griddle/grill combo, these perform more than one function. This may include acting as a panini press or a closed grill, and this type usually has interchangeable plates.
What are the Benefits of Owning an Electric Griddle?
If you frequently cook large amounts of food, a griddle will make your job in the kitchen easier. You won't have to mess up tons of pans, and no one will be left waiting while you have to make more food because you don't have any space on your stovetop. A griddle is also a great appliance to pack with you on vacation or while you're camping.
These small appliances are very portable and extremely versatile, giving you the option to cook pretty much anything in a short amount of time without making a huge mess in your kitchen.
Who are the contenders for Top Pick Overall?
Pack up the camper or put this in your kitchen for cooking up your favorite big meals for breakfast, lunch, or dinner. This budget-friendly griddle has a 22.5 by 12 inch surface to provide you with plenty of cooking space. The removable temperature control is easy to use and it also allows for quick and easy cleanup. The cast aluminum surface is nonstick, so you don't have to worry about using oils and sprays, and it's durable enough to cook hundreds of meals throughout the years. When it's ready to store, just remove the handles and slide it into your cabinet. Best of all, this griddle is extremely affordable, so you won't have to spend a fortune to make a more convenient meal.
Whether you want to fry up something on the griddle or use a safe indoor grill, this model has you covered. It has reversible plates giving you more versatility than a traditional griddle. It's easy to use, heats quickly, and has extra features like cool-touch handles and a fully detachable plate that cuts down on your cleaning time. This model comes at an affordable price, as well.
Get five appliances in one with the purchase of a Griddler. Make up a panini, grill on one side and use a griddle on the other, make tasty burgers on the full grill, toss your pancackes on the griddle, or use it as a contact grill for healthier meats without losing flavor. This appliance is small, so it's easy to store, has reversible plates that are non-stick and easy to clean, and provides you with many different cooking options in one compact package.
Factors to Consider Before Buying
Quit cooking the old fashioned way and see how a griddle can make your meals so much more convenient. You'll spend less time slaving over the hot stove and more time enjoying tasty food with your loved ones with this convenient small appliance. If you've made up your mind and want to make a purchase, don't act too quickly. Make sure you make a wise investment by considering each of the following points for all models you think may work for your kitchen.
Price
Griddles are available at a variety of price points, from around $50 to a few hundred dollars. Models with more features and settings are typically priced more expensively, while very basic models are less expensive. Decide which features are most important to you and budget accordingly.
Warranty
Make sure you don't get a bad product by purchasing one that comes with a manufacturer's warranty. This prevents you from having to replace your griddle if it malfunctions because of an error caused during the manufacturing process.
Cooking space
Most griddles have a very large surface area, but some have a smaller design that is perfect for cooking for yourself or you and another person. If you have a larger family or you're cooking for multiple people, you need a larger model that cooks lots of food at one time.
Cooking options
For the most versatility, look for a model that has reversible plates or interchangeable plates that can be used for grilling, searing, pressing sandwiches, and performing other basic cooking functions with just one appliance.
Price
Presto 07061
This has a retail price on the lower end of the pricing scale when compared to similar small appliances.
Oster CKSTGR3007-ECO
This model is quite affordable when you consider that it functions as more than just an everyday griddle.
Cuisinart GR-4N Griddler
This is a high-end griddle. While the price may seem off-putting, it does function as four additional small appliances.
Warranty
Presto 07061
Defects that cause this appliance to no longer work or to not operate as it should are all covered under a 1-year limited warranty.
Oster CKSTGR3007-ECO
Feel confident in your purchase with a 1-year limited warranty from Oster.
Cuisinart GR-4N Griddler
You get a limited 3-year warranty with your purchase.
Cooking space
Presto 07061
The surface of this model measures in at 22 by 11.5 inches, providing you with a large cooking space.
Oster CKSTGR3007-ECO
This model boasts a 10 by 18 inch cooking surface that is just the perfect size for cooking for your family.
Cuisinart GR-4N Griddler
As a full griddle or grill, you get 200 square inches of cooking space.
Cooking options
Presto 07061
This model only functions as a griddle and does not have other plates.
Oster CKSTGR3007-ECO
The griddle plate reverses to convert to a full-size indoor grill. A warming tray is also available to keep your food at the perfect temperature.
Cuisinart GR-4N Griddler
You can use this as a griddle, grill, half griddle/half grill, contact grill, and a panini press.
Conclusion: Our Final Electric Griddle Reviews Are In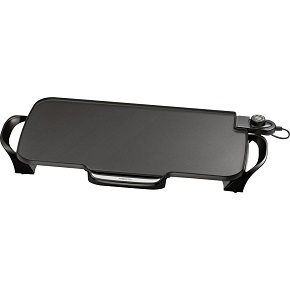 This griddle from Presto shows that you don't have to spend a fortune to get a high-quality product. You'll love the large cooking surface that allows you to make a whole batch of pancakes, bacon, eggs, burgers, or even grilled cheese sandwiches to please the whole family. The temperature control is very easy to use and when you're finished, you can remove it to easily clean the surface of the griddle.
The surface is non-stick, so you don't have to worry about your food sticking and burning. You'll have a full 1500 watts of power that cooks your food to perfection in almost no time. The Control Master technology keeps the surface at a consistent temperature for even cooking, and a drip tray is included that catches fat, grease, and liquids that may spill over the surface.
Pros:
It is affordable
Provides plenty of room for cooking
Easy to clean
Removable, easy clean drip tray
The handles remove so it easily fits into a cabinet
Fully submersible with the control removed
Evenly and consistently heats food
Handles remove easily without tools
The nonstick surface prevents burning and sticking
Comes with a warranty
Cons:
The surface may warp over time
It has cold spots in the corners
The nonstick coating flakes off over time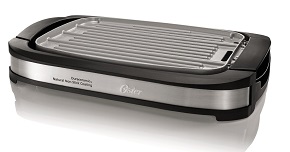 Get more out of your griddle with this reversible model, which offers you more versatility without taking up too much of your cabinet space. Insert the flat, smooth griddle plate or flip it around and use the grill plates for delicious grilled food. There is also a warming plate insert so when some of your food is ready but you're still waiting on something else, it can all be served at the proper temperature.
You won't have to worry about your food sticking to the griddle or grill, as each side features PTFE and PFOA free ceramic nonstick coating that is not only safe, but more scratch-resistant than other coatings. In fact, it can last up to four times longer than traditional nonstick coatings. It has a removable easy-to-use control panel for easy cleaning, as well as a drip tray to neatly help drain away all of the extra fat and grease.
Pros:
Affordable
Also functions as a grill
It's easy to use
It heats evenly
The nonstick coating is better than other coatings
It heats up to 20 percent faster than other models to save energy and time
The cooking plate is dishwasher safe
It has handles that stay cool to help prevent burns
It's very powerful
Comes with a warranty
Cons:
It doesn't have cord storage, so it can be a bit of a pain to store
It's a bit smaller than other griddles
The base isn't easy to clean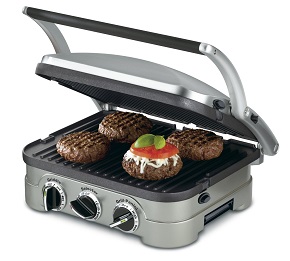 Why get a grill when you can own a Griddler? This pushes beyond the typical kitchen appliance to provide you with five different cooking appliances in one easy-to-store size. With your purchase, you'll get two reversible plates. One side is smooth and flat for your griddle, while the other side consists of grill plates. Use these in various ways to create paninis, use it as a contact grill for burgers, chicken, and steak, convert it to half grill and half griddle for your bacon and eggs, or just fold it out for a full 200 square inch griddle or grill. This is one of the most versatile products you can have in your kitchen.
This product is made of durable stainless steel, so it's easy to wipe clean and you know it's designed to last. The plates are removable and can be easily cleaned in your sink with mild soap and water or even in the dishwasher. Each plate has nonstick coating to prevent sticking and burning.
Multiple controls are conveniently located on the front for easy control, and a drip gray that captures the extra grease and fat. This tray is also dishwasher safe for easy cleanup. You can also buy extra plates that are compatible with this machine, including waffle plates for delicious homemade waffles.
Pros:
It functions as five different appliances
The quick release button lets you quickly pull off the reversible plates
All plates and the tray are dishwasher safe
All plates have a nonstick coating
The controls are easy to use
It folds in half, so it's easy to store
Excellent manufacturer's warranty
It heats evenly
The plates lock securely in place
It cooks very quickly
Cons:
The nonstick coating flakes off over time
It is a bit more expensive than other griddles
The exterior gets hot, so care should be taken to avoid burns
A Final Word
You'll be amazed at how much time you'll save with a griddle in your kitchen, and if you want to get the most out of your new cooking appliance, a model that serves multiple purposes saves you time, space, and money. For ultimate performance and versatility that can't be matched, give the Cuisinart Griddler a try. This product lets you cook any meal quickly and easily, and its performance, design, and versatility make this a hot buy you won't regret.