Some links on this page are monetized by affiliate programs - see disclosure for details.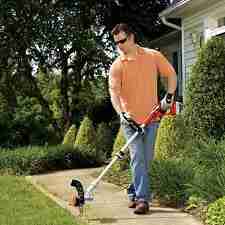 One of the most important aspects of giving your home great curb appeal is keeping up with your landscaping. From flower beds that surround your porch to mulch around your trees to healthy, green grass, keeping your yard in tip-top shape makes it look more appealing. Keeping up with your yard can be quite the task, as it required planting flowers, trimming trees and shrubs, and maintaining your lawn.
While mowing is essential to keep the grass short, neat, and even, maintaining the grass surrounding your sidewalk driveway and around your trees and beds is something that you should also be doing on a regular basis. This doesn't have to be difficult though, if you use a lawn edger.
Top Rated: Compare The Best Lawn Edgers of 2018

Introduction: What is a Lawn Edger?
A lawn edger is a piece of equipment that is used to maintain your landscaping. It is designed to cut grass and weeds, but it shouldn't be mistaken for a lawnmower. Instead, this equipment is used to separate the lawn from asphalt, concrete, or other surfaces. Just mowing over this grass usually doesn't give you the results you're looking for, as there may be longer pieces or weeds hanging over onto the surface. To get a clean, finished, and professional look, you need to use an edger.
What are the Advantages?
The biggest advantage of using a lawn edger is that it makes your yard look better than ever. You'll be able to cut pieces of grass that your mower can't reach, keeping your sidewalks, walkways, driveways, and other surfaces clear of weeds and grass. This not only prevents a potential safety hazard, but it gives your yard a professionally landscaped look without the cost of paying a professional to do the work.
What are the Different Types?
Get your yard in the best condition without having to pay hundreds of dollars for a professional to tend to it. You can easily do the job yourself with an edger, but the first step you need to take is knowing what kinds of edgers are out there, and which one best fits your needs.
Electric models
These run using a cord plugged into a standard electrical outlet, while some have a rechargeable battery. The good thing about these is that you don't have to worry about the expense of gasoline. The drawback is that they might not be as powerful, always require a power source, or require hours of recharging.
Gas models
These operate using gas or mixed gas. These typically are more powerful than electric models, and you don't have to worry about charging up a battery. The drawback with these is that you have to purchase gas, which is an ongoing expense.
String edgers
These use a type of string that spins very quickly to remove grass and weeds. You carry these, and they are more portable and don't require any blade adjustments, but they may get tiring to use on very large areas.
Push edgers
These are similar to a lawnmower in that they have wheels and can be pushed in your yard. These are not as tiring to use as string edgers that you have to carry, but they have blades that require adjustment and over time, replacement.
What are the Best Lawn Edgers on the Market in 2017?
Black & Decker LST136W 40V Max Lithium String Trimmer – If you're looking for an affordable and versatile system, this has just what you're looking for. This model easily converts from a trimmer to an edger and back again. This has a long battery runtime, a lightweight design, and it's very easy to use.
Husqvarna 224L 25cc 4-Stroke Straight Shaft Gas Trimmer – You can trim or edge with ease with this machine, which is easy to use but provides professional results. It has a strong motor to power through the thickest grass and a variety of additional features that make it a cinch to start and keep running.
Remington 22-Inch Trimmer Lawn Mower – You need a strong machine to power through your toughest jobs, and this model has just the right amount of power. It goes through weeds and grass with ease, has a compact design that makes it easy to store when not in use, and provides the professional results you're looking for, even if you've never edged your lawn before.
Features to Consider
No one wants to end up with buyer's remorse, and this more easily happens if you don't do your research before making a purchase. Instead, make sure you know what to look for in your purchase to make sure you get a product you'll enjoy using that fully meets your needs. You can get started by looking for these four important features.
Price
Price is important because you want to stick within your budget. After all, you don't want to go into debt just to make a purchase. However, you do not want to simply buy something just because the price is right if it doesn't fit your needs or perform the way you would expect. If you need a powerful machine to cut through thick weeds and tall grass or something that will handle a much larger job, you should expect to pay more money for a heavy-duty machine. Make sure to evaluate all other features of the equipment before buying just because of the price.
Gas or Electric
If you don't want to drag a cord behind you and you need a little extra power, look for a model that is powered with gasoline. If you'd rather not deal with the mess and expense of gas or mixed gas, consider purchasing an electric model.
String or Push
If you have a smaller yard and want to be able to use your unit as a trimmer as well, a model that uses string may be just what you're looking for. If you have a larger yard and lots of high grass and thick weeds, look for a unit that you push around your yard.
Warranty
You want to be able to get plenty of use out of your machine, especially if you pay hundreds of dollars. If it fails due to a defect, you won't have to pay for this if it is backed with a manufacturer's warranty that will cover the repair or replacement cost in the event of a manufacturer's defect.
Price
Black & Decker LST136W
This is a good choice for the budget-minded shopper.
Husqvarna 224L
This model costs about average for one with this type of power.
Remington 22-Inch Trimmer
This is one of the more high-end and expensive units on the market.
Gas or Electric
Black & Decker LST136W
This model is electric and operates using a 40V battery.
Husqvarna 224L
This unit is powered with gasoline – no cords or chargers required.
Remington 22-Inch Trimmer
This unit uses gasoline to operate.
String or Push
Black & Decker LST136W
This is a string edger that also functions as a trimmer.
Husqvarna 224L
This unit uses string to edge or trim your yard.
Remington 22-Inch Trimmer
This is a unit that you push like a lawnmower, a great choice for larger areas.
Warranty
Black & Decker LST136W
This model comes backed with a 3-year limited warranty for home use.
Husqvarna 224L
The manufacturer will have to be contacted regarding a warranty.
Remington 22-Inch Trimmer
This unit comes with a 2-year limited warranty.
Our Lawn Edger Reviews
Instead of paying a few hundred dollars for just one week of landscaping, why not take that money and get this electric edger and trimmer that you can use from season to season? You can easily maintain the beauty of your yard with this trimmer, which is easy to use. You don't have to worry about purchasing gas, since this is equipped with a 10V Max battery that offers you plenty of runtime.
Choose between Max Power for the tough weeds and thick grass or Max Runtime to keep it running for longer, allowing you to finish your entire yard without a recharge. The string comes out through an automatic feed system that requires no bumping for continuous cutting. This unit has a head that's easy to turn to convert it from an edger to trimmer to make it one of the most versatile yard tools you can add to your garden shed or garage.
Pros:
You can change the option to increase power or battery time.
It is affordable.
It comes backed with a 3-year warranty.
It's easy to use.
It doesn't require bumping.
High-powered battery lasts longer than others.
It's lightweight.
Cons:
The battery may not last through a complete cut of a large yard or thick grass or weeds.
Replacement batteries are very expensive.
If you want pure power and the versatility to use your edger as a trimmer, this is a great choice. You won't have to trip over cords or worry about your battery dying since this is operated using gasoline. And you don't even have to deal with the mess of mixing gas and oil. This system is very lightweight, easy to use, and provides you with professional results, even if you've never used an edger before.
The air purge system removes air from the line to provide you with easy starting and a unit that stays running. This unit starts up quickly and doesn't require a lot of effort like other machines. It has a 25-cc 4-stroke engine that helps you cut easily through thick grass and weeds. It's a solid performing machine that is great for household use, as well as commercial use.
Pros:
Starts and stays running with very little effort.
It is lightweight and very portable.
Use it to trim or edge.
It doesn't require mixed gas.
It cuts through thicker weeds and grass more easily than other units.
Cons:
Cannot be used with attachments.
It bogs down with extreme rotations.
The spark plug needs to be replaced monthly, which can be expensive over time.
Portable string trimmers are great for small yards, but you can burn out quickly if you're cutting a larger space. Take the pain out of edging with this Remington trimmer and edger that is designed to provide you with the professional look in no time at all. This unit is easy to use, has a lot of power, and works great on yards of any size. It's even a good choice for commercial use.
Even though it is very powerful and boasts a 159-cc 4-cycle engine that lets you plow through thicker brush with ease, it has a compact size that makes it easy to push and get in those hard to reach places without straining your back. When not in use, the handle folds down to make it easier to store. The large wheels move easily over rougher terrain so you don't have to struggle to push it, and it comes backed with a 2-year warranty against defects.
Pros:
Very powerful.
Easy to use.
Compact size.
The handle folds down for storage.
The handle is comfortable to push.
Tackles small and large jobs with ease.
It comes with a warranty.
It has a height adjustment that is easy to change.
Cons:
Doesn't work well on slopes.
All in All
Why pay thousands of dollars per year for the upkeep of your yard when you can pay hundreds and get the same professional results? In addition to your mower, you need to keep the edges around your yard trimmed up with one of the best lawn edgers, and the Remington 22-inch Trimmer is a great machine to invest your money in. It is a bit more expensive than other machines. However, its overall performance, ease of use, compact size, and professional results make it an investment that can increase your home's curb appeal season after season.