Some links on this page are monetized by affiliate programs - see disclosure for details.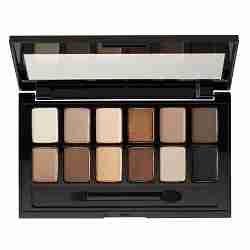 The eyes are the windows to the soul, as the old saying goes, and this saying holds very true in a variety of everyday situations. Whether you're gazing into the eyes of someone you love or maintaining eye contact during a job interview, your eyes are certainly one of your most standout facial features.
Whether you have light blue eyes, dark brown eyes, or wear brightly colored contacts, there is a way that you can make your eyes stand out even more, and that is with a fabulous shade of eyeshadow. If you really want a great selection of beautiful colors, an eyeshadow palette is something you need in your collection.
Compare: The Top 10 Best Eyeshadow Palettes of 2018

What is an Eyeshadow Palette?
An eyeshadow palette is a cosmetics compact that has different colors of eyeshadow. Typically, a palette consists of powdered shadows, although some palettes contain cream shadows. Each color is separated in its own compartment to keep the colors from blending together. They are designed so it's easy to put a brush or sponge applicator into each color and apply it to the eyelids. A palette may come with anywhere from a few complementary colors or hundreds of colors in all shades of the rainbow.
These products may come in warm tones, cool tones, or a combination of the two to complement a variety of skin tones from very fair to dark. Some palettes come equipped with brushes, sponges, and a mirror, so you can make your eyes pop whether you're at home or on the go.
Related: See This Year's Top Rated Eyeliner Pencils
What are the Different Types?
If you want to create a more professional look for the office or a romantic look for a night out on the town, you can't do it without a great set of eyeshadows. Before you make your purchase, decide which product best fits your needs and personal style.
Neutral – These are filled with neutral colors like browns, golds, silvers, grays, whites, and blacks. These are best for a more natural look, or you can glam it up by creating a great smokey eye look for night.
Matte – These consist of shadows that are matte, meaning they have no shimmer. These are great if you don't want any sparkle or shine in your makeup look.
Shimmer – These colors have a little bit of sparkle for when you really want to create a fun look with your makeup.
Customizable palettes – Most palettes come with colors already in place, but with a customizable palette, you can select your own colors. Each pan of eyeshadow magnetically attaches in place so its secure for traveling in your suitcase or purse.
Why Use an Eyeshadow Palette?
If you wear makeup, one of these products is a must-have for your cosmetic bag. Palettes provide you with plenty of color options to enhance your outfit and dress up your look for day or evening. Most palettes come with a variety of colors that look great when worn together, from a medium shade that goes on the lid to a darker complementary shade that enhances the crease, to a brighter highlight shade that goes under the brow bone.
A palette can help you create a variety of looks, from soft and subtle for everyday wear to bold and bright for a formal event.
Which Eyeshadow Palettes are The Best?
If you want a basic palette with colors you can use every day but you don't want to spend a ton of money, this is a top-selling item that is very easy on the wallet. This palette comes equipped with 12 colors that complement any skin tone and can be used in a variety of combinations to create your own custom makeup look. It contains the perfect combo of shimmery and matte, so you can create all of the latest makeup styles with ease. These powdered shadows are easy to apply, glide on smoothly, and provide plenty of color without a big price tag.
Keep it neutral or dare to go as bold as you want with this palette. This Ultimate Palette is named as such because it truly does have it all – a total of 252 beautiful shades for casual and formal looks. These shadows are highly pigmented, smooth and easy to apply, and come packed in a large compact equipped with sponge applicators and a mirror for touchups on the go. Best of all, it's priced very affordably.
Apply your makeup like the pros with this professional palette from LORAC, a leader in the cosmetics industry. You won't have to keep building on these eyeshadows, as they are highly pigmented, so a little bit goes a long way. This palette is equipped with a great assortment of neutral colors. These versatile colors can be used to enhance the eyes in a variety of ways, including wet or dry use and as an eyeliner.
Choosing the Right Eyeshadow Makeup For You
Instead of just dropping money on a palette that will sit in your bathroom unused. You want to add a product that you can stow in your makeup case that will get plenty of use. Since there are thousands of brands and colors to choose from, you might have difficulty making the right choice. The best way to narrow down your selection is by evaluating each product by looking at the most important features, like the four details listed below.
Price
The price of the palette can range anywhere from around $10 up to close to $100 or even more for a special limited edition product from a high-end brand. If you're on a budget and want to save, look for a more affordable product. However, keep in mind that the quality of the cosmetics may not be as good as higher priced items from well-known brands.
Number of colors
The idea of a palette is to give you versatility. If you're looking to achieve just one look, a few colors is fine. However, if you want to pull off all of the latest styles seen in fashion magazines, you want a wide range of colors available to you.
Color choices
You want to select colors that are flattering to your skin tone and match your personal style, especially if you're shopping for a smaller palette with a fewer number of colors. Neutrals work for everyone, but if you want to stand out, choose a palette with an assortment of trendier, brighter colors.
Included extras
If you plan to put your palette in your purse for application on the go, look for one with a built-in mirror. Other extras include sponge applicators and brushes that allow you to apply the colors with ease.
Price
Maybelline New York The Nudes
This is an exceptional budget-friendly item to add to your makeup case.
Coastal Scents 252 Ultimate Palette
This is a mid-priced set, but it is an excellent value when you consider that it comes packed with over 200 different shades.
LORAC PRO Palette
This is a high-end set that is more expensive than others. However, you will find the quality is very high, and the shadows last much longer because they are so pigmented.
Number of colors
Maybelline New York The Nudes
Each palette contains 12 gorgeous shades that enhance any skin tone.
Coastal Scents 252 Ultimate Palette
You get three full trays of colors, for a total of 252 shades.
LORAC PRO Palette
This palette is filled with 16 great colors to personalize your makeup look.
Color choices
Maybelline New York The Nudes
Color choices include golds, tans, taupes, and sands.
Coastal Scents 252 Ultimate Palette
You'll be hard pressed not to find a color in this great palette, which includes everything from matte neutrals to soft blues and greens to bright reds and hot pinks.
LORAC PRO Palette
This palette has a great combo of colors, include golds, tans, blue, and purple to create casual and sultry looks.
Included Extras
Maybelline New York The Nudes
This kit comes with a double-ended sponge applicator.
Coastal Scents 252 Ultimate Palette
No extras are included with your purchase.
LORAC PRO Palette
This kit comes with a miniature Behind the Scenes primer and is packed in a mirrored case.
Conclusion: Final Eyeshadow Pallette Reviews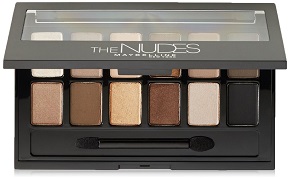 Great makeup doesn't have to drain your bank account, and this palette from Maybelline is a top-seller because it provides you with 12 great colors at an excellent price. This palette is packed with nude colors that are flattering for any skin tone and can be used for natural looks, as well as more extreme styles. Wake up tired eyes with a pop of gold before you head to the office or perfect the smokey eye for date night with this one palette.
This palette has a combination of matte and shimmer colors, and the shadows can be used as liners or brow fillers to really make your eyes pop. The colors glide on smoothly, and it comes with a sponge applicator for your on-the-go touchups.
Pros:
It is very affordable
The colors are flattering for all skin tones
It has contouring, crease, and highlight colors that complement each other perfectly
The slim design is very portable and fits easily in a purse
Cons:
They aren't as pigmented as more expensive products
They are more difficult to blend that higher quality shadows
It creases after a long time of wearing, even with a primer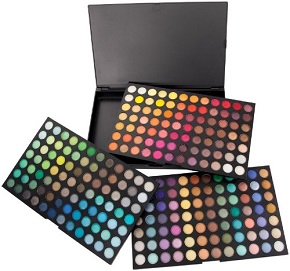 "What look do I want to try today?" will be the question you ask yourself daily when you pull out the Ultimate Palette. Whether you want to keep it subtle or blow them away with the most modern look, this stocked palette comes with everything you need to achieve hundreds of different looks.
This palette has three trays that have a total of 252 colors. You'll get an excellent combo of shimmery and matte shades, and the color palette ranges from neutral to over-the-top. These shadows are pigmented enough to be used dry without having to build on the color. Or you can turn up your look a notch by applying it wet. It glides on smoothly and provides exceptional color and staying power, especially when paired with a primer, which is sold separately.
Pros:
It have over 200 shades to choose from
The colors are easy to blend
The palette is very portable
It is extremely affordable
The colors work with all skin tones
The color goes on smoothly
A little bit goes a long way
Cons:
The shadows are very powdery when not used with water or a primer
The swatches are small, although they are highly pigmented so a little goes a long way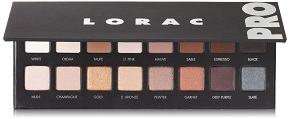 Get a top-selling kit that makeup artists everywhere bring with them to photo shoots and other locations when you select this kit from LORAC. You'll have your choice from 16 matte and shimmery shades to create your own unique look with ease.
Each color is highly pigmented, so you don't have to worry about piling on the color. They blend very easily, and they are more resistant to creasing than cheaper shadows. This kit comes with a miniature primer that helps prevent creasing and really makes the colors pop.
The shades aren't just for your eyelids, though. You can use these shadows as highlighters, liners, or brow fillers. They can be used wet or dry depending on the type of look that you wish to achieve.
Pros:
It has a great selection of 16 shades
They can be used as shadows, liners, or brow fillers
Can be used wet or dry
Colors are highly pigmented
They come with a high-quality primer
They don't crease as easily as less expensive shadows
Cons:
It is a bit expensive
Using too much will result in difficult blending, which can make colors look muddy
Closing Thoughts
Every girl has to have a great eyeshadow palette to really look her best for every occasion. These palettes allow you to enhance your natural beauty, as well as experiment with the latest trendy looks. If you really want quality, the LORAC PRO Palette is a choice you won't regret. Even though it is more expensive than other palettes, the selection of colors, blendability, and pigment let you completely transform your look with just a few strokes of your makeup brush.