Some links on this page are monetized by affiliate programs - see disclosure for details.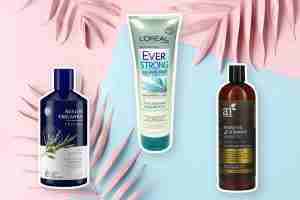 Long voluminous locks always look fresh and healthy, but unfortunately, not every person has that type of hair. Many of us have naturally fine hair, while others have damaged or brittle tresses. That's where a good volumizing shampoo comes in.
There are a lot of products on the market that claim to make our hair extra full and thick. A little research and comparison shopping can help us break down the options to find the best volumizing shampoo that meets any budget.
Compare: The 10 Top Rated Volumizing Shampoos of 2021

How Does a Volumizing Shampoo Work?
Most cheap shampoos and conditioners contain many sulfates and chemicals which strip your hair of its natural oils. To compensate, these products are design to leave behind residue to maximize hair shaft hydration. However, these residues will weigh down hair. Sometimes this will make hair look flat, greasy, and lifeless.
Alternatives, specifically the best volumizing shampoos, cleanse without leaving behind excess residue and strengthen damaged hair shafts. This is the "volume" being "added" to your hair. Using a volumizing shampoo vs. regular shampoo will make a big difference in the way your hair looks and feels — think lighter, fuller locks for that wonderfully wind-swept look.
What Are the Benefits of a Volumizing Shampoo?
The best volumizing shampoos (a.k.a. "thickening" shampoos) are great for giving your hair a more luscious and voluminous appearance. With a quick shower, shampoo, and blow-dry, you can have "thicker" hair whenever you want.
Additionally, shampoos advertised as volumizing and thickening are the best for an anti-hair-loss regimen. Unfortunately, they cannot magically regrow lost hair or halt the balding process. What they do, though, is give the illusion of having more hair by thickening existing strands, and eliminating excess natural, greasy oils which can accumulate and weigh down hair to flatten your lid out.
A good volumizing and thickening shampoo may contain "richer" ingredients than typical cleansing shampoos too, including natural oils and proteins to better hydrate and strengthen hair. All in all, if you are looking to upgrade from a dollar-brand hair product to something with a bit more quality, a volumizing shampoo is a good choice.
Also See: Our guide to the best Eye Cream for Wrinkles
What Are the Different Types of Volumizing Shampoo?
If you are searching for a hair product to revitalize your fine, thin, brittle, or losing hair, there are a number of top-rated volumizing shampoos to choose from. Consider the benefits of other types of revitalizing shampoos too, to see which one's effects you are truly after. Also, read to discover how the shampoo you are currently is affecting your hair.
Volumizing
Most volumizing shampoos are different from regular shampoos because they contain extra proteins, such as rice extract, to strengthen hair, and contain derivatives of natural oils, such as coconut and Argan oils. They add volume by either restoring health to individual hairs, or by opening hairs' cuticles (which, ironically, will cause damage).
Sulfate-Free
Sulfates are aggressive detergents which are cheap to use and everywhere in the hair product industry. Made of mineral salts and most commonly in the form of Sodium Lauryl Sulfate and Sodium Laureth Sulfate, they are what are called primary surfactants — meaning that they attract both oil and water, two components which normally do not mix with each other. As sulfates are designed to degrease heavy, industrial machinery, they are overly affective at cleansing hair.
Sulfates have a bad reputation among hair care enthusiasts, which is why many "Sulfate-free" labels have appeared on haircare shelves recently. However, these sulfate alternatives are only a couple of neutrons away from being a sulfate. These isotopes' names will begin with "Sodium" or "Disodium."
Dry Shampoo
If you need to fluff up your roots, a dry shampoo is a quick alternative to a volumizing shampoo. Dry shampoos simply absorb excess oil and grease in your hair via its alcoholic or starch ingredients. As the name suggests, you spray the formula on dry hair, then work the product in with your fingers and style for an instant "lift."
Smoothing
Shampoos advertised as "smoothing," "straightening," or "anti-frizz" will generally contain a coating ingredient which is left behind while rinsing. These are typically oils or silicones which will allow hot styling tools to glide over the hair.
For Oily or Dry Hair
The cause of oily hair is due to your scalp creating too much oil. This is due to an overactive oil gland which secretes excess oil naturally or is trying to compensate for a dry scalp. Dry hair is caused by damage to the hair itself. Shampoo solutions for these conditions focus on hydrating the hair and scalp.
Clarifying
Most people do not need clarifying shampoo on a daily basis. Usually they are used for specific, prescribed situations. These shampoos truly strip your hair of every oil and residual, which can be damaging.
For Color-Treated Hair
These shampoos are designed with a ph balance of 4.5 – 5.5 to prevent hair dye from fading. Additionally, they usually contain the likes of algae, kelp, and oil to extend hair-color life.
How to Choose the Right Volumizing Shampoo
The effects of many of the best volumizing shampoos are mild compared to each product's marketing pitches. When selecting a volumizing or thickening shampoo, select one which is cost effective and has been reviewed to be a reliable product. No single product can do everything despite claims to the contrary by most brands.
Our Top Three Contenders
Avalon Organics is making bold claims at its try at a volumizing shampoo. It claims that using it will energize your scalp and give you thicker, fuller hair. The brand also strives to be 100% sincerely all-organic. This shampoo contains no GMOs, is 100% vegan, 100% biodegradable, uses no parabens or harsh chemicals like sulfates, preservatives, or artificial colors and fragrances, and is NSF/ANSI 305 certified.
As its name suggests, the shampoo is infused with Biotin, a derivative of Vitamin B which contributes to hair health.
Avalon Organics produces a complementary conditioner.
With a very popular rosemary-juniper infused scent, L'Oréal's shampoo boasts of its thickening and volumizing properties. The EverStrong Thickening Shampoo contains L'Oréal's patented Amino Acid Complex which aims to strengthen brittle and thin hair, make hair appear thicker, and nourish the scalp. It does so by gently removing build-up of excess oil and environmental pollutants.
Also, its labeling demands recognition for being sulfate-free, paraben-free, and 100% vegan. The tube contains a demure 8.5 oz. — not the largest bottle on the shelves.
This shampoo is complemented with a like L'Oreal Paris EverStrong Thickening conditioner.
Burt's Bees is a well-known favorite amongst natural beauty care enthusiasts. This brand has produced its own "99.6% natural" and "Sulfate-free" volumizing shampoo. Pomegranate-scented, it touts that it moisturizes and repairs air with the power of pomegranate seed oil and jojoba proteins. While volumizing, it smooths hair, reducing frizz and adding shine. Burt's Bees claims that antioxidants have the power to revitalize hair and give it a full appearance.
This shampoo is complemented with a like Burt's Bees Very Volumizing conditioner.
What You Need to Know About Volumizing Shampoos
Ingredients – Do not be fooled by the marketing slogan and stickers slapped on the front of a shampoo bottle. The haircare industry is lightly regulated, giving marketers liberal reign with how they label their products. The terms "100% Vegan", "Sulfate-Free", "All Organic", or "Protein Infusion" may not necessarily accurately reflect what you buy. Analyze the ingredients list for yourself. Brush up on common shampoo ingredients, learning the ingredients' names and what they actually are. Decide if these ingredients strengthen or damage your hair.
Price – Contrary to marketing hype, volumizing hair products can only go so far. Their effects are mild and work in conjunction with other lifestyle and genetic factors. Do not splurge an absurd amount of money hoping for a "miracle" product to give you the hair of your dreams. Many products are just as effective as others. Spend your money efficiently and wisely.
Ingredients
Avalon Organics Biotin B-Complex Thickening Shampoo
One sulfate resides in this shampoo under the name sodium coco-sulfate. However, it is fourth on the list of ingredients. Preceding it is "aloe barbadensis leaf juice(1), water, and decyl glucoside." There are natural ingredients further down the list, including xanthan gum and oat kernel, marigold, chamomile, citrus, carrot, avocado, and root extracts. In the whole scheme of hair care ingredients, there is a good amount of organic components to naturally nourish your hair.
L'Oréal Paris EverStrong Thickening Shampoo — Rosemary
The advertising of this product intentionally boasts of its "sulfate-free" status. Its Amazon webpage details what sulfates are and how they are bad for you. However, the ingredients list clearly lists sodium lauryl sulfoacetate, disodium laureth sulfosuccinate, and sodium lauroyl sarcosinate — chemicals closely related to pure sulfates. These chemicals are strung immediately after water on the ingredients list. There are no natural ingredients listed and L'Oreal does not market this as "all natural."
Burt's Bees Very Volumizing Shampoo — Pomegranate
Like Avalon Organics, Burt's Bees claims to organic haircare are no joke. A couple of sulfate derivatives can be found in the ingredients list, but they are farther down the list. Natural ingredients include water, rice extract, jojoba protein, seed oil, leaf and thyme oils, and xanthan gum.
Price
Avalon Organics Biotin B-Complex Thickening Shampoo
This is the lowest priced shampoo on the list. This thickening, biotin-infused shampoo costs very little. This is only double the price of a Suave Professionals, Garnier, or Herbal Essences at the store. This bottle provides 14 ounces compared to the standard 15 ounces of typical shampoos and conditioners.
L'Oréal Paris EverStrong Thickening Shampoo — Rosemary
For the stellar reviews, you may consider spending more on this product. However, you will only receive 8.5 ounces of product.
Burt's Bees Very Volumizing Shampoo — Pomegranate
For your money, and if you really want an organic volumizing shampoo, this will be a better deal than L'Oréal's EverStrong. Amazon sells this product for slightly more. The bottle is only 10 ounces, however.
Our Volumizing Shampoo Reviews Are In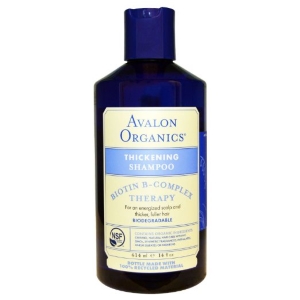 This shampoo sounds great after receiving over 1,000 Amazon reviews with a 4-star rating.
Pros:
The price is unbeatable, and the ingredients list appears to be true to its "100% Organic" label. Users claim that this shampoo has genuinely repaired their fried, damage hair and have deeply moisturized their hair and scalps.
Cons:
Its "sulfate-free" label is not really true. If you look at the ingredients list and you will plainly see sulfate derivatives and close alternatives to the villainized Sodium Lauryl Sulfate and Sodium Laureth Sulfate.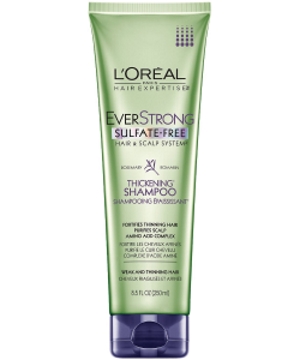 One of the best selling and highest reviewed thickening shampoos on the market. L'Oreal Paris' EverStrong shampoo is another high value choice.
Pros:
The results are evident, according to 138 5-star reviews. Users claim that after use, their hair became noticeably "thicker", softer, shinier, and more manageable.
Cons:
It contains the same sulfates as Avalon Organics, including sulfate derivatives, despite the "no sulfates" label.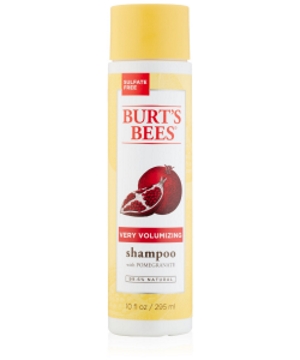 Burt's Bees has released another high quality, well received product with their Very Volumizing Shampoo. Available in a pomegranate scent that gets high marks.
Pros:
The ingredients listed are all natural ones. People with already-thick hair believe that this is the best product for manageability and detangling.
Cons:
The price is slightly high compared to competitor's prices. While many people like the product, a minority of users report that it dries out their hair
Purchasing the best volumizing shampoo for you can involve a bit of a search. Within that search, you are going to want to consider the shampoo's ingredients which you are putting into your hair, what those ingredients do to your hair, and whether the cost is worth it.