Some links on this page are monetized by affiliate programs - see disclosure for details.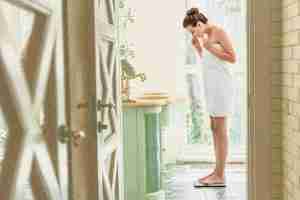 Keeping up with your weight is essential for good health. Whether you're watching what you eat, trying to bulk up by working out, or just want to keep track of your weight, our guide to the best bathroom scales will help you do this.
The best bathroom scales are small, lightweight, and easily fit in your bathroom. You can keep track of your weight daily with an easy-to-use scale that accurately displays what you weigh. With the latest models, you can even track other aspects of your health just by stepping on the scale.
How Does a Bathroom Scale Work?
A bathroom scale is a small, flat electronic device that a person uses to track his or her weight. These scales are easy to use; all you have to do is step on it, stand still, and wait for just a few seconds until the display shows your weight in pounds, kilograms, or your chosen unit of measure.
The best bathroom scales should be small enough to fit in bathrooms of any size, and they can also be stored in a linen closet or under a cabinet when not in use. Bathroom scales may be made of plastic, stainless steel, or even tempered glass to coordinate with your bathroom décor.
What Are the Different Types of Bathroom Scales?
Buying a high-quality bathroom scale is a necessity if you are watching your weight. However, there are many different types to choose from. Check out the different types of scales to determine which one is the best bathroom scale for you.
Analog scales – These scales are very simple, basic models that just show your weight and nothing more. Unlike digital scales, these do not require a battery, can be manually calibrated, and are typically the most inexpensive.
Digital scales – Digital scales display your weight on an LCD screen. You do not have to squint at a dial to see what your weight is because it is displayed on the screen. There are regular digital scales, as well as large print that are easy to see without needing to bend over. Many digital scales may also have body fat percentage calculators and other built-in features.
Wi-Fi scales – Wi-Fi scales use the latest technology to give you an accurate reading of your weight. These scales can be used with fitness bands and apps to keep up with your progress. These scales typically have more extra features than digital and analog scales, but they come with a higher price tag.
What Do People Use a Scale For?
If you or your doctor has decided that a weight loss or weight gain program is beneficial for your health, a bathroom scale helps you accurately monitor your progress. You can use your scale at home anytime you want to see if you have gained or lost weight. A good bathroom scale is a must-have tool for anyone that is carefully monitoring his or her health. It is more advantageous to own a small bathroom scale over a standup scale similar to what your doctor uses because it is small, lightweight, easy to move, and blends in with your bathroom décor without taking up too much space.
What Are the Best Weight Scales?
Smart Weigh Precision Digital Vanity / Bathroom Scale –This no-frills bathroom scale is easy to use, looks great in any bathroom, and provides you with an accurate weight every time.
EatSmart Precision Digital Bathroom Scale – This extra-large, backlit display and non-slip glass design makes this a quality mid-range bathroom scale.
Withings Wireless Scale– Use the latest technology in your endeavor to improve your health with this top-of-the-line scale that uses Wi-Fi and Bluetooth technology.
How to Choose the Right Bathroom Scale
If you've decided that part of staying in good health means weighing yourself at home, it's time for you to select an accurate bathroom scale that meets your needs. There are thousands of scales available, so the decision of which one meets your needs can be quite difficult. When shopping for the best bathroom scales, keep an eye on these four key considerations that are used to assist you in your purchasing decision.
Price
As with any other product, the best bathroom scales vary greatly in price. Scales range in price from around ten dollars up to hundreds of dollars for a more advanced scale. Determine what features you just cannot live without to set a budget for your new scale.
Accuracy
A scale just isn't useful if it doesn't provide you with accurate measurements. Look for a design that goes the extra mile to ensure that you get an accurate reading of your weight every time you step on the scale.
Design
Since a bathroom scale is generally left out all of the time, you want a scale that matches your décor. Most modern scales are available in neutral colors like black or white, or you can add a splash of color with a fun design. Stainless steel and glass scales are both becoming more popular and go with any bathroom color or theme.
Extra features
If you just want to see how much you weigh, a basic, inexpensive scale will meet your needs. However, if you want to go beyond the numbers on the scale and learn about your body fat and other important health aspects, a more advanced scale is the best addition for your bathroom.
Price
Smart Weigh Precision Digital
This is the most inexpensive scale of the three reviewed, but don't think that inexpensive means cheap. With this scale, you get a device that's durably designed and provides you with accurate readings.
EatSmart Precision Digital
This mid-priced scale offers a clean, modern look with accuracy that is much higher than cheaper scales.
Withings Wireless Scale
This scale is more expensive than many other models. However, it is priced accordingly with all of the extra features it has to aid in your health goals.
Accuracy
Smart Weigh Precision Digital Bathroom Scale
The step-on technology used in this scale provides you with an accurate reading in just seconds. Simply step on the scale and know what you weigh. It's that easy.
EatSmart Precision Digital Bathroom Scale
You can always count on this scale to provide you with precision. It provides an accurate reading within 0.1 pounds.
Withings Wireless Scale
Withings Position Control alerts you if you are leaning, which could cause an inaccurate reading. With this technology, you're sure to get the most accurate results.
Design
Smart Weigh Precision
The tempered glass design makes this a stylish option for any bathroom. This also means that it is slim and lightweight, not bulky and heavy.
EatSmart Precision
This scale is constructed with tempered glass that looks great in your bathroom. At 8 mm thick, it's also sturdy enough to support up to 400 pounds.
Withings Wireless
This modern scale is available in Black or White, so you can pick the color that perfectly complements your bathroom.
Extra features
Smart Weigh Precision Digital Vanity / Bathroom Scale
This is a basic scale that is really only used to accurately provide you with your weight. It does have sensors that make sure you get a consistent, accurate reading, and it does offer conversions from pounds to kilograms and pounds to stones.
EatSmart Precision Digital Bathroom Scale
This scale has built-in sensors that provide you with the most accurate reading. The Accubright backlight combined with the 3.5" display allows you to easily view your weight from any angle, in any lighting.
Withings Wireless Scale
The biggest stand-out feature on this advanced scale is its Wi-Fi and Bluetooth capabilities that allow you to keep track of your progress via an app.
Our Bathroom Scale Reviews Are In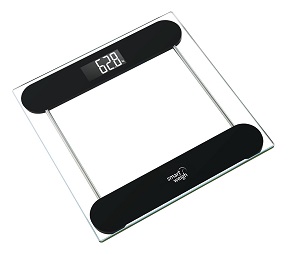 This Smart Weigh scale is a great device for your bathroom if you're looking for a scale that is accurate, consistent, and easy to use. You don't have to fumble with a bunch of different settings. You just step on the scale and get your weight displayed in large, easy to read numbers on a backlit LED display.
The modern glass design will look great in your bathroom, and you can select from Black or Silver accents for the perfect match. The high-precision sensors make sure that you get the most accurate reading every time—no more false readings or inconsistencies in your weight.
Pros:
The glass design looks great and is sturdy and durable
The price is just right for any budget
Easy to use and extremely accurate
It has an extra wide 12" x 12" platform for easy use
It holds up to 330 pounds
The display is very easy to read with the large numbers and backlighting
It is backed with a 2-year warranty
Cons:
It uses CR2032 batteries, which are more expensive than regular batteries
Weight may be inconsistent if not placed on a solid, flat surface. It lacks any additional features found on more expensive scales.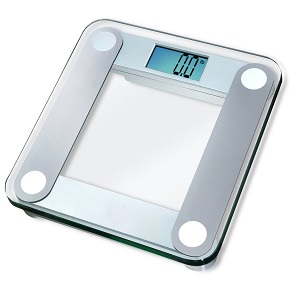 Quit straining your back and struggling to read those numbers with the EatSmart Precision Digital Bathroom Scale. This scale features an oversized 3.5" display with blue backlight, so you can always easily read your weight.
This scale features four high-precision sensors that provide you with consistent, accurate weight time after time. It is auto-calibrated, turns off automatically, and uses 4 AAA batteries, which are more inexpensive than typical scale batteries. The roomy 12.5" x 12.5" platform is comfortable to stand on, and the no-slip glass helps you avoid slipping and falling.
Pros:
This model is accurate within .1 pound
It has three weight settings: pounds, kilos, and stones
It is easy to use. The tempered glass design enhances your décor
Uses inexpensive AAA batteries
Simply step on the scale to use it, no tapping required
Cons:
Lacks many of the features of the high-end scales
It is not accurate when not placed on a flat, level surface
It takes about 10 seconds to register weight, longer than other scales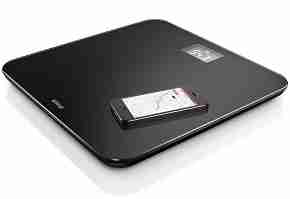 If you're following a health regimen, you want to keep track of your weight each day or each week. Ditch the paper and pencil and allow the scale to keep track for you. This Withings scale is equipped with Wi-Fi and Bluetooth, allowing you to wirelessly track your results through your favorite app.
You'll be easily to keep up with your body weight and Body Mass Index (BMI) with this simple scale that packs a lot of features. Is more than one person in your household setting fitness goals? Not a problem. With multi-user settings, everyone can keep track of their numbers with ease using this modern wireless scale.
Pros:
Multi-user settings allow up to eight different users to track their weight and BMI
Wirelessly connects to your network to track your progress
Can be used with over 100 popular fitness and health apps
It uses 4 AAA batteries that last up to 1 year
It can be used with Bluetooth if you do not have a PC
You can easily share your progress with others
It is accurate
It is easy to set up and use
Cons:
Priced at a higher price point than other scales
Not compatible with all versions of iOS and Android
Conclusion
When you've made up your mind to make a lifestyle change and get your weight to a healthy range, a bathroom scale is a must-have for your home. To make keeping up with your progress quick and simple, a scale that uses Wi-Fi or Bluetooth works with your favorite apps to chart your progress and keep you on track. When it comes to the best bathroom scales, the Withings is a great choice. As far as wireless scales go, it is affordably priced, it is compatible with the most popular apps, and it helps you easily track your weight and BMI, so you can hit all of your health and fitness goals with ease.