Some links on this page are monetized by affiliate programs - see disclosure for details.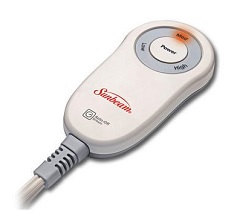 On those cold nights, few things are better than snuggling up in your bed with a nice thick blanket to keep you warm. Even though getting out from under the covers will be a struggle in the morning, getting warm and cozy in your bed on cooler days and nights helps you get a great night's sleep. However, sometimes there are days when your Egyptian cotton sheets and down alternative comforters just aren't warm enough, and you just can't seem to beat the chill. Sure, you can turn up your heat, but getting the higher electric bill at the end of the month isn't something you want to see. That's where a good electric blanket comes into play.
With the best electric blankets, you don't have to raise your power bill and you also don't have to sacrifice warmth. You can just settle in for a cozy night of rest.
Top Rated: The Best  Electric Blankets of 2021

What is an Electric Blanket?
An electric blanket (a.k.a. a heated blanket) is a type of blanket that has a built-in heating element. A cord is attached that plugs into any standard outlet, and there is a temperature control dial that allows you to turn the heat up or down. With the best electric blankets, it's like having your own personal space heater without dramatically raising your energy bill. These blankets are available in all sizes, from twin all to way to California king.
How Does an Electric Blanket Work?
If you think you'd enjoy the warmth that a good electric blanket has to offer, you may be tempted to purchase one immediately. Instead of doing that, though, take a little bit of time to research each product. You can begin by finding out more about the types of blankets that are available.
Traditional blankets – These blankets go over you, much like a regular blanket or bedspread. They can be used on your bed while you sleep, or you can snuggle up with one while relaxing on the couch.
Heated mattress pads – Instead of going over you, these fit over or under your sheet. This provides you with a soft cushion of warmth that feels great when you toss a regular blanket over you to trap in the heat.
What Are the Benefits of an Electric Blanket?
If you live in a very cold area, an electric blanket can keep you warm without the need for dangerous space heaters or having to raise the temp on your thermostat. These aren't just for keeping warm, though. It has also been shown that these heated blankets can help with aches and pains, particularly those from arthritis that are made worse when you're cold.
Much like a heating pad, a good electric blanket can help soothe these everyday aches and pains and lull you into a peaceful sleep.
Is An Electric Blanket Safe?
Always follow the specific instructions for the blanket. Never use a blanket which has a damaged cord or other sings of wear. The best electric blankets will also come with an auto shut-off for maximum protection against accidental fire.
Another note: never sleep on top of an electric blanket. Doing so can build up too much heat and burn your skin. Along those same lines, never sleep with a heavier blanket on top of an electric blanket.
Children and seniors shouldn't use electric blankets (or should use them with caution). Neither should anyone with mobility issues. The user must be able to freely push the blanket away. These blankets can also be dangerous to anyone with skin sensitivity issues, as burns can accidentally occur.
The Top 3 Best Electric Blanket Brands on the Market in 2021
This is the perfect blanket to keep you warm while you watch TV, lose yourself in a good book, or to snuggle with while you're enjoying your morning coffee. This throw is available in a variety of different colors, and it's just the right size for throwing over the back of your choice and picking up for those cold winter days and nights. It has three heat settings for ultimate heat, and it automatically shuts off after three hours, so you don't have to worry about it creating a fire hazard if left on.
This soft blanket comes in any size to fit your bed perfectly so you'll stay warm all night. It is loaded with great features, including heat sensors that distribute heat where it's needed, 10 different heat settings, and a 10-hour auto shutoff that keeps your household safe. It is backed with a warranty, and it is easy to wash and dry in a traditional washing machine and electric or gas dryer.
You'll feel like royalty when you're curled up under this ultra-soft blanket. It features 20 different heat settings, so it's ideal for use anytime, whether you feel a slight chill or you just can't get warm at all. It has a preheat setting that keeps your bed warm, it delivers even warmth, and it is easy to care for and maintain.
What Are the Best Electric Blanket Features?
Not all heated blankets are made the same, which is why you should make sure you know what to look for before you make your purchase. You want to feel confident that you've chosen the best electric blanket, and when you take these things into consideration, you can rest easy knowing that you've made a great choice and have picked a blanket you'll enjoy for years to come.
Price
You'll find that electric blankets are more expensive than most regular blankets, and you should expect to pay at least $50 for a small one with basic heating features up to several hundred for a top-of-the-line blanket. Decide what other features you just can't live without, then plan to budget accordingly. It's important to never sacrifice quality or safety of your product just to save a few bucks.
Size
If you plan on using your blanket in your bed, you need to make sure it's the right size. Most blankets come in multiple sizes, but make sure to check the measurements to ensure it will fit perfectly over your mattress.
Heat settings
If your body temperature fluctuates throughout the day, find a blanket that has many different heat settings to keep you the perfect temperature all day and night. If you're willing to invest the extra money, a blanket equipped with auto sensing features that adjust to where your body is the warmest and coldest is a great feature.
Safety features
Like any other heating device, there is always a risk of danger with using an electric blanket. You don't have to spend your days worrying about the safety of your product, though, if you pick one that comes equipped with safety features like auto shutoff.
Price
Sunbeam Microplush Throw Camelot Cuddler
You can enjoy using this blanket for a very competitive price when compared to other blankets.
Sunbeam Velvet Plush Blanket
This blanket's retail price makes it a mid-priced product when compared to other blankets.
Sunbeam RoyalMink
You should expect to pay a bit more for this luxurious high-end electric blanket.
Size
Sunbeam Microplush Throw Camelot Cuddler
This is a 50" x 60" blanket that is a just the right size to throw over your recliner or sofa.
Sunbeam Velvet Plush Blanket
You can choose from three different sizes to perfectly fit your bed: Twin, Queen, and King.
Sunbeam RoyalMink
This blanket is available in four sizes, Twin, Full, Queen, and King.
Heat settings
Sunbeam Microplush Throw Camelot Cuddler
This basic blanket has three different warming settings for your comfort.
Sunbeam Velvet Plush Blanket
You can choose from 10 different heating settings to customize the warmth you receive.
Sunbeam RoyalMink
This blanket is equipped with an astounding 20 heat settings.
Safety features
Sunbeam Microplush Throw Camelot Cuddler
After three hours, this blanket automatically shuts off to prevent a potential fire hazard if you forget to shut it off.
Sunbeam Velvet Plush Blanket
This blanket is equipped with a 10-hour auto shutoff feature for your protection and safety.
Sunbeam RoyalMink
After 10 hours, this blanket will automatically shut off for safety purposes.
Our Electric Blanket Reviews Are In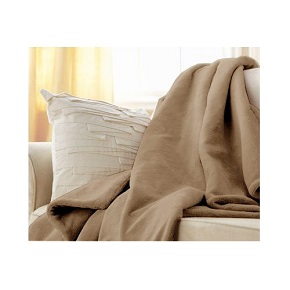 You'll stay warm and toasty in this soft throw, which is made of cozy and soft microplush fabric. It's the perfect little throw for snuggling on the couch, measuring a generous 50" x 60". It also comes equipped with a built-in heating element that adjusts to the temperature of your body, room temperature, and bed temperature.
The controls are easy to use, and you can select from three different warming settings. It comes in 23 great colors and patterns, including Beige, Garnet, and Lagoon. You can also rest easy knowing that you've purchased a great product, as this is backed with a manufacturer's 5-year limited warranty.
Pros:
Available in multiple colors
It is inexpensive
It is soft
Easy to control
The controller is easy to grip
3-hour auto shutoff feature for safety
Heats up quickly
Can help save money on your electric bill
It has a long cord so you can always reach an outlet
Cons:
It has some cold spots that do not get warm
Does not get as hot as other heated blankets
Takes some time to warm up fully
It is throw size, so it is smaller than most heated blankets
The location of the cord is awkwardly placed so it's hard to reach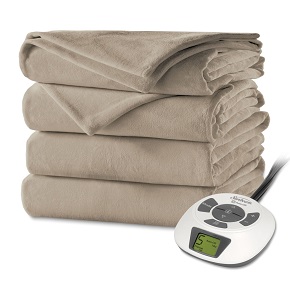 You'll never want to leave the bed after using this blanket, which is made of plush material that's oh-so-soft. If that doesn't provide enough heat for you, just turn on the temperature controller and set it to one of 10 different settings that provide you with ultimate warmth.
The exclusive heating system detects areas of warmth and adjusts accordingly, so you don't have to worry about getting too hot while you sleep. It is equipped with a 10-hour auto shutoff function for safety purposes, and it even has a preheating system that warms your bed sheets before you go to bed. It is available in three colors, all at an affordable price.
Pros:
It is safe to clean in a washer and dryer
10 settings and a preheat feature
Comes with a 5-year limited warranty
Very soft
Comes in three sizes
Available in three neutral colors to match your décor
The controls are easy to use
Cons:
The wires are very noticeable
The material is slippery, so it may slide off throughout the night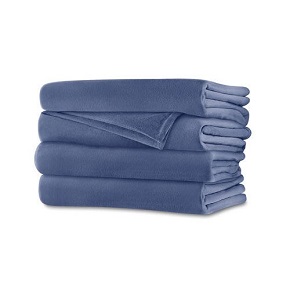 It doesn't get much more luxurious than the RoyalMink blanket from Sunbeam, which feels like it was designed for royalty. The first thing you'll notice is the soft mink fabric, which is available in your choice of four neutral colors to perfectly complement your bedroom decor. Next, you'll find the controls, which offer up a preheat function for warm bed sheets, as well as 20 different heat settings to help you warm up fast. It has dual controls, so you can fully customize where you get the most heat, and if you sleep with someone else, they can adjust their settings to their own personal preferences.
The ambient temperature system detects changes in temperature in your house, in your bed, or on your body to provide you with lasting comfort all night long. You can also rest assured you have a good product on your hands as this blanket comes with Sunbeam's 5-year limited warranty to protect against defects.
Pros:
It can help you save up to 15 percent on your electric bill
Made of premium soft fabric
It has dual controllers with 20 different settings
It heats up very quickly
Heats evenly and adjusts to different ambient temperatures
The controls are easy to use
It's thicker than cheaper electric blankets
It is the perfect size and weight
Preheats your bed and warms up your sheets with just the touch of a button
Cons:
It is more expensive than other blankets
The sizes are a bit smaller than traditional sizes
Conclusion
You don't have to spend your days shivering from the cold outdoor temperatures, but you shouldn't have to increase your utility bills by hundreds of dollars to stay warm, either. A high-quality electric blanket offers to perfect balance, providing you warmth while saving you money.
If you want a great blanket you can enjoy for years to come, the Sunbeam RoyalMink has everything you're looking for. Whether it's choosing from 20 different temperature settings or just enjoying the luxurious mink material, this is the perfect way to keep away the chills on cold days and nights.