Some links on this page are monetized by affiliate programs - see disclosure for details.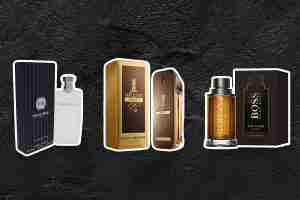 Every man wants to smell great. Unfortunately, the world of men's fragrances can be confusing. Many guys overlook the benefits of wearing a scent simply because they think it's a product only made for women. But men's perfume is usually the superior men's fragrance product. The key is looking for the best long-lasting perfumes for men, to make sure you find a scent that works with your body chemistry — and stays on throughout the day.
What Are the Best Long-Lasting Perfumes for Men?
Here's a closer look at what cologne for men is, how to use it and why you probably want to. Plus, we've rounded up 2020's best, longest lasting colognes for men:
Unlike the guys from the movies with their amnesia rays, this Man in Black parfum is designed to leave a lasting impression. It's traditionally popular among rising business stars and other professionals
The eau de parfum has a bold, tasteful scent with hints of iris, rum, spices, tuberose, and leather. It's a traditionally manly aroma which can be worn throughout the workday.
1 Million Prive is an updated version of the classic 1 Million Eau de Toilette from Paco Rabanne. The Prive has the same rugged, intoxicating aroma only with a fresher, modern twist.
The blend is spicy with marine accord, cardamom, mandarin, bergamot, nargile, tobacco, myrrh, patchouli and tonka bean absolute. It's a bold scent with woodsy hints of hookah tobacco which is well-suited for after-work drinks and evening social events.
Inspired by Emperor Napoleon, Aventus celebrates success and vision. It was originally developed by a father/son duo as a masculine, provocative fragrance.
The base of the fragrance includes oak moss, musk, vanilla, and ambergris. Top notes include blackcurrant, bergamot, apple, and pineapple. It's an earthy, woody smell great for both the boardroom and the backyard.
Also worth noting is the unique, interesting bottle which features a silver emblem with a horse and rider. It adds a tasteful touch of masculinity to your bathroom sink or shelf.
Add an aura of nobility to your working day with this parfum spray inspired by ancient Japanese culture. It's a subtle, sophisticated and refined scent from the world-famous Madame Mori.
The initial spritz is citrus and spearmint, which settles into warm, woodsy sandalwood. It's appropriate for the boardroom and professional settings.
Plus, the bottle is striking, too. The cap is inspired by the Tsuka, an ancient (real) samurai sword. Pure platinum lettering adds a touch of refinement to your early morning routine.
Although probably a bit too seductive for the office, Dior's Homme Intense is perfect for a night out on the town, especially a night involving romance.
It's a wooden musk with floral highlights. The lemon, lavenders and blackcurrant top notes tend to dominate, creating a fragrance a bit more feminine than many men's perfumes. But it remains a smooth, subtle scent ideal for cool evenings and late nights.
A crisp, brisk scent for the crisp, brisk seasons of fall and winter. It's an energetic, clean blend of bergamot, black pepper, labdanum, juniper berries, and other fresh scents.
Originally launched in 2013, it's been a popular scent to wear as spring ends and fall begins. It's a long-lasting scent which can be worn outdoors even in wet weather.
As you might expect from a major fashion house, Versace excels at creating subtle parfums which gently cling to your clothing. Their Oud Noir Parfum spray has a subtle yet decidedly masculine aroma which pairs well with high-quality cotton and wool.
The initial spray is strong on citrus and wood but settles into a sweeter scent with hints of honey and orange. It's a very natural, fresh scent suitable for year-round use. Appropriate for a family dinner at home or daily use at the office.
Ralph Lauren's classic Polo scent lasts all day and is appropriate for practically any occasion. It's a great all-purpose fragrance which never overpowers. The rich, light smell is masculine, fresh and professional.
Blue features melon de Cavaillon, watery melon, cucumber, and other fresh, slightly fruity scents. It's far subtler than the original Polo.
Blue is a great choice for men on-the-go. It's long-lasting and noticeable without becoming pushy. You can apply it in the morning, and it'll smell fresh all day long, making this one of the best long-lasting perfumes for men on our guide.
Casual days call for a light, breezy scent like L'homme Intense. It's an airy mixture of bergamot, lemon, orange blossom, and violet leaves.
Subtle but masculine, it's a sporty scent perfect for a day outdoors or hanging with friends. It's suitable for everyday use, but it might be a bit too informal for a professional setting.
Although maybe not the best choice for the office, this seductive scent is great for dates and socializing, and great for jet-setters too. It's an intense, bold fragrance which conjures up impressions of luxury and comfort.
It features spicy ginger and cardamom combined with manikan fruit and leather. While it's masculine overall, there are also surprisingly zesty hints of fresh citrus.
Frequently Asked Questions about Perfume for Men
What is Perfume for Men?
Men's fragrances have different levels of concentration. The higher the concentration of fragrance, the more powerful the scent. It lasts longer and smells stronger, although higher concentrations do typically increase the price.
The different categories of fragrances are:
Parfums have the highest concentrations. They'll last 24 hours with just a single application.
Perfume is the second-highest concentration. They'll last for eight hours or more.
Eau de Parfum is the next highest concentration. One application will last about six hours.
Next is eau de toilette. It lasts for about four hours.
Finally, the lowest concentration is eau de cologne. It needs to be re-applied after about two hours.
So, what's cologne? Well, the term "cologne" is nothing more than marketing and advertising speak for masculine-scented perfume. It typically sits on the middle of the concentration scale, lasting for about five to eight hours before needing reapplication.
The term perfume is historically gender neutral. It's only become associated with women's cosmetics relatively recently. Unfortunately, many guys are missing on the great scents (and great value) simply because they're confused about the product name.
How to Find a Scent That's Right For You
Finding the fragrance which suits you best is obviously very subjective. It depends on what scents you enjoy as well as your natural body chemistry.
Smelling yourself can be difficult, so it's helpful to enlist a trusted friend or loved one when trying new products.
However, despite the subjective nature of picking a winning scent, there are still a few universal rules which can help:
What Other Products are You Wearing?
Your fragrance should work with other toiletries, not against them. It's easy to become so used to the products we use every day that we become immune to their smell. Consider the following:
Deodorant
Always apply deodorant first. It's designed to eliminate odors, not mask them, so it doesn't need to have a particularly heavy scent. A lightly scented deodorant is usually the best option if you also plan to wear a fragrance.
Antiperspirant
An antiperspirant helps stop you from sweating. It's a different product than a deodorant (and you should never use a deodorant/antiperspirant combo). You'll want an antiperspirant with a light scent.
Note that perfumes have nothing to do with preventing sweat from forming. If you're sweating a lot, and add a fragrance, you'll end up smelling gross. Make sure you smell fresh and clean before applying any fragrances.
Beard Oil
If you wear a beard, you'll need to apply beard oil daily. However, beard oil can have a pretty strong smell because it's made from essential oils. Plus, because the smell is literally underneath your nose, you can become "nose blind" to the aroma quickly.
You have two options. You can match the smell of the beard oil to the fragrance. Typically, this means choosing two products with the same general ingredients. You can also switch to fragrance-free beard oil, which uses natural, non-scented ingredients.
How Masculine Do You Want to Smell?
Men's fragrances range from woodsy to flowery.
Generally, the woodsy, earthier scents are considered more traditionally masculine. They'll have natural, outdoor aromas resembling fresh-cut wood, rainy grass, and similar rugged scents.
These earthy aromas are usually heavier. They're ideal for professional environments and sophisticated events. Many guys stick to these scents in the fall and winter.
Flowery scents aren't particularly feminine. Instead, they're usually light, energetic and subtle. Flowery fragrances typically favor citrus, spearmint, and fresh fruit scents.
Many guys prefer the subtler aromas of flowery scents – and it certainly doesn't make them any less manly. Flowery scents are usually appropriate for casual events and warmer seasons.
How Do I Apply Perfume?
Have you ever sprayed a cloud of cologne into the air, stepped through it, and figured you were good to go? Yeah, most likely you smelled like you'd been bathing in fragrance. Over-application is the most common sin guys commit when applying scent.
Here's the right way to do it:
1. Apply to Hot Areas
That's your neck, shoulders, chest, wrists, and armpits. They're the areas of your body most likely to heat up throughout the day. Body heat activates the fragrance.
To be clear, only apply perfume to one, two or maybe three hot spots at a time. Wrists and neck applications will smell the strongest and stay on throughout the day if you're looking for the best long-lasting perfume for men. (Well, assuming you're wearing business attire all day long.)
2. Stay Consistent
Start with small dabs of cologne and take note of what you're using. Everybody develops nose blindness to their own cologne. So, over time, because we can't smell it, we start using more and more.
But the strength of the fragrance has never changed. Our nose has just grown accustomed to the smell. After using the same fragrance over a long period, trust your eyes over your nose.
3. Know the Limits
The cologne bottles you place upside down on your wrist are liquid-fed "no sprayer" bottles. They're usually reserved for the fanciest perfumes. You never need more than one drop per wrist.
With spray bottles, limit yourself to three sprays – and that's usually excessive in most cases.
What Ingredients Are in the Best Long-Lasting Perfumes for Men?
Here's the tricky (and cool) fact about fragrances: Their smell changes over time. The scent from the first spray is different than the aroma after a few hours.
Fragrances have a three-part life cycle. It's like a three-part pyramid. Ingredients blend and mix as they evaporate, transforming the fragrance into new directions. The three sections are called notes. Here's a closer look:
Top Note
This is a lighter smell which lasts for the first two hours. It usually has a blend of light citrus, powder, and spicy aromas.
Middle Note
Also called the medium or heart notes, this is the main scent of the fragrance. It'll last for about five hours. Heavier floral and spice scents are often found in this note.
Base Note
The base notes aren't as sharp as the middle note, but they're the longest lasting. They typically favor sandalwood, moss, vanilla, leather, and musk. Although they take up to five hours to develop, they typically last up to 10 hours or more.
The technical term for a fragrance with three notes is a "non-linear fragrance." They're the most common and generally considered the most elegant. However, quality linear fragrances do exist. They're useful for situations where you don't want or need the fragrance to change over time, such as a short event during a specific time of day.
How Do I Test a Perfume?
Avoid those free samples found in magazines. The thick paper stock makes it far too difficult to gauge the real smell of the fragrance accurately. Instead, you'll want to apply fragrance directly from a bottle. Shopping in department stores is often great for this (even if you end up later buying online).
Spray the perfume onto the inside of one wrist. Smell the initial Top Note. Some people find it helpful to write down brief impressions, as remembering specific smells later can be difficult.
Remember, non-linear perfumes change over time. You'll want to consider the aroma at five hours and then again around hour 10.
Between each Note, cleanse your palette by drinking a cup of coffee or tea. It'll help clear out your nasal passages. You'll have an easier time detecting the differences between each Note.
Wash the perfume off if you develop any itchiness, redness or other skin discomfort, especially in the area where you applied the product. Perfumes are often a blend of many different plants and natural materials. You never know what you might be allergic to.
In most cases, tracking down the specific allergen isn't worth the trouble. Simply move on and try another fragrance.
Final Thoughts
The perfect perfume brightens your body and mind. People will be naturally drawn to you, and your self-confidence will skyrocket in both personal and professional situations. When looking for the best long-lasting perfume for men, you'll find that choosing the right scent is a matter of taste (and smell). Once you find it, it'll all make… scents.