Some links on this page are monetized by affiliate programs - see disclosure for details.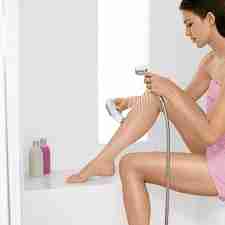 As part of a regular beauty routine, many women opt to remove body hair. From tweezing the eyebrows to removing hair with a razor, many women know just how much of a pain hair removal can be. Razors can cause itchy, painful razor burn, while hot wax may cause burns, and it can be really painful. Chemical depilatories may lead to chemical burns on the skin, and tweezing large areas takes ages.
Something that was popular decades ago is now making a comeback because of the long-lasting results and ease of use, which is why epilators are becoming more popular with women of all ages.
What is an Epilator?
An epilator is a small, handheld device that is used to remove body hair. It looks similar to an electric razor, but instead of protected blades, it has a rotating head. This electrical device grasps multiple hairs at once and pulls them out, similar to tweezing. However, because the device does the work for you, it is a much quicker process, so it can be used on larger areas of the body.
What are the Advantages?
Anyone who wants to quickly and easily remove hair from the body will find that using an epilator is a breeze. Unlike shaving that causes razor burn and doesn't last for long, hair removed using one of these devices leaves skin hair-free for up to 4 weeks. Although some users report minor pain with the first few uses, most say that it is less painful than waxing without the irritation and risks of burns.
It doesn't use chemicals like depilatories, so it's ideal for all skin types, even sensitive skin. It can also be used anywhere, from facial hair to hair on the legs, underarms, or bikini line. These devices are the perfect way to remove hair from anywhere without irritation and keep it gone for longer than other methods.
What are the Different Types?
Although epilators certainly aren't new to the market, they are making a comeback, so those who have never used one of these hair removal tools may not know what to expect. Before you drop money on a device that just doesn't work for you, it's a great idea to familiarize yourself with the types available on the market, so you can make a wise purchasing decision and get a product that best fits your needs.
• Rotating springs – These models come with rotating springs that grasp and pull out hair.
• Rotating discs – These have rotating discs instead of springs to remove hair quickly.
• Multiple tweezers – These have tweezers that move in and out to grasp hairs, pull them out, and release them.
• Wet/dry models – These can be used on dry skin, or they can also be used in the shower.
Which Epilators are the Best on the Market in 2015?
Philips HP6401 Satinelle Epilator – Remove unwanted hair efficiently with this affordable model from Philips. This model boasts many of the features found on high-end devices, including different speed settings, an ergonomic design that makes it easy to hold, and a washable head to keep it clean and safe for use anytime.
Emjoi AP-18 Emagine Dual Opposed 72 Tweezer Head Epilator – Remove hair quickly with this model, which has 72 tweezer heads designed to remove hair right from the root for smoother skin that lasts for up to 4 weeks. This model glides smoothly over skin, works efficiently, and is even effective on shorter hairs.
Braun SE7681 Silk-épil 7 Wet and Dry Epilator – Remove hair with ease with this model, which can be used in the shower or just about anywhere. This cordless model is easy to use and comes with five attachments that make it easy to remove that unwanted hair. This model even works on fine hair that can't be removed with other types of devices.
Features to Consider
If you're tired of spending lots of money at the spa or salon on waxing services and you hate having to shave every other day, an epilator is the product you need to add to your bathroom. Now that you know about the types available on the market, you can begin looking at the features that set each model apart from the rest. Make your own list of "must-have" features, or take your cues from these four important features before you spend your money to ensure you've purchased a product you'll love.
Price
Epilators are not very cheap, and most cost around $50 to $100, while more advanced models that have extra features may cost even more. However, don't let the price scare you away. A high-quality model can easily last for years with proper care, and this eliminates the need to purchase expensive replacement razors and cartridges. With regular use, these pay for themselves over time. Basic models are less expensive and may be ideal for those on a budget or those new to this type of hair removal, while more advanced models that work quickly and are less painful may cost additional money.
Number of heads
The number of heads is important for a number of reasons. A device that has multiple heads will be able to work more efficiently, which means faster results and often, less pain. It is important to note that typically, the more heads a unit has, the more expensive it will be, although this is not always the case. However, it is important to compare cost with efficiency, as spending a little more may result in less grooming time and more time doing things you enjoy.
Type
As mentioned, there are several different types of units available for purchase. If you want to use yours in the shower, you have to make sure that it is a wet/dry epilator. If you prefer the more modern tweezing, which gives longer lasting results, you don't want to purchase a unit that has rotating heads.
Attachments
These units are ideal for grooming any type of body hair, but some come with attachments that get the job done faster and easier. If you want to get the most out of your device, look for a model that comes with multiple attachments that can be switched out to use on different areas of the body.
Price
Philips HP6401
This is a great choice for the bargain-hunting shopper.
Emjoi AP-18
This unit's retail price places it at the higher end of the pricing scale when compared to other units.
Braun SE7681 Silk-épil
With a higher price tag, this is one of the more expensive machines you'll find.
Number of Heads
Philips HP6401
This model has 21 discs, which is less than other units but results in a lower price point.
Emjoi AP-18
This has 72 tweezer heads, making it one of the more efficient models on the market.
Braun SE7681 Silk-épil
This has 40 fine-grip tweezers to provide you with faster results on all areas of the body.
Type
Philips HP6401
This device uses rotating discs to remove hair from the root for long-lasting results.
Emjoi AP-18
This uses tweezers, which is one of the least painful and most modern ways to epilate.
Braun SE7681 Silk-épil
This model uses tweezers, and it is also a wet/dry model that can be used in or out of the shower.
Attachments
Philips HP6401
This model comes with no separate attachments.
Emjoi AP-18
No attachments are included with this unit.
Braun SE7681 Silk-épil
This comes equipped with five different attachments.
Our Epilator Reviews
If you're new to this type of hair removal or you just love a good bargain, this is the right device from you. This unit from Philips is affordable but gives great results. This model has 21 hypoallergenic discs that work to remove hair as short as 0.5 millimeters. It is ideal for use on all areas of the body, even sensitive areas like under the arms.
This unit has a removable head that can be cleaned easily for good hygiene. It has two different speeds that can be used to more quickly remove hair from larger areas, or to slow it down for sensitive areas. With a price that is less than $50, this is a very affordable option for anyone who wants to try epilating.
Pros:
It is very affordable. It has two different speeds. It can be used on all areas of the body, including sensitive areas. It is easy to clean. It doesn't require batteries, which is a plus for people who want to save on batteries.
Cons:
It does have a cord, so those who want a cordless epilator will have to look for another unit. It is quite loud. It doesn't have as many discs as other units, so it may take longer than other, more expensive models.
Get soft, smooth, hairless skin in no time at all when you use this epilator from Emjoi. This unit has lots of features that make it stand out from the rest, including a modern tweezing design, 72 tweezer heads that work quickly and are great for larger areas of the body, and an antimicrobial design that keeps it safe and sanitary.
This unit removes hairs that are at least 0.5 mm long, and it is designed to give you smooth skin without the pain and pulling that may occur with other units. It has innovative middle "lifting" fingers that pulls out fine hairs with ease and with less pain than other models. This unit has an ergonomic handle that makes it easy to hold for long periods of time, two different speeds, a long cord for uninterrupted use, and it comes backed with a 30-day guarantee.
Pros:
It has multiple tweezers for faster results on larger areas of the body. It works on shorter, finer hairs. It comes backed with a guarantee. It has two different speeds. It has a comfortable, ergonomic handle. It works on coarse hair. It glides easily over skin.
Cons:
Some hairs simply break instead of being pulled out, resulting in hair that grows back more quickly. This is more expensive than other units on the market.
Remove hair conveniently in or out of the shower with this model from Braun, which is cordless and can be used wet or dry. This model boasts lots of great features you won't find on cheaper units. Standout features include two different speeds: one is slower for gentler hair removal, while the faster speed is much more efficient. For added comfort, this has a built-in massage feature that makes the experience more comfortable and less painful.
You won't have to fool with a cord as this model is cordless, recharges in just one hour, and provides you with 40 full minutes of use per charge. In addition to being used alone, it comes with five separate attachments, which includes a trimmer cap, sensitive area cap, facial cap, efficiency cap, and the shaver head for the results you want, anywhere on your body.
Pros:
It is very efficient. It is cordless. It doesn't take long to recharge. It comes with several different attachments for optimum results. It massages the skin for less painful epilating. It can be used in or out of the shower.
Cons:
It is quite expensive. Over time, the battery may no longer hold a charge for as long as it did before.
Stop throwing away money on disposable razors, quit dealing with painful razor burn, and get smooth skin for weeks at a time by epilating. If you're wanting to try this method of hair removal that's becoming all the rage again, you can't go wrong with the Braun SE7681 Silk-épil. This unit may be priced a little more expensively than other models, but its amazing performance, cordless design, and interchangeable heads make it a great choice for smoother, softer, and hairless skin from head to toe.