Some links on this page are monetized by affiliate programs - see disclosure for details.
If you've ever worn makeup, you know that the first step is to start with a clean canvas. Before you add that pop of color to your eyes or that bold lipstick to your lips, you want to make sure that you have flawlessly beautiful skin. Even if you weren't born with perfect skin, you don't have to worry, as foundation is designed to cover up redness, pimples, and under eye circles to give you flawless skin. But not all makeup is created equal. If you want lightweight, easy to apply, natural-looking makeup, then mineral makeup is for you.
Many people hate wearing foundation for a variety of reasons. Some liquids can be too thick and can feel like a mask, not to mention these foundations can irritate sensitive skin and clog pores, which leads to breakouts. Tinted moisturizer is an alternative, but it can make the skin look a little too shiny, and it just doesn't work for oily skin. If you want to achieve the look of flawless skin without all of the hassles and without feeling like your makeup is just caked on, mineral makeup is a great solution.
Compare: The Top 10 Best Mineral Makeups of 2021

What is Mineral Makeup?
As its name suggests, the best mineral makeup is made with natural minerals. These minerals are ground into a powder which is used to apply color to the face to even out skin tones, correct discoloration, and provide you with a smooth, glowing complexion without the heavy feeling of traditional liquid or cream foundations. This type of makeup is perfect for sensitive skin, doesn't clog pores like other types of beauty products, and comes in a variety of hues to match any skin tone.
What Are the Different Types of Mineral Makeup?
If you want to look your best without loading your face with cosmetics packed with chemicals and ingredients you can't pronounce, this type of makeup is a great choice. If you have very sensitive or acne-prone skin and have not had success with makeup in the past, you should consider using mineral formulas for that beautiful look you desire. Before you purchase, though, there are two types of makeup you should consider.
Powder foundations – These are the most common mineral foundations to consider, and they are the type that most people think of when they hear the words "mineral cosmetics". These are available in loose powder form, and they are applied with a large powder brush or kabuki brush.
Liquid mineral foundations – These are also foundations made with minerals, but they are mixed into a liquid to create a base that is similar to other liquid foundations. These have the added advantage over those foundations because they do not clog pores, they are not too heavy, and they provide plenty of coverage using the power of natural minerals.
Is Mineral Makeup Better for Your Skin?
Mineral makeup is a more natural way to transform your look. You won't have to worry about harsh chemicals that can irritate your skin, cause redness, or make your skin break out in a rash or acne. These apply smoothly and even out your skin tone without being too harsh or heavy. Unlike other makeup, you don't have to worry about them running or fading in the heat, and the best mineral makeups are very easy to apply evenly.
You can achieve a flawless finish without worrying about harsh lines on your jawline or makeup that just looks and feels too thick and fake. This is a great choice if you try to use more natural products, and it is ideal for any skin type and tone, even sensitive skin. Other mineral choices are also available to give you a complete makeover, including mineral blush and eyeshadow.
Is Mineral Makeup Safe for Skin?
Mineral makeup is natural. But does natural always mean safe? Most of the ingredients in mineral makeup are the same ones found in traditional makeup. They're just not poured into compacts.
However, what's in mineral makeup isn't as interesting as what's not. Mineral makeup doesn't include preservatives, mineral oils, chemical dyes or fragrances.
Many dermatologists recommend mineral makeup for patients with sensitive skin. If traditional makeup causes you to break out in hives or a rash, mineral makeup is often an effective solution.
Whenever using a new makeup, first apply a small portion to your wrist. Wait about half an hour. If you don't notice any irritation, applying the makeup to your face is probably safe. Discontinue use and wash your face if you feel any warming or tingling sensations, or notice anything unusual.
Which Are the Best Mineral Makeup Brands on the Market?
Your skin won't just look flawless when you're wearing this makeup, but it will also look great even without it, as this top-selling product from L'Oreal Paris helps improve your skin. This mineral foundation comes in a variety of shades so, as the name leads you to believe, you can find your true match. With a built-in brush, this makeup is easy to apply, and it's great for stowing in your purse so you can always look your best. When compared to similar products, this foundation is a great choice for the budget-conscious consumer.
Protect your skin and hide any imperfections with ease with this great makeup, which shields harmful UVA and UVB rays. It's also enhanced with Green Tea to help improve the appearance of your skin without a ton of harmful chemicals that can lead to damage in the future. It's lightweight and doesn't feel heavy like other foundations, but it provides the coverage you need. This base is ideal for all skin types, and it can even be combined with the company's hydration mist, sold separately, for drier skin.
With this set, you can completely transform your look without heavy makeup that clogs your pores. In addition to a mineral foundation that really makes your skin glow, this kit is loaded with everything you need for the latest makeup looks, including a setting powder, eyeshadows, and brushes.
How to Choose the Right Mineral Makeup for You
If you've ever shopped for cosmetics before, you know just how difficult it can be to find the right foundation. You have to sift through the many different brands, find something that matches your skin tone, and of course, find a product that fits in your budget. Before you drop money on mineral cosmetics, keep these four features in mind as things to look for to help you make your selection.
How Much Does Mineral Makeup Cost?
Mineral makeup ranges in price from around $10 for a drugstore brand to $50 or more for a high-end brand. While expensive doesn't always necessarily mean better, in many cases, high-end makeup is better matched for your skin, improves the appearance of your skin, and offers more benefits than low-end products, which may contain chemicals in addition to natural minerals. Consider other features of the makeup, including the size of the package, before relying solely on the price tag.
What Colors Does Mineral Makeup Come In?
You want to achieve a perfect match for the most natural look without harsh lines on your jaw line that is a clear sign you're wearing makeup. To achieve the "wearing makeup without looking like you're wearing it" look, make sure you pick a color that suits for your skin tone.
What Sizes Does Mineral Makeup Come In?
Consider how large the packaging is and how much you need to use to ensure you get the best deal. Sure, the lower priced makeup may be a cheaper initial investment, but if the package is smaller or you have to use a lot to achieve the look you're aiming for, it won't last as long and will need to be replaced, potentially costing more in the long run.
What Comes With Mineral Makeup?
Sometimes, buying a package deal can be your best bet. Look for kits that come with other mineral makeup items, cosmetics bags, and brushes to use to evenly apply your makeup.
Price
L'Oreal Paris
You won't have to break the bank when you purchase this foundation, which is very affordable.
gloMinerals
This is the mid-priced range when compared to similar cosmetic products.
IQ Natural
This product is a bit more expensive than others. However, this set comes loaded with extras to give you a completely new look.
Color options
L'Oreal Paris
There are 12 shades available for you to choose your perfect match. Color choices include Buff Beige, Classic Tan, Creamy Natural, Light Ivory, Natural Beige, Natural Buff, Natural Ivory, Nude Beige, Soft Ivory, Soft Sable, Classic Beige, and Sun Beige.
gloMinerals
You'll have your choice from 24 shades, including Beige Dark, Beige Light, Beige-Light, Beige-Medium, Chestnut-Light, Chestnut-Medium, Cocoa-Light, Cocoa-Medium, Cocoa Dark, Golden Light, Golden Medium, Golden Dark, Golden-Light, Honey Dark, Honey Medium, Honey-Light, Honey-Fair, Natural Fair, Natural Medium, Natural-Medium, Natural-Dark, Natural-Light, Tawny Light, and Tawny Medium.
IQ Natural
There are six different sets available to blend with your skin tone. Choices include Dark, Dark Medium, Fair, Golden Tan, Medium, and Tan.
Packaging size
L'Oreal Paris
You'll receive .35 ounces of this product, enough for multiple uses.
gloMinerals
You'll receive a .30 ounce compact filled with makeup in your choice of color.
IQ Natural
You will receive two 6 gram containers of foundation among the many other items included in this set.
Included Extras
L'Oreal Paris
The built-in brush makes this makeup perfectly portable – just toss it in your bag and you have everything you need to always look your best.
gloMinerals
An ultra brush and finishing sponge are included with this compact.
IQ Natural
This kit comes loaded with multiple cosmetic items, including a setting veil, bronzer, three mineral shadows, five brushes, and a makeup bag.
Conclusion: Our Best Mineral Makeup Reviews Are In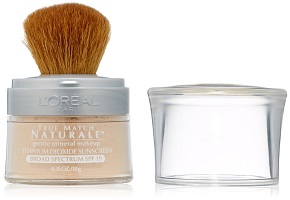 If you're new to mineral cosmetics or you just don't want to invest a lot of money but you still want a great product, this foundation from L'Oreal is a great choice for you. Start off by choosing from 12 great shades designed to blend beautifully with your skin tone. This lightweight powder glides easily over the skin, giving you a more polished look without the heavy makeup. It is very effective in covering blemishes and evening out your skin tone.
This makeup is buildable to give you the coverage you need. It comes with a brush for perfect blending, so it's very portable. This makeup is easy to use, extremely affordable, and is preservative, talc, and fragrance-free, so it's great for women with sensitive skin.
Pros:
It is affordable
SPF 19 provides you with sun protection
Very lightweight on the skin
Works with all skin types
Comes in a great assortment of colors
It is long-lasting
Easy to apply and blend
Cons:
Because the brush is part of the cap, it can be a bit messy
It does not come in many darker skin tone shades
It may make severely dry skin look drier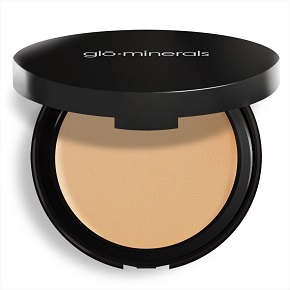 Get the perfect glow without clogging your pores by wearing this lightweight foundation, which comes in a variety of colors designed to match all skin tones and undertones. This foundation can be applied and blended easily with a brush or sponge, and it can be layered to provide you with full coverage if needed.
Even women with dry skin can wear this foundation, adding extra hydration with the hydration mist. This is also a great refresher for anyone, no matter what skin type they have. This makeup has built-in UVA and UVB protection, as well as Green Tea to make your skin look healthy and glowing.
Pros:
Comes in a great assortment of colors
Blends very well
Perfect for sensitive skin
Hides redness and imperfections
Very lightweight
Comes in an easy-to-carry compact
It isn't messy like loose mineral foundations
Offers SPF for sun protection
Cons:
It is a bit expensive
It may look cakey on dry skin if not used with the hydrating mist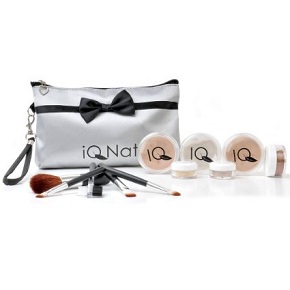 Get all of the makeup you need for subtle makeup for the office or a dramatic look for a night out on the town with this mineral makeup kit. You'll receive your choice of color in this mineral foundation, which applies smoothly to the skin and doesn't feel heavy or cakey. It doesn't clog pores, and it's a great choice if you have sensitive or acne-prone skin.
You'll receive two containers of foundation, as well as a mineral veil to set it in place. You'll also receive three great mineral shadows, a bronzer to get a sun-kissed look without the damage, five brushes for application, and an adorable makeup bag for carrying all of your new makeup.
This makeup is comes different colors to match your skin tone, provides great coverage without being too heavy, and blends easily. If you're new to makeup, this kit is ideal for you, as it also comes with step-by-step instructions on how to achieve your best look, with the best mineral makeup.
Pros:
Comes with a wide variety of cosmetics and brushes
Comes in multiple tones to match any skin tone
Great for any skin type
Ideal for those with allergies or sensitive skin
Easy to apply and comes with instructions
Backed with a money-back guarantee
Comes with everything you need to transform your look
Cons:
It is a bit expensive, but it's a deal when you consider all of the pieces you get
It may make fine lines and wrinkles stand out more
Closing Thought
If you want a natural look using natural products, mineral makeup should be in your cosmetics bag. If you want the coverage of mineral foundation, the bold color of mineral eyeshadows, and other great tools, including a handy cosmetics bag, the IQ Natural 12-piece Set has everything you need to put your best face forward.