Some links on this page are monetized by affiliate programs - see disclosure for details.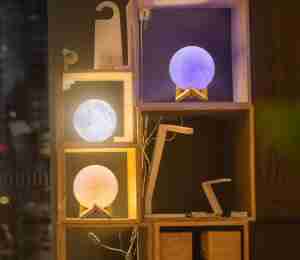 A year ago, it's fair to say people didn't think 2020 was going to turn out the way it did. So, now, as we enter 2021, it's understandable that there may be some concern and trepidation of things to come, which is why we need to approach the year with calm, cool vibes. Whether it's for yourself, a friend, or family member, a moon lamp is a perfect addition to set up a relaxing atmosphere in your personal, private space. It's hard enough dealing with the uncontrollable factors in our lives, so we should at least be able to set up a space for us to feel relaxed, calm, and at ease.
No two moon lamps are created equal, which leaves us with a lot of questions: what's the best way to pick one for your home? What is the best looking moon lamp? What is the brightest moon lamp?
This list can help you decide on choosing one of  the best moon lamps of 2021. With this list of the best moon lamps, you can decide which moon lamp is best for your own personal purchase or possibly a perfect gift for a friend looking to add a decorative touch to their home.
In this article, we'll investigate the marketplace for the top 10 best moon lamps so that you'll know which moon lamps are great for teaching astronomy and which will be more dark side than the heavenly body.
Top 10 Best Moon Lamps of 2021
In this section, we'll review the top ten best moon lamps individually so that you'll get a good idea about what the marketplace for moon lamps has on offer.
The Mydethun Moon Lamp is a two-color light which includes an artistically-styled stand that makes it a great addition to your child's room or your study. With this lamp, you'll be able to choose between white light or yellow light depending on your mood.
The yellow light is more pleasant to use for illumination, but the white light is probably better for viewing the lamp itself. Think of this more as a moon night light to keep you company.
The Mydethun lamp is made with ecologically friendly materials, unlike many of the other moon lamps on the market.
Likewise, the battery on this lamp has a larger capacity than most of the others on the market. You can charge the battery in two hours, then use the light for as long as ten hours.
Key features:
Rapid-charging battery
10-hour battery capacity
Ecologically friendly materials
Emits either white or yellow light
---
The Mind Glowing Moon Lamp will illuminate your workspace or room with a plethora of different colors ranging from the astronomically-accurate yellow/white to zany options like neon green.
Furthermore, with this moon lamp, you won't be buying a light with an awkward-looking stand. The stand is exquisite, and it will make the entire lamp into a beautiful display piece.
In other words, this lamp is gorgeous enough to use in a room that you'll show guests — it isn't just for your child's room. You might want to keep the more conservative lighting options on if you have guests, however.
The only drawback of this moon lamp is that its included educational materials are lackluster. You'll need to grab a few additional guides before a child can get the most benefit from this lamp.
Key features:
16 different color options
Controlled via remote
Lifetime warranty
Elegant stand
---
If you're looking for a moon lamp that will impress guests with levitation, this VGAzer levitating moon lamp will be right up your alley. This is without a doubt one of the best looking moon lamps. With a magnet in the base of the stand, this moon lamp gently spins and casts its light around your room when activated.
Notably, most other moon lamps don't have the ability to spin or levitate. In other words, with this lamp, you'll trade color-shifting abilities for levitation and rotation. The 3D-printed surface of the moon will fast a beautiful glow around your room.
You should be careful when you place this lamp, however. If you jostle the moon while placing the lamp, it may fall off, unlike with other lamps.
Key features:
Levitating moon design
Glows soft white light
Gentle spinning motion
---
The SEGOAL Star Night Light is an excellent addition to your child's room or play space thanks to its gorgeous depiction of the light cone observable in the universe from our planet.
Notably, this moon lamp doesn't depict the moon at all — it depicts a sphere of stars projected outward. This feature means that you'll get to see the glory of the Milky Way instead of the moon, which can be a blessing or a drawback depending on what you want.
Unfortunately, this moon lamp has no fast charging capabilities, so you will need to spend an extensive amount of time charging the lamp between uses.
On the bright side, the range of colors on this lamp are extensive and playful.
Key features:
Four projection modes
16 color options
Galaxy-printed exterior
6-hour battery life
---
The ZgmdaHOME Moon Lamp is a compelling product on account of its beautiful range of color options which can depict realistic views of the moon as well as enhanced images.
These enhanced images can help you to observe details about the moon's surface that other moon lamps aren't capable of. In particular, the green and beige color options help to bring out the fine detail in the lamp's depiction of craters on the moon.
In fact, there are seven different beige and off-white color options, each of which corresponds to a realistic image of the moon created by atmospheric phenomena like lensing and refraction.
For the real astronomers in the audience, this moon lamp is a great pickup because it has the ability to be more realistic than most other lamps on the market. The more intense color options aren't just for show, either.
The red color option creates a wonderfully accurate blood moon effect, which is only more splendid when observing the real moon.
Key features:
Highly realistic color options
Great for astronomers who appreciate atmospheric phenomena
Includes fun options like strobing
---
When you need a moon lamp which is larger than the average product on the market, this Gahaya moon lamp will serve your needs with its massive diameter. With 7.1 inches to its credit, the Gahaya moon lamp is an excellent fixture for a room where you might want to nap.
The warm color options in this moon lamp won't keep you up at night, and they might even help to lull you to sleep if you turn the brightness down and turn the warmness up.
Unfortunately, the render of the moon which the manufacturers used to make this moon lamp was a bit low-resolution. This means that you will be able to see the pixels on the printed surface of the moon, which may irritate people who are sticklers for realism in their moon lamps.
In other words, you may not want to put this moon lamp on display where people might examine it carefully, but it's a great fixture for a nap room or somewhere else that is quiet and comfortable.
Key features:
Great for falling asleep
Larger than other moon lamps
Easy to create color profiles
Limited warranty
---
The LOGROTATE moon lamp is an excellent all-around moon lamp for people who aren't interested in astronomical accuracy so much as convenience and safety. With the option to fade colors in and out, this moon lamp can be downright psychedelic.
While the 16 color options are nearly exclusively zany, bright colors rather than realistic hues of the moon, children and other young ones will find this moon lamp to be fun and easy to use.
This moon lamp is explicitly made using non-toxic materials, making it a safer choice for homes with a lot of children who like to pick up decorations or otherwise poke around.
The small size of the lamp will not be a major issue for most people. Likewise, the little stand won't win any awards for elegance, but it will get the job done and provide the lamp with a sturdy base to rest on.
Key features:
4.8-inch size
Constructed with non-toxic materials
Long-range remote control
16 non-realistic color hues
---
The BRIGHTWORLD moon lamp will bring a lot of cheer to your home on account of its gentle light. Unlike other moon lamps on the market, you don't have to worry about being overwhelmed by a plethora of features with the BRIGHTWORLD lamp.
All of the lamp's functions are accessible with a simple touch. That means there aren't any remotes which will run out of batteries, only the lamp itself. The lamp's battery life is also a significant positive factor, as the battery can last for as long as 24 hours.
The drawback to this moon lamp is that the color and lighting options are very limited. This isn't the lamp if you need very bright illumination or if you want to see what a purple-colored moon would look like.
Key features:
Two semi-realistic moon hues
Easy-touch control
Long battery life of up to 24 hours
Can use the lamp while it is charging
---
The HYODREAM moon lamp depicts a view of the universe from the perspective of Earth rather than showing the moon itself. Much like other star lamps, the HYODREAM lamp is a beautiful crystal-ball-like ornament which you'll enjoy having in your room.
You can expect this lamp to last around six hours when running on battery. If you want to use it for longer, you can simply attach the charging cable, and it will charge while illuminating your area.
The issue with this lamp is that you can't adjust the brightness of the lamp very much. This means that you may have a hard time falling asleep when the lamp is on because it may be too bright.
To get around this issue, try setting the lamp to its deepest red hue. Red light won't keep you awake as much as colors with more blue content.
Key features:
Choose from seven different colors
Six-hour battery capacity
Semi-realistic depiction of nebulae
---
Kowth Store's moon lamp is a wonderful option for people who want a moon lamp that can depict realistic views of the moon while also being capable of depicting more fanciful conceptions of the moon.
Whether you want the moon to look like it's made of cheese or moon rocks, the Kowth Store moonlight has you covered. Beiges, whites, and yellows in the color roster will give you a realistic depiction, whereas the greens and blues are great for flights of fancy.
You can also dim the brightness of this moon lamp to fit your mood. The lowest brightness setting is perfect for napping, whereas the brightest setting is ideal for display.
While this moon lamp isn't very large, it's the perfect size to throw into your luggage. You won't need to go without your favorite moon lamp when you're on a trip as a result.
Key features:
Extensive dimmer settings
Great realistic and non-realistic color selection
A convenient size for travel
---
Moon Lamps FAQ
In this section, we'll answer a handful of the most frequently asked questions about moon lamps so that you'll know how to be a savvy consumer.
How to pick the best moon lamp?
There is no right or wrong way to pick a moon lamp, but there is more to a moon lamp than it's appearance. We want to help educate you on finding the right moon lamp for your ideal situation. Below are some key points on how to base your decision on buying the best moon lamp:
Finding eco-friendly material to keep your home safe. Do not cheap out on this option.
Battery life and quality depending on the location of your moon lamp. If you are going for the cordless look, batteries on the lamp should charge quickly and last long.
The appearance of the moon lamp should be dimensional so it resembles the look of the moon as close as possible. We love the textured and soft glow look.
Which features will make a moon lamp the best learning tool?
There are a handful of features which make moon lamps that are effective for teaching children about astronomy. These features include:
Educational materials
Realistic color and brightness settings
Lack of rotation settings
High-resolution renders
The quality of the included educational materials is a major factor differentiating effective lamps for learning and ineffective lamps.
If a moon lamp has an extensive booklet discussing the qualities of the moon and explaining how light refracts off the moon to illuminate it for our viewing, there's a good chance that it is better for education.
Realistic color and brightness settings are also fruitful features for a learning-oriented moon lamp. While technicolor hues and bright lights are fun, the real moon usually only has subtle coloration as a result of atmospheric lensing.
Being able to change the lamp's color options to account for different lensing states is desirable, but only if you are able to explain why the moon might turn that color. In other words, realistic colors are better for learning, but only if you can do your part.
Most moon lamps don't have any rotation settings. The reason behind this is simple: the moon itself is tidally locked with the earth, meaning that as the moon orbits the planet, we always see the same side of the moon. Thus, lamps with rotation are not astronomically accurate.
Having a high-resolution render of the moon depicted on the moon lamp is also a critical feature. The moon is far away, but we can see it in high resolution if we use a telescope — so there's no reason for a moon lamp to have a blurry or pixelated texture!
Which features will make a moon lamp best for a child's room?
If you're planning on putting your moon lamp in your child's room, there are a few features which you'll need to consider. These features include:
The range of the dimmer
The selection of non-realistic colors
Automatic turnoff or fadeout
The range of the dimmer is a crucial feature because some moon lamps can cast a fainter light than others. For a moon lamp in your child's room, you want the dimmer to have an extensive range because that means you can set the brightness very low, which won't disrupt your child's sleep.
In contrast, minimal-range dimmers will leave your child exposed to bright light even when it is bedtime.
The color selection is similarly important for sleeping-friendly moon lamps for your child's room. Red hues are less disruptive than blue tones, and off-white tinting is less disruptive to sleep than bone-white tinting.
In other words, try to find a moon lamp which has red or beige color options if you want your child to be able to fall asleep in the light of the lamp.
In the same vein, automatic turnoff or fadeout will ensure that the light is not left on all night after your child has fallen asleep.
Which features should I avoid in a moon lamp?
There are a few features which you should avoid when you're shopping for a moon lamp. These features include:
Strobing
Rotating
Shape-changing
Strobing is undesirable because it isn't useful as an educational tool, nor is it desirable for display or other aesthetic properties. Strobing is simply annoying, so there's no reason to buy a moon lamp which emphasizes it.
While we've already covered by rotation is undesirable, the bottom line is that rotating moon lamps are not realistic, nor are they more pleasing to view.
Finally, shape-changing is also undesirable for moon lamps. Most moon lamps which can change their shape do not do so gracefully, and suffer heavy wear and tear when shifting. Thus, you'll do much better if you find a moon lamp which has a rigid shape.
Blasting Off To The Moon
Now that you're up to speed on finding the right moon lamp, you're ready to pick a moon lamp for your home or someone special.
Moon lamps are excellent tools for education or decoration, so let your imagination and curiosity be your guide when it comes to using your moon lamp. Remember to pick a moon lamp that's right for the space that you'll use it in, and don't forget to appreciate it once in a while.