Some links on this page are monetized by affiliate programs - see disclosure for details.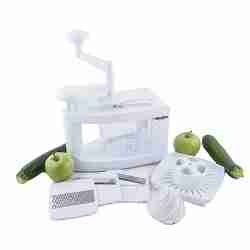 Sometimes you just want to kick back and enjoy your favorite comfort foods. One of the most popular types of comfort food is pasta, whether it's spaghetti with meatballs or a pasta dish in a delicious, light cream sauce. However, one thing that isn't great about this classic comfort food is the amount of carbs.
If you're watching your weight and cutting out carbs or you have a dietary restriction that prevents you from eating carbs, you want to avoid these dishes. However, this doesn't mean that there aren't healthy alternatives. In fact, with a spiralizer in your kitchen, you can easily substitute pasta in your favorite recipes.
Comparison: The Top Rated Spiralizers To Buy In 2020

Choosing The Best Spiralizer: A Smart Shopping Guide
A spiralizer is a kitchen tool that allows you to make faux noodles out of various vegetables. This is ideal for those who are watching their intake of carbs, as well as for anyone who likes to whip up new recipes. A peeled vegetable like butternut squash, cucumbers, rutabaga, radishes, and zucchini is inserted into the tool, and as it passes through, it comes out in thin spirals. These can be used as a low carb alternative for pasta. However, this isn't the only use for a spiralizer.
You can also use it to dress up salads and other dishes, or use it to make thin strips for stir fry, casseroles, and other tasty recipes.
What are the different types of Spiralizers?
A spiralizer is a neat little gadget that you should add to your kitchen if you like to experiment and make all types of new and unique recipes. If you decide that you'd like to add one to your kitchen, before you make your purchase, know how to distinguish between the three different types of tools on the market.
Hand-held models
These are typically the least expensive of the three types. These work like a pencil sharpener, where vegetables are fed through, a crank is turned, and perfect spirals come out of the other end. Even though these are expensive, they do require the most work, and they're usually best for making small batches.
Horizontal hold models
A vegetable is fed in through one side and held in place with a ring. As it goes through, the middle of the vegetable is typically removed, which can be quite wasteful. The vegetable may also slip out of place while in use.
Vertical hold models
These have a spike that is used to hold your vegetable in place, so you don't have to worry about it slipping out. These models are typically the easiest to use and produce the least amount of waste. However, you may find that this type is more expensive than the other two types.
What are the Advantages of Spiralizing?
While juicers and food processors serve their own particular purposes, a spiralizer is a different appliance entirely. If you're on a low-carb diet, one of these tools could be an essential in your kitchen. Even if you aren't avoiding carbs, though, these are great for chopping up vegetables in a new and interesting way with very little effort. Not only will you have small, thin vegetables that you can add to your favorite recipes, but these spiral-shaped vegetables can also look really impressive. This is a very simple way to take your presentation to the next level and impress your family or guests.
These tools also provide you with an easy way to incorporate more healthy, vitamin-rich veggies into your diet.
What Spiralizer Accessories Do I Need?
There isn't any single spiralizer accessory that won't be included with your purchase. However, you may want to purchase spiralizer accessories which let you change the shape of your peels.
Some accessories allow you to peel thinner slices — or make them thicker. This can give you a bit more flexibility if you plan on using spirals as a substitute for pasta.
It's also possible to get an accessory that will let you make flat sheets of certain vegetables which you can use to mimic raviolis or lasagnas.
These accessories will thus give you a lot more variety to play with in addition to giving you access to more vegetables to use in your diet.
Remember to only purchase accessories that are compatible with your spiralizer — you can't expect that all accessories will be compatible with all spiralizers.
Which Spiralizers made our Top 3 Picks for 2020?
Even if you've never used one of these kitchen tools before, you'll find that the process is easy, especially if you have a basic model like this one from Paderno World Cuisine. You'll be amazed at just how quick and easy it is to make fancy, spiral shapes from your favorite vegetables. Use this to add extra veggies to your next meal or as garnish for that special event you're hosting. This model can be used with fruits and vegetables, couldn't be easier to operate, and comes with three different blades for different effects. It is also one of the most affordable you'll find.
Are you looking for a durable product that can easily slice through your favorite foods? If so, this model may be right up your alley. This heavy-duty model is made with food-grade plastic and durable stainless blades that slice through just about anything with ease. This model is very easy to use, has suction cups that hold it in place, and comes with one of the best warranties you'll find when shopping similar products. It comes with three different blades, it's easy to pull apart for cleaning, and it's very simple to use.
This is the perfect tool for anyone that wants a spiralizer but wants to perform more functions. With this 8-in-1 device, you can do a variety of different prep tasks with just one device. This high-quality tool is easy to use, can be used by right or left-handed people, and cleanup takes just seconds. You don't have to worry about quality because this comes with an unbeatable lifetime warranty.
Features to Consider
Make prep work more fun while sticking to a healthier diet by adding one of these great devices to your kitchen. The process of buying one can be difficult, but it doesn't have to be as long as you know what to look for before you make your purchase. Before you pull out your credit card, look for these four key features in your newest kitchen tool.
Price
You shouldn't expect to pay a lot for your new tool, but some are priced more expensively than others. Those that perform multiple functions, are made with quality materials, carry a better warranty, and just outperform the others may be a bit more expensive. Consider all other aspects in addition to price to make the right purchase for your kitchen.
Warranty
You should expect to receive a product that works, and if it doesn't work right away or it fails fairly quickly, a warranty is all you need to get a replacement. Buying a product without a long warranty may not seem like a big deal, but if a defect renders your product useless, you'll be stuck with the expense of repairing or replacing it. Protect your buy with a warranty.
Blades
Different blades perform different functions. If you want to alter the shape, length, or width of your spirals or even go beyond spirals, look for a unit that not only has interchangeable blades, but one that has a design that makes them easy to change out and clean.
Uses
With a multi-purpose unit, you can get more than just spiral-shaped veggies. Some units come with attachments that allow you to juice or grate, while others can be used with fruits and other types of food. If you want to get the most out of your product, look for one that is extremely versatile.
Price
Paderno World Cuisine A4982799
This isn't the most expensive model on the market. However, it is one of the top-rated and best performing you'll find at this price point.
Spiralizer Tri-Blade
This is a mid-priced device that utilizes three different blades, providing you with more versatility when you prep your meal.
Mueller Spiral-Ultra 4-Blade
Invest a bit more and you'll get a multi-functional tool that can be used for more than just spiralizing your vegetables.
Warranty
Paderno World Cuisine A4982799
Your purchase comes with a 1-year limited warranty from the manufacturer.
Spiralizer Tri-Blade
You'll receive a lifetime replacement warranty and heavy-duty guarantee when you purchase this unit.
Mueller Spiral-Ultra 4-Blade
A no-hassle warranty ensures that you get a product that exceeds your expectations.
Blades
Paderno World Cuisine A4982799
This unit comes with three different blades, including a 1/4-inch blade, a 1/8-inch blade, and a straight blade.
Spiralizer Tri-Blade Vegetable Spiral Slicer
You'll receive a shredder blade, chipper blade, and slicer blade with the purchase of this model.
Mueller Spiral-Ultra 4-Blade Spiralizer
This model comes loaded with accessories, including a blade that can be adjusted to four different widths, a slicer, grater/shredder, fine julienne, coarse julienne, and a juicer.
Uses
Paderno World Cuisine A4982799
You can create ribbons, spirals, and spaghetti spirals with this unit.
Spiralizer Tri-Blade
This model allows you to chip, slice, and shred your favorite fruits, vegetables, and other ingredients.
Mueller Spiral-Ultra 4-Blade
This very versatile model allows you to not only create spirals of varrying width, but it can also shred, grate, julienne, slice, and juice.
Conclusion: Final Spiralizer Reviews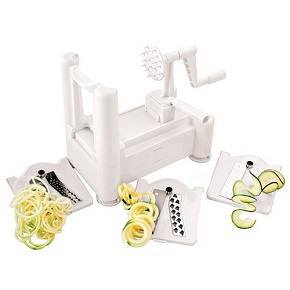 This is the perfect unit for anyone who is new to spiralizing or who just likes to get great products at affordable prices. This unit comes with three different blades for different effects. You can make spaghetti from your favorite vegetables or create thick strands or ribbons of fruits and vegetables to dress up your dishes and make them even tastier.
The unit itself is made of durable BPA-free plastic and each of the three interchangeable blades are made with high-quality stainless steel. The blades are easy to change and clean, and it's easy to spiralize – simply insert your fruit or vegetable and turn the handle. It comes with suction cups to keep it in place while you work and a storage compartment underneath to keep all of your extra blades right at hand.
Pros:
Very affordable
It comes with a warranty
Easy to use
Cleans up quickly
It has extra blades for different functions
Dishwasher safe
It can handle almost any vegetable or fruit
A 4-blade version is also available at an additional cost
It has integrated storage to keep your blades organized
Cons:
Guide handle and crank handle feel quite flimsy
Handle may break off over time
The instruction manual is not very detailed
It is difficult to use with very hard vegetables like potatoes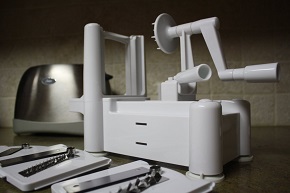 Invest a little more money in your purchase, and you can get this model, which has upgraded features and a more heavy-duty construction. This comes with three different blades that you can use to impress your friends and family, and they'll never have to know just how easy it was to achieve these effects. This model is easy to use, has suction cup feet to hold it tightly in place while in use, and can be used with all types of fruits and vegetables.
Your ingredients are easy to load and all you have to do is turn the handle to get perfect spirals every time. It is made with heavy-duty food-grade BPA plastic. In fact, if you find a more heavy-duty comparable product, you'll receive your money back. It works with long and wide vegetables, and you don't even have to cut them before you put them in. Clean up couldn't be easier, and it is backed with a lifetime warranty.
Pros:
It is affordable
Momes with a lifetime warranty
Made of heavy-duty plastic that feels more durable than less expensive units
It's easy to use
Slices, shreds, and chips with the three different blades, all included with your purchase
It has a self-contained blade so it's safe to use
It comes with a recipe book so you can experiment in the kitchen
Dishwasher safe
Cons:
Some vegetables do not stay properly in place and have to be readjusted
The suction cups do not stick well to some surfaces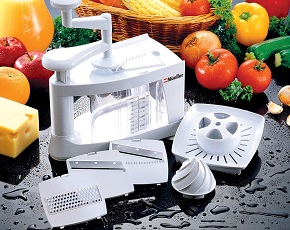 Why just settle for something that makes spirals when you can do so much more with this product from Mueller? Sure, you can spiralize your vegetables and fruits in a snap, but you can also slice, cut, julienne, grate, and juice all with one small product that fits easily in your kitchen cabinet or storage area.
You can adjust the blade for four different widths very easily, and you can also change out the blades with one of the multiple attachments that are included with your purchase. Like other units, it has suction cups on the bottom to keep it in place while you do your prep work. All you have to do is insert your fruit or vegetable and turn the handle, and in minutes, you'll have perfect spirals. This model is designed for left or right-handed use.
The cutting head is fully enclosed, so you don't have to worry about injuring yourself. The handle is very easy to turn, and the toothed base holds your items in place while you slice. You can easily clean this after use because all parts are dishwasher safe. It is made with high-quality plastic, the blades are stainless steel and very sharp, and it is backed with a lifetime warranty.
Pros:
It works on most fruits, vegetables, and other ingredients
The multiple attachments make it easy to perform different functions
It is easy to use
It is easy to clean
Your food stays securely in place while in use
It produces minimal waste
It comes with a recipe book
The handle is very comfortable
The blade has adjustable widths
Comes with an excellent warranty
Cons:
It is a bit more expensive than other products, however, it does have more functions
It does not have a detailed instruction manual
All in All
Anyone following a strict diet that restricts carbs knows how difficult it can be to find new recipes, but with a spiralizer, you can enjoy some of your old carb-loaded favorites without ruining your diet. Even if you don't follow a low-carb diet, you can add a kick of freshness to your favorite meals with one of these devices. To get the most out of your machine, you need something that's versatile, a unit like the Mueller Spiral-Ultra 4-Blade Spiralizer. It's the best spiralizer overall. What makes this unit stand out is its quality, ease of use, and versatility that will quickly make it your newest favorite kitchen tool.