Some links on this page are monetized by affiliate programs - see disclosure for details.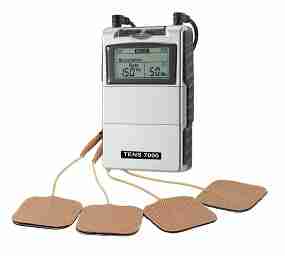 Nothing is as much of an inconvenience or detriment to your quality of life as having body pains. Whether you've injured yourself or you deal with a chronic disease or condition that leads to pain, having these aches can make it difficult to walk or move comfortably and may even affect your sleep at night. If you have nerve pain from an injury or disorder, you may try everything to get relief. Some methods you may have tried may include going to a specialty doctor like a chiropractor, relaxing in a hot bath, or even using medication prescribed to you by a doctor.
While some of these may take the edge off, you might also not have had any success in treating your pain. If you deal with pains that are related to nerves, you might want to give a TENS unit a try.
Comparison: The Best TENS Units of 2018

Introduction: What is a TENS unit?
A transcutaneous electrical nerve stimulation unit is commonly known as a TENS unit. This is a way to treat acute or chronic pain that is due to damaged nerves. These units are very easy to operate. It has a control panel that is operated with batteries, as well as electrodes that are placed on your body in a specific pattern depending upon where you're having pain. Once the unit is switched on, mild electronic pulses are sent to the nerves. This process should be painless if the unit is set properly.
After a set number of minutes, the electrodes are removed. Because the electrical current stimulated the nerves, you may feel slight or dramatic improvements in the problem area.
What are the different types?
TENS units used to only be available by prescription, but as more people suffer from pain, these have become available to everyone. Prescription units that are stronger are available from your doctor, but they can be very expensive, which is why many people with acute or chronic pain simply purchase an over-the-counter model.
If you've talked with your doctor about using a TENS unit and you think it may be beneficial to aid in your pain, but you don't want to pay thousands of dollars for one, you can buy a great unit without a prescription, as long as you know what to look for. You can begin by knowing about the types that are available to you.
Handheld units
The most popular type. These are small enough to hold in your hand, but many come with belt clips so you can go about your day normally. These are operated with batteries, and the number of electrodes and settings vary from model to model.
Miniature units
These units are characterized by their small size. Many of these are cordless and have the electronic mechanism built into one piece that also has sticky electrodes. These may be quite inexpensive, but they usually have very few settings and may not be as effective as other units.
Combination units
These combine the functions of a TENS unit with an Electronic Muscle Stimulator, or EMS, unit. These work to help with pain caused by nerves, as well as any muscular pain. It is ideal for treating a variety of conditions, including muscle spasms and aches.
What are the Advantages of Owning a TENS Unit?
Living with pain, whether it's been for a week or for several years, is just not fun. It can affect your day-to-day activities, and it can even lead to things like depression because it just affects your entire life. You may have tried other methods without success, or you may just not like the side effects of treatments like prescription medication. One of these devices can help you manage your pain, bringing it to a more tolerable level, without the use of drugs or paying a fortune at a chiropractor or for other pain treatments.
These units are small, quiet, portable, and easy to use. Your doctor can help you determine whether this is the right option for you and can even assist you in getting your settings just right for maximum pain management. This is a safe, natural way to target pain in a variety of areas, from the lower back to knee pain.
What are the Top 3 TENS Units For Sale on Amazon?
Prescription TENS machines can cost thousands of dollars, but you can get an effective pain management tool for a fraction of the price with the purchase of this unit. This machine comes with two full sets of electrodes, a unit that has multiple settings for acute or chronic pain, an easy-to-use interface, and a carrying case so it's very portable. You'll have multiple operation modes to choose from depending upon your pain level, making this a versatile pain management device for many levels of pain.
This is another unit that is very affordable but doesn't lack on features found on more expensive units. You can relieve pain from all areas of your body with this easy-to-use machine, which is clearly labeled so you know exactly what you're treating. It has multiple modes and settings, so you can use it for relieving aches and pains caused by stress, injury, or help soothe chronic pain without the use of medications.
If you want the benefits of TENS and EMS, this is the perfect unit for you. This combo machine helps stimulate muscles and nerves to relieve pain anywhere, providing you with targeted massage and therapy to alleviate pains that medications, stretches, and other treatments just can't touch. This unit has lots of different settings, allows you to treat two areas of the body at one time, and has a sleek, lightweight design that allows you to take it with you wherever you go.
Features to Consider Before Buying
Once you've decided you want to tackle your pain head-on, it's time to make your purchase. Your doctor can help you find a unit that's right for you or make recommendations on what you should look for. Some of the things you should also look for to ensure you're making a wise purchase are listed below. You should, of course, always speak with your doctor prior to starting any treatment for pain management.
Price
Since they are now available over-the-counter, you can find these units at a variety of price points, from less than $50 for a basic model to several hundred for a more advanced unit. Pick something that fits your budget, but make sure it offers enough features that can provide you with a personalized pain management program. It's important to balance out the price with the overall value to make the best decision when it's time to buy a unit.
Warranty
It's just a fact that electronics fail. Even the best electronic device may fail over time, even with the best care. However, it is certainly not unreasonable to expect to get a lot of use out of your new product before it begins acting strangely. This is why a warranty is so important. If something happens to your device when it's used properly, a warranty backs your purchase so you don't have to foot the bill for repairs or a replacement unit.
Number of electrodes
If you have a larger area of pain, you'll want to make sure you have enough electrodes to adequately cover the area. Look for the number of electrodes supported by each unit. It's also important to make sure that you can readily find replacement electrodes that are affordable.
Settings
Not all pain is equal, even if you deal with a problem area day in and day out. Some days, the pain may be much worse than others. Make sure that the unit you purchase offers several different options so you can crank up or dial down the power as needed to help relieve pain without causing additional injury.
Price
TENS 7000
This affordable unit is one of the most inexpensive you'll find that doesn't skimp on features.
TruMedic TENS Massager
This model retails for a fraction of the price of more expensive prescription units.
HeathMate Forever Pro-8AB
With a comparatively higher retail price, this high-end unit is one of the more expensive non-prescription units you'll find. However, it pulls double duty by functioning as two different machines.
Warranty
TENS 7000
Your unit comes backed with a 3-year manufacturer's warranty.
TruMedic TENS Massager
A 90-day parts and labor warranty is included with the purchase of this product.
HeathMate Forever Pro-8AB
You just can't beat the lifetime warranty included with your purchase.
Number of Electrodes
TENS 7000
You can use four electrodes at one time to target your pain.
TruMedic TENS Massager
This unit comes with four total electrodes for targeted pain management.
HeathMate Forever Pro-8AB
Four electrodes are used to manage your pain with this device.
Settings
TENS 7000
This affordable unit has multiple speed and strength settings to effectively manage any level of pain. It also has five different modes, including Burst, Modulation, Normal, Strength Duration 1, and Strength Duration 2.
TruMedic TENS Massager
This unit has five pain management programs built-in, three different massage settings, and options designed for particular parts of the body.
HeathMate Forever Pro-8AB
This unit has a variety of settings, including eight different modes for combination relief, acupuncture, tapping, cupping, body building, tuina, guasha, and weight loss.
Conclusion: Our Final Results Are In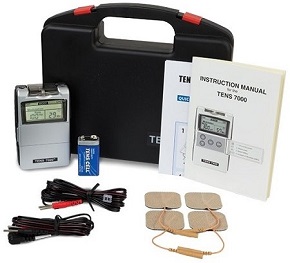 If you're on a budget and the high prices of medication, visiting a chiropractor, and other therapy options have taken a toll on your wallet, you'll want to give this unit a try. It is one of the most affordable, but don't mistake a low price for cheap, as this unit is designed to offer top performance in one small package.
You can choose from five different modes, a variety of strengths, and multiple speeds for personalized pain management at home or while you're away. This unit is small, lightweight, and very portable. It comes with everything you need to get started, including two full sets of electrodes, a carrying case to keep everything neat and organized while on the go, and a detailed instruction booklet. This unit is ideal for all types of nerve pain, and it even comes equipped with a timer and record option.
Pros:
Affordable
Comes with a great warranty
Includes detailed instructions
It comes with a spare set of electrodes
It has multiple settings
Very strong pulses can target deep, severe pain
Cons:
It can be a little complicated to find the right settings for you
The electrode pads can only be used a few times before they lose their adhesive strength
The instructions can be a bit confusing to understand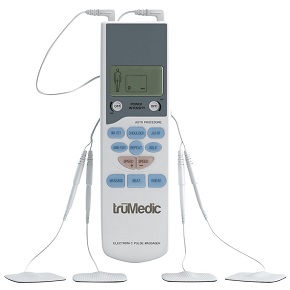 From muscle soreness from a day of exercise to stress or chronic pain, this unit is designed to tackle all of your aches and pains with ease. This unit stimulates your nerves and muscles to leave you feeling more relaxed and with less pain than before use. It has targeted treatment areas labeled clearly so you can get the most effective results in the shortest amount of time.
There are multiple settings and functions, including three different massage buttons that keep you feeling your best. It has been FDA-approved, so you know it's safe for use, and it has a small, lightweight design that makes it easy for you to take with you just about anywhere. Standout features include 10 different power levels, easy to apply pads, two sets of electrode pads and two sets of batteries, and an interface that is more simple than the complicated TENS units that have to be set up by a doctor.
Pros:
It is affordable
It is very easy to use
Has buttons that target specific pain
Multiple functions, speeds, and settings
It comes with everything you need to get started, including extra pads and batteries
It is small and portable
FDA approved for use without a prescription
Cons:
The warranty isn't as good as some found on other units
It is not as strong as many other non-prescription units on the market
The pads won't stick after just a few uses
It doesn't have a long battery life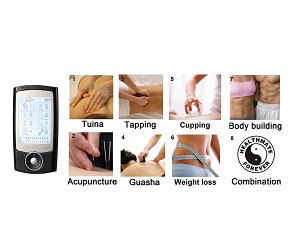 This unit is a combination TENS and EMS machine, so you get two units for the price of one. You'll be able to target two different areas of your body simultaneously with this machine, which helps alleviate muscle and nerve pains from a variety of conditions. You can effectively relieve pain in your lower back, shoulders, and other areas, as well as treat chronic conditions like sciatica and fibromyalgia.
This unit features eight different modes and a multitude of settings for any purpose, from pain management to aiding in weight loss. It is small, lightweight, and very easy to use – not overly complicated like some machines. Instead of using traditional batteries that can drain quickly and cost a lot of money over time, this unit is equipped with a rechargeable lithium-ion battery that can run for several sessions before needing to be recharged.
It comes with replacement electrode pads, battery, charger, instructions, and a chart that outlines the best placement points so you can begin using it immediately. The Forever in the name also applies to the warranty, which is for the lifetime of the user, so you know you're buying a great product comparable to what you'd find in a chiropractor's office.
Pros:
Very easy to use
It has two channels so you can treat two areas in different ways
Use for many different purposes, including body building and cupping
It has eight different modes
It has one of the best warranties you'll find
Very powerful
It comes with a chart that outlines the best position of the electrodes
It can be charged using the wall charger or with the USB for computer charging
Long battery life
Cons:
More expensive than many other OTC units
It has snap-on electrodes, which makes it more difficult to find replacement pads
It has to be set properly to prevent pain instead of emitting jolts
All in All
If you're having a tough time recovering from an injury or you just can't seem to get the pain from your chronic condition under control, the best TENS unit is something you want to own for medication-free relief. No matter what you're suffering from, the HeathMate Forever Pro-8AB is an excellent choice for pain relief. Whether it's acute or chronic pain that's minor or major, this unit has all of the settings you need for effective relief.
This combo unit pulls double duty in targeting muscular and nerve pain for quick, effective results. It also comes with a lifetime warranty, making this a smart purchase for anyone who's looking for a more natural way to treat and relieve pain.