Some links on this page are monetized by affiliate programs - see disclosure for details.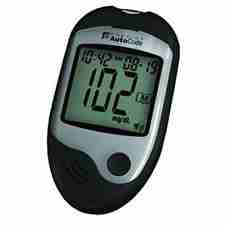 If you have diabetes you know how careful you have to be with your health. You have to watch what you eat to ensure you have a healthy diet free of things that can make you sick. You also have to visit the doctor regularly to check on your progress and make a plan for your health. Of course you need to take your medications as needed to stay healthy.
Another important part of keeping up with your diabetes is regular testing of your blood sugar levels, and this can be done easily at home with a blood glucose meter.
Compare: The 10 Top Rated Blood Glucose Meters of 2015

What is a Blood Glucose Meter?
A blood glucose meter is a medical device that allows you to test the amount of glucose, or sugar, in your blood. Those who live with diabetes have to keep up with their blood sugar to avoid becoming very sick. With these meters, a sample of blood is used with the meter to determine whether the person is at a safe glucose level.
See also: Our guide to the top 10 blood pressure monitors
What are the Advantages?
If you have diabetes, a blood glucose meter is an essential part of your daily life. With these meters, you can test your blood to make sure your sugar levels are where they should be. Sugar that is too low can cause you to feel dizzy, weak, or even lead to fainting. Sugar levels that are too high can be very dangerous.
These meters allow you to stay at a safe level and maintain your diabetes without daily visits to the doctor. You can easily use these yourself to not only maintain a safe glucose level but also detect any problems that you may want to address with your doctor.
What are the Different Types?
If you have diabetes, you've probably talked to your doctor about monitoring your blood sugar. You may have been told that you need a glucose meter, and when you go to make your purchase, you might even find that it's a little overwhelming, as there are so many on the market. Whether you're buying for the first time or trading out your old monitor for a more modern piece of equipment, the first step in making your purchase is to identify the types of equipment available to you.
Traditional monitors
With one of these systems, you prick your skin to get a small blood sample and use that sample to test your sugar. These are very common monitors, and they come in all price ranges. The drawbacks of these are that you have to remember to test your sugar, they can be invasive as they require a prick every time, and testing strips can get very expensive.
Continuous Glucose Monitoring Systems
These systems are designed to continuously monitor your sugar levels and track different trends. This is ideal for identifying when problems occur to identify the causes. These are used with a sensor that is inserted under the skin, and each sensor is worn for several days or weeks before replacement. You don't have to remember to test your sugar, you can track it over longer periods, and it doesn't require pricking the skin often. The drawbacks are that these may not be as accurate as traditional monitors, and they are also extremely expensive.
Which Blood Glucose Meters are the Best on the Market in 2015?
TRUEResult Blood Glucose Starter Kit – If you're looking for an affordable but accurate meter, this is a great choice. This model requires only a small sample, works quickly, and can be used on alternate testing sites. It also comes with built-in memory and everything you need to get started.
Prodigy AutoCode Talking Blood Glucose Monitoring Meter Kit – You don't have to squint at a tiny screen to see your results with this meter that has audible results for those with vision impairments. This meter requires just a small sample, works quickly, and doesn't require coding.
Bayer's Contour – This model has everything you'd find in less expensive meters, including fast testing time, small sample requirements, and no coding required, with the addition of personalized features that you can use to ensure you're getting the most from your meter. Choose from basic or advanced features and no matter what you pick, you'll always get accurate results.
Features to Evaluate
Now that you have an idea of what to look for in your purchase, it's time to start looking at the features that differentiate each meter. These four features are important to many consumers, and you can add your own criteria to find the product that best fits your needs.
Price
You can find basic meters for around $10 or $15, while meters that come equipped with many different features can run for $100 or more. If you want an uncomplicated device that just gives you a reading, you won't need to spend a ton of money. If you want to track your readings over time or adjust settings, you need to budget more money for a high-end meter.
Warranty
You want to be able to use your device without worrying about it failing. Not only is it frustrating, but in the case of a glucose meter, a failure can be dangerous to your life. Rest easy knowing you've purchased a quality product by buying one that comes backed with a warranty. At the first sign of a problem or failure, you can get a replacement or the repairs needed so you don't incur additional expenses.
Included Accessories
The inexpensive meter may seem like a great deal, but if you have to purchase additional accessories, the expense can quickly add up. Look to see what comes in the box to make sure you have everything you need to get started. A more expensive starter kit that is equipped with everything you need may be a better deal than a cheaper meter that requires separate purchases of accessories.
Price of Replacement Strips
The initial cost of your meter is one expense you should consider, but you should also consider the long-term cost of owning the device. Since strips are generally not interchangeable, you will have to purchase the right ones for your meter. Make sure that refills are affordable.
Price
TRUEResult
At just $40, this is a very affordable option for the budget-minded consumer.
Prodigy AutoCode
Spend just a little bit more and for $50, you can get this great meter that offers features found on more expensive products.
Bayer's Contour Blood Glucose Monitoring System
At $80, this is a bit more expensive, but it has lots of features, as well as a high accuracy, that makes it a top pick.
Warranty
TRUEResult
A limited lifetime warranty is included with your purchase.
Prodigy AutoCode
This meter is backed with a limited lifetime warranty.
Bayer's Contour
You'll get a limited lifetime warranty with your purchase.
Included Accessories
TRUEResult
A battery is included with your purchase, as well as 10 test strips to get you started.
Prodigy AutoCode
You'll receive batteries and a carrying case with your purchase, in addition to paperwork including the manual and warranty card.
Bayer's Contour
This includes the battery, meter, and the paperwork for the unit. It does not include lancets or test strips.
Price of Replacement Strips
TRUEResult
Expect to pay around $17 for 100 strips.
Prodigy AutoCode
Testing strips cost around $8 for a pack of 50.
Bayer's Contour
100 strips cost about $25 when you purchase this unit.
Our Blood Glucose Meter Reviews
With TRUEResult, you can trust that you're getting a great product at an affordable price. This meter doesn't have all of the bells and whistles, but it is easy to use, has a low price tag, and is extremely accurate, making it a top choice for the budget-minded shopper. You even get 10 strips to get you started, all at one low price.
This unit requires only 0.5 microliter sample for fast and accurate results. Results are processed in as little as 4 seconds. Alternate test sites can be used, and this has a 500 reading memory recall that lets you keep up with your readings.
You want your meter to be small and handheld, but sometimes, this is a disadvantage if you have to struggle to read the numbers. With this model, you won't ever have to squint again, as it has audio that speaks your reading to you – no more eye strain!
This unit boasts other great features too, including large, raised buttons that are easy to use, memory recall to track test results, a low sample size, and alternate test sites. You can even have your results in 6 seconds. It is easy to set up, a breeze to use, and can also be used with the free web software offered by the company so you can keep better track of your health.
Worrying about accuracy is the last thing you need when dealing with diabetes and with this meter from Bayer, you won't have to worry about accuracy, as this is one of the highest-rated on the market. This unit has a simple design that makes it easy to set up, but it also has more advanced options that allow you to personalize your meter to best fit your needs.
Standout features include requiring a low sample size, alternative site testing, and no coding for ensured accuracy. It tests in just 5 seconds, has pre- and post-meal testing markings for better tracking, and 480 reading memory that can provide you with a 14-day average to track your sugar over a longer period of time.
This unit is small, lightweight, and very easy to use. It has a variety of features not found on cheaper units, along with accuracy that you can count on and a limited lifetime warranty for your protection.
Final Thoughts
When it comes to your health, you don't want to pick products that won't work for you. If you have diabetes, having an accurate meter that works quickly and is easy to use is a must. One of the top choices in blood glucose meters it Bayer's Contour. This product comes from a brand that is trusted in the healthcare industry, and it provides you with everything you need to ensure accurate blood sugar readings to keep your body in tip-top shape.