Some links on this page are monetized by affiliate programs - see disclosure for details.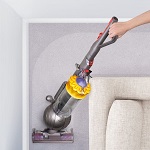 It's just a fact that most of us hate doing household chores. While we enjoy having clean homes, many of our daily tasks are just time-consuming and physically draining. One of the most difficult tasks in any home is keeping the floors clean. Everyday traffic brings in dirt, dust, and big messes.
Throw in kids, pets, and guests, and you can see why cleaning floors gets to be a tedious task. Instead of spending hours with a broom and dustpan, invest in a quality upright vacuum that's designed to easily clean your floors, making this chore less of a burden for you.
What is an Upright Vacuum?
An upright vacuum is a floor cleaning device that is typically used on carpet. After plugging in a vacuum cleaner, you simply use the foot pedal to lean it back, grasp the handle, and push it back and forth across your floors. Wheels on the bottom make it easy to push. A vacuum creates suction which effectively removes dirt, loose carpet fibers, hair, dust, and other messes on your floor. While vacuums have been typically used on carpets and rugs, more and more manufacturers are creating models that also easily glide across hard surfaces like laminate, vinyl, and ceramic tile.
What are the different types of Upright Vacuums?
Whether you're replacing your old vacuum or purchasing one for the first time, there are a few types to look out for while you're shopping. Each of these vacuums have the same basic design, but they may have additional features that work for your household.
Traditional upright vacuums – These are basic vacuums that are used on carpets and rugs. They may include several onboard attachments including crevice tools for vacuuming furniture and upholstery or brush attachments that are designed to help loosen up caked-in dirt and tough messes.
Pet vacuums – If you're a pet owner, you'll want to own one of these vacuums. These are designed to effectively remove pet hair and dander from your carpet and furniture. More advanced designs prevent clogs and loss of suction from pet hair.
Multi-floor vacuums – If you have more than just carpet in your home, you will want to invest in a multi-floor vacuum. These can be adjusted to work on many different surfaces, including hardwood floors, laminate, tile, and other hard surfaces.
What are the advantages of owning an Upright Vacuum?
One of the biggest advantages of owning an upright vacuum is that you can keep your floors and stairs clean as a whistle with less work than using other tools like a broom. With the onboard attachments and hoses, you can even clean under your couch cushions, remove pet hair and dirt from couches and chairs, and even vacuum dust off of your curtains and drapes. An upright vacuum is an absolute necessity when you want to make sure your home is as clean as it can be.
Who are the contenders for Best Upright Vacuum?
If your old vacuum requires several passes in just one area to clean up the mess, using this vacuum will be a complete change for you. With its innovative design, more dirt is picked up on the first pass, so your floors are cleaned more quickly with less work. You won't have to worry about purchasing expensive bags with this bagless model, and the filter is easy to remove and clean. You can dispose of messes quickly with the Easy Empty tank, and the TurboBrush tool is perfect for cleaning beyond your carpets to stairs, furniture, and much more. The inexpensive price tag is also perfect for budget-minded shoppers.
You'll no longer have to strain your back pushing around a heavy vacuum once you purchase this lightweight machine, which weighs in at just 7 ½ pounds. Your floors will get completely cleaned, and even the deep down dirt is removed with ease with this powerful vacuum. If you have other flooring surfaces, don't worry; this model works on bare floors as well. This model even comes with a variety of accessories, including a kit for detailing your vehicle.
Your guests won't even know there's a pet in the house once you use this high-end vacuum by Dyson. This vacuum quickly and easily picks up pet hair and dander, in addition to dirt and other things that are tracked through your home. This system has an innovative design that does not require cleaning or changing a filter, and you won't even have to worry about replacing expensive bags. One of the best features is that the whole machine has HEPA filtration to keep your floors and even your air cleaner than ever.
Considerations for Choosing the Right Upright Vacuum
When you're ready to get your home cleaner than ever before, a vacuum is an investment that you won't regret. Once you've decided to purchase a vacuum, you'll have to wade through hundreds of models, brands, and features that may be confusing. Before you get overwhelmed, consider these four key features that most consumers find to be very important when shopping for a new vacuum. Once you've evaluated these features, the purchasing decision will be much easier for you.
Weight
A heavy vacuum is fine if you just plan on moving from room to room on the same level. However, if you have multiple sets of stairs that you have to climb daily, you might want to choose a lightweight model that's easy to carry.
Filtration
If someone in your house has allergies or you have pets, you may want to invest in a model that has an advanced filtration system. This removes allergens from your floors, and some models even release cleaner air back into your home so you can breathe easier.
Attachments
Vacuums aren't just limited to floors. With attachments, you can clean up your furniture, drapes and curtains, and even your vehicle. If you want to get the most out of your vacuum, look for one with plenty of attachments.
Weight
BISSELL CleanView Upright Vacuum with OnePass
At 15 pounds, this vacuum is about average when compared with other upright vacuum cleaners.
Shark Rocket Ultralight Upright
This model is perfect for carrying from room to room, cleaning above floor level, and carrying up and down stairs, as it weighs just 7 ½ pounds.
Dyson Cinetic Big Ball Animal Plus Allergy
This vacuum weighs in at over 20 pounds.
Filtration
BISSELL CleanView Upright Vacuum with OnePass
This model comes with a washable foam filter that helps remove dust, but it does not remove any other allergens.
Shark Rocket Ultralight Upright
There are three filters that help get dust and other small particles out of your floors. All of these filters are washable.
Dyson Cinetic Big Ball Animal Plus Allergy
This model is equipped with a whole-unit HEPA filtration system to reduce allergens in your home.
Attachments
BISSELL CleanView Upright Vacuum with OnePass
You'll be able to get your home extremely clean with the assortment of attachments included with your purchase, including an extension wand, dusting brush, upholstery tool, crevice tool, and TurboBrush tool.
Shark Rocket Ultralight Upright
When you buy this model, you will receive several tools, including a 12-inch crevice tool, dusting brush, wide upholstery tool, dust away attachment kit, car detail kit, and a convenient accessories bag.
Dyson Cinetic Big Ball Animal Plus Allergy
You'll receive multiple attachments with this vacuum, including an accessories bag to keep them all organized. Tools include the Tangle-free Turbine tool and reach under tool.
Conclusion: Our Upright Vacuum Reviews Are In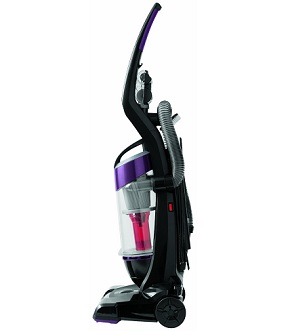 Get your carpets cleaner with less work with this great vacuum from BISSELL. The OnePass design makes it easier to pick up more of your mess in just one pass, so you don't have to go back and forth over the same spot. This results in better cleaning and less time spent pushing your vacuum.
The bagless design helps you avoid spending lots of extra money on bags, and the dirt cup is easy to remove and dump. A filter is included that is fully washable, so you don't have to worry about replacing that, either. This vacuum is fairly lightweight, offers plenty of suction, and has many tools that make cleaning less of a chore, including a TurboBrush designed for extra-powerful cleaning.
Pros
The Cyclonic System provides powerful suction. It comes with a two-year limited warranty. competitive price. It has multi-level filtration to effectively remove deep down dust and dirt. Five different height adjustments. Cleans bare floors.
Cons
Does not have a retractable cord. It does not have allergen filtration. The belt slips off easily. The bare floor setting does not work as well as on other models.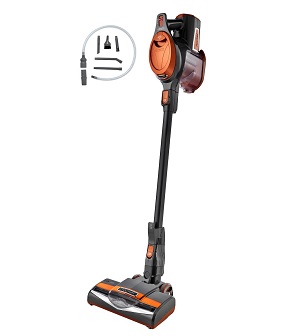 Gone are the days of heavy, bulky uprights with the introduction of lightweight models like this one from Shark. You'll love the easy to maneuver, lightweight design. Don't worry about its weight, though, as this vacuum packs serious power.
The ergonomic rubberized handle is easy to hold, and the design is scaled down. Shark has used the best features of quality uprights and cut out the excess, resulting in this high-performance machine. There are two speeds available, and this vacuum works on carpets and hard surfaces. A variety of attachments are included with your purchase, and you'll save money over time by not having to buy replacement bags for this bagless model. When you're done cleaning up, the dust cup is easy to remove and empty, and this slim model hands on a wall mount that takes up less storage space.
Pros
It works on carpets and bare floors. One of the lightest uprights on the market. It comes with multiple cleaning tools for use in and out of your home. The wand can be used to clean higher spaces. It converts to a hand vac. Fits in tight spaces. It has powerful suction and two settings.
Cons
It doesn't perform as well on bare floors as other models. Does not have a HEPA filter. Cannot be stored in the upright position. It is quite loud. It is a bit top-heavy. The self-driving mechanism pulls away from you, which can be a challenge to get used to.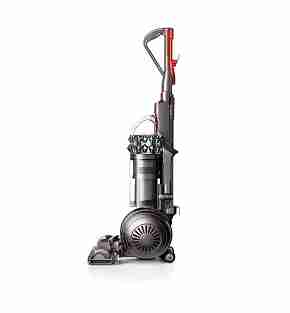 When it comes to vacuums, Dyson entered the market with superior, high-end products, and this model is no exception. Whether you own pets or not, this vacuum will provide you superior performance and features.
This model is designed with no filters, so you don't have to worry about replacing them or even cleaning them. You also won't have to worry about losing suction and power. You'll always enjoy the power you need to get your floors their cleanest. Allergens and bacteria will be eliminated with the HEPA filtration system, and the powerful suction allows you to easily remove pet dander and hair, even that which is found deep in your carpets.
The Dyson Ball design makes steering easier than ever, so you can ensure you hit every inch of your floors. You won't have to purchase vacuum cleaner bags, as this is a bagless model. Your purchase comes with a multitude of great tools designed to clean your furniture, upholstery, stairs, and much more.
Pros
It is one of the most powerful vacuums on the market. It has advanced filtration systems that eliminate allergens from your home. Easy to maneuver. It works on carpet, rugs, and all hard flooring surfaces. It doesn't clog or have a loss in suction due to the design. Easy to assemble. It has a thick, long, durable cord. It easily gets into smaller, tighter spaces. It's easy to remove and empty the dirt bin. It's easy to assemble. It effectively removes pet hair and dander. Comes with a 2-year warranty.
Cons
It has a steep price tag. It is quite heavy.
In Conclusion
Anything that helps you do dirtiest jobs in your home with ease is worth the investment. This is why the Dyson Cinetic Big Ball Animal Allergy Plus comes out on top. Your floors will not only be cleaner, but you'll also remove potentially harmful allergens from your floors and other surfaces for a complete clean. Even though the price is more than other models, the performance, included tools, and features of this high-end vac really clean up when compared to other upright vacuums.