Some links on this page are monetized by affiliate programs - see disclosure for details.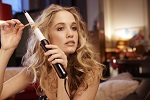 It's amazing how a new hairstyle can make you feel. Not only will you look better, but you'll also feel more confident when you style your hair in a different way. Changing up your hairstyle can enhance your natural beauty and improve the way you look and feel.
If you want to try out a new look but don't want something that lasts for months like a new haircut or color, curling your hair is a great way to change your style without commitment. Whether you're wanting to try a new 'do for a special occasion or you curl your hair often and want to get rid of your old, damaging iron, a new curling iron may just be the purchase you need to make
What is a Curling Iron?
A curling iron is a small, handheld hair appliance that uses heat to turn straight, wavy, or frizzy hair into beautiful, soft curls. Using a curling iron is simple—you simply plug it into an outlet, allow it to heat up, then carefully wrap small sections of hair around the barrel. The heat produced by the curling iron bends the hair into stunning curls.
A curling iron is a great styling appliance that every woman should have in her bathroom. You can achieve a variety of great looks right in the comfort of your own home using a curling iron.
Read: The Hottest Flat Iron Hair Straighteners for Gorgeous Style
What are the Different Types?
Buying a curling iron isn't as simple as picking from different brands. There are many different curling irons available that are designed to give you different effects. Consider each type of curling iron to see which one best fits your styling needs.
Small barrel – These curling irons have a smaller barrel, which results in a tighter curl. Choose this if you want to achieve tight ringlets, perfect for special occasions.
Large barrel – If you want looser curls, choose a curling iron with a larger barrel. The curl won't be as tight, and you'll have long, soft curls that are perfect for everyday wear.
3-barrel – These curling irons, also known as wavers, feature three barrels. Instead of wrapping your hair, you clamp the barrels down the length of each section of hair. This results in beachy waves that make your hair look thicker and perfectly styled with little effort.
Curling wands – Most curling irons have a clamp that is used to keep the ends of your hair in place while you wrap the curling iron around each section. However, these clamps may leave an indentation in your hair, which is certainly not something you want. Modern curling wands don't have a clamp, and you simply wrap each section around for the perfect curls you desire.
What are the Advantages?
A curling iron allows you to change up your look without resorting to a cut or color that you may not like. Anyone can use a curling iron, no matter what type of hair you have. They work on long or short hair, thick or fine hair.
Curling irons are a great tool to use to polish your look for a night out on the town, a first date, a day at the office, or a special occasion like a prom or wedding. Curling irons are simple to use, and with just a little practice, even beginners can walk out of the bathroom with an incredible new style.
Read: The 10 Most Wanted Flat Irons for Perfectly Straight Hair
Who are the Contenders for Best Curling Iron?
Bed Head Bh318 Curli Pops Tourmaline Ceramic Tapered Curling Iron – You never have to worry about dents with this curling wand, which has a tapered wand so you can customize your curls.
Hot Tools Professional 1181 – Get consistent results with this affordable mid-level curling iron that senses heat loss and reheats as needed.
XTAVA Professional Auto Rotating Curling Iron – Take the work out of getting perfect curls with this advanced curling iron that wraps your hair for you.
Considerations for Choosing the Right Curling Iron
When choosing a curling iron, there are so many different things to consider. What brand is best? Which one is the least damaging? What will give you the style of your dreams? Shopping for a curling iron can get a little overwhelming, so consider these key points to get what you want out of your heat styler.
Barrel size
Do you want tight curls or slight waves? The barrel size of a curling iron determines your results. Look for a larger curling iron that has at least a 2" barrel if you want looser curls. The smaller you go with the barrel, the tighter your curls can be. If you want to change up your look, pick a model that has a tapered barrel.
Safety features
If you tend to be forgetful, search for a curling iron that has an auto shutoff feature that turns the curling iron off when not in use. If you're new to curling your hair, look for a less damaging iron that has many different heat settings to avoid damaging your hair.
Heat settings
Heat settings are important for a number of reasons. Using a curling iron that is too hot will damage your hair irreparably. However, if you have thick, course, or wavy hair, you may need higher heat settings to get curls that will hold. No matter what hair type you have, it's always best to find a curling iron that has multiple heat settings.
Barrel size
Bed Head Bh318 Curli Pops
This curling wand has a 1-inch tapered barrel. You can use the wider end to create waves or use the smaller end for perfect ringlets.
Hot Tools Professional 1181
This curling iron has a 1-inch barrel for tighter curls. If you desire waves, there are many other affordably priced curling irons in the Hot Tools 24K line that have larger barrels.
XTAVA Professional
The barrel size on this curling iron is between 1 to 1 ½ inches in diameter.
Safety features
Bed Head Bh318 Curli Pops
This model features a tangle-free cord that swivels so it's safer and easier for you to use from different angles.
Hot Tools Professional 1181
The location of the on/off button is positioned so it's nearly impossible to accidently turn the curling iron on.
XTAVA Professional
This professional curling iron is loaded with features, including auto-shutoff for safety and accurate heat control to prevent you from damaging your hair.
Heat settings
Bed Head Bh318 Curli Pops
Heat settings cannot be adjusted on this curling iron. It has an on/off switch with an indicator light to alert you of when its turned on.
Hot Tools Professional 1181
Any hair type can be curled to perfection with this curling iron, which features 10 variable heat settings for the perfect curls every time.
XTAVA Professional
You can curl your hair with ease by finding your perfect temperature setting. This tool has 11 different temperature settings that range between 210 and 430 degrees.
Conclusion: Our Curling Iron Reviews Are In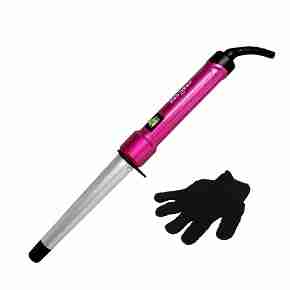 The Bed Head Bh318 is a budget-friend curling wand that creates a variety of different styles quickly and easily. The tapered design allows you to control the size of your curls. Choose just one size, or mix it up if you want. This versatile iron lets you do it all.
While this curling iron isn't heavy on features, it does give a solid performance for a curling iron priced competitively. Even though it doesn't have different heat settings, when used properly, it doesn't damage hair, including fine, thin hair. This iron is great for using when you want shiny, frizz-free curls.
Pros:
It is very inexpensive. The tapered barrel allows you to customize your curls. It comes with a glove to protect your hand while wrapping hair. The clamp-less design eliminates kinks.
Cons:
No heat adjustment setting is on this model. It does not have an auto shutoff feature. Thicker hair may take longer to curl since there are no high heat settings.

If you want a professional curling iron without spending a fortune, this styling tool from Hot Tools' 24K line may just have everything you're looking for. It has many of the most important features found on high-end curling irons, including adjustable heat settings, an extra-long cool tip, spring clamp, and heavy-duty heating element.
Other features of this tool include a soft grip for comfort, and their standout feature, Pulse Technology. This detects when heat has been reduced and reheats the iron for consistently beautiful curls. With this iron, you can achieve soft, silky, and lovely curls for any occasion.
Pros:
The price is just right. It features adjustable heat up to 430 degrees, so it works perfectly on all hair types . This line features many different barrel sizes. It even distributes heat. It heats up very quickly.
Cons:
It does not feature auto-shutoff. Finding the perfect temperature setting may take some experimentation. Hair may get snagged in the clamp if not careful.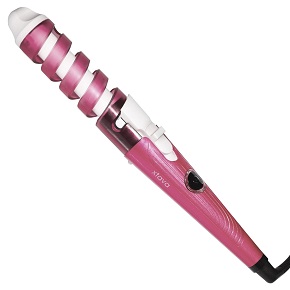 Want a styling tool that does most of the work for you? The XTAVA Professional is designed to do just that. No longer do you have to deal with achy arms after curling section after section of hair. This innovative tool does all of that for you. Simple section your hair, clip it in the barrel, and push the button for perfect curls. It rotates in either direction so you can have all of the latest hot hairstyles.
The LCD display makes operation a piece of cake, and you have 11 temperature levels to choose from. The swivel cord is 8 feet long, making it more convenient to reach every section of your hair. It also features universal dual voltage, so it's the perfect curling iron to pack in your suitcase.
Pros:
The LCD screen makes adjusting settings easy. The auto-shutoff feature turns it off automatically when not in house, keeping your home safe. It has a wide range of temperature settings for any hair type. The innovative automatic barrel does all of the hard work for you. The ceramic tourmaline barrel provides even heating for consistent results.
Cons:
It is priced more expensively than other curling irons. It takes a bit of practice to perfect the technique. Clip may not hold super fine hair.
Final Thoughts
When you're ready for a new look, you can't go wrong with stunning curls. With a curling iron, you can change your look from day to day without damaging your hair with chemical products like perms and hair color. Once you're ready to look your very best, the XTAVA Professional Auto Rotating Curling Iron is a fantastic styling tool that helps anyone look as though they just went to the salon. With its many features, including its auto rotating barrel, you can't go wrong by giving this curling iron a spin.