Some links on this page are monetized by affiliate programs - see disclosure for details.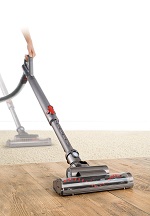 Whether you live in a small apartment or a large house, you always have tedious chores. From keeping you clothes and dishes washed to picking up and taking out the garbage, chores are a daily task for every household. One of the biggest tasks in your home is keeping your floors clean. Traffic, kids, and pets all contribute to dirt, dust, and messes on your floors.
If you have hardwood flooring or carpet, cleaning your floors at least once a week is something that you just have to do, and many people find this task to be extremely tedious. While cleaning your floors can't be avoided, there is a way that you can make this chore easier while completing it quickly and that is by using a canister vacuum.
The traditional upright vacuum cleaner has held the reigns of power for decades, but the canister vacuum has surged in popularity in recent years, threatening to topple tradition in favor of innovation. To see what all the fuss is about, to get a look at the front-runners for the title of "best canister vacuum cleaner", and of course, to learn the information required to make an intelligent purchasing decision, just keep reading.
See Also: 10 Robot Vacuums To Automate Your Cleaning
What is a Canister Vacuum?
A canister vacuum is a type of vacuum cleaner that many people find to be more convenient than a traditional upright vacuum. Instead of having to push a large, bulky vacuum in front of you, you'll have a lighter wand that is connected with a hose to a canister. This canister has wheels, so it rolls easily across your floors. The canister also holds the vacuum bag or the disposal container if it is a bagless model, as well as a HEPA filter if the model is equipped with one. Canister vacuums are easy to maneuver, can fit into smaller spaces, and are preferred by many because the lightweight wand is easier to push than a bigger, heavier upright.
Canister vacuums are a relatively modern innovation in the realm of vacuum cleaner technology. As opposed to upright vacuums – the traditional and, until very recently, most popular type of vacuum cleaner – which have an all in one design, canister vacuums separate the motor, filter, and collection bag(s) from the suction unit by way of a long, flexible hose. While each design has its own unique set of pros and cons, the basic function and purpose of each device remains the same: cleaning a dirty house.
The Different Types

Once you begin shopping for canister vacs, you'll notice that there are hundreds of models available. If you've primarily used upright vacuums in the past, you'll see that there are quite a few differences between your old vacuums and this type. In order to know where to begin shopping, you must first know what types of canister vacs are available.
While the overall design of a canister vacuum is quite uniform, a certain amount of sub-typing does exist. There are two main sub-groups in canister vacuum technology; the reader can learn a little about each below.
Lightweight
Lightweight canister vacuums have smaller canisters that are very lightweight, making them ideal for homes with more than one story. Because of their weight, they are easy to maneuver around a room or tote up and down stairs. The one drawback you may find with many lightweight canister vacs is that the canister is smaller, so the dirt container will need to be emptied or the bag will need to be changed more often.
Pet
If you own a pet, you know just how messy they can be. Pet hair can be a real pain, and even sweeping or using an upright vacuum may not get every hair. With a canister vacuum designed for pet owners, you can use the wand with the vacuum head to effectively clean your floors, or you can remove the head and use the wand by itself to remove pet hair from couches, chairs, and other furniture.
Hard floor
While most people think vacuums are solely for carpet, more manufacturers are now creating vacuums that work on many different surfaces, including tile, vinyl, and hardwood. Simply adjust the height setting for your floors, and you can easily remove dirt, dust, crumbs, and other messes from your hard floors without fussing with a broom and dust pan.
Bagged
These canister vacuums use traditional bags to store the dust, hair, and other refuse that gets collected during routine operation. Like their upright counterparts, the user must detach the bag and empty it before the next use. The elder sibling in terms of design technology, bagged vacuums tend to be quieter while offering more power and better filtration.
Bagless
Bagless canister vacuums are this design's upstart kid brother. The technology is newer, and going bagless obviously mitigates the need for replacement bags, but these models tend to be less powerful and to produce more noise than their bag-equipped counterparts.
The Advantages of Owning a Canister Vacuum Cleaner
A canister vacuum is a great choice for keeping your home clean. These vacuums are designed to easily roll along with you so you can effectively clean your carpet, and some models even work on hard floors. Most canister vacs have heads that detach from the wand, so you can use the lightweight wand for cleaning up your upholstery. Because the wand and head are separate, they can typically fit in tighter places, providing you with total cleaning for all of your floors.
While it goes without saying that everyone should own some type of vacuum cleaner in the interest of simple cleanliness, there are several advantages to owning a canister vacuum rather than a machine from one of the other vacuum cleaner sub-groups. A few of these advantages are outlined below.
As a rule, canister vacuums are much lighter and more maneuverable than traditional upright models.
The split nature of a canister vacuum allows the suction head of the machine to get into places an upright vacuum simply can't reach, such as under and behind furniture and into the depths of various household nooks and crannies.
By dint of their low weight (and in the case of certain models, their wheeled bases), retractable cords, and other such features, canister vacuums are very portable; those with multi-floor houses will be especially pleased at how easy these machines are to carry around from place to place.
Unlike traditional vacuums, most canister vacuum cleaners are virtually silent under normal operating conditions.
Read: The Ultimate Cordless Vacuum Guide
The Best Canister Vacuum Cleaners on the Market: The Contenders
There are a dizzying array of vacuum cleaners out there, and even in light of their increased popularity, canister vacuums comprise only a small portion of the whole. Even so, there are easily hundreds of choices in the canister vacuum cleaner market, and all of them are touted as being the best choice for anyone with a brain and a credit card. Those willing to pause a moment in the interest of objectivity will find three contenders for the title, each in its own category. Look below to learn more about each model.
You don't have to pay a fortune for a quality canister vacuum, and this model from BISSELL is evidence of that fact. Not only is this unit extremely affordable, the bagless design also helps you save money over time. This vacuum is designed to easily glide over all surfaces, including hard floors, and it's easy to change the settings. The three-step filtration system ensures that every single piece of dirt is removed from your floors.
The Zing Bagged Canister Vacuum from Bissell, Inc. is a great option for those looking for a clean house on a budget. Incorporating all of the basic features of a quality canister vacuum cleaner, the Zing offers generous suction force, a multi-use vacuum head, and a surprising variety of user-friendly features (multiple bags, a retractable cord, and an indicator that alerts the user to the need for a bag change).
For those shoppers who base their purchasing decisions on squeezing every last ounce of value out of their hard-earned cash, the Ergospace Canister Vacuum is sure to please. Powerful and feature rich, this vacuum cleaner is perfect for keeping the busy modern home looking tidy and fresh. A multi-function cleaning head allows the user to clean both carpets and hardwood floors, and the turbo setting makes cleaning even thick rugs and carpets a snap. Additionally, a high-quality HEPA filter helps cut down on free-roam allergens.
If you have a lot of floor space to cover in your home, you want a high-performance machine that's also lightweight and easy to move. This model from Miele offers you incredible power and a lightweight design that's all packaged into one affordable package. You won't just get up the dirt when you vacuum with this cleaner; you'll also remove allergens through the Air Clean filter.
Finally, if you're one of those "top of the range or bust" kind of shoppers, look no further than the S2121 Olympus Canister Vacuum from Miele. Sleek, shiny, and packed with the sort of features that have made Miele a household name in vacuum technology, this machine will clean it all – hardwoods, multiple carpet types, those hard to reach nooks, crannies, and crevices, and even high shelves and the tops of entertainment centers and related furnishings. It also has the best warranty of the three units reviewed in this guide.
If you want the best of the best in vacuums, you can't go wrong with Dyson, which quickly made a name for itself for its elite vacuum cleaners. This canister vac cleans up pet hair, dirt, dust, and even removes pollen, mold, and dust particles. It's lightweight, doesn't have a filter that causes clogs and loss of suction, and it's backed with one of the best warranties in the business.
Considerations for a Successful Canister Vacuum Purchase
So you're considering the purchase of a canister vacuum, but you don't know where to begin. Since a vacuum is an investment, you don't want to get stuck with an inferior product that ends up stuffed in a storage closet or worse, in the garbage because it doesn't fit your needs. When you've made the choice to purchase one of these vacuums, keep these considerations in mind while you shop to help you make the best decision.
It takes more than intuition, friendly recommendations, or glizty marketing to make a successful purchase. As with almost any other item, the only way to measure the success or failure of your vacuum cleaner purchase is to measure it against one or more objective, impersonal benchmarks.
Price
Canister vacuums range in price and can cost several hundred dollars for a top-quality model. You will generally pay more for a vacuum with more suction, a more durable design, a better warranty, and special features like allergen filters. If you need to be frugal with your purchase, decide what features you simply must have, then find models that have these features and are priced within your set budget.
Let's be realistic – no one buys anything without checking out the sticker price beforehand. As we'll see in just a minute, there's more to a vacuum cleaner than its base cost, but that in no way detracts from the importance of such a metric, especially if you're on a strict budget!
Amenities
A bargain price is all well and good, but the savvy shopper knows to consider the total package, which is to say, to consider what you're actually getting for your money. When shopping for your next canister vacuum, make sure to take into account the amenities attached to the units that catch your eye. Examples include standard attachments versus those attachments that must be purchased separately, points of personal importance such as enhanced filtration, noise production, environmental friendliness, and of course, the overall durability and useful lifespan of the machine in question. You should also take this opportunity to examine a vacuum's portability and weight; a cumbersome tool is no fun to lug up and down the stairs all day!
Performance

There's no point in buying a canister vacuum that can't do the job! If your machine is constantly failing due to wear or mechanical issues, lacks the necessary power or auxiliary attachments to clean your living area or office regardless of the layout thereof, or cleans your environment at the expense of unwholesome and unwelcome byproducts (excessive noise, poor filtration, and the like), you've made a poor purchase, end of story.
Allergy filters
If you or anyone else in your household suffers from allergies, look for a vacuum that filters out these allergens. Dust accumulates is your home over time, and you can also bring in pollen, mold, and other particles in with you from outside. If you own pets, dander may get embedded in your furniture or carpets. With a vacuum with an allergen filter, you can effectively clean your home of these things.
Attachments
Many people use their vacuums for more than just floors. Mattresses, sofas, recliners, upholstered chairs, and drapes can all get dusty and dirty. Instead of spending time wiping these things down, you can easily clean them with a vacuum using onboard attachments.
The Post-Purchase Environment
No matter how good your tools, there will always come a day when you need to avail yourself of some help from your friendly neighborhood customer service rep. But what happens if he or she is anything but friendly? Worse yet, what if the warranty you thought would cover your vacuum cleaner is, in fact, worthless? Considering and evaluating the post-purchase landscape associated with a particular canister vacuum cleaner – to include overall company reputation, any warranties attached to your preferred unit, and related after-sale points – will ensure that you get the help you need when it counts the most (not to mention saving your time and money while preserving your sanity).
Based upon the four primary considerations outlined in the previous section, the following chart is a point by point review of the three canister vacuum units listed earlier in this guide.
Amenities
The Bissell Zing boasts a surprisingly full feature set for an entry-level vacuum. Suction is powerful and consistent, the cord is auto-retractable, and the unit itself is ultra-portable and compact. Past user reviews have praised the Zing for its easy assembly and overall durability while simultaneously lamenting its poor performance when brought to bear on carpet. Attachment quality and orientation is another point of contention, as is the difficulty associated with finding replacement parts, but portability is all the user could wish for. Finally, filtration is somewhat lacking in this unit, with no HEPA (or even "HEPA-like" filtration system to speak of, and at just one year of limited coverage, the warranty on this unit is disappointingly weak.
When it comes to their vacuums, Miele, Inc. doesn't mess around. This no nonsense philosophy is immediately evident to anyone who gets their hands on their S2121 Olympus. Crammed with features, this vacuum can handle just about anything the user chooses to throw at it. Its six-speed variable suction head is easily modulated via a rotary dial, and it comes with a fistful of on-board attachments, including a telescopic wand that makes cleaning even the highest, most remote places a simple thing.
Portability is second to none (the chassis on this unit is purpose-built for maximum lightness), and noise production is minimal. Unfortunately – and surprisingly, considering the market to which its parent company caters – this unit is without genuine HEPA filtration (a "HEPA-like" filter is included, and it is possible to purchase a separate high-quality filter; mixed reports say some folks do receive the genuine article with the vacuum itself). The Olympus carries the most powerful warranty of the lineup, with a one-year umbrella on parts and labor and seven years on the motor and chassis.
Performance
For a budget machine, Bissell's Zing is a powerhouse! According to past users, its suction is on par with much larger, much costlier models, especially when confined to smaller rooms. It also seems to be comfortable around a variety of surfaces, including carpet, hardwoods, tiles & linoleum, and so forth. It can be something of a hassle to use in tight spaces, though, and taller users may find the telescopic arm to be shorter than they'd like. Additionally, the quality and placement of the included attachments have been charitably described as "disappointing", and the cord, while noted to retract both smoothly and quickly, is often cited as too short.
In terms of raw performance, Electrolux's Ergospace canister vacuum seems to be a mixed bag. On the one hand, many customers report a high degree of portability, high utility in cramped areas – behind / underneath furniture, for example – and superb cleaning / vacuuming power (especially on hard surfaces such as wood, tile, and the like). However, an equal number of users are dissatisfied, citing poor performance on carpets and rugs, weak suction in both normal and turbo modes, chronic overheating resulting in auto-shutdown, and flimsy, low-quality peripherals.
Unsurprisingly for one of the top-shelf offerings of a company that specializes in vacuum cleaners, the Miele S2121 Olympus is a high performer matched by few other machines in its class. Customers are almost universal in their praise, reporting measured yet powerful suction which can be refined to suit nearly all usage scenarios and household surfaces. Users also report that this machine is barely audible during normal use, extremely portable, and with proper filtration, very allergy-conscious.
The Post-Purchase Environment
Bissell is a company with a reputation for post-purchase customer satisfaction. Freshly-minted wwners of a Zing will undoubtedly appreciate this, but be warned: Peripherals and parts, especially replacement bags, seem to be in short supply, and Bissell, while well-meaning, is sometimes slow to address the problem. The warranty for this machine is, in a word, puny. Even so, covered issues are taken care of in an acceptable fashion.
While their Ergospace model has met with a somewhat lukewarm reception at times, everyone agrees that their customer service is fantastic. Their call center staff are responsive and courteous, and unlike the Zing, the warranty length is adequate for actual, real-world applications.
Frankly speaking, the reports of after-sale care from Miele are mixed, and when dealing with a company that basically brands itself as the Apple Computer of vacuum technology, that's just not OK. Case in point: Some customers report the high standard of efficiency and conflict / problem resolution one might expect from a German company, while others report an absolutely hideous degree of disregard from their local Miele representative. In fairness, these low-satisfaction reports almost always involve "Miele authorized dealers", who operate independently from the parent organization responsible for manufacturing this vacuum. The best advice for owners of the S2121 Olympus with regard to after-sale issues seems to be "Cross your fingers and hope for the best".
Allergen filter
BISSELL Zing Bagless Canister Vacuum
This vac is equipped with filters that pick up dirt, dust, and fine particles, but it does not have an allergen filter.
Miele S2121 Olympus Canister Vacuum Cleaner
This vacuum is equipped with an Air Clean filter that helps remove harmful allergens from your surfaces. The vacuum bag also auto-seals so all of these allergens are locked in when you change the bag.
Dyson Cinetic Big Ball Animal Canister Vacuum
The special Dyson Cinetic tips grab up dust, pollen, and mold particles and keeps them locked away. It also expels cleaner air back into your home.
Attachments
BISSELL Zing Bagless Canister Vacuum
This comes with one attachment that functions as both a crevice tool and a dusting brush.
Miele S2121 Olympus Canister Vacuum Cleaner
This model comes with three onboard attachments, including a crevice tool, dusting brush, and upholstery tool.
Dyson Cinetic Big Ball Animal Canister Vacuum
This top-quality vacuum comes with multiple attachments to clean just about anything, including a tangle-free turbine tool, a mattress tool, and a multi-angle brush
Our Canister Vacuum Reviews Are In
If you live in an apartment, smaller condo, or smaller house, this vacuum is the perfect size (and price!) for you. This affordable canister vac packs a lot of zing in one small package. This vacuum works great on any surface, whether you have wall-to-wall carpet or hard surfaces.
You won't have to worry about the mess and expense of vacuum bags, as this model is bagless. The dirt cup collects everything from your floors, and it's easy to dump; you won't have to worry about making more of a mess. The three-stage filtration process gets up more dirt and particles than similar budget vacuums, and they are washable, so you don't have to worry about purchasing costly replacements.
Pros
It is very affordable. It comes with a combination crevice tool and dust brush. Convenient retractable cord. You can switch flooring types with the flip of a switch. It has an extension wand. It is extremely lightweight. One-year limited warranty.
Cons
It doesn't have an allergy filter. It only has one attachment. The plastic design feels much cheaper than more expensive models.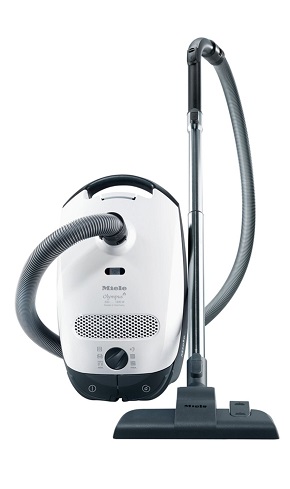 Keep your floors and your air cleaner with this vacuum from Miele. The first thing you will notice when using this vacuum is the weight. At just around 15 pounds, it's easy to move from room to room. Don't be fooled, though. This is an extremely powerful full-size vacuum that provides the suction you need to effectively clean your floors, stairs, and even your upholstery.
This vacuum is great for low-pile carpet, smooth floors, and rugs. You can easily adjust the setting on your floor tool to transition from carpet to hard surfaces. With six-stage suction, you can get the power you need for any light or heavy-duty job. This vacuum is equipped with an Air Clean filter for the removal of allergens, and the special bags auto seal, so you don't have to worry about the mess escaping when you dispose of your bag. The XXL handle is ergonomically designed for comfort, and it also makes it convenient for use on drapes, in corners, and in tight spaces.
Pros
It's great for almost all surfaces. The telescopic XXL handle makes cleaning easier and more convenient. It has a lightweight design. It's easy to maneuver. Comes with a one-year warranty. It is easy to change bags. It has adjustable power settings. It's extremely durable.
Cons
The cord is short, so you have to change outlets in larger rooms. The specialized bags are expensive.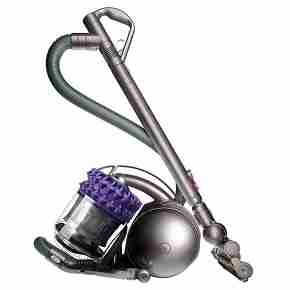 No one will even know you have pets when they walk into your home after you've vacuumed with this Dyson canister vacuum. This vacuum is designed for pet owners, removing dander and pet hair from hard surfaces, upholstery, and carpet. It doesn't stop there, though. The unique design and Cinetic tips capture particles down to 0.5 microns. This means less dirt, less allergens, and a cleaner home.
This vacuum doesn't use filters, so you don't have to worry about purchasing replacements, washing out reusable filters, or losing suction when a filter is clogged. You can count on extreme power every single time you turn this vacuum on. You don't have to purchase expensive vacuum bags, and you can neatly and easily empty the dirt container. The vacuum comes equipped with a variety of onboard tools used to clean your mattresses, sofas, and easily get into corners and crevices.
You won't have to worry about the quality of this vacuum, as it is protected with a five-year warranty, one of the best in the business. Despite its more expensive price tag, the performance and innovative design of this vacuum truly makes it stand out among all other canister vacs.
Pros
Glides across all flooring surfaces. Extremely effective at picking up dirt, pet hair and dander, and allergens. It doesn't require filters or bags. It does not clog or lose suction. The dirt container is easy to remove and empty. You can adjust the suction with a button located conveniently on the handle. The hose and wand release easily with the push of a button.
Cons
It is more expensive than many other canister vacuums. The cord could be longer. The wand is shorter than other wands.
Closing Thoughts
When it comes to household chores, anything that makes the task of cleaning easier is worth the investment. If you want a great canister vacuum that will not only clean your floors, upholstery, and furniture, but also improves the quality of the air you breathe, the Dyson Cinetic Big Ball Animal Canister Vacuum is worth every penny. Whether you own a pet or not, this vacuum cleaner will save you time while cleaning and make your home cleaner than ever.
There are often so many factors to consider and so many layers of marketing spin to sift through that making a confident purchase can seem next to impossible. With this guide, however, that should be much less of an issue. Afterward, simply weigh these pros and cons with care, and make a decision based upon your research. If it helps, the authors of this guide have done just that, and as a result, we endorse and recommend the S2121 Olympus Canister Vacuum by Miele for anyone in the market for a new vacuum cleaner. Whichever unit you end up choosing, thanks very much for reading, and happy housework!