Some links on this page are monetized by affiliate programs - see disclosure for details.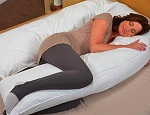 Getting rest during your pregnancy is extremely important. Not only does getting enough sleep keep you and your developing baby healthy, but it also gives you time to prepare for a newborn. Once the baby is born, new mothers lose a lot of sleep, so getting plenty of rest during pregnancy is absolutely necessary.
However, many pregnant mothers struggle to get comfortable in the bed during pregnancy. A growing belly, back pain, sciatica, and other body aches may prevent you from getting the quality rest you need. When you just can't get comfortable during pregnancy, a pregnancy pillow might just be the solution you're looking for.
What is a Pregnancy Pillow?
A pregnancy pillow is a pillow that offers support while you're lying down. Pregnancy pillows are designed to fit the contours of your body, so you can use it behind your lower back, under your neck or shoulders, or even for your stomach if you're a side sleeper.
See Also: Baby Slings You Need To Consider
What are the Different Types of Maternity Pillows?
Much like the regular pillows you use on your bed, pregnancy pillows come in a variety of sizes, shapes, and may be firm or soft depending on your own personal preference. There are a few main types of pregnancy pillows available.
Body pillows – These are the largest pillows, and they are extremely versatile. Most body pillows look very similar to regular bed pillows, only much larger.
Curved pillows – These body pillows come in a variety of different shapes designed to comfortably curve behind the back, around the belly, or anywhere else where relief is needed.
Wedge pillows – Wedges are designed to help make sleeping on your side more comfortable, offering you plenty of support.
Leg pillows – Women who suffer from lower back pain may find some relief when putting a soft, contoured leg pillow between their legs to relieve pressure.
What are the Advantages of Owning a Pregnancy Pillow?
A pregnancy pillow helps you lie comfortably while pregnant, resulting in better, more restful sleep. Many pregnancy pillows are also versatile and can be used after birth, either for supporting the baby while nursing or offering continued support for the mother as her body heals from childbirth.
Read: The Best Baby Crib For Your Child's Nursery
Who are the Contenders for Best Pregnancy Pillow?
Considerations for Choosing the Right Maternity Pillow
If you find yourself tossing and turning every night and you just long for a good night's rest, a body pillow is definitely something you should consider adding to your bed. To ensure optimum comfort from your pillow, there are a few things that you should look for before making your purchase.
Support
Some pregnancy pillows target certain areas of the body (such as the lower back), while oversized pillows help you feel more comfortable from head to toe. Pinpointing what is keeping you unsettled at night will help you decide which pillow is right for you.
Materials
A pillow that's made of scratchy and uncomfortable materials isn't going to help you get more rest. Look for a pregnancy pillow that is made of soft materials like cotton.
Size
When selecting a pregnancy pillow, you need to evaluate your sleeping situation. Do you have a smaller bed? Do you share your bed with a partner? Some pregnancy pillows are the size of a full grown adult, so you need to evaluate if you will have the extra space for an oversized pillow, or if a smaller pillow or wedge makes more sense.
Price
You should consider your budget before shopping for a pregnancy pillow. Some are priced comparably to regular bed pillows, while larger pillows with added features may cost over a hundred dollars.
Support
Jolly Jumper Pregnancy Pillow Wedge
This pillow wedge is designed to slide comfortably under your stomach to align your spine and help alleviate lower back pain and sciatica. If you're a side sleeper, this pillow may help you be more comfortable at night.
Boppy Slipcovered Body Pillow
The head to toe aches you feel during your pregnancy are sure to slip away with this option. This large body pillow fully supports your neck, stomach, back, and hips.
Comfort U Total Body Support Pillow
Your neck, shoulder, back, and hips will be comfortably supported when you use this U-shaped pillow that supports both sides of your body.
Materials
Jolly Jumper Pregnancy Pillow Wedge
The Jolly Jumper pillow wedge is covered with a soft and warm flannelette cover that helps promote comfort and restful sleep.
Boppy Slipcovered Body Pillow
This pillow has a pima cotton slipcover that is ultra-soft. Not only is it soft and comfy, but it's also removable and machine washable for easy cleaning.
Comfort U Total Body Support Pillow
This pillow is filled with a revolutionary synthetic material that is soft yet provides full support and also allows air flow to prevent you from getting too hot while sleeping. The pillowcase is made of a polyester and cotton blend material.
Size
Jolly Jumper
Measuring in at just 12" x 11.4", this pillow wedge is small enough to not take up too much space, and it's easy to pack for vacations or other trips away from your own bed.
Boppy Body Pillow
This full body pillow measures in at 22" x 18.4" x 8.6", so it is very sizeable. The large size offers you head to toe support.
Comfort U Total
At 48" x 12", this pillow is larger than the other two pillows on this list. This large size makes it great for taller women, although women with smaller beds may find that it takes up too much space.
Price
Jolly Jumper
This pregnancy pillow is priced lower, comparable to regular bed pillows that don't offer nearly the same support as this specialty pillow.
Boppy Body Pullow
This pillow has a price tag that's moderately set, so it's a mid-range product. Since this pillow can be used past pregnancy, you may decide that it's a worthy investment.
Comfort U Total
The Comfort U pillow is more expensive than other pregnancy pillows on the market. However, its unique design and versatility should also be considered before allowing the higher price to be your deciding factor.
Conclusion: Our Pregnancy Pillow Reviews Are In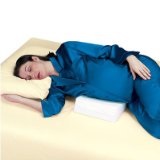 Lower back pain and sciatica is a common complaint for many pregnant women, and trying to sleep at night with these pains can be agonizing. If you're suffering from these aches, the Jolly Jumper Pregnancy Pillow Wedge may help you get that restful night's sleep you desire.
This pillow is small enough to easily fit in your bed, your suitcase for vacation, on the couch, or even in the hospital with you while you give birth. Despite its small size, this pillow offers great support for your pregnant belly, relieving pressure from your lower back and helping ease back pain.
Pros:
The affordable price is just right for any budget. This pillow offers spinal support to alleviate pains.
Cons:
Foam material may be too firm for your personal taste. It only supports your stomach and doesn't help support other parts of the body.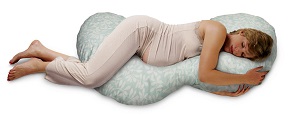 If pregnancy has taken a toll on your body and you ache from head to toe, the Boppy Slipcovered Body Pillow can offer you the extra support that you need. Its large size allows you to support your neck, back, knees, hips, and other aching parts of your body without having to fight with multiple pillows. The unique curved shape allows you to position it so that it offers you the best support wherever you need it.
Both the pillow and the cotton slipcover are machine washable, so you can always keep your pillow fresh and clean. With its versatile design, you can customize the way you lie with the pillow in order to get the most pain relief and restful sleep.
Pros:
Contoured design curves with your body, offering you full support. 1-year warranty protects your purchase.
Cons:
With daily use, the pillow can become flat over time. Those who prefer firm pillows may find this one to be too soft. The material can get a little hot for some people.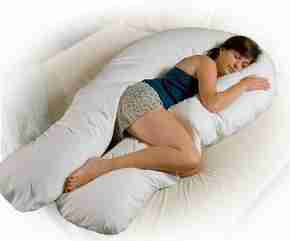 If other pillows just don't seem to do the trick, try the Comfort U Total Body Support Pillow. This U-Shaped pillow can be stretched out and positioned to provide you with total comfort on both sides of your body. Use the pillow to ease your pains, or position it to help prevent you from tossing and turning all night. This oversized pillow is large enough for you to move it and shape it any way you want for complete customization.
The premium Fusion Foss material filling this pillow is comfortable, supports your body, and allows air to circulate freely, so no more night sweats. During or after pregnancy, you can use this pillow while reading, watching television, and even nursing your new baby.
Pros:
The material doesn't lump or clump, so it will never be uncomfortable. With regular fluffing, this pillow never flattens. The large size gives you allover support during and after pregnancy. This pillow is a great natural solution to easing lower back pain, whether you're pregnant or not.
Cons:
The price may be too much for those on a budget. Because of its size, it must be laundered in a commercial washer and dryer. The fabric may feel too rough to some.
Conclusion
You get what you pay for, and the Comfort U Total Body Support Pillow shows that a great product is worth the extra expense. This body pillow can easily be used long past pregnancy, features premium materials that keep you comfy, cool, and supported while you rest or sleep, and helps alleviate those aches and pains that come with being pregnant. If you're having trouble getting restful sleep before your new baby arrives, you'll be having sweet dreams again in no time with this innovative pregnancy pillow.