Some links on this page are monetized by affiliate programs - see disclosure for details.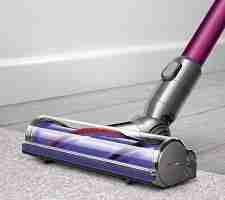 Keeping your house clean can be a real pain. Even if it's just you in the home, you know that it can get dirty quite quickly. Add a spouse, kids, and pets to the mix, and you just have a real mess. One of the dirtiest chores in your house is cleaning the floors. Every day, mud, dirt, and other messes get tracked inside. At lunch and dinner, crumbs get on the floor, and even when you don't do anything, dust accumulates deep within your carpet.
The easiest way to remove dirt, grime, and allergens from your flooring is with a vacuum cleaner. However, vacuums aren't always that easy or convenient to use, especially when it comes to the cord. You have to remove the cord from the outlet and plug it in with every room you vacuum, not to mention, it's easy to get tripped over the cord. In short, vacuum cords can be a real pain. If you enjoy the cleanliness that a vacuum brings to your home but you hate the hassle of a cord, why not invest in a cordless vacuum?
What is a Cordless Vacuum?
A cordless vacuum is a floor cleaning machine that doesn't have a traditional cord that's plugged into a power outlet. Instead, it comes with a built-in battery that can be charged with a charger. Some models come with a simple charging cord, while others have full charging docks that charge your vacuum for several uses.
With one of the best cordless vacuums, you can move freely about your home without having to change outlets or without tripping over a cord. You also don't have to worry about costly repairs if the cord is damaged in any way.
What are the different types of Cordless Vacuums?
If you want the perfect combination of convenience and cleaning power, a cordless packs everything you need. If you've only purchased corded models before, you may be a little stumped on what vacuum works best for you. To get started with your purchase, the first thing you need to know is the types of cordless vacuums on the market.
Stick vacuums – These are designed like traditional upright vacuums. However, they are smaller, so they fit into tighter spaces and they're easier to store, and they are more lightweight, making them ideal for carrying up and down stairs and from room to room.
Handheld vacuums – A handheld vacuum is a small vacuum that is used for tighter spaces, cleaning stairs, or vacuuming upholstery. Cordless models are even great for vacuuming out the interior of your car.
2-in-1 vacuums – These cordless vacuums combine the power of a stick vacuum with the added convenience of a pull-off handheld vacuum. These are the most versatile that allow you to clean any area of your home or office.
What are the Advantages of Owning a Cordless Vacuum?
The biggest advantage to owning a cordless vacuum is that you can keep your floors sparkling clean with little effort. While vacuums are designed to be used on carpet, many cordless models can also be used on hard surfaces like hardwood, laminate, tile, and vinyl. A high-quality cordless vacuum not only removes dirt you can see on the surface, but many of the latest models also get deep down grime and allergens.
You'll have a cleaner and healthier household with regular use of a cordless vacuum. Of course, the main advantage over picking this type over a traditional upright or canister model is the convenience. Cordless vacuums are much lighter and can fit into tighter crevices than these larger models. With a cordless vacuum, you also don't have to worry about a pesky cord tripping you as you move about.
Who are the contenders for Best Cordless Vacuum?
Shark Bagless Navigator Freestyle Cordless Stick Vacuum – You'll have no problem maneuvering this cordless model from room to room with its swivel design that glides around corners. Refresh your carpets or clean your bare floors without the hassle of a broom and dustpan with this cordless vacuum from Shark. Not only can you expect superb performance on all types of floors, but you also won't have to pay a fortune, as this is one of the most affordable cordless vacuums available.
Electrolux Ergorapido Brushroll Clean 2-in-1 Cordless Stick Vacuum – Clean your bare floors or carpet with the stick vac or remove the hand vac for easy cleaning of corners, upholstery, or your vehicle with this handy 2-in-1 vacuum. This vacuum has everything you could ever want in a cordless vac, including swivel steering, a charger that charges your vacuum very quickly, a built-in light to light your path to prevent missing even a single spot of dirt, and of course, no cord to mess with while you're at work.
Dyson DC59 Motorhead Cordless Vacuum – Dyson has become a leading name in upright vacuums, and their cordless vacuums are gaining the same recognition. This high-powered cordless vacuum is designed to clean your home from floor to ceiling quicker than ever, all without a cord. It's well-balance so it's easy to push from room to room, it has a 24-minute cleaning time, and it comes with onboard attachments that help you get your home cleaner than ever.
Considerations
Vacuums aren't always cheap, so why would you pay money for something that just doesn't get used? Unfortunately, without the right information before you shop, you may pick up a vacuum that doesn't meet your needs. However, with just a few considerations, you can narrow down the thousands of cordless vacuums to just a few models, which makes it easier to make a wise purchasing decision. Before you end up with buyer's remorse, consider these four features for all vacuums you are thinking of purchasing.
Price
Price should be at the top of your list of things to look for in a cordless vacuum. You want to set an approximate budget before you even begin browsing. However, you have to consider other aspects of the products as well. If you want a high-powered vacuum that cleans even the dirtiest floors, you're more likely to pay more. If you're interested in a 2-in-1 model, you should also budget more. Remember, you'll typically get a higher-quality product an more features the more you spend. If you're fine with a basic model, purchasing an inexpensive vacuum is fine. However, if you expect to replace your old vacuum with a cordless model, you will want to consider a more high-end brand.
Floor types
What type of flooring do you plan to use your vacuum on? Some models are designed exclusively for carpets, others work best on just hard floors, while many work on almost any flooring surface. Figure out where you will be using your vacuum and make sure the model you are considering will work on that type of flooring.
Weight
If you plan on cleaning your entire home or moving up and down stairs, you don't want a very heavy model. If you have lots of tight spaces that need to be cleaned, you'll want a lightweight model that's easy to push and pull. Luckily, most cordless vacs weigh much less than canister or upright vacuums, but some are a quite a bit heavier than others.
Run time
Because cordless vacuums have to be charged, you only have a certain amount of time that you can use it before you have to charge it again. If you plan on using your vac for quick touch ups or just one small room, the time it runs on one charge doesn't really matter. However, if you plan to use it for extended periods while cleaning your whole house, you will want a vacuum that holds a longer charge.
Floor types
Carpet and hard floors can be cleaned easily with this vacuum, which has two speed settings available for ultimate cleaning power for all floors.
Electrolux Ergorapido Brushroll Clean 2-in-1
This model is ideal for vacuuming area rugs and bare floors.
Dyson DC59 Motorhead
This vacuum works great on bare floors, carpets, and rugs.
Weight
You'll have no problem pushing and lifting this model around, as it weighs just 11 pounds.
Electrolux Ergorapido Brushroll Clean 2-in-1
At 8.5 pounds, this is one of the most lightweight cordless vacuums around.
Dyson DC59 Motorhead
At just around 8.5 pounds, this is an extremely lightweight vacuum that packs tons of power.
Run time
You can expect to get about 15 to 25 minutes of run time out of every charge.
Electrolux Ergorapido Brushroll Clean 2-in-1
You should expect around 25 minutes of run time on one charge before you have to recharge the battery.
Dyson DC59 Motorhead
You'll be able to use this vacuum for approximately 24 minutes before it requires another charge.
Our Cordless Vacuum Reviews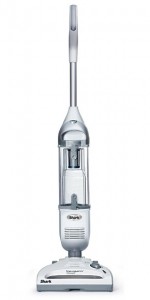 Even though the price on this vacuum is low, the quality is surprisingly high. This cordless vacuum is extremely lightweight but it has all of the power you need to clean up your carpets and bare floors. There are two speed settings available, it features swivel steering for easier control, and it has a powerful brush that's designed to lift up dirt, pet hair, and other messes.
This vacuum glides easily under furniture, fits into smaller spaces, and it charges in just four hours to give you approximately 25 minutes of cleaning time. It has an extra-large dirt cup, so you don't have to empty it quite as often, and it's easy and mess-free to empty.
Pros:
It is affordable. Works on all flooring. It is powerful. It's easy to maneuver. It picks up pet hair.
Cons:
Shark does not carry all replacement parts, so in some cases, you won't be able to fix your vacuum but will have to purchase a new one. Hair gets wrapped around the brush, causing it to stop working. It does not have a built-in light. With heavy use, the battery may give out over time.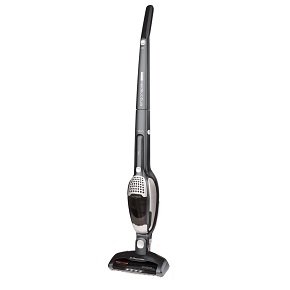 If your floor primarily has hard floors and you're sick of the hassle of sweeping, this vacuum from Electrolux will have your floors cleaner than you've ever seen. Once you've finished your tile and hardwoods, get the dirt and dust off of your area rugs quickly and easily with this cordless vacuum, which runs for about 25 minutes on just one charge.
With the handheld vac that detaches from the stick, you can vacuum up hair and dirt from your chairs, sofas, and even your vehicle without the burden of a cord. This vacuum is extremely lightweight, has an LED light to light your path, and is equipped with two speed settings.
Pros:
Remove target hair with the push of a button. It has a large dirt cup. It's easy to push. It's very lightweight. It has a crevice tool and brush for total cleaning. It functions as a regular vacuum as well as a handheld vac.
Cons:
It does not work well on large carpeted areas. It is a bit more expensive than other cordless vacs.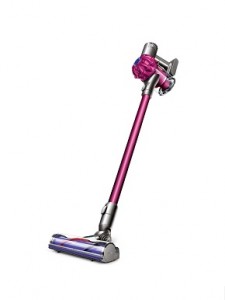 If you don't want to give up your heavy, oversize upright vacuum for a cordless because you don't want to sacrifice powerful suction, you can have the best of both worlds with this model from Dyson, a leader in the vacuum industry. Your whole house will be cleaner from top to bottom with this great vacuum, which weighs less than 10 pounds.
This vacuum has a strong direct drive motor that outperforms other cordless vacuums, as well as upright and canister models. Whether you use it on bare floors or carpet, you can always expect great performance. This vacuum is loaded with great features like ultra-fine, anti-static carbon fiber filaments that pick up every bit of dust, a 24-minute run time with just one charge, and the weight is distributed, making it easy to push.
This model comes with three attachments so you can easily clean your upholstery, corners, crevices, and everything else in your home. It has a large dirt bin that's easy to clean and that stays hygienic, and it has a docking station that makes it easy to recharge.
Pros:
It is very powerful. It is easy to charge. Holds a charge for a long period of time. It works on all floors. It is very lightweight. Easy to steer. It has multiple attachments. Comes with a 2-year parts and labor warranty. Picks up embedded hair, dirt, and grime with ease.
Cons:
It is expensive. The dirt bin could be larger.
Closing Thoughts
Why fuss and fight with a heavy vacuum that has a cord that tangles up easily and trips you while you're trying to keep your house clean? If you want the same great clean you get from your larger vacuum in a smaller, more lightweight design, the Dyson DC59 has what you're looking for. You'll get enough power to keep your home spotlessly clean in a fraction of the time and with far less effort than with your old vacuum.