Some links on this page are monetized by affiliate programs - see disclosure for details.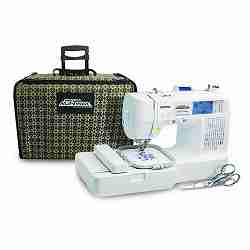 In today's modern world, most people purchase their own clothing, draperies, and other items made with fabric directly from a store. If we need our pants hemmed or repaired, we may take it to a tailor and pay to have this service performed. However, if you want something unique for your closet or your home that you just can't find in stores or that you can't afford, you might want to consider making it yourself. If the new pants you wore are too long and your tailor can't get them fixed on time, this is also something you can do right at home.
Even if you've never had any experience sewing, you'll be surprised at all you can do with a sewing machine.
When used properly, you can have even stitches and create things that look professionally made, from pillowcase dresses for your daughter to brand new curtains made from a beautiful material you found at the fabric store. You can sew on buttons, repair zippers, or shorten the length of your favorite pants with one of these machines.
What are the different types of Sewing Machines?
If you've never used one of these machines before, the choices can be quite overwhelming. With so many different features, a wide range of price points, and other features, buying one can be more confusing than actually using one. Once you've decided that a sewing machine is something you'd like to use, make sure that you purchase one that meets your expectations, and you can do this by first knowing about and choosing from the three main types.
Manual machines
These are generally the most inexpensive models, and they are great for beginners. Most of these machines do all basic functions and may even have a few advanced features that allow you to create just about anything. While these do the sewing for you, most controls are operated manually.
Electronic machines
These are more advanced models, and while they are an excellent choice for those who have experience, beginners can learn how to sew with these as well. Instead of having to manually change controls, these allow you to change options with just the touch of a button. Different stitches can be made and a variety of functions can be performed by using the control panel. These perform all basic functions that manual machines can do, with the addition of other features that more advanced users may need to use.
Embroidery machines
These allow you to sew like electronic and manual machines, but they also perform embroidery. You can use these to add embroidered letters, numbers, logos, and more to clothing, handbags, backpacks, and other items. These are not only the most advanced and difficult to use, but they also come at a more expensive price than other types.
What are the Advantages of Owning a Sewing Machine?
One of the major advantages of owning one of these machines is being able to make your own clothing and fabric items. From unique formal dresses to casual everyday wear, you can make anything as long as you have a pattern, fabric, thread, and a good sewing machine. You can make anything from purses to curtains and pillowcases.
If you frequently find that you're missing buttons from your shirt, your zippers break on your favorite clothing items, or the pants you purchase at the store are just too long, you can make these alterations yourself and save hundreds of dollars each year with the use of one of these machines.
Considerations for Choosing the Best Sewing Machine
Buying a sewing machine takes patience, mostly because there are so many different types on the market. How many stitches do you really need? Are the electronic controls going to make your job easier, or will they just make for more confusion? What features are considered "must-haves"? Whether you've been sewing for decades or you're new to using one of these machines, you always need to do your research prior to making a purchase, and you can get started with these four key points.
Price
A basic beginner's machine may cost around $100, which is fine for younger users or those who are just getting started, but if you really want to take advantage of everything a machine has to offer, you should expect to spend at least several hundred dollars. Machines designed for embroidery, quilting, and other functions may cost in the thousands, and if you sew often or do it for a living, you may find that one of the most expensive machines may be well worth the investment.
Warranty
Because these machines are electronics, this means that there are a whole host of components that can fail at any time. Although this is natural and should be expected over time, you should never have a machine that breaks with just a few light uses. Misuse is one thing, but using it as directed should never result in the machine shutting off unexpectedly, never turning on, or just acting strange. If this happens, it's likely due to a defect, which would be covered with a warranty, so make sure you purchase a product with a great warranty.
Type
As you've already read, there are a few different types of machines. You can let your skill level determine which type is best for you, although if you do want to learn the more advanced skills, you should make sure that your machine is designed to tackle more difficult tasks.
Stitch options
You may only need a few basic stitches if you just plan to mend or hem clothing and other fabrics. However, if you plan on creating new items from scratch or you want to take advantage of advanced techniques, choosing a model that has lots of different stitches will let you really be creative and is a must-have feature for any experience seamstress.
Warranty
Janome 2212
A limited 25-year warranty protects your machine from manufacturer's defects.
Singer Sewing S800
Your purchase comes with a 25-year limited warranty.
Brother LB6800PRW
Not only will you receive a 25-year limited warranty, but you'll get free phone support for life with this high-end machine.
Type
Janome 2212
This is a manual machine that is very easy to use.
Singer Sewing S800
This model is computerized, allowing you to easily change stitches and other settings through the control panel.
Brother LB6800PRW
This is a computerized machine that allows you to sew and embroider.
Stitch options
Janome 2212
You'll get 12 built-in stitches on this model, which allows you to perform basic sewing functions with ease.
Singer Sewing S800
This model has an amazing 100 stitches, allowing you to perform complicated stitches for any purpose.
Brother LB6800PRW
This machine has 67 different stitches in addition to embroidery options.
Conclusion: Our Sewing Machine Reviews
Using a machine to sew can seem a bit intimidating, but it's easy to learn if you have the right machine, and this model from Janome is an excellent choice. This manual machine allows you to perform basic stitches, choosing easily from the 12 available, so that you can learn the basics. The machine itself is very affordable, so you won't spend a ton of money on something that you just don't know how to use.
Standout features on this model include the built-in stitches, including a button hole option, drop feed for quilting, and easy width and length adjustments. The selector dials are basic, making them easy to use, and it has a reverse switch to use as needed. It also comes backed with the same great warranty you'll find on more expensive machines.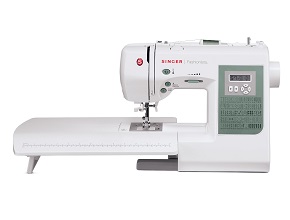 Once you have some sewing experience under your belt, you usually want to upgrade your old machine to one of the more modern electronic ones. This model from Singer is an exceptional choice for any seamstress. Even those with very little experience will get the hang of this model quickly and will be amazed at all of the great features, including 100 different stitches that can be set using the buttons and the LCD screen. You can also easily set the length and width of the stitches using this method.
This model comes with an automatic needle threading system so you don't waste time trying to thread your needle, a drop-in bobbin that threads easily, and electronic auto pilot that doesn't even require the use of the pedal. Other features include seven built-in button hold options, a LED light for your work space, and multiple presser feet and accessories, providing you with all of the tools you need to get started.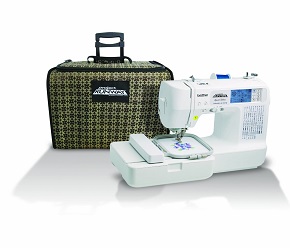 If you've ever turned on the TV to watch "Project Runway", you know that the designers on this show utilize the best equipment to create runway-worth fashions. The style of this hit TV show and the reputation of Brother, one of the best in the business, are combined to create this versatile machine, which not only sews like a dream but also allows you to embroider and personalize your creations.
This model has 67 built-in stitches that can be easily accessed with the touchscreen LCD. You can adjust the length and the width of your stitches as needed, the bobbin is easy to set, and you get a variety of different feet. Once you're done sewing, you can move on to embroidering. This machine features a 4" x 4" embroidery area, five built-in fonts, 120 built-in frames, and 70 designs. You can also use the USB port to connect to your computer so that you can make your own designs and easily add them to just about anything. It also has a pre-loaded design program. If you ever get stuck, you can simply utilize the built-in tutorials, which is just another feature that makes this top-of-the-line machine one of the most technologically advanced models out there.
In Conclusion
Make a creation unlike any other or keep your clothing looking brand-new with a high-quality sewing machine. If you want to go all out with your sewing and create incredible, unique embroidered designs, the Brother LB6800PRW is a top choice. This machine is very versatile, offers all of the latest technology, and is durably built so you can enjoy years of design, sewing, and embroidering.