Some links on this page are monetized by affiliate programs - see disclosure for details.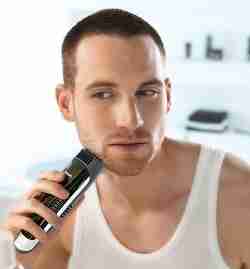 Maintaining a striking but professional beard is a constant struggle. Even after a professional cut, a week of growth makes many men look like they have been up all night solving a murder. People who prefer to be clean shaven typically require grooming even more frequently, as even a day's worth of stubble can roughen up smooth skin.
Fortunately, one doesn't have to spend cumulative hours every week tidying up their face. With a good electric trimmer, a man can be ready for the world in minutes.
What Is a Beard Trimmer?
Beard trimmers are much like electric razors made to cut head hair, just smaller. They come with guards and safeties to prevent accidents associated with traditional razors, while also allowing men to decide how much or how little facial hair they have. Beard trimmers come in a variety of packages, with an equally diverse set of materials and features.
What Are the Advantages of Owning a Mustache and Beard Trimmer?
In the past, electric trimmers were fast but sometimes ineffective tools for facial hair grooming. However, modern trimmers are capable of matching the closeness of traditional razors without the risk of drawing blood. Beard trimmers are a must-have for men who want to look their best every day of the week without having to dedicate much time to shaving every few days.
Whether one wants to keep his face clean or sport a chest-length beard, electric razors perform the task in minimal time.
What Are the Contenders for Best Beard Trimmer?
Conair All-in-One Battery-Operated Trimmer: Conair's entry-level trimmer features a 5-position adjustable comb and three special combs that match the contours of the chin. It is effective on nose and ear hair as well as facial hair overall, and ships with all the maintenance tools it needs.
Wahl 9854-600 Lithium Ion All In One Trimmer: The 9854-600 is a professional grade trimmer at a very competitive price. The 17-piece set can keep up with virtually any demand, and the powerful lithium-ion battery keeps it ready to trim any time.
Philips Norelco QT4070/41 Beard Trimmer 7300: The QT4070/41 is a superior trimmer for men who demand precision and efficiency. It adapts to facial contours automatically, requires zero maintenance and has a digital display that allows users to clearly define the lengths they want down to the millimeter. Its vacuum system virtually obliterates the mess usually associated with shaving, for an even faster process.
Considerations for Choosing the Right Electric Beard Trimmer
In today's competitive world, having the best look is crucial to getting ahead. There are plenty of trimmers on the market that will adequately perform the basic task of keeping one's facial hair in check, but the greater the precision of a trimmer, the better the overall appearance one will have. The level of adjustability and quality of a trimmer will determine its results while the presence of additional features will decide how convenient it will be to own.
Adjustability: Having a razor that will cut at the exact lengths one desires makes a huge difference in one's overall satisfaction with his shave. Basic settings are okay, but precise measures to the millimeter are always best. Trimmers achieve better results when they are packaged with more combs and guards to fit everyone's needs.
Blade Quality: Nobody likes having to shop for replacement parts every few months. Electric trimmer blades generally don't wear out very quickly, but the best ones are able to keep their edge for years. High-quality blades are made from durable materials that are easy to maintain.
Maintenance: Hair tends to get everywhere after a shave, so one can almost always expect to have to clean their trimmers after every use. Additional maintenance is typically required, most often a touch of oil to keep the blades lubricated. The amount of time a trimmer needs for upkeep affects its overall convenience.
Additional Features: Beard trimmers don't have to be simple: some come with additional capabilities that are exclusive to their product type. Intuitive and useful design aspects make the difference between a good electric trimmer and a great one.
Adjustability
Conair All-in-One
Conair's trimmer doesn't make an effort to adapt to every curve it trims along, but its three flexible combs glide along the jawline fairly well. Its main comb has five different settings. While the locking mechanism is neither weak nor strong, careful use virtually eliminates the risk of the guide sliding out of place. The settings themselves aren't incredibly precise but meet the needs of most men.
Wahl 9854-600
Judging solely by its price point, the 9854-600 goes above and beyond expectations with its twelve unique cutting positions. In addition to its adjustable comb, the trimmer features several other heads: most notably a dual shaver for precise edging and a precision detailer. The 9854-600 is very ergonomic and comfortable to use. Its dual shaver trims especially close with no irritation on any surface, head, face, or body.
Philips Norelco QT4070/41
The QT4070/41 is beyond precise. It has 18 secured length settings, ranging from 1 millimeter to 18. The trimmer has a digital display at the end to verify that each shave is at the precise length desired, and the comb automatically bends around the contours of the face for an even and exact performance. Its settings go from completely clean to a rugged five-o-clock shadow to trimming beards to exact desired lengths.
Blade Quality
Conair All-in-One
The All-in-One's stainless steel blades are typical of electric razors, but that material construction is a staple for a reason. The trimmer's blades may not be very impressive on their own, but are sharp enough to make decent use of the torque behind them. Still, the blades favor one who wants to be clean shaven more than they do someone with a full beard, yet aren't sharp enough to excel with either.
Wahl 9854-600
The 9854-600's blades are sharp, durable, and with its wide array of usable combs, very precise. They are backed by a substantial amount of adjustable torque for virtually any quality and thickness of hair. With minimal upkeep comparable to a more basic razor, the 9854-600's performance is consistent throughout years of use. For close shaves and neat trims, the 9854-600 is fundamentally flawless.
Philips Norelco QT4070/41
The QT4070/41's blades do something few other trimmers are capable of: they keep themselves sharp. Throughout the trimmer's lifespan, one will see no signs of wear or loss of edge. The blades simply remain as they were out of the box. The QT4070/41's ability to stay effective over a long period of time is one of many things that sets it apart from other competitors, and the precision with which it uses its blades furthers that argument.
Maintenance
Conair All-in-One
The All-in-One's performance dwindles over time, but regular cleaning and application of lubricating oils keeps the trimmer doing its job for years. However, when the blade begins to dull, one may have a few hairs plucked out of their beard rather than trimmed. Thankfully, the razor's upkeep doesn't require much time or effort, it just needs to be performed before every use if one hopes to keep it going for a long time.
Wahl 9854-600
Maintaining the 9854-600 is very easy, but its array of 17 pieces means a few more parts to clean. It's a worthwhile trade-off. Every area where the trimmer is likely to collect stray hairs is accessible with the provided brushes, and the lithium ion battery is ready to go anytime after an hour's charge. A quick one-minute charge on a dead battery gains three minutes of use while its full battery keeps the trimmer going for nearly three hours.
Philips Norelco QT4070/41
The QT4070/41 touts itself as a maintenance free beard and mustache trimmer. The stay-sharp blades require no oiling, and the trimmer's integrated vacuum alleviates the need for cleanup. It is powered by an efficient, quick-charging lithium-ion battery and is thus ready for use any time so long as it has been charged generally within a two-week span. Virtually anyone can wake up, do a quick shave, and immediately move on with the QT4070/41.
Additional Features
Conair All-in-One
Conair's basic trimmer doesn't do anything other than trim. Its flexible combs are unique among razors in its price range, but the tool doesn't do anything else to set itself apart. Regardless, the extra combs do set it apart from other cheap trimmers. For men who only need to do a little upkeep between professional beard maintenance, the All-in-One does everything it needs to without any extra bells and whistles.
Wahl 9854-600
The 9854-600's lithium battery is one of its strongest features, but the trimmer also features an impressive 17-piece kit. The trimmer boasts good precision and nearly unmatchable versatility, ready for use as a beard trimmer or as a clean-up tool for the entire body. The 9854-600 ships with an easy to organize travel pack and all the essentials for maintenance.
Philips Norelco QT4070/41
Of its many features, the QT4070/41's integrated vacuum is likely its most unique. The vacuum gives users the ability to just dump whatever hair they've trimmed in the trash after use, without having to clean their sinks or blades. The razor has multiple power settings to control the cutting and fan speed for thicker hair, and the trimmer's adjustable wheel secures cutting lengths. The QT4070/41's combined features easily make it one of the most convenient shaving tools available.
Conclusion: Our Mustache and Beard Trimmer Reviews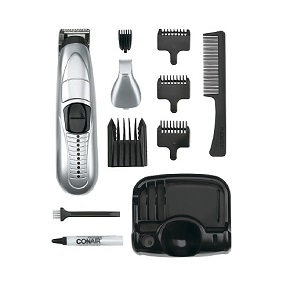 The All-in-One is an exemplary basic trimmer, even if it is just that: basic. It does its job adequately and requires just a bit of consistent maintenance to keep it going. Whether one wants a clean shave or to shape up their existing beards, Conair's trimmer gets it done for a very minimal investment.
The trimmer isn't ever the best at anything it does, but it's consistently better than equally low-cost competitors.
Pros:
Jawline bending combs
Easy maintenance
Cons: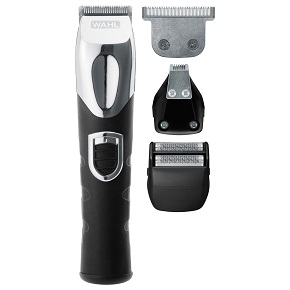 The 9854-600 is highly versatile, very effective, and for all it does, priced at a fantastic value. The trimmer's array of specific combs and heads allows it to perform just about any task. The lithium-ion battery saves users a considerable amount of stress, as even if one forgets to charge it after several trimmings, it is likely to keep running strong.
It has quality blades, good flexibility, and considerable longevity, setting the standard for good all-in-one trimmers.
Pros:
Good for any surface
Several precision tools
Amazing battery life
Cons:
More parts means more maintenance
Difficulty changing attachments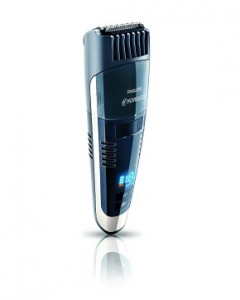 The QT4070/41 is easily one of the most unique and effective beard trimmers available today. The precision and adjustability of its blades would be enough to make it a strong contender as the favorite product, but the integrated vacuum, turbo boost, and easy controls remove all doubts. Of all the electric trimmers on the market, the QT4070/41 is the most portable, most convenient, and consistently most comfortable one to shave with.
The QT4070/41's status as a high-performance tool comes with a mild increase in price, but the overall value of its single purchase outweighs that of other razors that will eventually wear down and require replacements. Add to that its overall versatility, and the QT4070/41 is unquestionably the best choice every time.
Pros:
18 by-the-millimeter cutting lengths
Integrated vacuum eliminates mess
Zero maintenance required
Cons:
The Bottom Line
A lot of good things can be said for a man that grooms his facial hair frequently, and even more for men who do so properly. One can't always run to the barber shop for a touch-up, but with a good beard and mustache trimmer, the need will never arise.
With such a wide array of available trimmers, there is no reason a man can't upgrade from a traditional razor. Armed with blades like the ones featured in the Phillips Norelco, he can turn his facial hair into an art form.