Some links on this page are monetized by affiliate programs - see disclosure for details.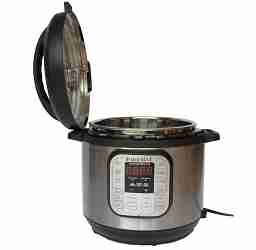 Everyone loves a homemade meal, but sometimes it can be a real pain to get it prepared. You may spend hours slaving over the stove and pulling food in and out of the oven, which is the last thing most people want to do after a long day of work, errands, or taking care of kids and cleaning up the house.
After a busy day, you shouldn't have to resort to getting take-out yet again or spending all of your free time in the kitchen. What if you could have a tasty, home-cooked meal in a fraction of the time? With a pressure cooker, you can.
What is a Pressure Cooker?
A pressure cooker is a small household appliance that is designed to cook food faster than other cooking methods, and it also consumes less energy than using a stove for hours. These devices are very easy to use; all you have to do is add a broth, water, or other liquid, which creates steam and pressure when the lid is shut. This helps food cook far more quickly than other ways of cooking, like on the stovetop or in the oven.
Once the food is finished, the pressure is slowly released, the lid is opened, and you can serve your delicious meal. You can use this type of device to cook just about anything, including but not limited to chicken, beef and pork roasts, soups, and stews.
What are the different types of Pressure Cookers?
Even if you've never used one of these types of appliances before, you won't have any difficulty learning how to operate one, as they are fairly straightforward. These are a great addition to any household, as they allow you to feed yourself and your loved ones delicious food, even when you're pressed for time. If the idea of cooking your favorite recipes in a fraction of the time is appealing to you, you definitely want to consider adding one of these to your kitchen. Before you buy, though, make sure you understand the two different cookers available to decide which one will better fit your needs.
• Stovetop models – These are designed to be used on your stovetop. They look very similar to other pans you may have, but the primary difference is the lid, which is used to form a tight seal to create the pressure needed to cook quickly. You simply add your liquid, add your ingredients, affix the top, and let it cook over a heated burner for the amount of time needed to fully cook the dish you are creating.
• Electric models – Instead of using the heat from your stove, these have a plug that is used in a power outlet to generate its own heat. These have more modern features, including timers and different pressure settings that make these easier to use. However, you will often find that electric models are more expensive than stovetop units.
What are the Advantages of Owning a Pressure Cooker?
These days, life is busier than ever. More and more men and women have family obligations, careers, or may even be attending school. Throw in errands like grocery shopping, commute times, and family activities like youth sports and the modern man or woman isn't left with a lot of free time. You should be able to spend your free time doing things you enjoy, whether it's kicking back in front of the TV or playing outside in the yard with your kids, instead of slaving over a stove.
With a pressure cooker, you can make all of your favorite recipes in no time at all, shaving minutes or hours off of traditional cook times, without sacrificing flavor. These are easy to use, work quickly and efficiently, and may even help you save on your utility bill over time when you're not using a range for hours each week. Some pressure cookers can even be used for canning fruits, vegetables, salsas, jams, jellies, and other items.
Who are the contenders for Best Pressure Cooker?
Presto 01362 Stainless Steel Pressure Cooker – Whether you want to try out a pressure cooker for the first time or you just like getting a great deal on a quality product, this cooker is one that you should consider. This stovetop model is very affordable, but unlike very cheap units, it has a lot of great features that make it easy to use. This includes an indicator that shows that the lid is locked into place, as well as a built-in pressure regulator that maintains the proper pressure.
MaxiMatic EPC-808BL Elite Platinum Digital Stainless Steel Pressure Cooker with 13 Functions – Take the guesswork out of your favorite recipes with this great device, which has 13 different functions that can be activated with the touch of a button. Whether you want to cook rice or meat, you can do it all with this versatile machine, which comes in your choice of four colors and has a built-in timer so your meals always come out perfectly cooked.
Instant Pot IP-DUO60 7-in-1 Programmable Pressure Cooker – Replace multiple small appliances in your kitchen with just this one device, which is more than just a pressurized cooker. You can steam, saute, slow cook, and even make yogurt in this innovative machine, which is very easy to use. It has a large capacity, and its stainless steel design is both durable and modern enough for any kitchen.
Considerations for Choosing the Best Pressure Cooker
Once you've made up your mind to purchase one of these kitchen devices for your household, your next step is narrowing down the features that are most important to you. Generally, you'll find that a more modern, technologically advanced device is more expensive, but if you plan on using it often, it may be a great choice for your kitchen. While you shop, look for each of these four key points to determine which unit is perfect for you.
Price
In general, you should expect to pay anywhere from around $50 for a basic stovetop version to several hundred dollars for a modern electric cooker. Take a look at all of the other features, including overall design, size, and ease of use, in addition to price, to determine which unit you need in your home.
Warranty
Your product should last through several uses, and it isn't unreasonable to expect your new cooker to be used for several years without any issues. With a warranty, you can avoid the hassle and expense caused by manufacturer's defects, so buying a unit with a great warranty is the best way to protect your purchase.
Capacity
The capacity of your cooker is important because you want to make sure everything fits inside. If you plan on making large amounts of stews or soups or cooking large cuts of meats, like a beef roast, make sure that the cooker you select has a larger capacity.
Functions
Today's modern pressurized cookers do more than just cook your food quickly. Some double as rice cookers, slow cookers, and other common small appliances that help you eliminate the clutter of multiple appliances and really get the most bang for your buck.
Warranty
Presto 01362
A 12-year limited warranty accompanies your purchase.
MaxiMatic EPC-808BL
A limited 1-year warranty is provided by the manufacturer.
Instant Pot IP-DUO60
This model is backed with a 1-year limited warranty.
Capacity
Presto 01362
This model comes in a 6-quart version or a smaller, less expensive 4-quart unit.
MaxiMatic EPC-808BL
This 8-quart unit is large enough to cook all of your family's favorite meals.
Instant Pot IP-DUO60
This cooker has a roomy 6-quart capacity.
Functions
Presto 01362
This unit can be used for pressure cooking, as well as for canning.
MaxiMatic EPC-808BL
This has several pre-set functions that allow you to cook your favorite foods with just the push of a button. Options include Reheat, Brown Rice, White Rice, Wild Rice & Grains, Vegetables & Fish, Potatoes, Desserts, Pork & Ribs, Chicken, Beans, Stew, Beef, Soup, and Browing/Warm.
Instant Pot IP-DUO60
This allows you to perform seven different functions. In addition to pressure cooking, you also have the following options: Slow Cooker, Saute/Browning, Rice Cooker, Steamer, Warmer, and Yogurt Maker.
Conclusion: Our Pressure Cooker Reviews Are In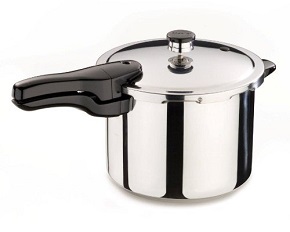 For many years, using a pressurized cooker on a stovetop has been an easy way to prepare a fresh meal quickly, and this model not only uses that same design that has cooked meals over the years, but it also has added extras that make it easier than ever to use.
This stainless steel cooker holds a full 6 quarts, so it's large enough for larger family meals. It can be used on all types of ranges, including induction stoves. It has a built-in regulator that keeps the pressure just right for perfect cooking, and it also has a lock indicator that lets you know the lid is perfectly in place. It's ideal for beginners and experts alike, and it comes with a very detailed manual and recipe book to make the process simple.
Pros:
It is affordable. It can be used for canning. It has a large size. It is backed with a warranty. It comes with detailed instructions. It has a pressure regulator to take out the guesswork. The lid lock indicator lets you know the lid is in place. It is easy to release steam. It is easy to clean. It has one of the best warranties you'll find on this sort of product.
Cons:
The screws are very low-quality and rust quickly. The handles may come loose over time.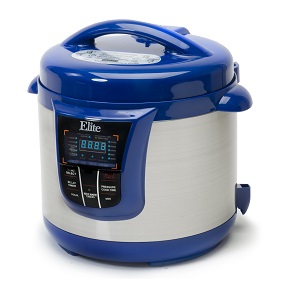 Take the guesswork out of setting the proper pressure by investing in this great model, which comes with multiple settings that allow you to cook everything just right with the touch of a button. It has a timer that's easy to set from 1 to 99 minutes, so you'll know exactly when your food is ready to be served.
This model features a roomy 8-quart pot, which is removable after use for easy cleanup. If you don't want your food to start until later, you can set the timer so it starts right when you need it to, so this is a great option if you want to start cooking before you get home from work. It has a power backup option, so even if you lose power, it will resume cooking and keeping up with your time when the power is restored. It comes in four great colors that really stand out against the stainless steel housing, including Black, Blue, Red, and Orange.
Pros:
It is not too expensive. It has multiple functions. It has a countdown timer, as well as a delay for later cooking. It is easy to clean. It is one of the easiest cookers to use. It has an auto backup feature. It provides a large capacity for cooking just about anything. It comes backed with a warranty.
Cons:
The instruction manual is very limited. It takes up a lot of counter space.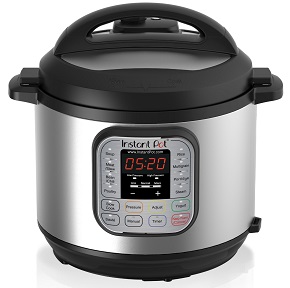 You can use this model to replace a variety of small kitchen appliances, including your slow cooker and rice cooker. Even though it's a bit more expensive than the rest, it functions as seven different appliances, so you really get your money's worth with this purchase.
You can expect great performance from this high-end machine, which has a large touch panel that is very easy to use. It has a detailed instruction book so even if you've never used one of these devices before, you'll have no problem getting the hang of it.
It comes equipped with 10 different safety mechanisms, so you don't have to worry about your pot being unsafe. In addition to delivering outstanding performance, it is very easy to clean and its stainless steel design will look great in any modern kitchen.
Pros:
It performs several different functions. It's easy to use. It's backed with a warranty. It has a recipe book an detailed instruction manual. The stainless steel is fingerprint-resistant. It is large enough for family meals and large cuts of meat. It has three adjustable modes for personalized cooking. It has a countdown timer, delay timer, and keeps your food warm after it is finished.
Cons:
It is quite expensive. The handle is very fragile and may break with rough use.
All in All
If you're in a hurry to make a delicious meal and you don't want to hit the drive-through for another night, a pressure cooker is exactly what you need to make a hot, tasty meal in virtually no time. These appliances are so easy to use, you'll wonder how you ever lived without one. Get the most out of your cooker by purchasing one that has multiple functions, like the Instant Pot IP-DUO60 7-in-1 Programmable Pressure Cooker. You'll get seven great small appliances in one, so you can make your favorite meals with less time, less mess, and less fuss.