Some links on this page are monetized by affiliate programs - see disclosure for details.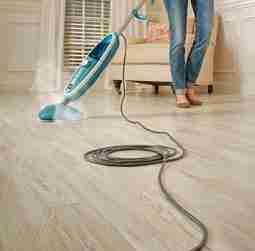 Hard flooring is becoming more and more popular in homes all across the world. Whether it's hardwood flooring that adds a classic touch to a living room, affordable and durable laminate in a home with children, or tile flooring that updates a kitchen or bathroom, hard flooring looks great and adds value to any home. While it is relatively easy to maintain, some homeowners and renters may find that keeping hard floors perfectly clean can be a daunting task.
From scrubbing up dried food from kitchen tile to avoiding streaks on wood flooring, cleaning is not only difficult, but using harsh chemical cleaners can also be damaging, and they can even be dangerous for children and pets. Instead of spending a fortune in cleaners that just don't work as they should, get your hard floors their cleanest with the power of steam with a new steam mop.
What is a Steam Mop?
A steam mop is a type of cleaning tool that is used to clean and sanitize hard floors. This includes ceramic tile, laminate, vinyl, hardwood, marble, and more. Instead of using a mop and bucket, which can be cumbersome, you simply fill the mop with water. This water is converted to steam, which is released through the pad that is used to clean your floor. Steam has been proven to be an effective method of cleaning and sanitizing without the use of chemicals which can leave behind streaks, may be dangerous, or can make allergies flare up.
This type of mop is used like any other type of mop: Simply use the handle to drag it back and forth across the surface for light or heavy cleaning as needed. These mops are easy to use, very effective, and can be used on a wide range of flooring types.
What are the different types of Steam Mops?
Once you've decided that a steam mop may be the best cleaning tool for your home, the next step is to learn more about the available products on the market. Before you begin looking at specific brands and features, the first thing to look at is the different types to choose from. When picking one of these mops, you'll encounter two main types.
• Traditional mops – These mops are designed for use on your hard floors. They typically come with a water reservoir, a cord that uses power to generate steam, and one or more mop pads designed to help you clean your floors, whether you're just removing dust from hardwoods or getting tougher spots on your kitchen or bathroom tile.
• Two-in-one mops – These mops perform the same functions as traditional models. However, they also have a handheld attachment that is removable, which allows you to steam and clean a variety of other surfaces in your home, including tables and countertops, for easy cleaning without a ton of harsh chemicals.
What are the Advantages of Owning a Steam Mop?
There are several advantages of owning one of these mops. The first is that over time, you can save money because you do not have to purchase expensive floor cleaners and other cleaning chemicals. You can easily get your floors clean and sanitary using just steam, so you don't have to worry about the potential harmful implications to your household members by using strong chemicals. These mops are a great cleaning tool for those who suffer from allergies.
These mops are also very easy to use, and the hot steam can dramatically cut down on cleaning time by making tough, caked-in food, mud, dirt, and other messes come up with ease without the need for scrubbing. Those with hard floors also find that steam helps reduce streaking which is common when using a regular mop and cleaning products. These mops can also be used on a multitude of surfaces without causing damage and without requiring special chemicals that can often be quite expensive.
Who are the contenders for Best Steam Mop?
BISSELL Powerfresh Steam Mop – You don't have to spend a fortune to get a high-quality mop, as evidenced by this BISSELL model. The innovative design allows it to glide easily over floors, picking up dust, dirt, and ground-in, hardened messes. It fits easily into tight corners and crevices for an overall clean. If you've held off on purchasing one of these mops because you want your home to have a fresh smell, not to worry – this mop can be used with fragrance discs that make your home look and smell better than ever.
Black & Decker BDH1850SM 2-in-1 Steam Mop – Use this model all around your house for cleaning and sanitizing. You can rest easy knowing that your home is truly clean deep-down, as this mop eliminates 99.9 percent of bacteria using just the power of steam. Use it for light-duty jobs or use the burst of steam for that extra power you need for heavy-duty jobs. If you want to clean more than just your floors, this model is equipped with a detachable handheld steamer that keeps all of your surfaces clean and safe.
Hoover TwinTank Steam Mop, WH20200 – With this mop, you can effectively clean your floors using just steam, or you can use the second tank for disinfectant for extra cleaning power. This model is a great choice because not only does it perform well on your hard floors, but it can also be used to clean and refresh rugs and carpets. Your home will be cleaner than ever, and it won't just be on the surface, since this mop eliminates 99.9 percent of bacteria to provide you with a cleaner, healthier home.
Considerations for Choosing the Right Mop For Your Home
Does a mop that is powered with steam sound like it would be the perfect addition to your household? If so, it's time to start shopping. Before you invest a lot of your money into a new mop, however, you need to make sure that you purchase one that meets all of your needs, and this can be done easily with just a little bit of research. As you browse through all of the different products, keep these four points in mind, as well as your own criteria, to ensure you make a satisfying purchase.
Price
Of course, price should always be a consideration with any purchase that you make. However, when considering price, you should also keep a few other things at the forefront of your mind. For example, does the mop come with everything you need to get started? Does it come with extra pads, or will those need to be purchased separately? Instead of simply purchasing the cheapest mop on the market, find one that not only fits within your budget, but doesn't require additional investments that can end up costing more in the long run.
Warranty
Since these mops aren't exactly cheap, you don't want to end up with a bad product that breaks after just a few uses. If something goes wrong because of a design flaw in your mop, a warranty will give you the protection you need to have it repaired or replaced at no additional cost to you.
Surface types
How do you plan on using your mop? Some are designed for all hard surfaces, while others are better suited for certain types, like tile. If you have multiple hard surfaces throughout your home, you want to pick a model that is multi-functional. If you have carpets, upholstery, or drapes that you'd also like to refresh, look for models with handheld functionality or with special attachments that can be used off of hard floors.
Accessories
As mentioned earlier, buying additional accessories like new mop pads or different mop heads can get expensive. Check each model to see what is included. You want to make sure that you receive at least one multi-purpose mop head, as well as one pad, although extras certainly come in handy for heavy-duty cleaning and large spaces.
Warranty
BISSELL Powerfresh
A two-year limited warranty from the manufacturer is included with your purchase.
Black & Decker BDH1850SM
Your purchase is backed with a limited 2-year manufacturer's warranty.
Hoover TwinTank WH20200
This product comes backed with a 2-year manufacturer's warranty that protects against defects.
Surface types
BISSELL Powerfresh
You can use this mop on any hard surface, including sealed laminate and hardwood, vinyl, ceramic tile, marble, and stone.
Black & Decker BDH1850SM
This model can be used on vinyl, tile, hardwood, laminate, stone, and marble. It also has a carpet glider attachment that can be used to refresh your carpet.
Hoover TwinTank WH20200
You can use this mop on a variety of surfaces, including ceramic tile, vinyl, sealed woods and laminates, stone, marble, and more.
Accessories
BISSELL Powerfresh
This mop has everything you need to get your home cleaner than ever right out of the box, including two mop pads, a removable water tank, and fragrance discs.
Black & Decker BDH1850SM
This model comes loaded with an accessories bag which includes a two pads, a resting mat, carpet glider, detail brush, grout brush, squeegee, and cup.
Hoover TwinTank WH20200
This mop comes with a carpet glider, floor protector, and three mop pads.
Conclusion: Our Steam Mop Reviews Are In

If you're on a budget but you want a mop that really cleans the deep-down dirt, this affordable option is a great choice. This mop works on a variety of hard surfaces, making it easy to maintain every room of your house. Your purchase comes with two mop pads: one for lighter cleaning and one with scrubbing strips to clean very dirty floors.
The water tank is removable so it's easy to fill. If you love the smell you get from using traditional cleaning products, you'll enjoy the scented discs that can be used to get your home smelling better than ever. The design of the mop heap makes it easy to get into crevices, scrub grout, and eliminate dirt and mess in tight spaces and corners, so you know you're getting the best clean possible.
Pros:
It is affordable. The scented discs give your home a clean smell. It comes with two mop pads. It has a scrubber for heavy-duty jobs. It is designed to clean tighter spaces. It is easy to fill. You can control the amount of steam. It is very easy to use. It has a warranty. It works on all hard surfaces. It is easy to assemble.
Cons:
It may leak a small amount of water while in use. The cord isn't long enough to use in a large room without changing outlets. The cap is very cheaply made and may break easily. There is no on/off switch.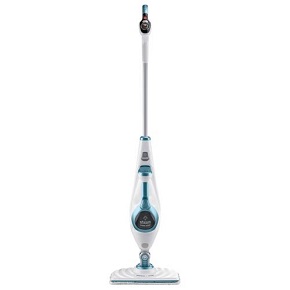 Get everything you need at one fantastic price with the purchase of this model from Black & Decker. You'll be able to clean and shine up your floors like never before with less effort, and best of all, you also eliminate 99.9 percent of bacteria using just water. This means no more expensive cleaners that can be harmful to your household.
This model is equipped with digital controls that allow you to change the type of flooring with the push of a button. You'll get just the right amount of steam to keep your floors clean, shining, and streak-free. This model comes loaded with the essentials you need to keep your home clean and fresh, including two mop pads, a carpet glider for use on carpets and rugs, and a detachable steamer that can be used on upholstery, drapes, or other surfaces, making it one of the most versatile mops currently on the market.
Pros:
It is easy to use. It is lightweight. It is not too expensive. It works on hard surfaces and carpets. It has a detachable handheld steamer. It comes with an accessories bag loaded with extras. It is backed with a warranty. It has a long cord that makes it easy to clean larger spaces. It heats up quickly. The controls are very easy to use.
Cons:
It may leave some streaks on darker floors. The steam does not get as hot as other models, so it may be more difficult to get up dried food, caked-on dirt, or perform other heavy-duty jobs.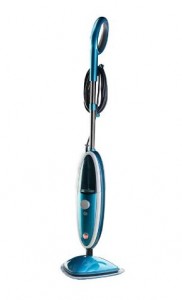 If you want a home that not only looks cleaner but is actually cleaner and safer for your family, look no further. This model from Hoover is designed to outperform all of the rest, allowing you to not only clean up spills and messes with ease but also removing 99.9 percent of harmful bacteria that can make your household sick. You can opt to use this mop with just water or you can use the secondary tank for disinfectant for an even deeper clean.
The triangular mop head glides easily into corners and crevices, and the swivel design makes it easy to maneuver, cutting down on your cleaning time. If your rugs and carpets look dingy, dirty, or just need to be refreshed, this model comes with a carpet glider. When your mop is not in use, a floor protector keeps it off of your floors, preventing scratches.
It has a long cord, so you can easily clean larger spaces without having to change outlets. It heats up quickly and is very easy to use, gliding effortlessly over carpet or hard surfaces and getting the deep clean your house needs without the effort of scrubbing on your hands and knees.
Pros:
It cleans a wide variety of surfaces. It heats up quickly. It can be used with or without cleaning solution. It is easy to change the controls. It has a very long cord. It is lightweight. It is backed with a warranty. It has dual tanks. Both tanks can be removed for easy refilling. The mop head pivots and is designed to go into tighter spaces for a complete clean. It can be used over carpets or rugs. It comes with three mop pads.
Cons:
It is a bit more expensive than other mops. It cannot be used on waxed floors or it will leave behind a film. The plastic clips that hold the tanks in place feel cheap and may break over time or with rough use.
All in All
Why waste time cleaning your floors on your hands and knees when you can avoid the hassle, time, and headache with a steam mop? You'll get the same great clean with far less effort, and you can rest easy knowing your home is clean, sanitized, and safe using just the power of steam. If you really want to get the most out of your mop, the Hoover TwinTank WH20200 is the perfect addition to your arsenal of cleaning tools. This mop works with or without solution to eliminate harmful bacteria, all while providing you with sparkling clean floors with less effort.