Some links on this page are monetized by affiliate programs - see disclosure for details.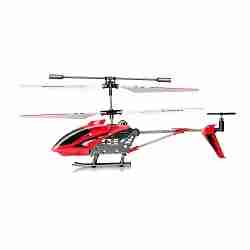 Flying remote controlled helicopters and quadcopters has increased in popularity as a hobby over the past several years. Though few can afford to buy or fly a real helicopter, sending a remote controlled equivalent into the air is a thrilling experience of its own, especially as flyers go from wobbly beginners to seasoned pros, performing stunts and recording the sights below from the safety of the ground.
Not all RC helicopters are made equal, but the ones discussed here are of the highest regard in the market, each with its own merits.
Guide to RC Helicopters
RC helicopters are miniature devices that can take flight at the command of a remote control. Depending on the quality of the model, they can be flown around the house or reach impressive heights outside. RC helicopters are deceptively simple in their basic functions and controls.
An experienced flyer can take advantage of a copter's capabilities to perform aerial stunts akin to the ones full-sized helicopters do at air shows.
What Are the Different Types of Remote Controlled Helicopters?
RC helicopters come in numerous shapes and sizes. There is the traditional helicopter design: a long body with overhead propellers, or quadcopters that are built to optimize their aerodynamics and weight:
Helicopters: RC helicopters are scaled down replicas of real passenger helicopters. Their overhead and tail propellers guide their long bodies through the air utilizing familiar concepts that everyone has likely seen at least once in their lives.
Quadcopters: Quadcopters are unlike helicopters people see every day. As a remote control helicopter will never carry an actual passenger, quadcopters exclude a traditional cockpit in order to maximize their ability to fly. Quadcopters have a central body with four propellers attached. They are generally faster and more maneuverable than their helicopter counterparts.
What Are the Advantages of Owning an RC Helicopter?
RC helicopters are typically used for recreational purposes only. There are plenty of videos online of people who have found ways to lazily fly objects around their homes from their couches, but the main reason to buy an RC helicopter or quadcopter is to take it outside and simply enjoy flying.
Copters with camera attachments allow users to see the world from a different perspective, or one can hone their skills at maneuvering their copter to perform aerial stunts.
What Are the Contenders for Best RC Helicopter?
Syma S102G 3.5 Channel RC Helicopter with Gyro: The Syma S102G sports a traditional helicopter design and impressive maneuverability for such an affordable product. It is stable, easy to fly, and with plenty of available replacement parts, a good choice for beginners who expect to crash a few times.
Hubsan X4 (H107C) 4 Channel 2.4GHz RC Quad Copter: Lightweight and compact, the Hubsan X4 is a neat quadcopter that's well designed to flip and soar indoors and outside. It is equipped with a small camera that records its flights and has settings for beginners and experts alike.
Ei-Hi S911C Huge 2.4GHz 6.5 Channel: The rugged 6911C's dramatic design allows it to fly faster, higher, and at greater distances than many of its competitors. It performs smoothly and impressively from take-off to landing and gives users a bird's eye view with its first-person video camera.
Considerations for Choosing the Right Helicopter for your Hobby
Prospective RC helicopter owners should be primarily concerned with the dexterity, distance, and consistency at which their copter can fly. Just because a helicopter can make it into the air doesn't mean it can ascend to great heights if its radio signal and design capabilities don't allow it to. The way it moves while it is in the air is also not just dependent on the flyer but its own specifications.
Channels: The number of channels an RC helicopter uses refers to how many unique directions it is able to move. Each channel controls the speed of a different rotor. A helicopter with only two channels is able to move forward in all directions while three or four channels allow users to go backward and control the helicopter's pitch, respectively.
Range: A helicopter's listed range is the amount of distance a flyer can put between themselves and the device while it is in flight. The greater the distance, the more places people can take their copter, especially when thinking of height.
Longevity: First-time flyers particularly will want to own a device that can handle a few rough landings. However, any RC helicopter owner can expect to replace a few parts over time as well. The availability of replacement parts is important to consider when selecting a copter. In some cases, replacement parts actually perform better than the original, extending a helicopter's flight speed and range.
Additional Features: RC helicopters aren't just fun to fly, but can perform other tasks while in the air. The most common addition to a copter is a camera, which allows flyers to see what their environment looks like from above.
Channels
Syma S102G
The S102G's 3.5 channels allow it to fly forward, in reverse, left and right. The ".5" is the helicopter's LED lights, which look quite impressive at night. The S102G's movement may be a bit too basic for advanced flyers, but that it can fly backward is relatively unique for such a low-cost device. The S102G gives beginners plenty to learn and work with without getting too complicated, making it a good choice as a gift or for kids.
Hubsan X4
The X4's four channels are the minimum required by a quadcopter, giving flyers control of the copter's pitch, roll, throttle, and yaw. With these four channels available, maneuvering the X4 is a spectacular process. The quadcopter responds to basic commands smoothly, and the ability to roll it in the air adds another dimension of depth and mobility.
Ei-Hi S911C
The S911C's 6.5 channels offer an immense amount of nuanced control to flyers. It can move in any conceivable fashion with the right pilot, switch between flight modes and manage its tools efficiently. Throughout its flight time, the level of control one has over the S911C is unmatched.
Range
Syma S102G
The S102G has an 8-meter range and flies fairly slow, so it should be hard to lose track of. It's a great indoor flyer and its gyroscope is stable enough for just about any other condition. The S102G isn't the type of helicopter one can expect to put incredibly high in the air, but it doesn't need to be. It performs wonderfully as an easy to use copter that one can always see clearly.
Hubsan X4
The X4 does not have an officially designated range but continues to respond promptly to its inputs from over a hundred feet away. It can hover high above the air, or zoom across fields at a lower vertical distance. The X4's size makes it a little unstable higher in the air, but low to the ground it pays off in sheer speed. It can cover long distances in a matter of seconds with all the grace and velocity of a dragonfly.
Ei-Hi S911C
The S911C has a 300-foot range, which is a little further than most people would ever want to take it. It's big enough and stable enough to handle that distance in any direction, vertically or horizontally. Even close to its maximum range, the S911C reacts quickly to commands from below and maintains consistent balance for optimal video recording.
Longevity
Syma S102G
Having been designed with its gift-ability in mind, the S102G is an incredibly durable device. It takes accidents and crash landings without ever really showing any side-effects. Should the helicopter become damaged in any way, Syma produces plenty of spare parts kits for easy replacement. Many users report keeping their S102Gs for years and years.
Hubsan X4
The X4 handles impact well and is so lightweight that few crashes are likely to be severe enough to damage it. Regardless, Hubsan manufactures a low-cost crash pack for unfortunate users. X4 owners can minimize the risk of an accident by calibrating the copter before every flight. In this regard, maintenance for the X4 is a little more involved, but proper preparation goes a long way towards the longevity of the copter.
Ei-Hi S911C
The S911C's body is made from very sturdy materials, but the blades of its rotors have been called fragile by some. Fortunately, the copter is easy to repair and with proper use, requires little regular maintenance. Particularly daring flyers can remove the exterior coverings for a boost in speed and maneuverability, or leave it on so they can crash with relative safety.
Additional Features
Syma S102G
Aside from its LED lights, the S102G does not come with any extra bells and whistles. It is designed with only one purpose in mind: to fly steadily and consistently with decent maneuverability. The S102G does these things just fine and at its low price point, has little reason to do anything else.
Hubsan X4
The X4 sports a decent quality video camera to give users a first-person view of their flights. It has adjustable settings not just for basic fine tuning, but for the individual users as well. In the X4's "expert mode", flyers have access to the copter's full capabilities and are able to perform flips and other precise stunts at their discretion.
Ei-Hi S911C
The S911C's LED lights lend much to its UFO-like appearance at night, and also serve as indicators for remaining battery life while in flight. The copter has three flight moods for novices, intermediates, and experts, and with six channels navigates easily between the three. Its 6-axis gyroscope is vastly superior to the common 4-axis gyros of similar models, making the footage it records with its 30 fps camera very clear. Users can opt to take still photographs instead, but those have a tendency to be a little fuzzy.
Conclusion: Our RC Helicopter Reviews Are In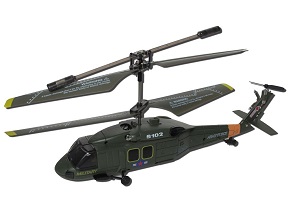 The S102G is easy to fly, easy to fix, and overall very affordable. It's a fantastic gift or purchase for RC helicopter beginners, and despite its simplicity can provide hours of entertainment. Even more dedicated RC helicopter hobbyists have nothing but good things to say about the S102G, citing it as one of the best beginner copters available.
Pros:
Stable flight
Perfect for beginners
Firm material construction
Cons:
Limited range and maneuverability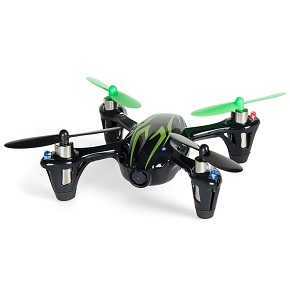 The X4 is an excellent device all around, possessing all of the core features of mid-tier quadcopters and a few extras. Its ability to adapt to novice and expert flyers works well enough that one can purchase the X4 as something to learn on, or send flying into stunts and tricks out of the box. Its compact size gives it a clear speed advantage close to the ground, but instability up high diminishes one's ability to take bird's eye footage.
The X4's camera is a decent recording device though its video quality drops somewhat in expert mode.
Pros:
High speed
Versatile
Long range
Cons: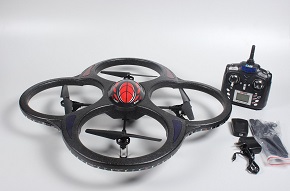 The S911C is the kind of quadcopter that enthusiasts love to fly and beginners quickly fall in love with. Despite having a plethora of advanced flying features, it is highly accessible and easily maintained. Altogether, it encompasses all of the finest design considerations one hopes to find in a copter. It's fast and agile in the air, reaches heights above and beyond most others, and records what it sees with impeccable acuity.
Perhaps the S911C's greatest advantage is its condition out of the box. The quadcopter requires little maintenance, basic upkeep before flights, and most people will rarely have to replace anything other than the rotor blades. The S911C leads the pack and is more than capable of doing so for years to come.
Pros:
6-Axis gyroscope
3 flight moods
300-foot range
Cons:
All in All
RC helicopters may not be a new invention, but modern advancements have made them affordable, great fun to fly, and highly useful. Whether one just wants to send a copter over and around their parks and neighborhoods or scout out an area while hiking, devices like the Hubsan X4 or the Ei-Hi S911C offer fantastic performance and utility. It is a hobby that is very easy to get sucked into, be it from a simple back and forth helicopter or a fine-tuned, high-performance device like the S911C.