Some links on this page are monetized by affiliate programs - see disclosure for details.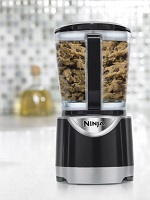 Wouldn't it be great to be able to make your own healthy smoothies each morning? On a hot summer day, does the idea of making your own frozen mixed drinks very appealing? Do you want to make your own baby food for your child at home without the worry of preservatives and potentially harmful additional agreements? If any of these ideas sound like something you'd want to do in your own kitchen, you should consider purchasing a blender.
Buying a new blender is a task that can sometimes seem more difficult than you thought it would be. There are numerous blenders on the market with a variety of different features, which can complicate the process of deciding which one is right for you.
If you are unaware of what some of the features are or what they do, it is difficult to make an informed decision on which blender best fits your needs. Knowing and understanding the differences in various blenders on the market will help make this task a bit easier.
A Guide to Blender Shopping
A blender is a machine that is used to chop, mix, liquefy, or puree food. They can be used to help prepare food, mix drinks, make smoothies, and many can crush ice.
Of all of the small kitchen appliances, blenders are one of the most useful. A blender is a necessity for any cook, whether you're an amateur just starting out or a professional. They are a must-have for creating dips, mixed drinks and smoothies, and other foods and drinks that require pureeing or mixing. This appliance is a versatile appliance that is easy to use and cuts down on the amount of prep work you have to do in the kitchen. Here a few tips if you are new to the world of food blending.
See Also: The 10 Most Awesome Juicers to Get the Most From Your Fruits and Veggies
What are the different types of Blenders?
If you've decided you want to add a blender to your kitchen, the first step is choosing the type that best fits your needs. In order to do that, it is important to have some information on each type that is available.
Immersion – These blenders are also known as handheld or stick blenders. These are long, thin, and have a handle that allows you to hold it while blending. This type of blender is best to use for thinner food and drinks, like juices and soup.
Countertop – These blenders, as the name suggests, are designed to sit right on countertops. These blenders typically have various settings that allow you to pulse, blend, emulsify, and puree your ingredients. Countertop blenders come in a variety of sizes, finishes, and price ranges.
Cocktail – If you love entertaining, a cocktail blender is perfect for you. These blenders are designed to easily create delicious mixed drinks. The heavy-duty blades cut easily through ice and mix up your ingredients to create frozen, blended drinks like margaritas and daiquiris.
Smoothie – If you turn to smoothies for energy, meal replacement, or for health benefits, you'll want to look for a blender that is designed for effectively pulverizing and mixing fruits, vegetables, seeds, and other healthy ingredients. With a smoothie blender, you'll have the perfect homemade smoothie in just minutes.
Commercial – These blenders are similar to countertop blenders, only they are usually larger, more powerful, and offer more features. If you are making large quantities of a food or beverage, need extra power to crush through harder ingredients, or you own a restaurant, a commercial blender may be the right choice for you.
What are the advantages of owning a Blender?
Blenders are a handy tool to have in any kitchen. They take the work out of chopping vegetables and other types of food. With the use of a blender, it is easy to mix up milk shakes, crush ice for a variety of drinks, puree foods that are semi-solid, and so much more. With everything that a blender can do, many tasks around the kitchen are much easier to complete. In many cases, a blender can take the place of other equipment used in a kitchen, such as a coffee grinder, ice cream maker, and even a food processor.
If you ever make anything that requires a smooth consistency, a blender is the perfect tool for the job. A blender crushes through ingredients, even harder fruits and vegetables, to create a mixture that's perfectly smooth. Blenders are ideal for soups, smoothies, cocktails, dips, salad dressings, soup, and even baby food and can help you create your own homemade food and drinks that are loaded with natural ingredients, so you don't have to purchase prepackaged food that's loaded with preservatives.
Who are the contenders for the Best Blender?
If you want a quality blender without emptying your bank account, this Ninja system is a top-rated product available at an affordable price. This blender effectively blends ice, fruits, and vegetables in just seconds. You can even use it to knead dough for the perfect pizza or delicious cookies. With the two Nutri Ninja Cups, you can create delicious smoothies and drinks that are loaded with vitamins and nutrients. With a cometitive price tag, you just won't find a better deal on a quality blender with lots of great features found on more expensive models.
Get your pool party or cookout started off right with this frozen drink maker. Create fun virgin mixed drinks for your kids and their friends or make your own adult beverages with this powerful blender, which makes up to 36 ounces in one shot. Use the blend option for smooth mixed drinks, or use the shaved ice function for delicious and cooling Sno-cones. Make your own favorites, or use the included recipe book for new drink ideas.
It doesn't get much more powerful than this! This professional series blender blends at a rate of up to 240 MPH, so you can easily and quickly chop through all of your ingredients. The 64-ounce jar is large enough to make breakfast smoothies for the family or blend soup for your dinner. You can even use it to make tasty frozen desserts. To ensure you're satisfied with your purchase, this blender comes backed with one of the best warranties in the business. It is available in your choice of four colors, so you can easily coordinate it with your kitchen décor.
Considerations for Choosing the Best Blender
When buying a blender, there are some things you should consider and different features you should be aware of. This information will give you what you need to know about the various types of blenders. You will want to keep in mind what you will be using the blender for while you are looking through the features. Some have features that work well for some, but are useless to others. Knowing what the features are and whether or not they will benefit you will help in making your decision about which blender to purchase.
Whether you're replacing your old blender that just doesn't get the job done or you want to try blending for the first time, here are a few things that you should consider prior to making your purchase. Before you shop, look for these features and decide which ones are most important to you so that you can make the wisest purchase decision.
Capacity
Blenders come in many different sizes. If you plan to use your blender for your morning smoothie, a smaller model that holds individual portions is likely ideal for your needs. If you want to make mixed drinks for your gatherings or create large recipes that will feed the whole family, a larger blender will work best for your kitchen.
Functions
Different speeds and settings allow you to customize your blending experience. If you just need to use your blender for one purpose, you won't need a variety of different functions. However, if you want to mix dough, make frozen treats, and create a whole cookbook's worth of recipes, look for a model with many functions.
Warranty
No one wants to purchase a bad product that stops working after a short period of time, so make sure you protect your purchase with a manufacturer's warranty. Make sure to check out the length of time, as well as any special conditions, prior to making your purchase.
Wattage or horse power of the motor

Blenders have a wide range of wattage, typically ranging from 300 to 1,000 watts. The lower the number of watts a blender has, the less power it has. Knowing what you will be using the blender for will help determine how many watts you will need your blender to have.
Controls on the blender

One feature that can vary greatly from one type of blender to another are the controls. Some can be quite simple and have only a couple of settings, such as low, medium, and high. But others have more options on the controls, such as crushed ice, blend, smoothie, and so on. Another thing to consider is how the controls on the blender work. With some blenders, you will push down the button for the option you are choosing and if you want to change the option, you will need to manually push another button. Other blenders have blending cycles that are programmed into it. With this type of blender, you can select the cycle you would like and not have to wait and watch it in order to change your setting.
Material

The jar of blenders come in several different materials. There are benefits of each of the different types, it really just comes down to each individual's preference.
Glass – is heavy, solid, and easy to clean. If it is dropped, there is a good chance that it will break.
Stainless Steel – lighter than glass and easy to clean. The biggest drawback is that you are unable to see through it in order to keep an eye on what's going on inside.
Polycarbonate/plastic – lighter than glass. The quality of the plastic varies, and after a blender has been used repeatedly, the jar can begin to absorb stains and smells from the food that is being blended. BPA is another thing to consider with plastic jars. If you are concerned with whether or not the jar contains BPA, you can look for those that are BPA-free.
Size of the jar
This feature plays a big part in deciding which blender is right for you. If you will only need to make a single serving at a time, then you will be able to purchase a blender with a single serve or a smaller sized jar. For those with a large family or those that entertain often, you will likely need a large jar so you can make multiple servings at one time.
Wattage or horse power of the motor
Ninja Ultra Kitchen System 1200
The Ninja has 1200 Watts of professional performance power or 1.5 horsepower. This is toward the higher end of power, giving you what you need to get the job done.
Blendtec Designer Series Blender
The Blendtec is a blender made of commercial quality wattage with 1,560 watts and 3 horse power when at its peak performance.
Vitamix 1709 CIA Professional Series
The Vitamix is made of commercial quality power with 2 horse power at its peak. The blades will spin around at approximately 240 mph giving you the power necessary for the toughest blending tasks.
Controls on the blender
Ninja Ultra Kitchen System 1200
The Ninja has minimal controls, but the basics are all covered with power, dough, blend, and crush. It also gives you a pulse control as well as a single serve option.
Blendtec Designer Series Blender
The control surface for the Blendtec is illuminated for easy reading and uses icons that are universal. The controls of this blender are in programmed cycles making it easy for you to put in the ingredients and let the Blendtec do the work. There is also a display that will count down the amount of time you have left to wait until the cycle is complete and even how many cycles the blender has gone through.
Vitamix 1709 CIA Professional Series
The Vitamix blender gives you the ability to choose the speed in which you would like to blend your food. You can put the blender on high or switch to variable and select your speed from 1 to 10.
Material
Ninja Ultra Kitchen System 1200
The Ninja comes with five different jars that are all made of BPA-free plastic.
Blendtec Designer Series Blender
The Blendtec blender comes with a BPA-free Triton Polyester jar.
Vitamix 1709 CIA Professional Series
The jar for the Vitamix is made of BPA-free Eastman Tritan copolyester.
Size of the jar
Ninja Ultra Kitchen System 1200
The Ninja comes with a 72 oz. jar with pouring spout, an 8 cup capacity food processor jar, and three 16 oz. travel mugs with blending blades and lids. The variety of jars included gives you the flexibility of making a single serving or larger batches. The travel mugs are great for those on the go.
Blendtec Designer Series Blender
The Blendtec holds up to 90 oz. with markings up to 36 oz. You will have all the capacity you need to for a large group, but can scale it back for a smaller serving when needed.
Vitamix 1709 CIA Professional Series
The Vitamix has a large-capacity 64-ounce jar, making it easy to mix up everything you need for a large group.
Capacity
Ninja Kitchen System Pulse
This blender comes with a 40-ounce blending bowl that is perfect for making a round of smoothies, blending hot soup, or making dip for your next party.
Margaritaville DM0500 Bahamas 36-Ounce Frozen-Concoction Maker
You can blend up to 36 ounces of your favorite frozen drinks in this frozen drink maker.
Vitamix 1363 CIA Professional Series
This blender has one of the largest blending cups on the market at a full 64 ounces.
Functions
Ninja Kitchen System Pulse
This blender comes with just one speed and one function. It is easy to use, as well. Simply press the blending bowl into place, and it begins to work to blend your ingredients in just seconds.
Margaritaville DM0500 Bahamas 36-Ounce Frozen-Concoction Maker
There are settings available for blending drinks or for creating shaved ice. You can do this automatically or you can use the manual options for customized blending.
Vitamix 1363 CIA Professional Series
Customize any recipe with the choice of ten different blending settings. You can also choose between high speed or variable speed.
Warranty
Ninja Kitchen System Pulse
The purchase of this Ninja system comes backed with a one-year manufacturer's warranty.
Margaritaville DM0500 Bahamas 36-Ounce Frozen-Concoction Maker
Your purchase is protected with a one-year limited warranty directly from the manufacturer.
Vitamix 1363 CIA Professional Series
You can rest easy with your purchase knowing that it is backed with a seven-year warranty, one of the best for blenders.
Conclusion: Our Blender reviews are in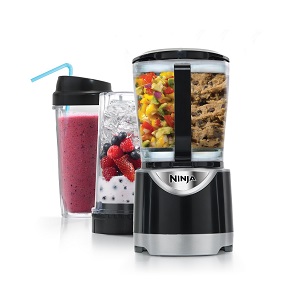 If you want a blender that is inexpensive and very easy to use, this model from Ninja has what you're looking for. It couldn't be easier to operate this blender. Just press the mixing bowl into place, turn, and it begins blending immediately. You don't even have to turn a switch on or off.
This blender is ideal for sauces, dips, smoothies, and so much more. It easily powers through ice, fruits, vegetables, and other ingredients in just seconds. The included dough hook and paddle allow you to make homemade dough in just minutes without straining your arm. It also extracts vitamins and minerals for healthier recipes.
Pros
Affordable.
It has a warranty.
It has a 40-ounce bowl with storage lid.
Comes with two individual cups with travel lids.
It is BPA-free.
Easily cleaned in a dishwasher.
It has 550 watts of power so it's very efficient.
Cons
It does not have multiple functions.
You have to manually hold the blending cups in place.
The cups are cheaper quality and may crack over time.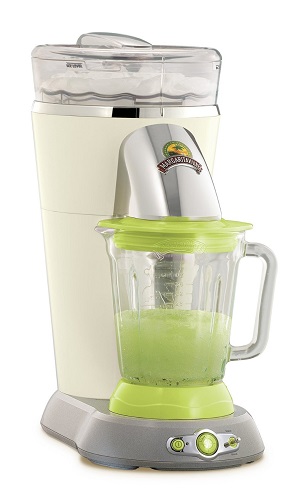 Your guests won't be able to stop talking about your parties when you pull out this frozen drink blender. Make your own custom cocktails for adults to enjoy, or change the settings to create delicious shaved ice desserts for kids and adults of all ages.
With 450 watts of power and manual and automatic settings, it's easier than ever to blend your own fresh, frozen drinks. An ice reservoir keeps your ice right at hand so you don't have to keep running to the freezer, and you can easily make multiple batches of 36-ounces with each use. You can easily measure out the proper amount of alcohol for cocktails with the included shot glass, and you can create new drinks using the recipe book that comes with your purchase.
Pros
It's designed exclusively to create frozen drinks and desserts.
It has shaving and blending settings.
The blending jar is made of high-quality, shatterproof acrylic.
Melted ice is channeled away to prevent watery drinks.
The jar is marked for accurate measuring.
It is fast and efficient.
It is dishwasher safe.
Cons
Larger pieces of ice do not shave or blend well.
Additional ingredients cannot be added to the chute while blending.
It only blends frozen drinks.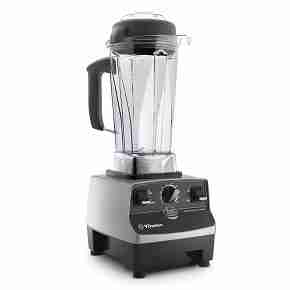 When you need ultimate power and performance, you'll get it all with this professional-quality blender from Vitamix. With ten different settings and high speed or variable speed functions, you can do just about anything with this blender, which is trusted by professional chefs everywhere.
The commercial-grade blades blend up to 240 miles per hour, so it pulverizes the toughest ingredients. You can use this blender for grinding, heating, churning, chopping, and so much more. It truly is one of the most versatile and high-quality blenders on the market.
The large 64-ounce container allows you to easily make creations for your family or a large group of guests, and a recipe book is included with professional recipes that you can use for your next family meal or get-together. This blender is self cleaning; just add a drop of dish soap and water, turn to a high speed, then rinse.
Pros
It comes with three containers.
One of the most powerful blenders on the market.
It is self-cleaning.
Performs a variety of different functions.
It is commercial-quality.
Easy to use.
Comes in four different colors, Platinum, Stainless, Red, and Onyx to perfectly match your kitchen.
It has a large container.
It comes with an instructional DVD that's easy to follow.
Cons
Extremely loud.
Much more expensive than other blenders.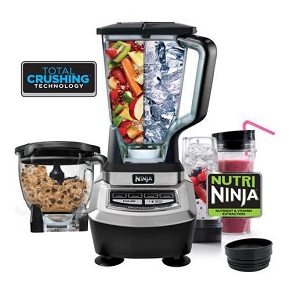 The Ninja gives you a good amount of power to complete the tasks you need to. Whether you are looking to make a smoothie, mix together a milk shake, or puree cooked vegetables when making homemade baby food, this blender has the power to do it.
The Ninja is also versatile in the amount of food or drinks you can make. Whether you are looking to make a single milk shake to go or are making a large batch for the whole family, this blender has a variety of jars to making it easy to make the amount you want. It also has the bonus of a food processor jar.
Pros:
Individual serving cups
Easy to clean
Blends ice to the consistency of snow, making a great smoothie
Blends quickly
Cups and jars are made of high-quality plastic, making them durable
Attractive design
Cons:
A little noisy
The hole in the top of the lid is too small, hard to add ingredients with blender running
Requires additional storage space with all the different jars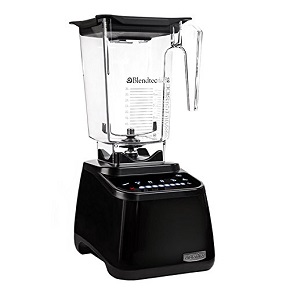 The Blendtec is a bit more expensive than others, but it is worth the money. The power this blender has is commercial grade making it easy to blend, chop, or puree the things you need to. The jar is extra large giving you plenty of capacity to make food or drinks for a large group of people.
There are numerous controls for this blender giving you a variety of controls to choose from. You can just select what you would like to make, such as a smoothie, and the blender will go through the different cycles in order to make it for you. There is no need for you to watch over it or hold the button while it blends.
Pros:
A quieter blender
Has a great amount of power
The settings are great and work well for chopping, blending, pureeing, and more
Works fast
Easy to clean, especially without buttons that stick up
Stylish design
Design and Size make it easy to store in standard cupboards
Commercial grade and works like it
Counts the number of cycles you have run – letting you know how many times you have used this blender
Cons:
The price – it is a higher priced blender making it difficult for some people to fit in their budget
Grinding grains can scratch the inside of the jar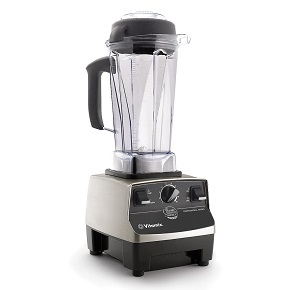 The Vitamix has commercial grade power, giving you what you need to blend, chop, puree, and much more with ease. The controls are easy to use and can be adjusted from 1 to 10 for the different types of tasks you need completed.
The jar is made of a high quality material and can easily be cleaned every time you use it. It is also a large capacity jar making it easy for you to make drinks for a large group of friends or to prepare the foods you need when making meals for a family.
Pros:
Easy to clean, just put in a drop of dish soap, some water, and turn the blender on for 30 seconds
Makes homemade ice cream within just a few minutes
Can easily make smaller batches, the blender works just as well with a little amount as it does with a large amount
Soups can easily be made and taste amazing
Healthy juice can be made and the entire piece of fruit or vegetables are used so you are not loosing any of the nutrients
Chef instructors at the Culinary Institute of America have endorsed this blender
Cons:
The price – This blender costs a bit more and is something that some people may need to save up for.
Can be quite noisy on the higher settings
Is a taller blender, doesn't fit in all cabinets with jar on
In Conclusion
A blender is a very versatile tool that should be in every kitchen. If you want to get the most out of your blender, try the Vitamix 1363 CIA. This commercial-quality blender not only looks great while sitting on your countertop, but it is versatile enough to make many of your favorite recipes, as well a few new ones. This versatile machine is extremely powerful, and despite its higher price, really crushes the competition.