Some links on this page are monetized by affiliate programs - see disclosure for details.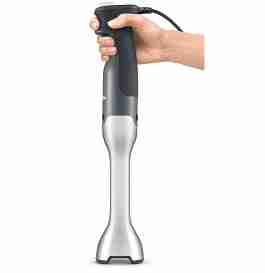 Whether you make your own baby food to give your baby the most natural first foods or you make your own frozen blended drinks at your summertime cookouts, you know how important it is to have a blender in your kitchen.
However, there are a few common complaints with traditional blenders. One is that they can make a mess. If the lid isn't put on just right or the plastic is wearing down, you can end up wearing your food or drink in no time. The containers can also be really difficult to get perfectly clean. They're also big, bulky, and take up a lot of counter space when in use and cabinet space when they're being stored. Instead of dragging out your big old blender when you want to chop, puree, and mix, you should try an immersion blender.
Compare: The Best Immersion Blenders of 2018

Intro: What are Immersion Blenders?
An immersion blender is a hand-held blender that is also called a stick blender because of its design. It features a comfortable handle, a long wand and blades at the end that are used to mix, blend, and puree. These are smaller than traditional blenders, more lightweight, and they can be used to thoroughly mix large batches of ingredients. They are great for mixing soups, pureeing baby food, and performing other functions.
Instead of adding your ingredients to the blender, you simply stick this blender directly into the pot, bowl, or container, leading to less cleanup when you've finished prepping, cooking, and eating your food.
What are the different types  you can choose from?
If you frequently prepare a lot of drinks, soups, and other liquids and soft foods, an immersion blender is a must-have appliance for your kitchen. Once you've made up your mind to purchase a stick blender, you need to determine which type will work best for your household.
Household blenders
These are basic blenders that may have a few different speeds and are good for general use in your household. Some may be made of lightweight yet durable metal, while others may have a combination metal/plastic design.
Commercial blenders
These are designed for heavy-duty use. They may be made of more durable metals so they can tackle the toughest blending tasks. These are typically a bit heavier in weight, and they are also more expensive, but you can expect to get years of use out of these models.
Blenders with attachments
Most stick blenders are used to puree and blend, but some also have different attachments that allow them to whip, whisk, and other kitchen prep tasks.
What are the Advantages of Owning One?
Owning one of these blenders is great because you can quickly and easily mix up your liquid or soft ingredients without having to lug around a large, heavy blender that has to be scrubbed when you're finished. These blenders are ultra-portable and very easy to clean. You can stick them in a drawer when not in use, and they don't take up a lot of space.
They are essential for preparing soups and mixed drinks, and they are very powerful and effective given their smaller size. You won't have to worry about a lot of extra clean up since you use this blender with the container you're using for storing or cooking your food.
Who are the contenders for Top Immersion Blender?
If you want a basic blender that you can use from time to time that features a durable design without the high price, consider this model from Hamilton Beach. It has a strong 200-watt motor and two different speeds for blending a variety of different foods and drinks. It is easy to use, very easy to clean, and comes with two attachments.
This model is designed to perform like you wouldn't believe and look great while doing so, coming in 16 fun colors. It has two speeds to provide you with the options you need for a variety of your favorite recipes, a durable design, and has a powerful 200-watt motor. It's one of the easiest to use, providing you with one-touch operation, and it comes with its own container for perfectly blending your soups, drinks, and other treats and meals.
Get the most versatility with your blender with this Breville model, which has 15 different settings. It's light enough to gently stir a drink or heavy duty enough to easily puree your thick soups. The 280-watt motor makes this one of the top performers in the category, and it has a durable design, a comfortable handle, and accessories like a blending jug.
Think About These Factors Before Buying
Don't just settle for any old blender just because it's convenient. Putting a little bit of research into your purchase doesn't take up too much time, and this way, you avoid buyer's remorse by not purchasing a product that doesn't fit your needs or is just of poor quality. Of course, you should always have your own criteria to look for, but you should also consider these four factors as well before you buy your new blender.
Price
Surprisingly, immersion blenders are fairly inexpensive, even when you purchase a well-known, high-quality brand. In fact, these blenders are much less expensive than traditional countertop blenders. However, there are distinct price differences. A mostly plastic model with basic functions will cost much less than a stainless steel blender with multiple speed settings. However, you do need to consider how you plan to use the blender, and if you plan to use it often and want it to last for several years, you certainly want to invest in a more durable product.
Warranty
Small appliances do wear out over time and require repair or even a complete replacement. However, you should expect to get a reasonable amount of use out of your product before having to invest more money. Warranties are designed to protect your purchase from defects, including problems with the motor, electrical system, or blades that is caused by an error in the manufacturing process.
Settings
The number of settings you need depends on how you plan to use your blender. If you plan to just use it for drinks and your homemade soup, two settings is typically sufficient. If you want to chop through ice, mix up thicker dips, or experiment with different recipes, you'll want to pick a stick blender with extra spreed settings.
Attachments
If you want to get the most out of your product, look for a model that either comes with additional attachments or has compatible attachments that are sold separately. This makes your blender far more versatile, so you can get even more use out of it.
Price
Hamilton Beach 59770
This is one of the most affordable stick blenders, making it a great choice for any budget-minded consumer.
Cuisinart CSB-75BC Smart Stick
This mid-priced model has some upgraded features comparable to those on the most high-end blenders.
Breville BSB510XL
This is a high-end blender that comes with a higher price tag.
Warranty
Hamilton Beach 59770
You will receive a 1-year limited manufacturer's warranty with your purchase.
Cuisinart CSB-75BC Smart Stick
You won't have to worry about defects affecting the life of your blender with a 3-year limited warranty.
Breville BSB510XL
A 1-year limited warranty protects your investment.
Settings
Hamilton Beach 59770
This has two speed settings to choose from.
Cuisinart CSB-75BC Smart Stick
High and Low settings are available for blending a variety of different food and drink recipes.
Breville BSB510XL
You'll have ultimate control of your blender with 15 different variable speed settings.
Attachments
Hamilton Beach 59770
A whisk attachment is included for lighter blending.
Cuisinart CSB-75BC Smart Stick
No additional attachments other than the blending blade are included with your purchase.
Breville BSB510XL
A whisk comes included with your purchase for light-duty blending.
Conclusion: Our Immersion Blender Reviews Are In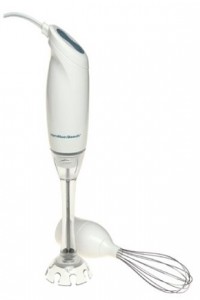 Puree soups, mix up your dip, make your own baby food, or treat the family to delicious homemade milkshakes in just minutes with this great stick blender. This functional blender comes with two different attachments to easily prep your favorite recipes: the blending blade and a lighter whisk attachment. It has a strong 200-watt motor, easy-to-operate controls, and two speeds that can be changed with the push of a button.
The 5-foot cord lets you move all around your kitchen, the blending wand comes with a protective sleeve, and the attachments remove so they're very easy to clean. The best part of all, though, is that you don't have to break the bank to add this to your kitchen.
Pros:
Extremely affordable
It comes with two separate attachments
Easy to use
It has a comfortable grip
Cleaning the attachments is very easy
Comes backed with a warranty
Cons:
The plastic protective sleeve may crack over time
The buttons are a bit difficult to push
It gets hot when used for extended periods of time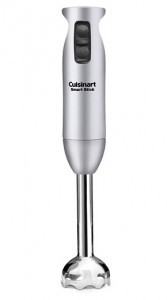 Add a dash of fun and function to your kitchen with this quality model from Cuisinart, a leader in kitchen tools and small appliances. Not only will you get a high-performing blender when you purchase this model, but it also comes in great colors to complement your kitchen. It is very easy to use, features High and Low speeds for blending just about anything, and it comes with a 3-year warranty, one of the best you'll find for this type of product.
It has an ergonomic handle that makes it easy to grip, even for extended periods, as well as a mixing beaker that can be used to measure and blend your food or drink. The shaft is removable and can be safely put in the dishwasher for fast cleanup after use. It has one-touch controls, so there's no guesswork involved, and it has a powerful motor that gets the job done more quickly than ever.
Pros:
Comes in many great colors: White, Red, Pink, Brushed Chrome, Chocolate Cherry, Iced Blue Mint, Key Lime Pie, Metallic Charcoal, Metallic Red, Onyx, Passion Flower, Pink Champagne, Sapphire, Sugared Plum, Watermelon Sorbet, and White Pearl
It is very durable
It comes with its own mixing container
The stainless steel blade and blade guard are very durable and resistant to rust and corrosion over time, even when washed in the dishwasher
The shaft is easy to detach
It has a strong motor to provide the power you need for basic blending and mixing
Cons:
The cord is fairly short at just 3 feet
It's a bit heavier than other models, but it is more durable
The plastic gear may wear out over time and will require repair or replacement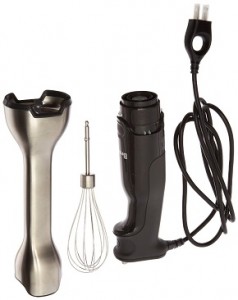 If only the best for your kitchen will do, you'll want to check out this model from Breville, a leader in kitchen goods. While you might want to save money on your blender, putting your cash towards an inferior product can cost you more money in the long run when it damages your pots or containers or requires replacement when it breaks down too quickly. With this product, you won't have to worry about those problems. It has a scratch-free design that doesn't tear up your pots or containers, and it is built with quality materials for durability you can count on, even with heavy use.
With 280 watts of power, it's designed to tackle the most difficult tasks with ease. It easily crushes through ice without bending the blades or bogging down the motor, so you can make your favorite mixed drinks without big chunks of ice. Instead of just a few settings, this model comes with 15 different speed settings so you can get the best results, no matter what you're making. The ergonomic handle fits your hand perfectly for longer blending, the 6 foot cord makes it more portable than other similar products, and it comes with several great extras, including a whisk attachment, blending jug, and blending bowl, all of which are dishwasher-safe so cleanup takes far less time. It also comes with a storage lid that doubles as a non-slip base.
Pros:
Easy to use
Very durable
It has more speed settings than most other blenders
Comes with extra attachments and accessories
All parts except for the base are dishwasher-safe
It has a comfortable grip with a trigger buttons so it's comfortable to hold and use
It has an extra-long cord that allows you to move about your kitchen as needed
Won't scratch your metal pots
The blades are extremely strong and can cut through harder things like ice
It has one of the strongest motors
Cons:
The whisk attachment is not very durable
The plastic tabs holding the attachments in place may wear out
It has a higher price tag than other models currently available for sale
Final Thoughts
While an immersion blender doesn't fully replace a full-size countertop blender, it can perform a lot of the same tasks, only it's packaged in a smaller, more convenient size. If you enjoy making blended foods and drinks, you can cut your prep time dramatically with one of these blenders. If you want to invest in the best, the Breville BSB510XL is a leading choice you should consider. Even though it is priced a bit higher than stick blenders, its overall durability and extra accessories that are included in the purchase price blend perfectly to create one great product that's a must-have for any kitchen.