Some links on this page are monetized by affiliate programs - see disclosure for details.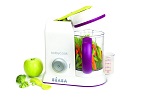 New or expectant mothers are naturally concerned about their baby's health and nutrition. One of the first decisions new mothers must make is whether to breastfeed or use formula. The American Academy of Pediatrics (AAP) recommends breastfeeding for the first six months of a baby's life. However, important nutritional decisions don't stop there.
Continuing to breastfeed during the first year of life has advantages, but most babies are ready to experiment with some solid foods long before that. So, mom has another important decision to make: commercial or homemade baby food.
Compare: The 10 Top Rated Baby Food Makers of 2018

Introduction: Our Baby Food Maker Shopping Guide
Today's all-in-one baby food maker is a small, compact kitchen appliance that does the job of a steamer and a blender combined. A water reservoir is filled before each use. The main container holds food and a chopping blade. The water heats to produce steam which is injected into the food in the main container. Once the food is cooked, the chopping blade mixes and pureés the food to the appropriate thickness. Since everything is done in one container, none of the nutrients are lost. A variety vegetables, fruits and even meat, can be processed in a baby food maker.
For a mother with little cooking experience, preparing homemade baby food may seem daunting. However, the makers available today are simple to use and easy to clean. Most importantly, homemade food affords several advantages to both mother and baby:
Wholesome: Homemade baby food is nutritious without the preservatives and additives of commercial baby food.
Save Money: Making your own baby food can save as much as 50% over commercial food.
Save Time: Save time shopping by using the foods you are already purchasing to make baby food.
Eco-Friendly: Eliminate the extra packaging and waste of commercial baby food containers.
Before you make the final decision about homemade baby food, here are some things you need to know.
Why Use a Baby Food Maker?
By making food at home, you control exactly what your baby eats. There are many ways to cook and prepare a nutritional meal. Most options, however, require multiple appliances. Yes, you can cook food on the stove or in a steamer, then transfer to a blender to make baby food. However, the downside is more work, more space, and more cleaning. An all-in-one baby food maker eliminates the mess and takes the guesswork out of cooking times. Best of all, you have more time with baby.
Top 3 Models on the Market Today
Infantino Squeeze Station – The Infantino Squeeze Station allows you to easily and conveniently seal baby puree into easy-to-handle pouches.
BEABA Babycook Pro – The BEABA Babycook Pro has a very generous 4.7 cup capacity and a handy reheat and defrost cycle
Features to Consider Before You Buy
Making baby food at home should be fun, not a chore. All components of the product should be safe, and made from BPA-free plastic or metal. A baby food maker is an investment. It should be durable enough to last until your baby outgrows it, and hopefully much longer. Quick and easy prep is important, too. When your baby is hungry, he won't want to wait while you fumble with a baby food maker that is overly complicated. Depending on your feeding schedule, capacity can be a factor in choosing the right baby food maker. Some make only single portions, while others can make enough to freeze for later use. Lastly, a baby food maker should be easy to clean or dishwasher safe.
Read: This Year's Most Sylish and Functional Diaper Bags
Capacity and Functionality
Consider how you will use the baby food maker. Are you the type to prepare larger batches of food to freeze later, or would you prefer to make smaller batches at each meal? Is counter space an issue? Most of the baby food makers are portable and easy to tuck away, but the larger the capacity, the bigger the appliance. Since the baby food maker will spend most of the time on your counter, is it attractive enough to leave out in your kitchen?
Durability and Processing Time
What kinds of foods will you prepare in the baby food maker? If you intend to use the all types of foods or if the appliance needs to last through multiple children, it will need to have ample horsepower. Although most can process vegetables and fruit, some baby food makers struggle to grind meat. How long is the steam cycle? Some products cook very quickly due to their small size and good steam production, while others take longer. Are you willing to experiment, or do you prefer settings that take the guesswork out cook times?
Safety and Cleaning
Most of these products are made of BPA-free plastic or food-grade metals, but be sure to check. Chopping blades on most models are very sharp, so they should be handled with care. Will you want to put all components in the dishwasher or will you tolerate having to hand wash sensitive pieces? Since the all-in-one baby food makers all have a water reservoir, hard water minerals and residue will need to be cleaned periodically. Most of the time, a vinegar rinse every few weeks will do the trick. However, some models may require scrubbing with a brush.
Price and Accessories
Price is always a consideration when making a purchase. Of course, you want value, too. Some food makers come with handy features like bottle warmers and built-in component storage. What is covered under warranty? If a container or blade breaks, can you purchase just that part?
Capacity and Functionality
Infantino Squeeze Station
While this baby food maker doesn't allow you to puree different food items, it does allow you to seamlessly transfer puree from a blender to an easy-to-handle pouch. Coming with a squeeze station, three pouring tubes, 1 puree press, and 10 pouches, you can easily press puree firmly down into your pouches, allowing you to fill them with ease. This will ensure that you get as much puree as is possible into your pouches, all the while keeping your counter neat and clean.
Cuisinart BFM-1000 Baby Food Maker
The large, 4 cup work bowl on the Cuisinart BFM-1000 Baby Food Maker, almost doubles the capacity of the Baby Brezza. This makes it a better choice for creating multiple meals at once. It also has a handy bottle-warming function which is especially nice for those who want to supplement baby food with formula or breast milk. One drawback, is that there are only three functions: steam, chop/pureé and bottle-warming. There is no option to "steam and blend." So, after the steam cycle, you have to pulse the chopper to pureé the food. Not a major hurdle, but still not as convenient as the Brezza's one step.
The cook cycle is not controlled by selection, but rather the amount of water placed in the steam reservoir. Although it comes with instructions as to water level for various foods, it is cumbersome to constantly refer to the manual. One nice feature, though, is the integrated storage for the measuring cup—at least that won't get lost.
BEABA Babycook Pro
The BEABA Babycook Pro's huge 4.7 cup capacity work bowl with graduated markings allows for large or small batches. The steaming is initiated by a single push of a button. While this is convenient, it doesn't allow much control over the cooking time. Similar to the Cuisinart, the cooking time is controlled by the amount of water in the steam tank. Rather than steam and chop in the same bowl, the Babycook Pro has a separate steam basket. Once food is cooked, it is transferred to the chopping bowl for processing. Although the Babycook has a reheat option, food must first be put in a suitable container, and then reheated in the basket. The Babycook Pro comes in a few color options and its slim design takes up surprisingly little counter space.
Durability and Processing Time
Infantino Squeeze Station
A manual baby food maker, the Infantino Squeeze Station allows you to press puree down into pouches as quickly as your hand is able. This will allow you to fill easy-to-handle pouches with as much easy and convenience as possible. What would usually take 30 minutes and a mess, will only take around 5 minutes, and also keep your counter top clean.
Cuisinart BFM-1000 Baby Food Maker
Just the Cuisinart name implies durability with the BFM-1000 Baby Food Maker. It weighs a full ten pounds so, although durable, isn't as easy to move around. With a more powerful motor and a larger work bowl, the Cuisinart is more than capable of making multiple batches at once. With no time controls, however, getting the processing time correct can be a bit tricky. The Cuisinart comes with an 18 month limited warranty.
BEABA Babycook Pro
Unlike the Baby Brezza One Step, the BEABA Babycook has a single control. Most foods can be steamed in under fifteen minutes with minimal chop time. Although there are guidelines for steam time, you may need to test to make sure the food is cooked. The BEABA Babycook Pro also requires the extra step of transferring food from the steam basket to the prep container. The Babycook Pro comes with a one year limited warranty.
Safety and Cleaning
Infantino Squeeze Station
Coming with three removable plastic tubes, as well as a removable puree press, the Infantino Squeeze Station can be cleaned with absolute ease. Simply take the tubes and press out of the squeeze station, place them in the dishwasher, and wait for its cycle to end. Because this is a manual product, it is about as safe a baby food maker as you're going to find.
Cuisinart BFM-1000 Baby Food Maker
The Cuisinart BFM-1000 comes with a spatula, adapter ring and integrated measuring cup. While they are all top rack dishwasher safe, the steam tank must be descaled just like the Baby Brezza.
BEABA Babycook Pro
The steam and chop compartments on the Babycook Pro are separate. So, you must transfer food from the steaming basket to the chopping container. Although a lifting device is included, use caution. The steam can easily burn fingers. One nice feature on the Babycook is the stainless steel steam tank with descaling alert. Instead of guessing about when to flush the steam tank with vinegar, this machine alerts with a red light.
Price and Accessories
Infantino Squeeze Station
The Infantino Squeeze Station is as cheap as any baby food maker you're going to find. It should once again be noted, though, that this baby food maker is not capable of pureeing different food items. It can only assist in putting that puree into pouches.
Cuisinart BFM-1000 Baby Food Maker
The Cuisinart BFM-1000 Baby Food Maker is priced around $125. Although more expensive, the extra capacity is well worth it if you want to make more food at once. Replacement parts are widely available as well. So if something breaks, it can hopefully be replaced without purchasing a whole new machine.
BEABA Babycook Pro
The Babycook is a more expensive unit. However, the attractive color options, stainless steel steam tank and increased capacity justify the extra cost.
The Best Baby Food Makers: Reviews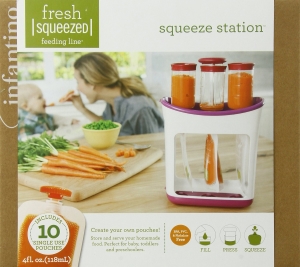 Though it can't puree food items, the Infantino Squeeze Station is a great way to seamlessly transfer puree from blender to pouch. Available at a very reasonable price, it's a great item to have on hand.
Pros:
Allows you to transfer puree from blender to pouch with ease
Dishwasher safe
Cons: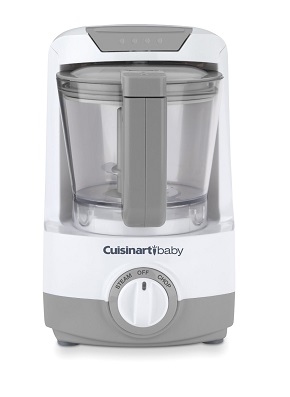 The Cuisinart BFM-1000 Baby Food Maker is the best value for the money. The Cuisinart name assures that certain quality and customer service standards will be met. The bottle-warming function is handy for late-night feedings, and stretches the usefulness of the product. The large work bowl makes the product more versatile for small or large batches of food.
Pros:
Cuisinart Name: The Cuisinart name is backed by an 18 month warranty—one of the longest available for food makers.
Bottle-Warming Function: The Cusinart BFM-1000 is the only baby food maker with a bottle-warming function.
Large Capacity: With a four cup work bowl, there is plenty of room to process foods when convenient or when they are on sale.
Cons:
Lack of Controls and Settings: Steam time is controlled by water, so careful measurement is required to avoid under- or over-cooking.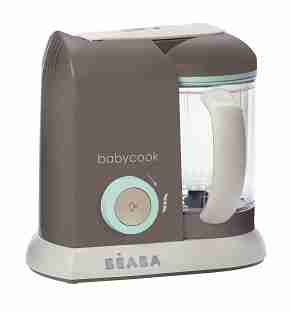 Overall, the BEABA Babycook Pro is the best baby food maker. Its large size and sleek design more than compensate for the extra step in processing. The stainless steel steam tank is durable and easy-to-clean with a built-in alert.
Pros:
Large Capacity: The Babycook Pro has the largest capacity of any baby food maker at 4.7 cups.
Superior Materials and Design: The Babycook Pro looks stylish and is the only machine with a durable, stainless steel steam tank.
Cons:
Price: Although justified, the BEABA Babycook Pro is the most expensive baby food maker.
Final Thoughts
In the end, picking a baby food maker comes down to choice. Will you make large or small batches of food? Do you need your baby food maker to look good, or is function the only consideration? Hopefully the above reviews will help make the choice a little clearer. If you're looking for the best baby food maker, the BEABA Babycook Pro is a top-tier product.