Some links on this page are monetized by affiliate programs - see disclosure for details.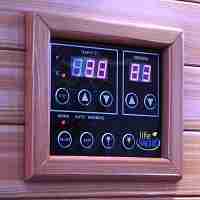 If you have a hard time relaxing, suffer from aches and pains, or you just don't feel well, you may have already tried many different things like taking medication, visiting your doctor, or trying home remedies. Some of the methods you have tried may have worked temporarily, or they might not even have worked at all.
If you are the type of person that enjoys using natural remedies to treat a variety of ailments or to help you feel more relaxed, a sauna is something you should consider adding to your home for many different health benefits.
A Guide To The Best Saunas
A sauna is a small room that is used for relaxation or to treat ailments. This room utilizes hot air and steam to help you feel more relaxed, and it offers many benefits for your body. While some people opt to build a sauna, this can be very expensive and it may take months to get it completed. Portable saunas have now become more popular and make it possible for anyone to add one of these to their home.
The Advantages of Using a Sauna at Home
Saunas are well known for their health benefits. By sitting in a hot steam room, your body can release toxins as you sweat, which can help you get over an illness more quickly or just feel healthier in general, even if you aren't sick. If you're congested, the steam can help make it easier for you to breathe without having to take medication. The deep heat and steam are also great for relieving aches and pains, whether your muscles are aching from a long work week or you've recently suffered from an injury.
This is also a great method of cleaning and clearing the skin if you suffer from a skin ailment, they help relieve stress, and can even help you sleep better at night.
What are the types of Saunas?
If you want to reap all of the benefits that a sauna has to offer, a purchase may be in your near future. However, these can be extremely expensive, and you don't want to end up with a unit that sits unused. To avoid this problem, make sure you make the right purchase by first being able to identify the different types of saunas, as well as the benefits of each.
Wood-heated – These are the most traditional, and they use a wood-burning fire to heat stones, which produce steam and heat when water is poured over the stones. These typically do not come in portable units, must be custom-built, but they have the advantage of being able to run without electricity, so you save money on your utility bills.
Electric – These are very similar to wood-heated units in the way that they use hot stones to generate heat and steam. However, these use electric heaters instead of an actual fire, so they are easier to use and thought to be safer by many people.
Infrared – These utilize infrared heaters to create a hot environment. Most portable units are equipped with infrared heaters, which are smaller and very easy to use.
Which Models are the Best Saunas on the Market?
Heat Wave 3-Person Corner Sauna – Save money and space with this affordable sauna, which has a unique corner design that doesn't take up as much space as traditional units. Don't be fooled by the price, since this unit comes loaded with extras that make your experience more enjoyable than ever, all while allowing you to reap the benefits of sitting in a sauna.
Radiant Saunas BSA2409 – Relieve stress and detox your body with this unit, which is easy to set up, easy to use, and is a great value. With six heaters and loads of extras, you'll be able to relax in peace with this model.
JNH Lifestyles 2 Person Far Infrared Sauna – This sauna boasts all of the features you'd expect from any other unit with the addition of a modern design and the latest technology to provide you with an invigorating experience every time you open the door. This model is sturdy, easy to assemble, a breeze to operate, and looks great in any home.
Features to Evaluate
Once you've made the decision to improve your health and lifestyle with a sauna, it's time to make your purchase. Since you don't want to throw away thousands of dollars on a unit that never gets used, make sure you fully evaluate every product to make sure it fits your needs. You can get started by looking for the following four features in every unit you consider purchasing.
Price
These units aren't inexpensive, but there can be a difference that adds up to hundreds or even thousands of dollars. If you want a no-frills unit, you can certainly budget a lower amount. However, if you want all the bells and whistles, as well as a longer lasting unit, you might want to invest more money. Make sure that you evaluate all other features before deciding simply because the price seems right.
Type
There are several different types of saunas to choose from, and you want to make sure that you purchase the right one. Check to see how the unit is heated to make sure that it fits your needs. If you'd rather save on your energy bills, look for a unit that is not powered by electricity. If you want one that's easy to use, an infrared or electric unit are good choices.
Number of Users
Saunas come in different sizes, and if multiple people in your household plan on using it at the same time, you'll want to find a model that is large enough for several people. If the unit is just for your own use, you can save money and space with a smaller unit designed for one person.
Warranty
You don't want to invest your time and money in a product that doesn't work as it should. Make sure that your unit comes with a warranty that protects the materials and heater. If a malfunction occurs after normal use that is because of the way the unit was manufactured, the unit will be eligible for repairs or replacement at no cost to you.
Price
Heat Wave
This is one of the most affordable units you'll find.
Radiant Saunas BSA2409
For significantly more than the Heat Wave, you can own this model.
JNH Lifestyles 2 Person Far Infrared Sauna
This is one of the most expensive units you'll find on the market.
Type
Heat Wave
This is an infrared unit that has seven carbon heaters for even heating throughout.
Radiant Saunas BSA2409
This unit utilizes infrared heating for ultimate relaxation.
JNH Lifestyles 2 Person Far Infrared Sauna
Infrared heating is used in this model.
Number of Users
Heat Wave
Three people can sit comfortably in this model.
Radiant Saunas BSA2409
This model is designed for two people.
JNH Lifestyles 2 Person Far Infrared Sauna
This unit is designed for two people.
Warranty
Heat Wave
The structure, heater, and electrical parts are covered with a 5-year limited warranty. The light bulbs and CD player are backed with a 1-year warranty.
Radiant Saunas BSA2409
This model comes with a 1-year limited warranty on the radio and a 5-year warranty on every other part.
JNH Lifestyles 2 Person Far Infrared Sauna
Your purchase is backed with a 5-year warranty.
In Conclusion: Our Sauna Reviews
If you're on a budget, you don't have to settle for a cheap unit that doesn't provide what you're looking for. In fact, this model from Heat Wave packs a lot of bang for the buck. The design is innovative, allowing you to place it in a corner to take up less floor space. That doesn't mean it's too small, though. In fact, three people can comfortably enjoy this unit at once.
This unit boasts seven infrared heaters that heat up to 141 degrees. It is constructed with solid hemlock wood for durability, and the tongue and groove design makes it easy to assemble. It has loads of standout features, including easy-to-use control panels on the interior and exterior of the unit, a mood light, and a built-in radio/CD player with MP3 player plug-in. Backrests make everyone more comfortable while relaxing, and it also has a magazine rack and towel hooks. This is the complete package that is priced well below $2,000, making it a great option for those on a budget.
Enjoy relaxing your cares away when you step foot into this model, which is big enough to comfortably seat two people. It comes equipped with two backrests for ultimate comfort, a towel rack, magazine holder, and that's just the start. Despite its lower price point, this model is loaded with everything you need to have an enjoyable and relaxing experience.
You'll love all of the added features that this sauna includes, like the tinted glass and oxygen ionizer for cleaner air. You'll be able to enjoy temperatures up to 141 degrees with the six carbon heaters. The unit is made from solid hemlock wood that is sturdy, durable, and easy to assemble. It has interior and exterior controls for convenience, mood lighting, and a radio with built-in CD player and MP3 player jack. You can listen to your soothing music through the built-in speakers. This unit is solid, comfortable, and comes backed with a great warranty.
If you want all of the benefits of a traditional sauna with modern conveniences, this is for you. This sauna is designed to hold two people, so you can relax by yourself or with a loved one. De-stress and detox your body by relaxing in this sauna, which is made with double layer Canadian Hemlock wood that is eco-friendly and contains no chemicals. It's also very durable, so you know you can get lots of use out of this model.
Seven carbon heaters are installed in this unit for maximum heat. It has LED lighting, which you can replace with therapeutic lighting for additional benefits. The control panel is easy to use, and this sauna heats up quickly – no more waiting like with cheaper units. This unit is very easy to assemble and doesn't require any tools, and it's just as easy to pull apart if you need to move it. It has a great built-in sound system including auxiliary port and premium speakers. It also comes backed with a 5-year warranty for your protection.
Closing Thoughts
Whether you're dealing with an illness, have achy muscles and joints, or you just want to relax, a sauna is the perfect solution. For quality, a modern design that looks great in any home, and the features you want, consider the JNH Lifestyles 2 Person Far Infrared Sauna. This model is loaded with everything you need, heats up quickly and maintains its heat, is easy to assemble, and offers all of the benefits of a custom sauna at a fraction of the cost.a custom sauna at a fraction of the cost.