Some links on this page are monetized by affiliate programs - see disclosure for details.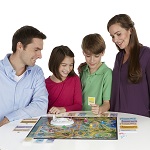 Technology has improved our lives in so many ways, from allowing us to work and go to school online to paying our bills and shopping. However, as great as technology is, it also has its drawbacks. More and more families spend time on the computer, staring at a tablet, or texting on a smartphone. More and more kids are spending time on social media or stuck in front of video games. While all of these are fine in moderation, it's important to remember the simpler things that you can do to enjoy time with your family.
One thing that never gets old is a family game night. Many families put aside the technology, turn off the TV, and sit down with their family to play fun board games. Board games are a great way to bond with your children and have a great time. Of course, a little healthy competition may be involved, but board games are great at bringing families together.
Compare: The 10 Top Rated Board Games for Kids of 2018

Introduction: What is a Board Game?
Board games are fun games that can be played with friends and family. There are thousands of different board games available. Some board games use cards, others use dice, and all have a main goal that must be achieved. Once someone beats the game, they are declared the winner. You may have to draw, act out clues, or write down answers. Board games are available that are appropriate for everyone, and there are also board games for certain age levels, as well as adults-only games.
Also see: Our guide to the best video game consoles that kids love to play
What are the different types of Board Games for Kids?
There are thousands of different boards games, so before you purchase a game for your children or for the whole family to enjoy, take a minute to understand what types of games are available.
Card games – Card games have always been popular with kids and adults alike. Many old classics like Old Maid and Go Fish have been revamped by using modern cartoon characters, while games like Uno have released spin-off games that offer even more fun for the family.
Puzzles – Jigsaw puzzles are categorized as games, but there are also board games that require problem-solving and strategy in order to solve a puzzle.
Dice games – Dice games use dice in order to move pieces around a board, or they may even make up the entire game, like Yahtzee.
Guessing games – These games require you to guess something about another player. It could be what they are drawing, what they are writing, or what they are talking about based on a set of clues.
Trivia games – Ask and answer questions when you play trivia board games. There are so many trivia games on a variety of topics, including music, movies, current events, TV shows, sports, and more.
What are the advantages of owning Board Games for Kids?
Board games are a great way for children to bond with their siblings, friends, and parents. Board games encourage communication and help families bond. In such a busy world, it's easy to get caught up in technology, but board games are a great way to spend time with loved ones. Many board games also encourage you to think and put reasoning skills to use. With some board games, you may even learn something new.
Who are the contenders for Best Board Game for Kids?
Jenga – Jenga, Jenga, Jenga! The whole family will be calling out this chant as you try to pull a wooden block out from the tower and place it carefully on top. Do it successfully, and it's the next player's turn. If you fail, the entire tower comes crashing down and you lose the game. This game is easy to learn, is appropriate for all ages, and doesn't have a lot of pieces. In fact, the only pieces are the wooden blocks that make up the tower.
Ticket to Ride – Take a trip around the U.S. without even leaving your living room. This game, based on the classic tale "Around the World in 80 Days" requires you to use your brain to travel all around North America. The game is easy to learn, but it poses a challenge for adults and children ages 8 and up.
Monopoly Luxury Edition – Who doesn't love Monopoly, the classic game of buying properties, houses, and hotels? This favorite has been beloved by families for years, but you've never seen Monopoly quite like this. This upgraded version is encased in a beautiful wood cabinet that houses the gold stamped game board. This game is not only great for playing with your children today, but it's a wonderful gift that can be passed down from generation to generation.
Considerations for Choosing the Right Board Games for Kids
Who doesn't love spending time with the family? With board games, families can laugh and have a great time, siblings take a break from fighting, and it's a good time all around. If you want to purchase a board game for your family or just for your children to enjoy, there are a few things you need to consider. By keeping these features in mind, you're sure to find a game that the whole family will love.
Age limits
One of the first things you will want to look at is the recommended age for each game you consider purchasing. It is important to remember that these are only guidelines, but they are generally very accurate. If a game is designed for tweens, teens, and adults, it is probably too complicated or mature for a toddler. If a game is designed for younger children, it will likely be too easy and boring for older kids and adults. And if you want to find a game for the whole family, look for games marked for all ages.
Pieces
If your children are prone to losing pieces to games, try to avoid games that have many small pieces that are required to play. If you have younger children, you also want to avoid games with very small pieces, as this could be a choking hazard.
Rules
Is the game you're considering full of different, complicated rules? While this may be okay for older children, younger children may have difficulty following along. For younger kids, look for games with just a few rules that are easy to remember.
Number of players
How many players will be playing the board game? This is a question you need to ask yourself. If only two or three people will be playing the game, avoid party games designed for 4 or more players. If you have multiple children that would like to play, make sure you select a board game that they all can play at the same time so no one gets left out.
Age limits
Jenga
The recommended age for this game is 6 and over. However, you may find that children younger than 6 can easily catch on to the rules of this fun game.
Ticket to Ride
This game is recommended for ages 8 to 12, although some younger children and adults may enjoy it as well.
Monopoly Luxury Edition
Monopoly is recommended for children and adults ages 8 and up. Younger children may also be able to play, but because of the small pieces, children under 3 should never be allowed to play this game.
Pieces
Jenga
Jenga has small wooden blocks that may be considered a choking hazard, so it should be kept away from kids 3 and under. All wooden blocks are required to play, so if your children easily lose pieces, you might want to avoid this game.
Ticket to Ride
With over 200 plastic trains and 100 cards, there are many small pieces to keep track of in order to fully enjoy the game.
Monopoly Luxury Edition
Stacks of money, many hotels and houses, dice, and player pieces all come with the game.
Rules
Jenga
There are very few rules to Jenga, and it's quite simple to play. Simply pull out a wooden block, place it on top, then move to the next player. The object of the game is to not make the tower topple.
Ticket to Ride
The rules are simple enough for children to learn. You can modify the rules if needed to make the game easier for younger children.
Monopoly Luxury Edition
The rules of Monopoly are quite simple. Roll the dice, buy properties, choose cards, and pay rent to other players. The player with the most money is the winner.
Number of players
Jenga
Play this game solo or with a large group. There is no limit to the number of players that play Jenga.
Ticket to Ride
Ticket to Ride is fun for 2 to 5 players.
Monopoly Luxury Edition
Monopoly works with 2 to 8 players.
Conclusion: The Best Board Game for Kids Reviews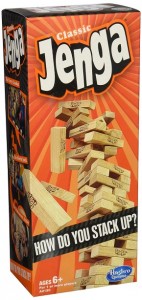 This classic game has long been a family favorite. The rules are simple; keep the tower standing. This game consists of 54 wooden blocks that are stacked to form a tower. Each player removes a block and places it on top. Some blocks remove easily, while others may cause the tower to crash. This game is loud, fun, and easy to play.
A stacking sleeve comes with this game, making it easy to stack the tower for another round. It can be played solo or with a crowd, and most kids and adults of all ages can easily understand the rules and have a blast playing this fun game.
Pros
It's very affordable. The rules are simple. It's great for players of almost any age. Play with one or more players.
Cons
There are 54 wooden blocks required for playing, so none of the pieces can be lost. It isn't appropriate for kids under the age of 3. Some kids may find the game to be boring over time. It can be loud.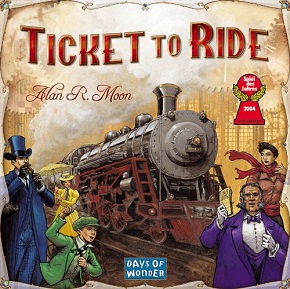 Travel around the country without spending a fortune with this fun game that makes kids really think. The object of this game is to see as many cities in North America as possible. It is based on the game "Around the World in 80 Days", and players have to create railroad routes to cover the most distance and win the game.
This game is not only fun, but it requires children to use reasoning skills to plan out the best strategy. The rules are easy to follow, and though it's recommended for children up to age 12, adults can enjoy this game, as well. This game comes with 240 Colored Train Cars, 110 Train Car cards, 30 Destination Tickets, and 5 Wooden Scoring Markers.
Pros
Each game takes 30 to 60 minutes to play so it keeps children occupied. It is fun and educational. Up to 5 players can play. The rules are simple.
Cons
It is a bit more expensive than most other board games. It has many small pieces required for play. Game play is a bit slow at times, so children who have difficulty paying attention may become easily bored.
Most people have played Monopoly at least once in their life, and many love this fun game of buying real estate and charging rent to other players. Your goal is to get the most money, and who doesn't like money, even if it's not real? This Monopoly game isn't your typical board game, however.
The Monopoly Luxury Edition improves upon the classic board game by housing it in an elegant two-tone wooden cabinet. Other features include a gold-stamped board, die-cast playing pieces, houses, and hotels, a faux leather rolling space, and two storage drawers to keep everything in place. This stunning game has everything you would expect from the original Monopoly and houses it in a beautiful set that can be passed down from generation to generation. You don't have to worry about torn, scratched, or ripped boards anymore; this set is designed to last for years to come.
Pros
This high-quality set looks great when set up in a library, family room, or other area of the home. The wooden cabinet is superior quality and designed to last for years. This game can be enjoyed by the entire family. It is easy to play and has few rules. Up to 8 players can play the game.
Cons
With a high price tag, this is a high-end board game. The faux leather may peel back over time.
All in All
The best board games are a terrific way to bond with your family. If you want an unforgettable night with the family, turn off the TV, put down the phones and laptops, and enjoy playing one of these fun games with your children. If you want years of family fun, the Monopoly Luxury Edition takes everything you love about this classic board game and has added upgrades and improvements that make each family fun night just as fun as the last.