Some links on this page are monetized by affiliate programs - see disclosure for details.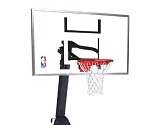 You don't have to be a professional to enjoy a fun game of basketball. Men, women, girls, and boys of all ages have long played basketball outdoors as a way to stay healthy, as well as being able to bond with friends and family. If you're a member of a basketball team, you know how important it is to practice away from your home court.
If you want to get out of the house, stay in shape, and sharpen your skills, a basketball hoop for your home is the ideal solution.
Top Rated: The 10 Best Basketball Hoops of 2018

Introduction: A Guide to Basketball Hoops
A basketball hoop is used while playing a game of basketball. If you're familiar with the rules of the sport, you know that the goal of the game is to get the ball through the hoop, which has a net attached. Basketball hoops are found in gyms and arenas all around the world, but you can also purchase one for your home. A basketball hoop is fun for children and adults of all ages, is perfect for practicing, and just provides a great time for everyone in your home or neighborhood.
What are the different types on the market?
If you want a basketball hoop for your home, you'll find that you have quite a few types available to you. Each type has its advantages and disadvantages, and by understanding more about the different hoops you'll find while shopping, you'll be able to make a wise purchasing choice.
Freestanding portable basketball goals
These goals are the most convenient, and they're the most common types found in driveways, yards, and cul-de-sacs. These hoops do not require mounting, so it's ideal if you don't want a goal permanently mounted on your home or installed in the ground with concrete. The hoop and backboard are attached to a tall pole, which typically can be adjusted to different heights, and the pole goes into a large container that sits on the ground. This container is filled with sand or water to keep it stable and upright.
In-ground
If you want your driveway to also function as a basketball court, an in-ground system may be the right choice for you. These systems come with a pole, backboard, rim, and net. The pole itself is cemented into the ground, so it is more permanent than a freestanding, portable system.
Wall-mounted
These basketball hoops are mounted directly to a wall or even onto the side of your home. These are a more permanent option than portable systems, and they aren't as difficult to install as in-ground systems.
Over-the-door
These are miniature basketball hoops that are used indoors. They install in just minutes, affixing to the top of a door with built-in hooks. These hoops typically come with a smaller foam basketball that doesn't damage your walls, doors, or belongings.
Miniature hoops for kids
These hoops are similar to freestanding portable hoops, only they are much smaller and designed for children. These typically have an all-plastic construction, but miniature versions that combine plastics and metals are also available. These hoops come in fixed sizes, as well as adjustable models that grow with your child.
What are the advantages of owning your own hoop?
Playing basketball is a great way to spend time outdoors with your friends and family. If you are a member of a team at school, church, or through a recreational league, you'll be able to practice your game right from home, improving upon your skills before each game. Basketball is also a great way to keep in shape.
You can stay healthy and even lose inches by playing a intense games of basketball on a regular basis.
Who are the contenders for Top Basketball Hoop?
If you want to get your kids out from in front of the TV or game console and outdoors engaging in physical activity, this basketball system is the perfect solution. It's just the right size for kids, but it also expands to a total height of 7 ½ feet, so adults can get in on the fun too. It's portable, so you can put it anywhere in your yard or driveway and move it as needed, and it adjusts easily with no tools required. This unit is weather-resistant, built with quality materials, and best of all, it's extremely affordable.
As far as portable systems go, this is simply one of the best. The sturdy base keeps it grounded, so you don't have to worry about it falling over during windy weather. It's equipped with wheels so you can move it around your yard and driveway, and the shatter-proof background is fade-resistant, so it always looks great.
If you have a basketball court on your property or you want to use your driveway to shoot some hoops, this in-ground system is a sturdy, reliable choice. You can expect quality from this great system, which has an aluminum frame and tempered glass backboard. It is protected against rust, so it can easily weather the elements, and it has an anchor support system that protects it from damage and keeps players safe.
Features to Consider Before Buying
Before you shop for a basketball hoop, there are a few considerations you should keep in mind. These features are some of the most important things to look for in a basketball hoop. Decide what's best for your needs before making your purchase.
Height
Basketball goals come in many different sizes. The regulation height for a hoop is 10 feet. Most portable and in-ground systems expand to this size. However, they also may have options to lower the rim for shorter players. There are also hoops that are shorter for children and beginners.
Installation
If you want the convenience of being able to move your goal around and you a product that's easy to assemble and ready to use in almost no time at all, look for a portable system that does not require installation or mounting. If you want a more permanent option, choose a hoop that is set in concrete.
Price
Basketball hoops range in price from around $10 for a mini door hoop to several thousand dollars for a professional-quality in-ground model. Decide what features you absolute must have, then set a budget that works for your bank account.
Warranty
If you're investing in a basketball hoop, especially one that costs several hundred dollars, you want to make sure you are buying a quality product. Protect your purchase by looking for hoops that come backed with a manufacturer's warranty. Please note, however, that warranties do not generally cover problems that arise due to misusing the hoop, but they do protect against manufacturer's defects.
Height
Lifetime Youth Portable Basketball System
This goal is perfect for younger players. It easily adjusts in height from 5 ½ feet to 7 ½ feet by 6-inch increments.
Lifetime 71566 XL Portable Basketball System
This full-size portable basketball system is adjustable from 7 ½ to 10 feet.
Silverback In-Ground Basketball System with Tempered Glass Backboard
With a weight of around 20 pounds, this is one of the heavier canister vacuums on the market.
Installation
Lifetime Youth
No installation is required for this portable system. Simply fill the 10-gallon base with water or sand after assembly, and you're ready for a game.
Lifetime 71566 XL
No installation is required for this system. All you have to do is assemble it, add sand to weigh down the base, and it's ready for use.
Silverback In-Ground Basketball System
This system comes with an anchor kit that is installed in concrete. It is a more permanent solution than a portable system.
Price
Lifetime Youth
This quality goal sports a very affordable price for an adjustable portable adjustable goal for kids.
Lifetime 71566 XL
This basketball system is priced about average when compared to other portable full-size systems.
Silverback In-Ground
This in-ground basketball hoop retails for a bit more than its competitors.
Warranty
Lifetime Youth
Your purchase is protected with a 5-year manufacturer's limited warranty.
Lifetime 71566 XL
This basketball hoop comes with a 5-year manufacturer's warranty.
Silverback In-Ground
With the purchase of this system, you will receive a 5-year limited warranty from the manufacturer.
Conclusion: Our Basketball Hoop Reviews Are In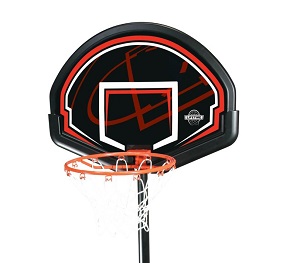 Whether your kid shoots hoops on the school or church team or just wants to try a new sport for the first time, this budget-friendly youth hoop is a great choice for your home. This portable system doesn't require installation, so just assemble, fill the base, and your family is ready to play.
This is a durable goal that's ready for game after game, as well as the toughest weather. This product features an unbreakable backboard, weather-resistant plastic and powder coated steel design, and rust-resistant telescoping pole. It easily adjusts up to two additional feet. It has a 32-inch backboard and 15-inch rim, and it is backed with a limited 5-year warranty.
Pros
It is affordable
It is the perfect size for children
Comes with a warranty
It is made of quality materials, is rust-resistant, and has an unbreakable backboard
It's easy to move
Very sturdy
Easy to assemble
Cons
It is not a full-size goal
The assembly instructions are not very clear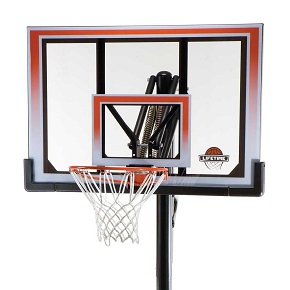 Turn your driveway into your own personal basketball court without the mess, hassle, and the permanence of an in-ground system installed with concrete. Once assembled, you fill the base with sand to keep it stable and sturdy for the most competitive games, but the overall design, combined with attached wheels, make it easy to move into your residential street, to another area of your driveway, or into your garage for storage.
This hoop is equipped with a 50-inch shatterproof polycarbonate backboard with graphics that won't fade. The rim is solid steel and has double compression springs for the perfect bounce. This is an excellent choice for a portable system that's durable and also looks great in your driveway. It's backed with a warranty.
Pros
It's priced competitively
It extends to regulation height
It's backed with a warranty
Shatterproof, fade-proof backboard.
It is easy to move
The pole is rust-resistant
It is very stable and sturdy
Cons
Assembly instructions are not clear
It's a little difficult to adjust the height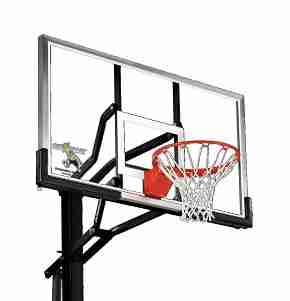 Learn to shoot like the pros on this elite basketball system, which is durable, stable, and has a clean, professional look. The quality doesn't get much better than this system, which comes with a 60-inch rim made of 8mm tempered glass and aluminum and a steel pole that's powder coated to prevent rust from forming.
Use the steel actuator to adjust the heat from 7 ½ feet to regulation 10 feet. This also has a great anchor system that installs in the ground with concrete and rebar, so it's designed to stay up through the worst weather and the hardest dunks. However, this innovative system allows you to easily unbolt the hoop if you move so you can take it with you. All you have to do is buy a new anchor system.
This basketball goal is designed to last for years to come, and it's as close as you can get to professional systems at a price that's extremely competitive for a top-quality in-ground basketball system.
Pros
It looks great
The anchor system allows you to take the system with you when you move
It's made of high-quality materials like tempered glass, steel, and aluminum
5-year warranty
It comes with a backboard pad, pole pad, and breakaway rim
It has DuPont powder coating for weather resistance
Cons
The installation is labor intensive
The backboard is heavy, so it requires more than one person to mount
It is more expensive than portable systems
All in All
If you want the best basketball hoop that you, your family, and your friends can enjoy for years to come, you can't go wrong with the Silverback In-Ground System. This looks and functions like a professional goal at a very competitive price. With a 5-year warranty and quality materials, you can enjoy hundreds of games on this durable basketball goal.