Some links on this page are monetized by affiliate programs - see disclosure for details.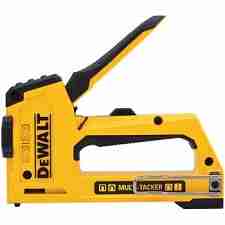 If you prefer to do things around your home without the expense of a contractor, you know that you need the right tools for your home improvement project. If you're a crafter, you have the same concern: You have to have the best tools to get the job done quickly, easily, and effectively. Although you may not typically connect home improvement projects and crafting, there are several tools that these projects have in common.
A staple gun is just one of the many versatile tools you need to keep in your household that is ideal for crafting, home improvement, decorating, and more.
Top Rated: The Ten Best Staple Guns of 2018

A Guide to Staple Guns
A staple gun is a type of tool that is used to attach one thing to another using metal staples. It works in a similar way to a stapler that you would find in an office, only it is more heavy-duty and has a different design. An office stapler has a closed design that allows you to insert paper.
A gun has an open design where one end is pressed against the surface of the two things that will be attached, and the handle is pushed to release the staple, which is typically larger, thicker, and more durable than office staples.
What are the Advantages?
This type of tool is very versatile and easy to use. You can use it for a variety of different projects around your home, whether you're just making some improvements or you're crafting. You can use this type of tool to staple down new carpet to replace your worn old flooring or you can use it to easily reupholster a piece of furniture.
It can be used for minor repairs, or it can be used for different decorating projects, like making a picture frame. You can also use it for any fastening purpose. Because it is so easy to use and it can be used for so many different projects around your home, this is something that you should have in your toolbox. There are also more heavy-duty ones available that can be used in various applications if you're in the construction industry.
What are the Different Types?
There are three different types of guns to choose from. The best way to decide which one is right for you is by determining how you plan to use yours.
Manual
These are the least expensive, and they are the most common ones for household use. These require more manual power than the other two models, since there is resistance in the trigger that requires more strength when squeezing.
Electric
These guns either come equipped with a cord that plugs into a power outlet or it may operate on batteries. This is one that may be found in households, but they're also commonly used in the construction industry. This is because they require less manual effort, and they only require a little bit of pressure to eject the staple. Because less effort is required, these are best for jobs that require lots of stapling or for all-day use.
Pneumatic
Hooked up to a pneumatic air hose and like electric guns, these require very little effort to use. These are best used in applications where multiple staples are needed, or if you don't want to strain your hand during all-day use. These are used in a variety of construction industries, and they are typically the biggest, most durable, and most expensive.
Which Staple Guns are the Best on the Market?
Stanley TR45K Light Duty Staple Gun – If you just plan on using your gun for a few tasks around the home, you don't have to invest a lot of money in a professional-quality tool. Instead, you can complete your project with ease without spending a fortune with this gun from Stanley, which is a great choice for everyday stapling needs, is easy to use, clears jams quickly, and costs less than $20.
Surebonder 9600A – Those who work in the construction industry know that speed and quality count. You can get the hardest jobs done with ease with this gun, which is quick and powerful enough for a number of difficult tasks including stapling down roofing felt, installing insulation, and much more. Best of all, it's priced quite affordably.
BOSTITCH 651S5 7/16-Inch by 2-Inch Stapler – If you want a tool that's ready to perform the most difficult tasks, you'll get it from this staple gun, which is lightweight, has a rapid-fire engine, and doesn't require tools to remove jams so you can work more efficiently with less effort.
Features to Evaluate
Whether you're taking on a DIY project at home or you need a tool on the job that will lighten your workload, a staple gun is something you want to consider purchasing. Before you dive into your purchase, there are a few features you should keep an eye out for while shopping.
Type
The type of gun you choose is very important. If you plan to use it for hours each day, a manual model will result in fatigue. If you just want to use it for smaller craft projects, you won't need to choose a heavy-duty one that is designed to rapidly fire staples. And if you intend to use yours on the job, you need one that is designed for performance.
Warranty
No one wants to end up with a product that doesn't work. While it is perfectly normal for a product to quit working over time, even when it's used as directed, you shouldn't have a product that fails after just a few uses. With a warranty, you can rest easy knowing that any defects that cause your unit to not work as it should are covered.
Best Uses
You need to determine how you plan on using your gun. Some are made specifically for stapling down carpet or nailing down hardwoods, while others are designed for more general use.
Type
Stanley TR45K
This is a manual general-purpose gun.
Surebonder 9600A
This is a pneumatic gun that offers more power for heavy-duty jobs.
BOSTITCH 651S5
This is a pneumatic gun that is ideal for household or commercial tasks.
Warranty
Stanley TR45K
This unit comes backed with a limited lifetime warranty.
Surebonder 9600A
The manufacturer will need to be contacted regarding the warranty terms.
BOSTITCH 651S5
This comes backed with a 1-year limited warranty.
Best Uses
Stanley TR45K
This can be used for almost any light-duty job around your home or office, including but not limited to tacking wires, hanging posters, reupholstering, and craft projects.
Surebonder 9600A
You can use this for lots of jobs around your home, including repairing screens, attaching roof felt, wrapping a house, installing insulating, making picture frames, and more.
BOSTITCH 651S5
This is ideal for a contractor who works with siding, decking, and more.
Final Word: Read Our Staple Gun Reviews
If you just have a few odd jobs around the house that need to get done, and you don't want to spend a ton of money on a new tool, this affordable model from Stanley is perfect for smaller tasks. It is very lightweight, so it's easy to hold for longer periods of time. And unlike some manual guns, a ton of pressure that strains your hand isn't required.
If it jams, this is equipped with a quick-jam-clearing mechanism so you can get back to work quickly. It's chrome-plated, so it's very durable, and when you aren't using it, the handle locks for safety. It comes with everything you need to get started, including 1,000 light-duty staples and a storage case. It also comes backed with a limited lifetime warranty.
Pros:
Very affordable.
Easy to use.
Clearing jams is simple.
It comes with everything you need, including staples, so there's no added expense.
It performs very well for general household and office tasks.
Cons:
It's a bit smaller than normal manual guns. It does not staple effectively into hard woods.
If a manual gun just isn't enough for the jobs you have to complete, you need something with more power, like this pneumatic gun from Surebonder. Whether you're a roofer by trade or you just want to complete some projects in your home like creating picture frames, this tool is up for the task. This gun is lightweight, easy to use, and packs lots of power, allowing it to drive staples through harder woods and other hard surfaces.
It has a quick-release magazine, so you can easily reload it while working. The rubber grip is easy to hold and doesn't slip out of your hand. It holds up to 100 staples and it can be used with a variety of different types depending upon the job you're completing. It has a clear view window so you know when you need a refill, and it has a safety feature that prevents it from firing accidently.
Pros:
It comes at an affordable price.
It is comfortable to hold and very easy to use.
Ideal for most tasks, including household repair and upholstering.
Doesn't jam easily like other units at this price point.
It comes with a carrying/storage case.
Cons:
Oil needs to be added before use or the unit may fail.
The pointed tip makes it difficult to center.
It does feel a bit cheaply made when compared to more expensive models.
If regular staples won't do the trick and you need something more heavy-duty, this gun is up for the task. This high-powered gun is best used for more difficult jobs like vinyl siding, roof decking, wood shingles, and more. This sheating stapler has a flip open nose design so you can easily clear jams, adjustable drive depth, and a vinyl siding adapter.
Other notable features include a selectable trigger to give it more versatility, a rapid fire engine that fires 10 per second, and a lightweight design that is just over four pounds. If you do encounter a jam while using it, it can easily be cleared without the use of tools. It also has a rotating belt hook so you can easily carry it with you while on the job.
Pros:
Jams are very easy to clear.
It has a rapid fire design.
It's lightweight and not too bulky.
Perfect for heavy-duty tasks.
It feels well-made.
Comes with a warranty.
Cons:
It is a bit pricey.
The follower spring is a bit weak.
Conclusion
You'll be amazed at how simple a staple gun can make the most difficult tasks. If you have an occupation that requires you to attach one component to another, you need something that is designed for heavy-duty use. The BOSTITCH 651S5 is a gun that's easy to use, very lightweight so it isn't burdensome, and is made to tackle more difficult jobs including siding installation and roofing. This unit does cost more than some other products on the market, but its rapid firing, easy jam clearing design that tackles the hard jobs makes it a product you definitely want to add to your tool box.