Some links on this page are monetized by affiliate programs - see disclosure for details.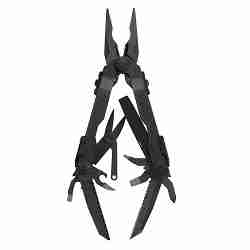 Ever since the Swiss Army ingeniously combined a number of useful tools with a folding pocket knife over 100 years ago, the multitool has become one of the most functional and commonly used hand-held manual tools in the world.
Coming in a wide variety of sizes and designs, multitools allow anyone to carry around a high-quality toolbox in their pocket or clipped to their belt. With an almost infinite number of attachments, anyone can find the right multitool that best suits their needs.
Reviews: The Best Multitools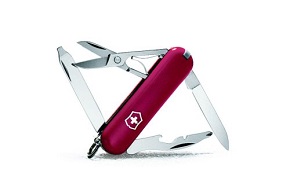 Made to the same exacting standards that have made these multitools famous for over a century, the Rambler from Victorinox is a high-quality compact multi-tool perfect for everyday personal use or as a convenient tool for hikes or camping expeditions.
With its classic design and precision Swiss engineering, the Rambler is the perfect compact tool for just about anyone, and is designed to provide unstinting and reliable service for years.
Pros:
Looks great and feels great in the hand
Can be carried in pockets or attached to key rings and forgotten until you need it
The main blade is incredibly sharp and the scissors can cut through very fibrous clothing and are great for trimming thick or bushy facial hair
The two screwdrivers can handle just about any quick job around the house, and the toothpick helps users maintain personal hygiene while out in town or at a campsite in the woods
Cons:
This multitool is clearly meant to be carried regularly but only used occasionally
You certainly can't skin a bear with this tiny knife, but for small jobs requiring a 2 inch blade or less, the Rambler is certainly up to the job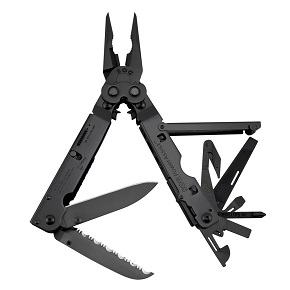 The SOG Specialty B66N looks almost like it came from the future, with its advanced black 420 steel design and vast multitude of useful attachments. With the company's patented PowerAssist, it's easy to cut through thick and resilient material or gain added grip on stubborn bolts and nuts. With two different blades and a total of 16 tools, it's hard to see how anyone could ask for more out of a single multitool.
Professional enough to complete an entire DIY project and convenient enough to be carried daily in a pocket or purse, the B66N is a well-designed multitool.
Pros:
The black steel looks great forever, as it doesn't get dull or smudged by fingerprints
The advanced design packs 16 total tools in a very compact space, giving users a wide variety of options when handling repairs or making adjustments
Great to have in the car for emergency repairs or other jobs requiring good tools
Looks fantastic in its sheath when worn attached to a belt or bag
Cons:
Some of the smaller attachment have only niche uses and aren't really needed for most everyday jobs
While the PowerAssist can help with the regular knife blade, some users have reported it is less effective than with other attachments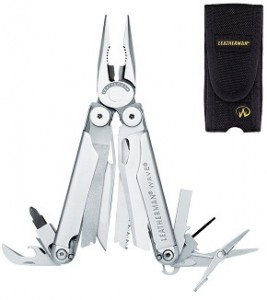 The engineers at Leatherman have once again designed a well-made multitool that allows users to have over a dozen quality tools at their disposal cunningly included in a single convenient device. The New Wave can be transported in the pliers configuration, and includes four other tools that can be activated with an ergonomic one-handed mechanism.
Made entirely out of durable 100% stainless steel, the New Wave will give users years of reliable functionality.
Pros:
The New Wave looks great with its 100% steel construction, and feels solid and robust in the hands
Carried in the sheath in the pliers configuration, it is great for plumbing or automotive jobs, and the blades are sharp enough to cut through leather or other tough materials
Excellent for personal grooming needs in town or out on a camping trip, and has every tool you'd need for electrical and assembly jobs around the house
Cons:
This is a full-size multitool and is a little too heavy and big to be transported in most pockets
Some people dislike the nylon sheath on personal aesthetic grounds
What is a Multitool?
Many people commonly think of these collectively as "Swiss Army knives", even though not all models follow the Swiss Army design. Some multitools are designed for general use, while other multitools contain special attachments for use in construction, building and repair. Some multitools come with a sharp, single-edged Swiss Army-type blade while other multitools come with serrated saw-like blades or occasionally no blades at all.
The original design goal of the first Swiss Army knife was to combine the convenience and security of having a standard folding pocketknife with the functionality of other ordinary manual tools such as screwdrivers, bottle openers and wire-cutters. Multitools are designed to be ultra portable, allowing anyone to have a useful set of high-quality tools always to hand.
The right multitool combines portability with versatility, allowing people to keep convenient tools to hand. When not in use, the knife and attachments fold neatly into the handle, allowing for rugged and safe transportation. With a smooth motion, the required blade or attachment can be extracted, allowing users to quickly repair, snip, cut, slice, screw or file almost anything. A portable and ergonomic multitool is the perfect personal aid for nearly anyone, allowing rapid resolution of everyday tasks. Built from durable materials, a high-quality multitool can provide outstanding service for years.
What are the different types of Multitools?
Some multitools are meant to be small and very portable, kept in pockets or purses for only occasional use. Other multitools are for more professional applications, containing a wide range of useful attachments that can allow craftsmen, builders, and home renovators to quickly and efficiently perform a wide range of tasks. All designs must balance the need to be lightweight and portable while maximizing the functionality and usefulness of the blades and attachments.
Other multitools come with keychain or lanyard attachments for more secure transport. More multitool models come equipped with their own sheath or holster that can be worn clipped to a belt or waistline. Multitools come with a variety of blades and blade lengths, which can be restricted in some venues such as during air travel. Many these tools have secure locking mechanisms to make sure that the blades or attachments don't inadvertently open when not in use.
What are the advantages of owning a Multitool?
Many new owners wonder how they ever used to live without one. When you've got a convenient, high-quality set of tools and blades right there in your pocket or purse, it makes it fast and easy to quickly take care of problems or make adjustments. Whether on the road or in the house, there's always a need to tighten, pry open, loosen, slice, cut, tighten or strip something, and having a multitool to hand makes quick work out of these simple jobs.
Crafters and home designers will love having a variety of useful tools all contained in a single device. Even amateur DIYers love the convenience of always having a full set of tools within easy reach.
Which models are the contenders for the Best Multitool?
Made by the authorized manufacturer of Swiss Army knives, the Rambler is a great entry-level multitool for adults and older children. Emblazoned with its signature red design, the ultra compact Rambler is great for camping, hiking or just daily portability as a personal multitool device. With a 2 1/4-inch blade and four attachments fulfilling the role of seven different tools, the Rambler is an outstanding entry-level multitool.
The SOG B66N multitool is made entirely out of 420 grade steel to handle just about any repair, adjustment, cutting, stripping or screwdriver job out there. Packing a total of 16 total tools, the B66N includes a leather sheath, allowing users to carry an entire toolbox worth of high-quality tools with them in one convenient multitool. With secure locking and a lifetime warranty, the SOG is designed to deliver rugged performance for years to come.
This fresh new contender from the legendary multitoolmaker Leatherman is made out of 100% shiny stainless steel. With one-hand access to four outside tools, the New Wave multitool comes equipped with two different knives and a total of 14 other tools as well as a saw. Equipped with a nylon sheath and ultra-secure locks on both blades, the New Wave can handle both professional and daily use tool needs.
Considerations for Choosing the Right Multi-Use Knife
Attachments – The main feature of any multitool is its attachments, which can range from serious tools made from tempered steel to handy plastic toothpicks. Some attachments are designed for professional or dedicated crafters, while other attachments are useful for performing everyday tasks.
Cutting Blade – The length and type of blade is a key feature of any multitool, as a good sharp knife is one of the most versatile tools ever made. Some multitools contain multiple blades for specialized purposes.
Locks and Sheaths – Users need to feel confident that the sharp blade and other attachments on their multitool are secured when not in use. Some multitools feature locking mechanisms while other multitools come with their own sheath or holster.
Weight – The prime advantage of a multitool is its portability, so the overall weight of the tool plays an important role. A multitool that is too big or too bulky will get left behind, unused.
Attachments
The Victorinox Swiss Army Rambler Pocket Knife
Just as you'd expect from this premium knifemaker, the Rambler multitool makes ingenuous use of clever engineering to give users seven tools with just one blade and four attachments. A nail file is rounded out with a screwdriver tip while another attachment is a curved bottle opener terminating in a magnetic screwdriver tip. Also included is a set of razor-sharp mini-scissors and a plastic toothpick.
The SOG Specialty Knives & Tools B66N-CP PowerAssist
The B66N is absolutely jam-packed with attachments that feature the company's patented PowerAssist design that dramatically increases gripping or grasping strength. A total of 16 tools are cunningly included in this compact design. As every attachment is made of black 420 steel, the multitool looks very aggressive and modern, giving users the confidence to power through any job at hand.
The Leatherman 830040 New Wave
The New Wave has an ingenious one-hand mechanism for opening four outside tools. As well as a saw, the New Wave comes equipped with two different pliers, two wire cutters, two files, two bit drivers, two double-ended bits, a wire stripper, a screwdriver, a bottle opener and a ruler, all of which are made out of 100% stainless steel.
Cutting Blade
The Victorinox Swiss Army Rambler Pocket Knife
The Rambler has one single-edged flat cutting blade, sharpened to the company's rigorous standards. The blade has a length of 2-1/4 inches.
The SOG Specialty Knives & Tools B66N-CP PowerAssist
The main blade on the SOG B66N has a single edge and is 2.8 inches long. The multitool also comes with a fully serrated blade of the same length.
The Leatherman 830040 New Wave
The New Wave comes with two standard single-edged cutting blades, one four inches long and a second one slightly smaller. A saw attachment contains a fine-tooth serrated blade.
Locks and Sheaths
The Victorinox Swiss Army Rambler Pocket Knife
This compact model doesn't use a locking mechanism but is well-engineered to handle years of handling without inadvertent opening of the blade or attachments.
The SOG Specialty Knives & Tools B66N-CP PowerAssist
The SOG B66N comes with a stylish leather sheath for convenient portability. The multitool also contains a lock to secure tools or the blade in either the open or closed position, adding an extra layer of security and peace of mind.
The Leatherman 830040 New Wave
Comes with a stylish nylon sheath that allows the New Wave to be carried either in the fully closed position or in the pliers configuration for extra functionality. Both blades come with a secure locking mechanism to prevent accidents and inadvertent openings or closures.
Weight
The Victorinox Swiss Army Rambler Pocket Knife
The Rambler is designed to be slipped into even the slimmest pocket or purse and carried as an everyday personal multitool, weighing in at what the manufacturer claims is just 0.8 ounces.
The SOG Specialty Knives & Tools B66N-CP PowerAssist –
It's hard to believe they squeezed two blades and a total of 16 different tools into this compact multitool that weighs just over 9.2 ounces.
The Leatherman 830040 New Wave
This fully-featured multitool clocks in at just 10.4 ounces, allowing for easy and comfortable daily wear in the sheath while clipped to a belt.
In Conclusion
With so many different sizes, blades and attachments to choose from, anyone looking for a multitool should assess their needs before making a purchase- today's choices are made out of extremely durable materials designed to last for years, so careful consideration should be undertaken. Some of today's multitools are small, designed for everyday carrying but only occasional use, while other, "swiss army knives" are equipped to handle more professional demands.
With a sleek, modern design and advanced engineering, the Leatherman New Wave packs an entire toolbox worth of top-quality tools into a single stainless steel device that can be stylishly worn in a sheath attached to the belt. With some of the most common tools available via a one-handed release mechanism, the New Wave can quickly provide anyone the tool they need to tackle the job at hand. Once users become familiar with the versatility and functionality of the Leatherman New Wave, they will wonder how they ever got along without it before.