Some links on this page are monetized by affiliate programs - see disclosure for details.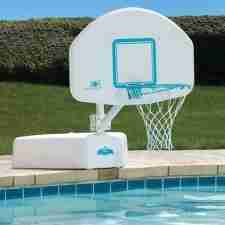 Pool basketball hoops are the perfect companion for the whole family, letting you beat summer boredom by transforming your pool into a makeshift court.
Flexible, portable, and nigh indestructible, basketball hoops are a great way to stay cool, practice your shot, and have tons of fun in the meantime. Finding the best pool basketball hoop on the market takes a little research but is worth the effort.
Comparison: The Top Rated Pool Basketball Hoops of 2020

What Is A Pool Basketball Hoop?
A pool basketball hoop is a plastic, usually inflatable, piece of equipment designed to resemble a real basketball hoop and net. Generally waterproof, pool hoops are crafted to let you and your friends play basketball or simply shoot some hoops in the water. Often collapsible and very easy to carry, pool hoops are meant to be carried wherever your summer takes you – from the community swimming pool or the hotel pool, to the beach or even your own backyard.
Also read: Review Guide – Our picks for the best Slip and Slides
What are the advantages?
The best pool basketball hoops for a pool are extremely lightweight and easy to carry. For inflatable versions, the vast majority of their weight when in use comes from the air you use to blow them up.
A game of basketball in the water offers several health advantages above regular basketball or swimming. You are combining two rigorous cardio activities – running and rapid swimming – into one physically strenuous game. Furthermore, you are improving your hand-eye coordination. Keeping yourself afloat while at the same time attempting to score forces you to improve the accuracy of your aim and gives your abdominal and leg muscles a great workout at the same time. You and your friends and family are guaranteed an intense workout that melts fat and calories.
What are the different types?
Floating Hoops
These are the pool basketball hoops that aren't attached to the side of the pool, but are rather left to float in the middle of the swimming pools so that players can attack it from all sides. These types of hoops are usually inflatable, smaller in size, and often come with a small platform or "table" underneath the hoop in order to catch the ball once you score in the net. Many floating hoops are designed to be as aesthetically pleasing as possible, and so they often come with their own inflatable basketballs to match the color scheme of the entire set.
Affixed or Poolside Hoops
Affixed or poolside basketball hoops are made to literally transform your swimming pool into a court. These hoops most closely resemble their blacktop counterparts, arriving complete with stands, backboards, and nets identical to ones you'd see in a real arena. This way, you can actually have one designated area to score your goals rather than having to chase an inflatable hoop through the water. Poolside hoops range anywhere from two to four feet tall, and are generally much heavier than floating ones.
Adjustable Hoops
These particular water basketball hoops may be considered a subcategory of the affixed or poolside hoop. These are perfect for when you are dealing with swimmers of all ages. Most can be adjusted to be anywhere from 24 to 44 inches tall. This allows you to increase or decrease difficulty levels of your game, or simply make it easier for smaller kids or beginner level swimmers to shoot some baskets.
What Accessories Do I Need For My Pool Basketball Hoop?
For the most part, you won't need many additional accessories for your pool basketball hoop. You may want to purchase a few additional basketballs, a replacement net, or some weights to supplement a mounting system.
You can also buy additional accessories which help you to play games with your pool basketball hoop. These could be something as simple as a wider net, or something as complicated as additional buoys which you could use to make an impromptu court in your pool.
Another nice accessory might be a storage container for your pool hoop. Getting a storage location for your pool hoops could also serve as a storage place for your other pool toys, which will help to keep everything organized.
Choosing The Perfect Hoop  For Your Pool
No matter what kind of pool basketball hoop you end up purchasing, you want to make sure that it is the right kind for you. You will want to make sure that you have enough room to store a basketball hoop that isn't collapsible as well. These basketball hoops are perfect for those who spend lots of time in the pool and are keen on improving their hand-eye coordination and overall fitness – or even just have lots of fun!
The top three Pool Basketball Hoops on the market
This is one of Amazon's bestsellers. Constructed with a minimum height of 44 inches, this poolside basketball hoop comes with a Shatterproof Fusion backboard made up of high-density polyethylene, providing near indestructibility. Its stand offers a great deal of flexibility for players and swimmers of all sizes and levels. Its 27-gallon base offers premium stability when it is attached to the poolside, as well as a great deal of portability. It can even be filled with sand or water. It is a little more on the expensive side, but is sure to please the whole family.
This particular set is one of the most affordable ones on the market. This high-quality in-pool floating game is not inflatable, but is very light to carry and floats easily in both chlorine water and salt water. It contains PVC fluted tubing, offering you the highest levels of durability, resistance, and strength. Its net resembles a real basketball hoop's net, and uses waterproof materials to keep the game flowing smoothly. The hoop also arrives with its own inflatable basketball that looks just like a real one. It measures 17 inches tall, 14 inches wide, and weighs only 2.38 pounds.
This is another one of the favorites featured on Amazon. While a little more on the expensive side for floating hoops, it is larger than the usual floating hoop at 45 inches tall and 36 inches wide. Arriving with multiple ports for multiple shooters, this is the perfect floating toy for when you simply want to practice hoops with your friends without necessarily any competition. This particular pool toy also comes with its own inflatable basketball.
Factors To Consider When Choosing The Best Pool Basketball Hoop
Flexibility and Portability
Pool basketball hoops offer a great deal of flexibility for the average user, depending on their preferences and the places that they prefer to swim. For those who have their own swimming pools, affixed or poolside hoops can be the perfect option – you can keep it permanently attached to the side of your pool, and you don't have to worry about irritating other people or getting in their way. On the other hand, poolside basketball hoops are heavier to carry and not as portable, as they are usually not inflatable and cannot be collapsed.
Price
This is probably the most important factor for the vast majority of families. Additionally, they are rather expensive, often costing around $100 – $160 depending on the brand and the quality. Floating inflatable hoops are a much cheaper option — usually as cheap as $15 – $50 — especially for families and friends who enjoy traveling, going to the beach or other public swimming areas, and generally having more portability and flexibility for their pool toys.
Weather Resistance and Overall Durability
On the flip side, consider a poolside hoop's weather resistance and general resistance to wear. The best pool basketball hoops are usually made out of very tough materials such as polyethylene. That means that they can hold steady, rain or shine. Inflatable hoops are meant to be stored away. However, if you take them to the beach or to a community pool, you want them to be sturdy to avoid damage.
Flexibility and Portability
Lifetime 1306
As the largest, heaviest, and most permanent of the three best pool basketball hoops, the Lifetime 1306 is the least portable of the three. While it is certainly capable of being moved, it is more designed for stationary use at a personal swimming pool.
Super Hoops Floating Basketball Game
This particular hoop is the lightest of the three, at under three pounds. It is also the smallest in physical size, making it the most portable.
Swimline Giant Shootball
The Giant Shootball falls somewhere in the middle. While it is definitely light and portable – particularly when collapsed – its large size makes it a potential hindrance to take with you to community pools.
Price
Lifetime 1306
The Lifetime 1306 is far and away the most expensive of the three hoop systems. It is definitely an investment, and meant for swimmers and players who will be using it a great deal.
Super Hoops Floating Basketball Game
This is the cheapest of the three hoops by far. For money-conscious buyers who are unsure that they will be using their hoop much, this is a great way to purchase one anyway without sacrificing your wallet.
Swimline Giant Shootball
The Giant Shootball is a slightly bigger investment for users who know that they will be utilizing this toy a great deal and with multiple users, but still aren't willing to shell out a whole lot of money.
Weather Resistance and Overall Durability
Lifetime 1306
This is definitely the sturdiest and most durable of the three. Built with polyethylene, this system is meant to be indestructible – perfect for a hoop that will likely remain attached to a pool outside all summer.
Super Hoops Floating Basketball Game
While certainly sturdy in play and practice, this lightweight game is by no means indestructible. Be careful not to crush it under loads of other equipment in your garage, closet, or car.
Swimline Giant Shootball
Since it is inflatable, you will need to be careful to avoid puncturing it. Otherwise, the hoop is large and fairly durable, and should be easy to store if properly deflated.
Reviews: Read Our Final Top Picks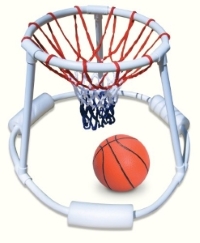 The Super Hoops is extremely affordable, and the over 200 customer reviews averaging 4/5 stars indicates a solid run for the price.
Pros:
It will barely leave a dent in your wallet, and is very lightweight and portable.
Cons:
It is not as durable as some of the other top brands.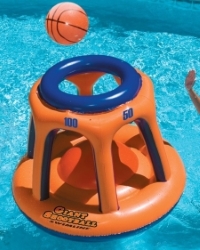 While slightly pricier than most, its inflatable nature makes it easily portable. Furthermore, it offers great multiplayer capabilities. This hoop is perfect to take with you wherever you go!
Pros:
It is easily transportable and collapsible.
Cons:
It is hefty at full size, and can get in the way of other swimmers in public places. It is also vulnerable to puncture wounds.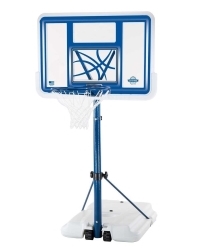 The best pool basketball hoop overall is nearly indestructible, adjustable, and reminiscent of an actual basketball hoop. The portable basketball system literally turns your pool into an arena. It is resistant to all forms of severe weather. Its adjustable two-piece stand means that you can keep it standing anywhere from 4.5 – 7 feet tall.
Pros:
It provides the highest levels of durability and aesthetic performance.
Cons:
It is very heavy and only for personal swimming spaces.
Conclusion
There are many top notch floating basketball games. Some are more portable, while others are for stationary play at a personal swimming pool. You will need to determine the best pool basketball hoop that best suits your needs and your wallet. With a little bit of research you will be good to go!