Some links on this page are monetized by affiliate programs - see disclosure for details.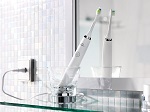 Brushing your teeth is just part of your everyday routine. Keeping your teeth clean is not only essential to preventing stains, keeping your breath fresh, and ensuring your teeth stay their whitest, but it's also crucial for your oral health. Failure to brush your teeth properly results in cavities, gum disease, and other problems that can lead to extensive dental work and high dentists' bills.
While a manual toothbrush gets the job done when used properly, more and more people are putting electric models in their toothbrush holder. Electric toothbrushes are not only easy to use, but they also can clean your teeth better than a manual version, so you'll always have good oral hygiene.
What is an Electric Toothbrush?
An electric toothbrush is battery-operated teeth that makes it easy to maintain proper oral hygiene. The bristles on the head of the toothbrush rotate or move in different directions so you don't have to do the hard work of scrubbing your teeth. Not only does an electric toothbrush make this daily task easier for you, but generally, these toothbrushes reach places where you can't with a manual brush. This means that you decrease your risk of cavities, gingivitis, and other problems that may occur when you don't properly brush.
See Also: The 10 Most Highly Rated Teeth Whitening Kits for a Beautiful Smile
What are the Different Types?
If you want your teeth be cleaner and healthier than ever, an electric toothbrush is something that you'll want to have in your bathroom. While shopping for one of these products, you'll encounter a few different types. By knowing what types are available, you can easily find one that's right for you.
For children
These toothbrushes are created with smaller handles that fit easily in tiny hands, as well as smaller heads and shorter bristles that are perfect for brushing baby teeth and a child's first adult teeth. These are typically crafted in bright colors, and they may even feature popular characters, so brushing is more appealing to any child.
Battery-operated
These electric toothbrushes run on regular AA or AAA batteries that need to be replaced over time. These are generally the least expensive type of adult toothbrushes.
Disposable
Instead of having replaceable heads, these toothbrushes have a fixed head, and they're designed to be disposed of once they become worn out.
Rechargeable
These are generally more expensive than toothbrushes that don't have rechargeable batteries, but the savings that you get over time with replacement batteries actually may end up saving you money in the long run. These toothbrushes hook up to an AC charger and can last for several weeks on just one charge.
Sonic toothbrushes
Instead of rotating bristles, sonic toothbrushes vibrate at a rate of about 30,000 to 40,000 strokes per minute. Many people believe that these vibrations provide you with a better clean than other types of electric and manual toothbrushes.
What are the Advantages of Owning an Electric Toothbrush?
An electric toothbrush makes it easy to keep your teeth as clean as possible. By brushing your teeth daily, you'll keep your smile bright and white. Not only will your teeth look beautiful, but they will also be healthy. Failure to brush properly results in a lot of issues, from cavities that need to be filled to completely rotted teeth that have to be extracted.
Bad oral hygiene can easily lead to thousands of dollars in painful dental work. With an electric toothbrush, it's easy to keep your teeth and gums clean and healthy.
Read: The Top 10 Water Flossers on the market
Who are the Contenders for Best Electric Toothbrush?
Oral-B Deep Sweep 1000 – Remove plaque and keep your teeth and mouth healthy with this deep cleaning, budget-friendly electric toothbrush.
Oral-B Professional Healthy Clean + Floss Action Precision 5000 – Get all of the deep-down plaque from the hardest to reach areas with this rechargeable electric toothbrush.
Philips Sonicare HX9332/05 DiamondClean – Your teeth will be whiter and your gums will be healthier just weeks after you start using this quality toothbrush.
Considerations for Choosing the Right Model
Whether you want to reveal a whiter, brighter smile or you worry about maintaining good oral hygiene, an electric toothbrush could be the right option for you. With hundreds of different toothbrushes on the market, though, how do you ever choose the right one? Consider these key points to help you make a better purchasing decision.
Price
You can't put a price on good oral health, but unfortunately, your bank account may suggest otherwise. Price should always be a consideration, but it should never be the deciding factor. Set a budget that works for you, and then look for an effective toothbrush packed with the most features that fall within that budget. Even the most expensive toothbrushes are far less expensive than having to pay for pricey dental work.
Replacement costs
Most electric toothbrushes use replaceable heads. While the initial purchase price of the toothbrush may be expensive, replacement heads may be quite pricey and end up costing you more over time. Consider the price and availability of replacement heads, as well as the different bristle types available so you can always have the most comfort when you brush.
Hygiene features
All electric toothbrushes are designed to keep your teeth clean and healthy, but some go the extra mile to ensure you're brushing properly. Consider extra features like built-in timers and deep cleaning action that give you a healthy smile you'll be proud to show off.
Settings
If you want to personalize the way you brush your teeth, look for a brush that offers several different modes. This allows you to experiment and find the best way to keep your teeth looking great.
Price
Oral-B Deep Sweep 1000 Electric Rechargeable Power Toothbrush
This is considered one of the more low-end rechargeable electric toothbrushes. While it lacks many of the features of more expensive models, it still provides you with the deep cleaning action you're looking for.
Oral-B Professional Healthy Clean + Floss Action Precision 5000
This mid-range electric toothbrush offers features not found on cheaper versions, including an LCD screen.
Philips Sonicare HX9332/05 DiamondClean Rechargeable Electric Toothbrush
This toothbrush is one of the more high-end electric toothbrushes on the market, as well as the most expensive of the three reviewed here.
Replacement costs
Oral-B Deep Sweep 1000
Three replacement heads lasts for approximately three months, so the cost of owning this toothbrush is quite low.
Oral-B Professional Healthy Clean
A pack of three replacement brush heads is much cheaper than many other replacements and can save you money with prolonged use.
Philips Sonicare HX9332/05 DiamondClean
A six-pack of replacement heads is priced about average for electric toothbrush replacement heads.
Hygiene features
Oral-B Deep Sweep 1000 Electric Rechargeable Toothbrush
The 3D technology used by this toothbrush moves side to side and pulsates, breaking up and removing up to 100 percent more plaque than manual brushes. The built-in timer alerts you to when you need to move to another part of your mouth so all of your teeth are cleaned effectively.
Oral-B Professional Healthy Clean Precision 5000
The Wireless SmartGuide that mounts easily on your wall provides you with helpful feedback about your brushing habits. For the best clean, this toothbrush vibrates, rotates, and oscillates to effectively clean and break up plaque. A built-in timer is set to make sure you brush every section of your mouth for the recommended two minutes.
Philips Sonicare DiamondClean Electric Toothbrush
This model comes with a built-in quad pacer that ensures you brush every part of your teeth. At 31,000 strokes per minute, the pulsating technology provides you with the cleaning power you need to keep your mouth healthy.
Settings
Oral-B Deep Sweep 1000 Power Toothbrush
This budget-friendly toothbrush has just one setting, Daily Clean, which is good for typical use by most adults.
Oral-B Professional Healthy Clean Precision 5000
Get the best clean for your teeth by choosing from five modes: Daily Clean, Deep Clean, Gum Care, Sensitive, and Whitening.
Philips Sonicare HX9332/05 DiamondClean Electric Toothbrush
You can choose from five different brushing modes on this model. Those modes are Clean, White, Polish, Gum Care, and Sensitive, making it easy to target your problem areas.
Conclusion: Our Electric Toothbrush Reviews Are In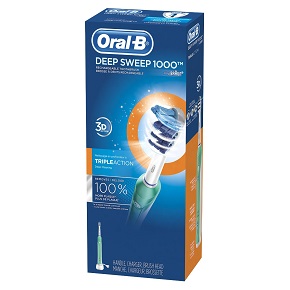 If you're looking for a basic electric toothbrush that provides you with better cleaning power at a price that fits your budget, this is the product for you. This rechargeable toothbrush utilizes 3D cleaning power that pulsates and moves side to side, removing up to 100 percent more plaque than manual brushes. The pulsating action helps break up the toughest plaque for a clean, healthy smile.
Brushing your teeth is a must, but over-brushing can do more harm than good. If you're brushing too hard, the pressure sensor will stop the brush from pulsating, protecting your teeth and gums. A built-in alert lets you move to different areas in your mouth so you're sure to get all of your teeth sparkling clean.
Pros:
It is more inexpensive than many other rechargeable electric toothbrushes
It has a built-in timer that goes off after two minutes, the time recommended to properly brush your teeth
The bristles get deep down between the teeth, removing hidden plaque
The indicator bristles fade so you always know when to replace your head
Cons:
After several months, the toothbrush may not hold a charge as well as it did when new
It only has one cleaning mode
It only works with 110v outlets
There is only one size of brush heads available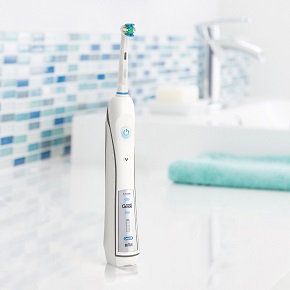 You'll be amazed at all of the features this great toothbrush has to offer. It provides many of the features found on more expensive versions at a fraction of the cost. With five different cleaning modes, you'll be able to easily keep your teeth and gums clean and healthy. The built-in timer ensures you're brushing for the right amount of time, and the SmartGuide works with your toothbrush to provide you with feedback that is beneficial to your oral health.
The design provides flossing action that, when combined with daily flossing, eliminates hidden plaque buildup. The built-in LCD screen makes it easy to turn on and off, as well as change your mode, and this toothbrush is compatible with many Oral-B replacement heads, so you can easily choose the one that's most comfortable for you.
Pros:
It effectively removes up to 100 percent more plaque than the leading manual toothbrush
Indicator bristles show you when it's time to replace your brush head
Brush head replacements are affordable
It alerts you when you are brushing too hard, which can cause damage to your teeth and gums
The ergonomic handle is easy and comfortable to grip
It removes more hidden plaque than just flossing
It comes with a travel case for portability
Cons:
The battery cannot be replaced
It is only compatible with 110v
It is larger and heavier than other models available on the market The included travel case is a bit oversized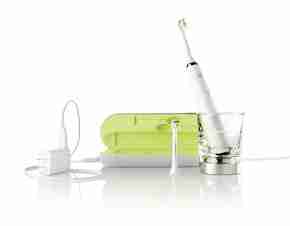 Your dentist will be blown away after he sees the results that you get from this Sonicare toothbrush, and so will you. In just one week with proper use, you'll notice that your teeth are whiter without the need for whitening treatments. After two weeks, your gum health will be noticeably improved. You are guaranteed to see results in just 28 days, or you can be refunded for your purchase.
This brush removes up to seven times more plaque than manual toothbrushes, so your teeth will not only look better, they'll be healthier, as well. This system has a dual charging system that makes charging your brush easier than ever. Use the USB charging travel case while you're on the go or the charging glass while you're at home for convenience.
Pros:
It comes with two chargers, one for traveling and a charging glass that can also be used for rinsing
One charge lasts three full weeks
The whitening mode whitens teeth without the need for harsh whiteners
Five different modes help you achieve the best clean
It features an illuminated display that makes this brush easy to use
Cons:
It is more expensive than other models
The brush heads wear out more quickly than others
The battery is not replaceable
When it comes to your teeth and gums, you want to do everything you can to maintain your oral health. The best way to do this at home is with a quality electric toothbrush. Even though it has a more expensive price tag, the Philips Sonicare HX9332/05 is an excellent investment. With multiple settings, deep cleaning action, and a variety of other high-end features, this toothbrush will keep your teeth cleaner, whiter, and healthier just by using it daily, and that's something to smile about.ng it daily, and that's something to smile about.