Some links on this page are monetized by affiliate programs - see disclosure for details.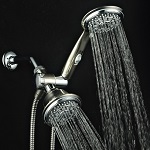 When you're at home, it's amazing how much time you spend in the bathroom. From getting ready for work in the morning to winding down before hitting the sack, we spend hours in our bathroom each week. After a long, hard day, there's nothing better than a nice, hot shower.
Unfortunately, if you don't have a quality shower head, taking a shower just isn't that fun. By replacing your old, boring shower head with a modern new one, you'll want to spend even more time in your bathroom each day.
What is a Shower Head?
Shower heads are devices that attach to your indoor plumbing to provide fresh water to your bathtub or shower. A shower head attaches to a shower arm, a type of pipe that comes through your wall or ceiling. Instead of just having water flow from the pipe, the shower head is designed with holes that create a spray pattern that is invigorating and refreshing.
Shower heads are not only functional, but they are decorative as well. They come in a variety of sizes, colors, and finishes, and they each offer different functions, including massage settings or simulating rainfall.
See Also: This Year's Guide to the Best Dual Shower Heads
What are the Different Types of Shower Heads?
There are many different types of shower heads to choose from. Since showering a daily task, there are thousands of different shower heads to choose from to make your bathing experience more enjoyable.
Wall-mounted – These are the most common shower heads. These attach to a shower arm that comes through the wall. Typically plumbers install wall-mounted shower arms.
Ceiling-mounted – In recent years, shower heads that are mounted directly on the ceiling have grown in popularity. Not only do these provide more water coverage, but they are also very modern and stylish.
Handheld – These shower heads make showering or taking a bath more convenient. The shower head is inserted into a holder that is mounted to the mall. It can be used like a regular wall-mounted shower head, but it also has the versatility to be moved around the shower or tub via the attached hose. This is great for rinsing off thoroughly or even washing up kids and pets.
Multi-function – These have different settings to change the flow of your water. You can choose from options like a soft mist or a hard pulse to relieve aches and pains.
Low flow – If you want to do your part in conserving water all while saving money on your water bill, these efficient shower heads are designed to do both.
LED – You'll have a party every time you shower with these innovative shower heads that have built-in LED lights. Some even change color according to the water temperature.
Rainfall – These shower heads are designed to mimic the feeling of softly falling rain. These go overhead, either with an extended shower arm or ceiling mount, to provide full body coverage.
What are the Advantages of Owning a Shower Head?
If you have a shower in your home, a shower head is an absolute must. Without a shower head, you're not going to be able to take a shower. If you're thinking of replacing an old shower head, there are many advantages to owning a more updated version. For one thing, shower heads now meet federal guidelines for output, so a new shower head helps you save water and money. Modern heads are also designed to look more stylish, so they enhance the look of your bathroom.
See Also: The Top 10 Most Sylish Shower Rods for Your Bathroom
Who are the Contenders for Best Shower Head?
WaterBella Stainless Steel Shower Head – Experience a rainfall showerhead without spending a fortune with this durable stainless steel model.
Moen 3838P Four-Function Shower Head – This sleek, elegant, and durable shower head, available in a variety of finishes, will look great in your bathroom for years to come.
H2oVibe Rain Showerhead Jet – This product takes singing in the shower to the next level. Enjoy plenty of water pressure while listening to your favorite tunes.
Considerations for Choosing the Right Shower Head
Whether you're trying to pick out a shower head and fixtures for your newly constructed home or you want to replace your outdated, water wasting shower head, there are so many choices available, you're sure to find one you love. Instead of getting overwhelmed and picking the first one you see, keep an eye out for these four things so you can feel confident in your purchase.
Price
Like many others, you're probably on a budget and like to keep track of how much money you spend. Decide before you shop how much you're willing to spend on a shower head. It's also important to note that price should never be the deciding factor. Make sure that you find out about the quality, the functions, and the next three considerations in addition to the price to ensure you pick the perfect shower head.
Shower type
Next, you need to consider ease of installation. If you're more of a DIY type of person, the best type of shower head to find is one that works with your existing shower arm. If you're more experienced with plumbing and fixture installation or you're willing to take on the expense of hiring a professional, you can opt for a ceiling-mounted fixture that will look amazing in your bathroom.

Finish
You want your shower head to stand out but not in a bad way. If it does not match your décor or your other features, it just won't give you the pulled-together look you're going for. Make sure you purchase a finish that enhances your bathroom and doesn't take away from it.

Installation
If you plan on installing the new shower head yourself, look for a version that easily attaches to your shower arm. These can be installed in just minutes, and you don't have to be a professional to get the job done. However, if you're going for a completely different look, you may want to check out a ceiling-mounted shower head or even a shower panel. These typically require installation by a professional plumber.
Price
WaterBella Stainless Steel
Rainfall shower heads are all the rage, but unfortunately, many of them are just so expensive. If you want to try out these stylish and function shower heads without breaking the bank, this is the perfect option.
Moen 3838P Four-Function
Depending on the finish you choose, these Moen shower heads range in price significantly.
H2oVibe Rain Showerhead Jet
This top-of-the-line and innovative shower head is one of the most expensive with a price tag.
Shower type
WaterBella Stainless Steel
This is a wall-mounted shower head that replicates the look of modern ceiling-mounted rainfall fixtures without the hassle and expense of installing them in the ceiling.
Moen 3838P Four-Function
This is a wall-mounted shower head that fits on all standard shower arms. It swivels and offers different functions for your convenience.
H2oVibe Rain Showerhead Jet
The H2oVibe showerhead is a traditional wall-mounter shower head that is fast and easy to install in almost any shower.
Finish
WaterBella Stainless Steel
This shower head is finished in traditional high finish chrome that blends well with your other chrome fixtures.
Moen 3838P Four-Function
You'll easily be able to complement your existing features with this shower head, which comes in seven great finishes. Choose from Antique Bronze, Brushed Nickel, Chrome, Chrome/Polished Brass, Platinum, Polished Brass, and Satine.
H2oVibe Rain Showerhead Jet
This has a high polish chrome finish, and the speakers and the water side of the head itself are white.
Installation
WaterBella Stainless Steel
This shower head is easy to install in just minutes. However, an extended shower arm that brings the head out further so it can fully soak your body allows you to get the most from this shower head, and it is sold separately. If you do purchase this extended shower arm, it is also easy to install.
Moen 3838P Four-Function
You'll be enjoying your new shower head just minutes after you purchase it. It installs on any standard shower arm, and you don't even have to use tools to install it.
H2oVibe Rain Showerhead Jet
No extra steps are needed when installing this shower head. Simply remove your old shower head from the shower arm, apply new Teflon tape, and screw this in. No tools are required for installation.
Conclusion: Our Shower Head Reviews Are In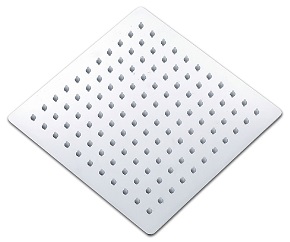 You don't even have to go outside to enjoy the rain—not when you own this quality shower head. You'll love the coverage and water flow of this modern shower head. The square design looks great in even the most modern bathrooms, which the 8-inch design saturates you from head to toe.
You won't have to worry about this shower head breaking, as it is made of solid stainless steel that will retain its durability and beauty for years to come. It resists mold, and it is very easy to clean, so you can spend more time enjoying your shower instead of maintaining your shower head.
Pros:
It comes backed with a lifetime guarantee. The stainless steel construction is more durable than plastic. It is easy to clean and unclog. It is easy to install in minutes without tools. Looks much more expensive than it costs. The price is just right. The styling is very modern and looks great in any shower.
Cons:
The extended shower arm is sold separately, creating an additional expense. It uses quite a bit of water, so you won't see a decrease in your water bill.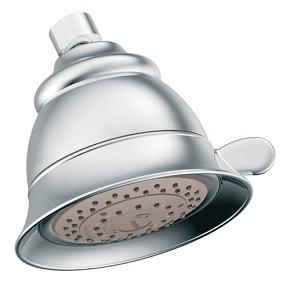 If you want to update your shower head, but you want to avoid anything that's too trendy, this traditionally styled shower head from Moen is a great choice. Moen has built a reputation on quality, and you'll see it shine through with every use of this shower head.
Start off by choosing from seven quality finishes to enhance the look of your bathroom. Once you've selected the right one, you can complete installation in just minutes. Every time you use your shower, you can choose from four different functions for a more enjoyable experience. This timeless shower head is backed with Moen's lifetime guarantee against leaks and defects, so you'll know you've bought a great product.
Pros:
It has four different functions, invigorating spray, full spray, massaging rinse, and combination. The more expensive finishes are made of durable metal. The less expensive finishes are made of high-quality plastic. It has a non-tarnish finish that does not corrode and looks great for years. The timeless design never goes out of style. It has great, even flow.
Cons:
The settings can be difficult to change. Some of the finishes are a bit more expensive than other shower heads on the market.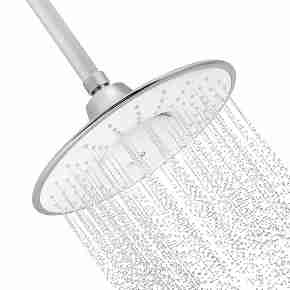 Relax and unwind listening to all of your favorite songs right from your shower head with this advanced shower head. You'll get a great functional shower head that provides plenty of even water flow with the added bonus of a removable Bluetooth speaker.
This speaker can be removed, and the shower head looks like a traditional rainfall shower head, or you can leave it in and enjoy your favorite music when you scrub up in the tub. You can even answer your phone and talk through the two-way speaker. The speaker can be used outside of the bathroom, as well.
As far as the shower itself, it has a powerful jet that provides full body coverage. It has three times more spray power than most shower heads, so you won't be disappointed in its performance.
Pros:
It gives a strong, powerful spray. The rainfall design is modern and looks great in any shower. The removable Bluetooth speaker can be used in and out of the shower. The speaker runs for eight hours, and it can be charged with the included charger, so you don't have to buy batteries. It is easy to install. Keeping it clean is easy.
Cons:
It has just one spray function. It is more expensive than other shower heads. Clogs fairly quickly.
In Conclusion
With a new shower head, showering will be the most exciting part of your day. If you want to take showering to the next level, consider the H2oVibe Rain Showerhead Jet with Wireless Bluetooth Speaker. You'll be able to relax and enjoy your music while having the benefits of a modern rain showerhead that gets you your cleanest.