Some links on this page are monetized by affiliate programs - see disclosure for details.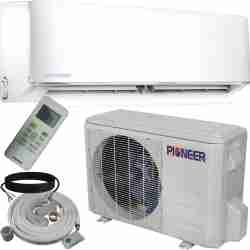 Wall air conditioners are a safe and economical alternative to both central air conditioning systems and window air conditioning units. The cooling power of a wall air conditioner will help you feel comfortable and relaxed in what could otherwise be a stifling and unpleasant environment. And fresh, clean air from a wall air conditioner can improve your focus, energy, and attitude as you go about your normal day-to-day activities.
The options out there are numerous, and in just about any of the models out there on the market, you can find a size that's right for you and the space you want to cool. Both power and energy efficiency in a stylish model are easy to find for just about every budget.
This guide serves to guide you through the process of selecting the right wall air conditioner for you. In it we have information about the key features to consider, the best wall air conditioners on the market, and tips for making the choice that's right for you.
What is a Wall Air Conditioner?
A wall air conditioner is basically a cooling system that serves one space. It is independent of a centralized system that operates by transporting cool air to various places in a building by tubes, also known as ducts. A wall air conditioner is ductless, so you concentrate the cool air in one specific area, such as a bedroom, office, home gym, family room, or other place you'd like to benefit from cool, conditioned air.
The main difference between a wall air conditioner and its predecessor, the window unit air conditioner is that the wall unit does not rely on a window being open for the unit to function. This increases your home's security while not compromising on comfort. Not only can you relax in the coolness of your home, but you can rest assured your safety is not traded off in the process.
Some refer to wall air conditioners as ductless mini splits. Ductless, as mentioned before, means the air does not go from one central place in your home through tubes (ducts)to cool off each room. Mini refers to size, because compared to a whole house system, wall air conditioners are quite small. The term split simply means there are two parts: the compressor which works outside and the air handling unit which is what goes on the wall. The wall portion is what throws out cool, dehumidified air, and it's the part of the system you see and operate with a remote control.
What are the Advantages of Wall Air Conditioners?
A wall air conditioner gives you quite a bit of flexibility in both purchasing power and air quality control. Because a wall air conditioner does not require you to embark upon a full central system for your home, you can save money while maintaining a comfortable environment. Plus, their energy efficiency saves you money! In a duct system, the duct itself can consume up to 30% of the cool air being generated. With a wall system, there's no waste.
Versatility is another advantage to installing and using a wall air conditioner. Whether you are supplying a wall air conditioner to your own home or to a rental property, you can rest assured that the quality matches any central system. Nowadays units are constructed to cool your space efficiently while saving you a bundle economically.
And wall air conditioners add safety to your home. With a wall air conditioner, you don't have to worry about leaving a window open, unlike window unit air conditioners.
Lastly, satisfying different residents' needs is a huge advantage to a wall system. It's not unusual for one person to feel quite comfortable while another wants the AC cranked up on high power.
With a wall air conditioner, you can designate a specific space to be set cooler than another. They work great as well in homes where the upstairs bedrooms are never quite cool enough with the regular central AC. Typically whole house systems base the house temperature on a downstairs thermostat, but because heat rises, upstairs rooms are hardly ever as cool as the rooms downstairs. A wall air conditioner can fix this problem easily!
What are the Types of Wall Air Conditioners?
Most wall air conditioners are similar in that the compressor goes outside and the air handling unit, the part that shoots cool air into the room, is installed inside and fits on the wall.
The main difference between wall air conditioners is size. This refers to both physical size and the amount of Btu's of energy they produce.
Btu is simply a unit of heat energy. The higher the Btu rating, the more powerful the unit is in cooling the air. The Btu rating for wall air conditioners ranges anywhere from 9,000 Btu's to 36,000 Btu's. Generally speaking, most consumers looking for wall air conditioners for home use choose models rated at 12,000 Btu's.
With wall air conditioners, you have the option to go with single zone (one room) to multi-zone, where the compressor answers to several different air handling units. Each unit is individualized in the way it responds to the remote, therefore you don't have to cool each room simultaneously when the compressor is on. You have the convenience of being able to cool multiple rooms with the flexibility to cool each one as you wish.
What Wall Air Conditioners are the Best on the Market?
Innova Ductless Mini Split Air Conditioner
The Innova is energy efficient and super quiet.
Pioneer Air Conditioner Inverter+
The Pioneer has enhanced Smart features that give you more flexibility.
Alt-Con Air Conditioner
The Alt-Con is a good basic wall air conditioner. It's a great option if you want a simple to use and easy to operate system.
Features to Consider
Energy Efficiency
Look for eco-friendly wall air conditioners because these are the ones with the best energy efficiency. Eco-friendly refrigerant, or liquid coolant, is recommended over Freon, in fact some grades of Freon will be unavailable in the near future. Plan ahead and get a unit that will be serviceable for years to come. Another aspect of energy efficiency is a the unit's programmable features. If you can set the unit to meet your needs during the day and night, then you will have the option to save both money and resources. Look for a unit that gives you this option rather than just a simple on/off switch.
Warranty
If you are going to spend money on any appliance, it's a good idea to really check out the warranty so that you know when and how you'll be covered if the need arises. Regardless of a product's great reputation, mechanical issues can and do arise. Make sure you can protect your purchase with a comprehensive warranty that does not put too much of the burden upon you if you do need to request repairs.
Cooling Power
The Btu (British Thermal Unit) is the measure of power in any air conditioner. With wall air conditioners, the Btu tells you how many units of heat are converted into cool, dehumidified air. Large systems convert 36,000 Btu's while small ones convert 9,000 Btu's. The power you want is determined by the amount of space you are cooling. A typical unit for a space in your home will work well if you go for around 12,000 Btu's. Of course, the higher the Btu power, the higher the price.
Sound
Most people go for low noise units. Most wall air conditioners on the market today are very quiet to the point that you hardly notice them. If your unit is making a lot of noise, chances are it needs attention! Look for low-noise in the description of any unit you consider.
Maintenance
Nowadays appliances are likely to have self-diagnostic features that let you know when something is amiss. A good quality wall air conditioner will let you know when refrigerant is leaking, the compressor needs attention, or if anything mechanical or computer oriented is not functioning properly. The sooner you can address potential issues, the better for the life and health of your system, so seriously consider purchasing a unit that adds this benefit and peace of mind, because let's face it – analyzing the workings of an air conditioner is not a skill most of us have. Let the machine tell you when it's not working well, and follow up ASAP.
Energy Efficiency
Innova
The Innova uses inverter technology that allows the compressor to change speed to meet the demand of the cooling needs. Because it doesn't turn on and off, it does not have as many surges as some other models which means less wasted power.
Pioneer
This system also uses inverter technology. Night mode adjusts the temperature based on body temperature, so it is responsive and not wasteful. With power outages, the system kicks back on when power is restored to pre-sets so it will not overcompensate.
Alt-Con
The Alt-Con is a good basic efficiency unit.
Warranty
Innova
This wall air conditioner has a one year parts warranty. Be forewarned that the warranty is void if it is not installed by a certified HVAC professional.
Pioneer
The Pioneer has a one year parts and labor warranty.
Alt-Con
This warranty is the best around: 2 years on parts and 5 years on the compressor.
Cooling Power
Innova
The Innova is a small unit with a lot of power. Because of the inverter, it maintains cool at a constant, therefore it does not have to undergo big bursts of power.
Pioneer
This unit is powerful! With the inverter, it maintains temperature and quickly adjusts when you reset the unit.
Alt-Con
The Alt Con cools quickly with a variable speed compressor.
Sound
Innova
This unit operates at a hush! You will forget it's even on.
Pioneer
The Pioneer is relatively quiet.
Alt-Con
The Alt-Con is pleasant as far as noise level.
Maintenance
Innova
The Innova has message codes for regular maintenance issues.
Pioneer
This unit has many additional features, such as cloud access with indicators when maintenance is required. You can be alerted even if you are nowhere near the unit.
Alt-Con
Maintenance indicators help you know when your unit needs service.
Our Reviews Are In
Best Cheap: Air-Con Air Conditioner
Pros:
This is a good basic wall air conditioner. It is efficient, affordable, and set up to run on currently well rated refrigerant.
Cons:
This unit does not have the bells and whistles its competitors have. Nevertheless, it will meet the basic needs of anyone wanting to improve upon central air or window unit options.
Best For the Money: Innova Air Conditioner
Pros:
The unit is very quiet in all modes (cooling, fan, and dehumidifier). It is efficient and cools quickly. Also, it runs on 110 volts, so no need for additional power.
Cons:
Warranty void without professionally certified installation.
Best Overall: Pioneer Air Conditioner
Pros:
Having Smart features, there is so much more you can do with this unit. The cloud feature and remote access make this one ideal for a vacation rental property or for the person who travels often. For home use, it responds to the user and makes cooling intuitive.
Cons:
The warranty void is something to watch out for. Be aware and make sure you have it installed by a certified HVAC expert.
Conclusion
Wall air conditioner options are abundant, and you can find one that is both energy efficient and affordable. Whether the unit is cooling your office, bedroom, or just about anywhere you want to feel cool and relaxed, you can enjoy a wall air conditioner that runs smoothly and quietly so you can concentrate on what's important to you. New technology is making many appliances, including wall air conditioners, easy to use remotely. In addition, newer features enhance the intuitive nature of Smart technology allowing your unit to respond to your needs at different times of the day. This guide should get you moving in the right direction in finding the wall air conditioner that is best for you and your individual cooling needs, so stay cool and enjoy the benefits of the latest in wall air conditioning technology.