Some links on this page are monetized by affiliate programs - see disclosure for details.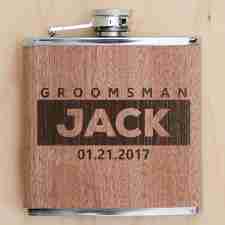 Your wedding is drawing nearer, and with each passing day you are getting closer to tying the knot with the woman that you love. But before that happens, there are other things to properly take care of. One of these things is your bachelor party. Your bachelor party is your last chance to go out with your friends as an unmarried man. These friends have supported you and helped turn you into who you are today. You are undoubtedly grateful for their support.
But what can you do to show them that? You might consider giving them bachelor party favors. Bachelor party favors are gifts for the invitees of your bachelor party; something to show them that you appreciate their past and support.
These are the Top 10 Best Bachelor Party Favors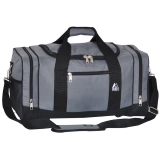 The truth of the matter is that, regardless of what we do and where we go, we always have a need for more luggage. So, even though it's not a traditional bachelor party favor, you should consider purchasing this Everest Crossover Duffel Bag for the members of your bachelor party group.
Reasonably-priced and made out of 600D polyester, it's a high-quality, practical favor that you can give to your friends without breaking the bank. With tons of storage compartments and a padded shoulder strap, it will make it beyond easy for your friends to pack and transport their belongings in the event of future travels.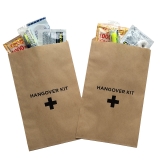 It's no mystery that most bachelor parties involve the imbibing of alcohol beverages; and heavy imbibing at that. And with intense drinking normally comes an intense hangover. For that reason you should purchase these Design Corral Hangover Bags.
Made out of brown paper, they sport a printed medical cross as well as the words "Hangover Kit" on their fronts. Buy some bottles of water, some headache medicine, and anything else that will help your friends get over their almost-inevitable hangovers. Stuff those items in this bag, and you're ready to go.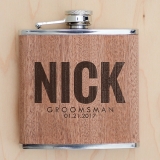 As we just mentioned, at most bachelor parties, there's going to be quite a bit of drinking going on. Why not keep within that festive, drinking spirit by getting your friends these personalized flasks by Factory eNova?
With a fine wood exterior, they can be equipped with a number of different painted designs. All you have to do is contact the company and let them know exactly what you'd like. Capable of holding up to 6 ounces of liquid, these flasks are great favors for alcohol-themed bachelor parties.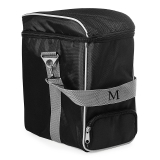 Regardless of what they are, practical gifts are always well-received by anyone who receives them. These types of gifts are great because they serve a true, everyday function. That's why we suggest that you purchase these Cathy's Concepts Personalized Tailgate Dispenser Coolers for the members of your bachelor party group.
With heavy-duty nylon exteriors, these coolers possess foil-lined interiors designed to keep drinks and other food cold all throughout the day or night. Designed with a personalized block letter on their straps, you can choose any letter in the English alphabet for the members of your bachelor party group.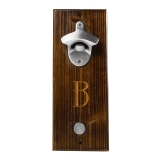 If your friends drink alcohol on the night of your bachelor party, they're probably also going to drink alcohol long after it. So, in keeping with this alcohol theme, you might consider getting your friends these Personalized Rustic Wall Mount Bottle Openers by Cathy's Concepts.
With a firewood backplate and an attached zinc bottle opener, these wall mounts can be personalized with any block letter from the English alphabet. Also equipped with a magnetic bottle cap catcher, they will ensure that your friends never have to worry about losing stray bottle caps under their many pieces of furniture.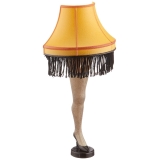 If you and your friends have never seen the 1983 Christmas classic, 'A Christmas Story,' you probably won't be interested in this gift. However, if you have seen it, you might very well be interested in this gift. It's, of course, the iconic Leg Lamp. Except this one's a nightlight.
Standing in at 8 inches tall, it is a miniature replica of the lamp from the timeless Christmas classic. If the members of your bachelor party group have a sense of humor and like the movie, they will undoubtedly love this gift.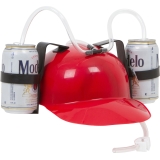 Though it's not true for all bachelor parties, at a lot of bachelor parties, the entire point is to get very drunk and act very stupid. There's no better way to do this than by getting these Beer and Soda Guzzler Helmets by EZ Drinker for the members of your bachelor party group.
While they're truly just novelty gifts, these helmets are capable of holding two beverages at one time, allowing you and your friends to drink hands-free all night. Available in five different colors, including red, pink, yellow, blue, and green, they are the perfect favor to help lighten the mood at your bachelor party.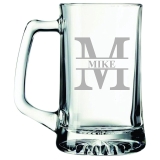 If you're looking to get your friends a rather traditional bachelor party favor, there are a few items you could purchase. One of these items is this Personalized Beer Mug by C&M Personal Gifts.
Capable of holding up to 25 ounces of liquid, and constructed out of pure glass, they allow you to engrave one block letter and one name onto each mug. Perfect for holding large amounts of alcohol, your friends will certainly not balk at these oversized beer mugs.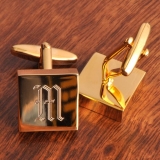 While it's not the case for all men, the truth of the matter is that many men don't possess any nice clothing accessories. For that reason, we suggest that you purchase these Brass Cufflinks by JDS Marketing for the men in your bachelor party group.
Made out of polished bronze, you can engrave them with one initial, allowing the members of your bachelor party to to represent themselves with class and style. Though you might not think that this would make a good bachelor party favor, we think you'd be pleasantly surprised by the reactions of your friends.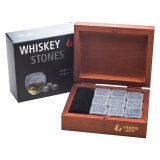 Maybe you and your friends are classy drinkers. Maybe you're not into debauchery, but a nice, relaxing drinking session around the card table. If so, you might consider giving these Premium Whiskey Stones by Vista to the members of your bachelor party group.
Coming in an attractive wooden box, this set contains 9 soapstone rocks which are capable of cooling drinks without diluting them. Not only will they help get your friends' drinks to their ideal temperatures, they'll do it with class and style.
What Makes a Great Bachelor Party Favor?
Considering it's your bachelor party, and considering that your friends probably aren't expecting to get anything in the first place, truly anything will make a quality bachelor party favor. However, this doesn't mean that you shouldn't put any thought into it. If you really want to knock your friends' socks off, there are some things which must be considered.
Even if your friends act like they don't care about gifts, they're sure to be happy that you appreciate them enough to get them something. To get them something that they'll be able to make good use out of, you should consider these few things.
Consider the Group's Collective Personality
While every single human being on this planet has his or her own distinct personality, friend groups tend to develop a sort of collective personality when they're with each other. For example, some friends may bond over video games, while others may bond over sports.
You should consider what it is that ties you and your friends together. What is it that drives your friendship to be so strong? Once you have done this, you can think about purchasing a gift that ties into your mutual interests.
Work Within Your Budget
If you're having a bachelor party, it means your wedding is coming up soon. It's no secret that weddings can be very expensive. Because of this, you want to make sure that you don't spend too much money on bachelor party favors when you should be spending it on something else.
Before looking for anything to buy, you should set a minimum and maximum price that you're willing to pay. After you have done this, you can start searching for something that all your friends will enjoy. There is sure to be something within this price range.
Think Practically
While your friends will undoubtedly be grateful to receive anything at your bachelor party, they will be ecstatic if they receive something which they can use in their everyday lives. And every time they use it, they'll think of your friendship and how much fun your bachelor party was.
So, while it's not absolutely necessary, and while there are other great gifts that do not fit this criteria, you should consider giving them something practical. This will set your bachelor party favor apart from the majority of other bachelor party favors they receive.
You Can't Go Wrong With Funny
While it may not be true for all friend groups, for most, they share a sort of uniform sense of humor. They laugh at the same things. They understand the same references. It's one of the truly great parts of having a friend group.
For that reason, you should consider giving your bachelor party group favors that are designed to make them laugh. These types of favors will turn into mementos that remind them of you, your friend group, and your bachelor party experience.
Types of Bachelor Party Favors to Consider
Practical Gifts
As we noted above, while any type of gift will be appreciated by your friends, a practical gift will be received with open arms. Most bachelor party favors come in the form of customized mugs or other customized items. While these serve a purpose, they probably won't see as much future use as some other type of gifts.
Practical Gifts include everything from luggage, to tool sets, to anything else that helps your friends get through life. Give your friends a practical bachelor party favor, and they'll be excited as they possibly could be by a bachelor party favor.
Gift Cards
They may not be the most personal gifts, but we doubt there's a single person in your bachelor party group that would be upset to have received a gift card to a nice store or restaurant. If you can't think of any other type of gift, you should definitely consider it.
What makes a good gift card all depends upon the preferences of your specific friend group. For instance, if your bachelor party group likes hunting and fishing, you might consider giving them all gift cards to a hunting and fishing superstore. They'll be sure to love it.
Alcohol Accessories
Though it doesn't make an appearance at all bachelor parties, at most bachelor parties, there is alcohol present. In keeping with the alcohol theme, you might consider purchasing some alcohol or alcohol-related items for the men in your bachelor party group.
Popular alcohol-related bachelor party favors are personalized, engraved mug with the names of your bachelor party group's members on them. Other options include shot glasses, flasks, or various different alcoholic beverages.
Novelty/Gag Gifts
Though they might not be the most meaningful gifts, novelty and gag gifts are typically pretty popular at bachelor parties. Because they're designed to be funny, they typically help to lighten the mood and create a good atmosphere to start the party.
Gag gifts include hangover kits, beer helmets, and anything else that's corny, silly, or hilarious. While not all bachelor party groups are going to be excited by these types of gifts, others undoubtedly will be.
How to Choose the Best Bachelor Party Favor for Your Bachelor Party Group
Depending on who you are, and depending on your particular relationships with your bachelor party group's members, choosing the right bachelor party favor can be a little difficult. However, there's no reason to worry. While there are tons of failsafe favors such as engraved beer mugs and gag gifts, there are also tons of items available that perfectly suit the consensus personality of your particular friend group.
In the end, you know your bachelor party group better than anyone else does. Think about what brings you guys together. What do you bond over? Once you've considered this, you can go out and buy an excellent bachelor party favor for your entire group. The most important thing is that, regardless of what you give them, they will be happy to have received anything.
In Conclusion
While it certainly isn't the last time you guys will get to hang out together, your bachelor party very well could be the last time you and your friends get to hang out together before you get married. And while you're undoubtedly looking forward to marrying the love of your life, your friends are undoubtedly excited for you. Show them that you appreciate their support by getting them some excellent bachelor party favors. While you may not think so, these favors really will mean a lot to them.