Some links on this page are monetized by affiliate programs - see disclosure for details.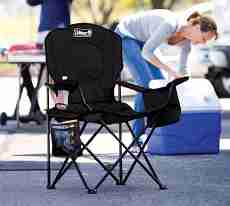 If you're a lover of the great outdoors, you probably know that there are few things better in life than sitting outdoors relaxing by a campfire. Whether you're roasting marshmallows or hot dogs, singing songs, telling stories, or talking to your friends and family out in the wilderness. Camping is so popular with many people including families because it takes us away from our busy lives to enjoy the moment. Instead of worrying about work, dealing with emails and phone calls, and stressing about bills, camping lets us live a simpler life if even for a day or two.
You have your tents and you have your firewood. You have yummy snacks to roast over the fire, but what else do you need? How about some comfy chairs to sit in so you can kick back and enjoy being outside?
Side by Side: The Top Rated Camping Chairs of 2018

Introduction: A Guide to Camping Chairs
Camping chairs simply put, are portable chairs that you bring with you while you go camping and can also be used for other fun events like the beach or tailgating. You use these chairs to sit around the fire, to fish by the lake, or to rest and relax without having to sit on the hard ground. Camping chairs lightweight and they're designed to easily fold up so they're very portable, portable enough to carry from your car to your campsite, down to the lake, or anywhere else you need to take it.
Most camping chairs come with convenient carrying bags for easy carrying and so the chair doesn't unfold as you're moving it around. Camping chairs are typically made with nylon so they dry easily if left outdoors in the rain, and they may even have cupholders and other features for your convenience while you're outdoors.
What are the different types of Portable Camping Chairs?
Before you load up the car with your camping gear, make sure you're packing plenty of camping chairs so everyone can be comfortable. Before you begin shopping for camping chairs, make sure you know which types are available so you can make a purchase that best fits your needs.
Minimalist chairs
These chairs are the most basic of the three types, and typically the least expensive. These may be designed like armless chairs or they may resemble stools. These are best for when you have less space to pack a lot of chairs of if you don't plan on using a chair for long periods of time.
Standard chairs
These chairs are much like minimalist chairs, but these typically have armrests, making them more comfortable. These are also usually a bit wider, making them ideal for a larger person.
Luxury chairs
These chairs bring the comfort of home into the outdoors. These chairs, which are the most expensive, may be able to recline and may even have leg rests or deigned as loveseats so you can lounge on your next camping trip.
What are the Advantages?
The main advantage of owning a camping chair is that you can easily pack it with you while you go on vacation. These are most used when out on a camping trip, but they're also great for other vacations as well, including a day at the lake or the beach.
You can use them outdoors at your home, or you can even take them with you to events like little league games where there may not be a lot of seating. The point of a camping chair is to always have a comfortable chair to sit in, no matter where you go.
Considerations for Choosing the Best Camping Chair
Before your next camping trip, make sure you're loaded up with comfortable chairs for the whole party. Before you buy, though, keep these four considerations in mind to ensure you get the best chairs at the right price for your budget.
Warranty
If you invest a bit of money in your chair, you expect it to last through more than just one camping trip if all you're doing is sitting. Look for a model that comes backed with a manufacturer's warranty against potential defects that could cause the chair to break or have issues prematurely.
Weight
If you're going for a long trek out in the woods to get to your campsite, you don't want to tote a big, heavy chair, so make sure you're aware of how much the chair weighs. You may also want to consider a smaller, more lightweight chair if you have a lot of other supplies and gear that you need to carry with you.
Convenience features
If you don't want to set your drink on the ground or you want side pockets to hold your most important items like your purse or phone, look for an upgraded chair that offers these additional features. Of course, you typically pay more for chairs loaded with these extras, so if you're on a budget, consider what's most important to you.
Warranty
Coleman Camping Oversized Quad Chair with Cooler
A 1-year limited warranty protects this chair from defects that were caused by the manufacturer that causes the chair to break with normal use.
ALPS Lightweight Extra Heavy-Duty Portable Chair
This chair comes with a 1-year limited warranty that covers defects from the manufacturer, not typical wear and tear.
Bliss Gravity Free Canopy Recliner
This chair is backed with a 1-year limited warranty that protects against defects.
Weight
Coleman Camping Oversized Quad Chair with Cooler
At 7.6 pounds, this chair is lightweight enough to easily sling over your shoulder for long walks through the woods or across sand at the lake or beach.
ALPS Lightweight Extra Heavy-Duty Portable Chair
This chair weighs in at 8.8 pounds. It's a great lightweight option to take anywhere with you when you need a comfy seat.
Bliss Gravity Free Canopy Recliner
With a weight of 23 pounds, this is one of the heavier camping chairs, so it is not recommended for carrying for long distances.
Convenience features
Coleman Camping Oversized Quad Chair with Cooler
You can relax in comfort with great features like adjustable arm rests, multiple cup holders, and a storage pocket.
ALPS Lightweight Extra Heavy-Duty Portable Chair
This chair comes with features designed for your comfort, including a padded design, cup holders, and storage pockets.
Bliss Gravity Free Canopy Recliner
This chair is loaded with all of the features you need for comfort in the great outdoors, including a headrest, drink tray, and a super comfortable ergonomic design.
The Results: All Reviews Are In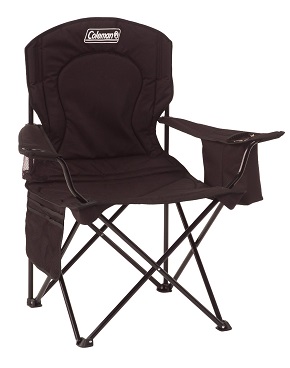 If you're looking for the perfect combination of affordability and comfort, you've found it in the chair from Coleman, a leader in camping supplies. This chair is available in three great colors, Red, Black, and Blue, and it boasts features found on more expensive camping chairs.
You'll have dual cup holders that hold up to four cups or cans, as well as an additional mesh holder for a fifth drink, so you won't even have to get up to refresh your drink. It has a handy storage pocket for books, magazines, and your personal items. It supports up to 300 pounds with ease, and it's extremely lightweight and comes with a carrying/storage bag. It's durable, compact, and very comfortable.
Pros:
Very lightweight
Inexpensive
Padded for comfort
It has multiple cup holders
Heavy-duty steel frame for support
The armrests adjust for comfort
It is easy to fold up and set up
It has a built-in cooler option to keep drinks cold
Cons:
There is very little back support
The fabric shows wear easily
The arms tend to break more easily than those on more expensive chairs.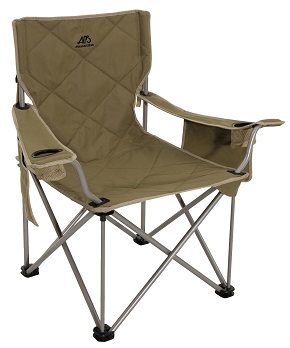 This chair offers superior comfort when compared to less expensive chairs. It has a padded seat and back, so you can sit in comfort anywhere you go. It has dual armrests, as well as a cup holder built into each. Each arm has a hanging pocket for you to store your keys, phone, and other smaller items.
It has a sturdy powder coated steel frame that's designed to hold up to 800 pounds, almost three times as much as the average camping chair, so it's perfect for people of all sizes. It comes with a convenient carrying bag for portability, so you can easily carry it to your campsite, a picnic, or anywhere else where you need a chair.
Pros:
Very durably made
It has a very high weight limit
Padding for extra comfort
The lightweight yet rugged canvas is high-quality and withstands the elements
Cons:
The seat supports can be felt through the padding, which may bother your legs.
Seams may begin to unravel over time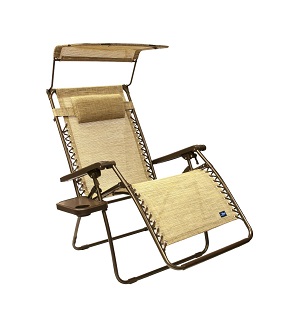 If you dread outdoor excursions because most camping chairs put a strain on your back, you can relax in this great recliner, designed for use outdoors. Its zero-gravity design allows you to recline in total comfort without putting strain on your back and joints. It even helps improve circulation.
It's made with a durable non-stretch yard that's known for its superior strength, and it comfortably holds up to 360 pounds. The seat locks into place so you don't have to worry about being supported, and it comes with great features including a sunshade, comfy headrest, and a removable drink tray. This is the best camping chair because it offers superior comfort and luxury anywhere you go.
Pros:
It reclines and is very comfortable
It has features like a drink tray
Folds for storage and portability
It has ergonomic armrests for additional comfort
Durable materials
Strong steel frame
Cons:
It is expensive
It is much heavier than other camping chairs
In Conclusion
When you go out into the wilderness to camp, hunt, fish, swim, or participate in other fun outdoor activities, you typically don't mind leaving behind all of your worries. One thing you shouldn't leave behind on your excursion, however, is a comfortable chair.
If you want to kick up your heels and relax, the Bliss Gravity Free Canopy Recliner gives you a comfortable space to enjoy your surroundings. This chair is one of the more expensive models available, but its comfort features and quality construction are truly unmatched.