Some links on this page are monetized by affiliate programs - see disclosure for details.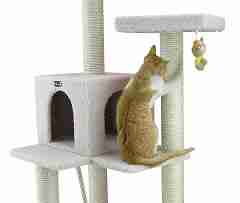 If you own a cat, you know that he's just as much a part of your family as anyone else. This is why you try to make your pet as comfortable as possible while in your home, whether it's by keeping his litter clean, feeding him good nutritionally balanced food, or playing with him to keep him active and happy.
Even though your cat may love living in your home, he may want a place of his own. This doesn't mean you should get rid of your pet, of course. It means you should give him his own little place for relaxing, climbing, playing, and even sleeping. What better way to do that than with a cat tree?
Compare: Top Ten Best Cat Trees of 2019

What is a Cat Tree? An Introduction
Cat trees are pieces of furniture that are placed inside of your home to give your cat his own private space. These structures may be built with several different levels, have toys integrated into the design, have a scratching post to prevent your furniture from getting damaged, and have little hooks and hiding spaces where your cat can rest and sleep.
These trees are most often made with wood for stability and durability, which is then covered with carpet which is more appealing to cats and also allows them to scratch. These structures are an excellent way for your cat to get his or her daily activity, as well as functioning as a retreat when the rest of the house just gets too overwhelming.f
What are the different types of Cat Trees?
If you want to give you cat his own space with his very own furniture, you need to know what to expect before making your purchase. These trees come in many different styles and price ranges, so the first step to narrowing down your choices is to know the difference between all of the available types, and choose the one that will work best for your feline.
Trees with perches
These come in a variety of different sizes and styles, and they have perches that your cat can use to survey the surroundings of your home. A structure may have just one perch or it may feature multiple ones positioned at different levels throughout the tree.
Cat condo
This is a type of tree that is very basic. It is a structure that is typically made of wood and covered in carpet that has an opening that's large enough for your cat to get inside. There is plenty of space inside for your pet to relax or go to sleep. Cats love exploring, and some may play for hours in an empty box. This expands upon that concept to provide you with a more permanent piece for your pet.
Modular trees
Some trees are already assembled and the individual pieces cannot be removed. With modular models, you have to assemble the tree yourself. You can remove parts as needed, and on some products, you can even switch pieces around to customize it for your cat.
What's the Best Tree for My Cat?
Not all cats, and not all cat trees, are the same. You'll need to identify the type of tree which your cat will like the best. Otherwise, your cat might not want to play with the tree at all.
Consider your cat's normal level of activity. Is your cat young and energetic? He or she will probably enjoy a tree with multiple perches, ropes and other room for activity. However, older cats often prefer trees with higher perches and covered areas.
Also, make sure the tree is large enough for your cat. Selecting the right size tree isn't terribly difficult if your cat is an adult. But it can be a little trickier if you're buying for a kitten or younger cat. You want the tree to fit the cat not only today but also after he's fully grown.
What are the Advantages of Owning a Cat Condo?
If you have a cat, a cat tree is certainly something you should consider purchasing. Not only does it give you cat an escape when he or she is feeling overwhelmed, but it also gives your pet a place to play by himself or with other pets. Trees with multiple levels that require climbing and jumping also give your cat the exercise he or she needs to stay healthy and at a comfortable weight.
Which brands will be our contenders for Best Cat Tree?
Your cat will love climbing, playing, running, jumping, and then taking a relaxing nap in this quality structure, which measures a full 53 inches tall at the highest point. It is easy to assemble, and it comes with loads of great features your cat will love, including a faux fleece covering, a ramp for easy climbing, a dangling toy, and several high purchases. The best part about this tree is that you won't spend a fortune, either, as it is one of the most affordable multi-level structures available.
This sturdy tree lets you cat see the world from several different angles. The highest point is an amazing 68 inches, so he or she can sit or lie down and watch everything that's going on around the house without being disturbed. This model features a cozy nook for napping, multiple purchases, and a toy for batting and playing. It is easy to assemble, very sturdy, and priced affordably.
Doesn't your pet deserve the best? Give him his own fun retreat with this leopard print tree, which has everything needed for hours of entertainment each day. It stands 72-inches tall and has multiple nooks for hiding and sleeping, perches for people (or other pet) watching, toys, and much more for a full day of fun, exercise, and maybe even a nap or two. The leopard print is a great stylish touch that makes this a top-selling tree for cats.
Considerations for Making the Right Purchase
Consider a cat tree just like your bedroom. Whether you're overwhelmed and just need a break from everyone in the house, you want a comfy place to sleep, or you just want to have fun doing things you enjoy, your bedroom is your retreat. When viewing these structures in that way, it can help you best decide what may work best for your cat. You want a place where your pet can feel fully comfortable to play, roam, climb, and just feel at ease. Keep that in mind, as well as these four features, before you make your investment.
Price
These play structures range in price from less than $100 to several hundred dollars for a top-of-the-line model. Determine your own budget, but also consider the next three points to make sure you get the best bang for your buck.
Fun features
You want to make sure your cat is entertained so the structure will be used. You don't want your pet to be bored and completely ignore the huge structure sitting in your living room. This is why you should look for lots of features, including toy attachments and hiding spots.
Size
You don't want the tree to completely dominate your living space, so make sure you inspect height, width, and length dimensions to ensure it will fit in your home without taking up too much space.
Weight
If you want to be able to move your tree around the house for any reason, whether it's to give your cat a change of scenery or to move the tree out of sight when you have guests coming over, you want it to be lightweight, yet still heavy enough to offer complete stability for the safety of your pet.
Price
Armarkat 53-inch Tree
This is one of the more affordable multi-level trees that you'll be able to find that has lots of features your cat will love.
Armarkat 68-inch Tree
No surprise, this mid-priced tree that has a retail price a bit higher than the 53-inch version.
Go Pet Club Cat Tree Leopard Print
This is considered a high-end tree, costing the most out of the comparison group.
Fun features
Armarkat 53-inch Tree
This tree has lots of things for your cat to do, including a ramp for easy entry and exit, three perches, and an enclosure that's just right for napping.
Armarkat 68-inch Tree
Your cat will love exploring the perches, coves, toys, and scratching posts spread out over five different levels.
Go Pet Club Cat Tree Leopard Print
Even the most finicky cats will love this tree, which has fun dangling toys, multiple levels, two covered hiding spots, ramps, and scratching posts.
Size
Armarkat 53-inch Tree
This tree measures in at 24" x 22" x 53", so it's a good size even for the smallest rooms.
Armarkat 68-inch Tree
This tree measures in at 31" x 25" x 68".
Go Pet Club Cat Tree Leopard Print
At 50" x 26" x 72", this is the largest tree on the list.
Weight
Armarkat 53-inch Tree
This tree weighs approximately 35 pounds, so it is not too difficult to move around your home as needed.
Armarkat 68-inch Tree
This tree weighs just around 55 pounds, and it easily supports up to 60 pounds.
Go Pet Club Cat Tree Leopard Print
With a weight of just around 65 pounds, this tree isn't impossible to move, but it's best left in one spot.
Conclusion: All Final Reviews Are In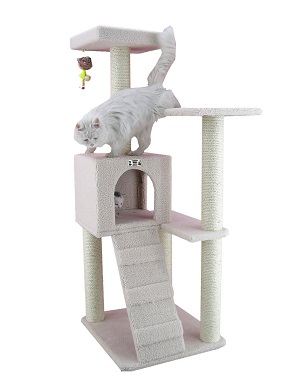 Give your cat a new view of the house with the tree, which stands 53-inches tall. It is covered in a soft faux fleece that is appealing to cats, and it's also great for scratching, keeping your furniture untouched. It has three perches at different heights and positions, a dangling toy for batting, and a ramp that's good for entering and exiting an enclosed hiding spot, as well as for exercise.
It's durable and sturdy, and it easily holds up to 40 pounds so it works for multiple pets. It's easy to assemble, and while it offers plenty of room for your pet, it doesn't take up too much of your floor space. Best of all, it's priced competitively, making it a very budget-friendly choice.
Pros:
It's sturdy
It has lots of fun things for cats
It's easy to assemble
6-month warranty against defects
Built-in scratching posts to help save your furniture
Comes with all tools needed for assembly
Cons:
It may be too small for very large cats
The base may need to be weighed down with something heavy if cats are very heavy or extremely active, as it may tip over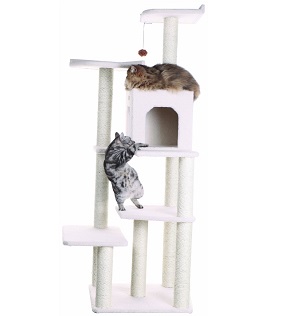 Provide your cat with five levels of fun and exercise with this great structure. Your cat will have a blast climbing and jumping up five levels of perches, a hideaway spot, and a swinging toy that's fun to bat around. With 10 separate scratching posts, you won't have to worry about your cat destroying your furniture with its claws ever again.
It is easy to assemble, and it comes with the tools needed to have it ready for play in no time at all. It's sturdy, stable, and safe for pets up to 60 pounds, so it's great for one cat or even a few. It is made of pressed wood and covered with soft faux fleece that's ivory, so it blend in with almost any décor. It comes backed with a 6-month warranty to protect against issues caused by defects in craftsmanship.
Pros:
Easy to assemble
Sturdy
It has five levels and a 68-inch height for maximum fun
Easy to climb, even for pets who have been declawed
Cons:
It's a bit more expensive than other trees
If your cat is very active, heavy, or multiple cats will be on it at once, you may need to add weight to the base for added stability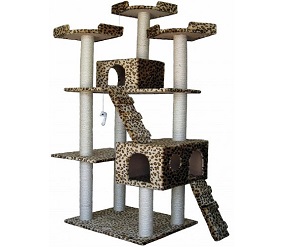 Give your cat a stylish pad of his or her own with this great tree from Go Pet Club. The first thing you'll notice is the stylish leopard print faux fur that's soft and relaxing for your pet. The first thing your cat notices may be more of a challenge because there is a lot he or she has to enjoy on this great structure.
There are multiple levels, two hiding spots that are great for naps or secretive people watching, large perches that offer plenty of space for even the largest cats, two toys for batting around, ramps that are fun and give your cat great exercise, and scratching posts on all sides. It is very sturdy, so you don't have to worry when your cat (or multiple cats) is playing on this playground that's just for felines.
Pros:
It is extremely stable
It has lots of play features
Sturdy enough for large and medium cats
It has a fun and stylish print
It is very easy to assemble
Cons:
More expensive than other trees
It is quite large
Your cat will have fun and stay fit and healthy when playing on a great cat tree that functions as his or her own private space. If you really want to give your cat the best, the Go Pet Club Cat Tree in Leopard Print is a great investment, and our pick for best cat tree. It's stable enough for larger cats, has plenty of room for multiple cats, and offers fun and functional features that will keep your feline occupied for hours.