Some links on this page are monetized by affiliate programs - see disclosure for details.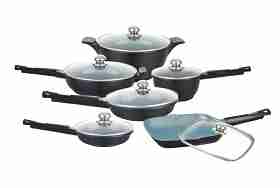 Whether you're a master chef or just starting to cook for yourself, you have to have the right kitchen supplies. One of the most important things you should have in your kitchen for any meal is a quality set of cookware. Whether you're just heating up a can of soup or you're making a full gourmet meal, cookware is essential for getting the job done right.
Whether you're replacing an old, worn set or buying a new set when you're out on your own, you might want to give ceramic cookware a try.
Introduction: What is Ceramic Cookware?
Ceramic cookware is cookware that has a ceramic coating, as opposed to Teflon. This coating prevents your cooked food from sticking to the pot or pan, which not only burns your food but also ruins your cookware. Teflon has come under fire in recent years because some studies have shown that it might not be safe because it can release toxic gases into the air. Those who have these concerns can purchase cookware with a ceramic coating.
With this type of cookware, you don't have to worry about using cooking sprays or oils, which can add unnecessary fat to your diet. It is seen as one of the most eco-friendly and safest types of cookware currently on the market.
You might also be interested in: Our Guide to Stainless Steel Cookware
What are the different types of Ceramic Cookware?
No matter what you want to cook, you can find pieces of cookware with ceramic coatings that do it all. Before you invest your money in new kitchen goods, take a moment to find out what types of cookware are available for you and which pieces will best fit your needs.
Ceramic pots – Pots are used to do everything from boil water for spaghetti to simmering your homemade soup. Available in a wide range of sizes, from smaller pots for heating up a side dish to a large stock pot you use for making a whole chicken.
Ceramic pans – Pans are primarily used for frying, and the ceramic coating helps prevent your food from sticking to the pan and burning. Like pots, pans are also available in a variety of sizes and for different purposes, from a large skillet for browning chicken to a panini pan with ridges for cooking delicious heated sandwiches.
Ceramic sets – Most people need multiple pots and pans for cooking more than one thing at once, as well as for making different dishes. Sets may come with several pots, a few pans, or various sizes of both pots and pans. Sets are usually more affordable than purchasing each piece individually.
What are the Advantages of Using Ceramic Cookware?
If you do any type of cooking for yourself, roommates, or your family, cookware is a must-have item. You can't cook on a stovetop without the right cookware, or else you risk burning your food or even creating a fire hazard in your home. To safely cook your food, you must use the proper cookware. Ceramic products are becoming more and more popular because they are seen as more eco-friendly, and when cared for properly, the coating does not flake or scratch off like Teflon. It reduces your need for oils, and cooking with these products helps ensure you properly cook your food so it's tasty and cooked thoroughly.
Who are the contenders for Best Ceramic Cookware Set?
Cook N Home NC-00359 Nonstick Ceramic Coating 10-Piece Cookware Set – If you've just started cooking for the first time or you don't want to spend a fortune replacing your old set of pots and pans, this affordable 10-piece set has everything you need to get started. This set is available in your choice of three colors, is designed with ceramic coating that is PTFE-Free, PFOA-Free, cadmium and lead free, and it is more resistant to scratching than other nonstick cookware. At less than $100, you'll have a quality set that is built to withstand high temperatures to create your favorite meals.
T-fal C921SG Initiatives Ceramic Nonstick Cookware Set, 16-Piece – T-fal has long been a leader in cookware, and this set shows off what the company is known for. This set comes with 16 pieces, enough for even the most advanced cook to whip up something delicious in the kitchen. You'll receive pots, pans, and handy cooking utensils for a great price. These offer superior nonstick qualities, are PTFE-Free, PFOA-Free and Cadmium-Free, are more scratch resistant than Teflon and other nonstick coatings, and come backed with a limited lifetime warranty.
Cuisinart 10 Piece Champagne Set – This cookware is both functional and stylish. This 6-piece sets comes with four pots and two pans, all in one matching metallic color. This cookware is scratch-proof, chemical-free, and can withstand temps up to 350 degrees. They are designed to heat evenly, the lids contain steam holes to prevent your water from boiling over, and can endure years of daily use and wear and tear.
Considerations for Choosing the Best Ceramic Pots and Pans
Buying cookware is investing in a product that you should expect to use on a regular basis for years to come. This is why it is extremely important that you choose cookware that you enjoy using and that is very durable and built to last through meal after meal. Before you pull out your wallet, take these features into consideration so you can ensure you make the best purchase for your kitchen.
Price
Cookware can range in price from $50 to several hundred dollars for a high-end, professional set. If you only cook occasionally or you're just learning your way around the kitchen, an inexpensive entry level set may meet your needs. However, if you want cookware that will last for many years, you'll want to invest more money in your pieces.
Warranty
You should be able to get good use out of any cookware, and this is why you need to look for a warranty on any product you would like to purchase. While warranties do not guarantee against normal wear and tear, they do protect you from flaws in craftsmanship that contribute to premature replacement of the products.
Number of pieces
If you make many different dishes and you cook quite frequently, you'll want a wide assortment of pots, pans, and lids to choose from. If you only make basic foods, you don't have much storage space in your kitchen, or don't cook often, invest in a smaller set.
Chemical-free design
One of the biggest disadvantages of Teflon is that it could possibly emit harmful smoke into your home and the environment. Any cookware that you purchase should be free of chemicals that could affect your cooked food.
Price
Cook N Home NC-00359 Set
This set comes with a low price tag, making it an affordable starter set for any household.
T-fal C921SG
This is a mid-priced set that works for most household kitchens.
Cuisinart 10 Piece Champagne Set
Also mid-priced, which is very respectable price for such a high-end cookware set.
Warranty
Cook N Home NC-00359 Set
This set is protected with a 1-year limited warranty directly from the manufacturer.
T-fal C921SG
A limited lifetime warranty fully protects your purchase when you buy this cookware.
Cuisinart 10 Piece Champagne Set
This set includes a 1-year manufacture's warranty.
Number of pieces
Cook N Home NC-00359 Set
You'll be able to whip up all of your best meals with this 10-piece set which comes with a 5-quart Dutch oven with lid, 3-quart casserole pot with lid, 1-quart sauce pan with lid, 2-quart sauce pan with lid, an 8-inch frying pan, and a 9.5-inch frying pan.
T-fal C921SG
You will receive 16 pieces with the purchase of this set, including an 8-inch frying fan, an 11-inch frying pan with lid, a 10-inch square griddle, a 1-quart sauce pan with lid, 2-quart sauce pan with lid, 5-quart stew pot with lid, and six nylon kitchen tools.
Cuisinart 10 Piece Champagne Set
This set comes with a total of six pieces for most cooking applications. You'll receive 4 pots and 2 pans with your purchase.
Chemical-free design
Cook N Home NC-00359 Set
You won't have to worry about your safety with this set which is free of lead and cadmium.
T-fal C921SG
Each piece in this set is PTFE-Free, PFOA-Free, and Cadmium-Free.
Cuisinart 10 Piece Champagne Set
There are no chemicals in this set, as it is 100% PFOA, PTFE, and lead free.
Conclusion: Our Ceramic Cookware Reviews Are In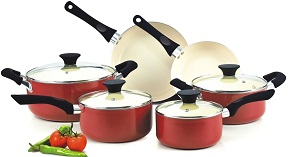 If you don't want to invest hundreds of dollars in new cookware, you won't have to with this 10-piece set, which has everything you need to make your favorite entrees in the kitchen. You'll receive four pots, four matching lids, and two frying fans so you can make everything you want in no time at all, from scrambled eggs to an intricate casserole.
This set comes in your choice of two colors, Red or Green, and its main feature is its ceramic coating, which provides you with a non-stick, chemical-free surface. This cookware is dishwasher-safe, so it's very easy to clean, it is very scratch-resistant, and the anti-slip coatings on the handles make them comfortable and easy to grip.
Pros:
It is affordable
It is free of harmful chemicals
The outside paint is heat-treated so it won't flake or fade
The thick gauge aluminum design heats evenly and prevents hot spots
Tempered glass lids make it easy to see progress without releasing heat
The set is includes a warranty
Cons:
The metal that affixes the handles tarnishes over time
Coating flakes off of handles over time
It may scratch glass cooktops
The ceramic coating may not last as long as the coating on more expensive sets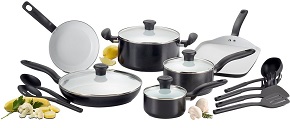 If you're willing to invest a little more money in your cookware, you won't be disappointed with the extra features you'll receive with this 16-piece set, including a lifetime limited warranty. You'll find the ceramic coating reduces your need for oils and cooking sprays, so you can enjoy healthier, less greasy food without ruining your pots and pans.
The heavy gauge aluminum makes this set durable and also contributes to even cooking. Each piece can be used on a cooktop heated up to 700 degrees or in an oven at temps up to 350. It is not for induction cooking. After using your pots and pans, just throw them in the dishwasher for easy cleanup.
Pros:
Reasonably inexpensive
It has a lifetime warranty
It is free of harmful chemicals
Comes with everything you need for the kitchen, including kitchen tools
Each piece has an even heating base for thorough cooking
The set comes in Black, Red, or Gold
Cons:
The handles may come loose over time
Nonstick coating may scratch over time with use, much sooner than on more expensive sets
They scratch and nick over time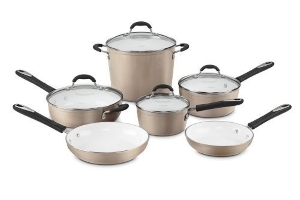 If you're a cook that uses your cookware on a daily basis, you'll want a set that's built to last. The Cuisinart 6-piece set is durable and ready for lots of heavy use. Each piece is constructed of heavy-duty, multi-layer die cast aluminum, which heats evenly and retains heat for fast cooking. The interior and exterior of this set are scratch-proof, so you can get years of use out of them.
The ceramic coating is free of harmful chemicals. These units have a unique shape and come in an attractive metallic color.
Pros:
The pieces are scratch-resistant and chemical free
They are extremely durable. The handles are very secure
Steam holes prevent boiling over while cooking
Food will not stick to the ceramic coating
Cons:
Not dishwasher safe
Doesn't possess the highest heat tolerance
The Bottom Line
In order to prepare the perfect meal, you have to have the right kitchen tools, and nothing is more important than having quality cookware that doesn't cause your food to stick and burn and heats evenly and quickly. Instead of wasting money on a set that has to be replaced after just a few months, consider investing in the best ceramic cookware set that you will own for years like the Cuisinart 10 Piece Champagne Set. Possessing a very reasonable price tag, a 100-percent scratch-free interior and exterior, a chemical-free coating, and an attractive metallic design, this is a hot deal for any household kitchen.