Some links on this page are monetized by affiliate programs - see disclosure for details.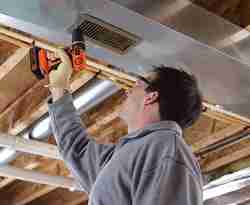 Cordless drills technology has made some impressive advancements in the past few decades. Whether you're a contractor working serious construction jobs, or just performing routine tasks around the house, there's a wide range of cordless drills to choose from. Each drill offers their own unique blend of the technologies and design quirks that are possible in today's market.
Let's take a look at what makes a good drill, and what makes a drill the right drill for the job. Armed with this info, we'll review three drills that are the best in their class, to fit three different budgets. Read on, and find the drill that's right for you.
Top Rated: Ten Best Cordless Drill of 2018

A Guide To The Best Cordless Drills
At first glance a cordless drill really is that simple, it's a tool for drilling that doesn't have a cord. Of course, there's a little more to it. All cordless drills have batteries to provide power on the go. The chuck size will determine the maximum diameter of the bits that you can use, which can limit the types of jobs your drill can handle.
Clutches give the user greater control over the depth a drill will go to, and can help prevent the stripping of screws and bits. There are a lot of factors that go into making a cordless drill, and every one of them can mean the difference between a mediocre product and an excellent one.
What Are the Types of Cordless Drills?
Light Duty
Cordless drills typically target one of three job types, ranked by the intensity of the work involved. There are small drills intended for easy tasks. These drills are good for hanging pictures, drilling through drywall, and other simple household tasks.
Medium Duty
The drills that fill the mid-intensity bracket are intended for things like repairs and remodeling. These drills can handle jobs like working on decks and fences, drilling pilot holes, and working with hardwood and plywood.
Heavy Duty
The final set of drills are meant for heavy duty construction. These drills can do intense jobs like drilling through steel and masonry. We'll discuss drills that fit the middle bracket, for those needing a dependable and capable drill.
Why Own a Cordless Drill?
Cordless drills free the user, offering advantages that are all too obvious to those who are tired of hunting for plugs and dragging heavy extension cords around the house, or even worse, across a field. Sure, there are drawbacks to having a cordless drill. The batteries can die if not attended to, they may not have the raw power available to some corded drills, and they may be limited to relatively smaller bit sizes. But these are all non-issues.
Battery technology has come a very long way, with Lithium Ion technology providing amazing new power levels and battery life. If you can't find a cordless drill with a large enough chuck size, chances are your job requires a very powerful drill as well, and a cordless drill might not be right for the job. However, cordless drills commonly have chuck sizes as large as 3/8 inch, something larger is rarely needed for the common repair or remodeling job. Cordless drills have few drawbacks, and are an essential tool for every homeowner.
What models are the Best Cordless Drills?
The Genesis is an 18v variable speed drill with a Ni-Cad battery, a 3/8″ max chuck size, a 16 setting clutch, and a maximum speed of 550 rpm.
The Black & Decker is a 20v variable speed drill with a lithium-ion battery, a 3/8″ max chuck size, an 11 setting clutch, and a maximum speed of 650 rpm.
The Dewalt is an 18v variable speed drill with a Ni-Cad battery, a 1/2″ max chuck size, 17 clutch settings, and a high-power motor with a maximum speed of 1500 rpm.
Important Factors in Cordless Drill Design
A cordless drill's performance is determined by a few easy to identify factors. Find a drill with a good motor, a good battery, a clutch with many settings, and comfortable ergonomics. A drill is strong in all of these traits will be safer to use, easier to use, and last you longer both on the job and across the years.
Motors
The motor is the defining factor in a good drill. Other than the bit, there's no other part that serves as much purpose as the motor; there's no salvaging a drill with a poor motor. Good motors will be made of quality components that can handle high rpms and high torque values. If your drill can't drill, then what's the point in it all?
Batteries
If the motor is the heart of the drill, then the battery is its soul. A battery's voltage will determine the torque-spinning strength of the drill, making it more or less capable of overcoming resistance in order to penetrate harder materials. Voltage has increased over the years. The best used to be in the range of 10 volts, but good drills are commonly reaching 20+ volts these days! The type of battery the drill uses can also determine other characteristics like charge time, weight, and battery life. Traditional options like Ni-Cad are tried and true, but the new lithium-ion batteries are really pushing at the boundaries for cordless drill technology.
Clutch
The Clutch of the drill will determine the amount of control that is available to you. The more settings on the clutch, the better. Clutches, located just behind the chuck (the bit where the bit goes), allow you to pre-determine a maximum level of resistance. This can prevent you from stripping your bit or your screw, putting wear on the motor, and can also be used to set a maximum drilling depth. With the clutch, more settings win out over fewer.
Ergonomics
An ergonomic drill is a safe drill. Drills that sit comfortably in the hand, with easy to reach controls, well distributed weight, and a good drilling angle are easier to use and less prone to accidents. Ergonomics is in many ways dependent on the user as much as the drill, but finding a good design is worth the extra effort.
Let's take a moment to describe how each of our three drills measures up in these four categories.
Motor
Genesis GCD18BK 18v
The Genesis comes with a surprisingly robust motor for such a low-priced drill. The 18v battery doesn't go to waste at all. The motor is capable of speeds up to 550 rpm, which is a little slower than its competitors, but is still quite capable of handling household jobs. It won't have any trouble at all with drywall, and makes a good match for small projects involving harder woods or furniture.
Black & Decker LDX120C
Black and Decker has lived up to their high standards with this motor. With a maximum of 650 rpm and 115 in-lb of torque, this motor will really drive the point home, easily piercing drywall and tackling harder woods and surfaces.
DEWALT DC970K-2
The Dewalt's motor comes with a double-speed feature that sets it apart from the others. At 18v and 380 watts, you can choose between either the 0-450 or 0-1500 rpm speed settings, letting you dial in your power for the specific task at hand. This motor will handle all the toughest challenges you can find to throw at it.
Battery
Genesis GCD18BK 18v
Genesis included an 18v Ni-Cad battery, which is capable of putting out good torque for medium bursts. This isn't an endurance battery, but it charges relatively quickly and won't have many problems over its life-span if you follow good charging procedures. Ni-Cad battery's aren't as capable as lithium-ions or NiMHs, but they do the job.
Black & Decker LDX120C
The designers of the Black and Decker made an excellent choice in the battery department. The 20v lithium-ion battery they chose provides the drill with excellent torque, while eliminating all the draw-backs of older battery technologies. The lithium-ion battery is the lightest of the three, takes up the smallest amount of space, has no memory, a longer life, and charges quickly.
DEWALT DC970K-2
The stock battery on the Dewalt is an 18v Ni-Cad. This battery charges in one hour, and will last you a while in between charges, but could have been made better by an increase from 1700 mAh to 2400 mAh.
Clutch
Genesis GCD18BK 18v
This drill has 16 clutch settings, a very respectable number, especially when you consider that the DEWALT only has one more setting! The clutch is otherwise unremarkable, but will finish job and help you preserve your drill and hardware.
Black & Decker LDX120C
With only 11 settings, the black and decker could be better in this department. They're still enough to get the job done, but you may occasionally find yourself wishing you had the setting that was almost, but not quite, the one that was available.
DEWALT DC970K-2
The Dewalt clutch has the most settings out of the three drills. More really is the best option here, and with 17 clutch settings there's not much more that can be said!
Ergonomics
Genesis GCD18BK 18v
ergonomically speaking, the Genesis could have better handling, but isn't all that bad compared to its peers. It weighs 6.5 pounds, and the weight is distributed a little unevenly, which will fatigue you earlier and make accurate drilling more difficult. An LED lamp is included for those dark corners. The layout is standard, offering no surprises or unique features other than a very useful magnet near the base that is intended for keeping your screws close at hand.
Black & Decker LDX120C
the battery of the Black & Decker does this drill wonders in the ergonomics department. Because of the battery's weight and space saving technology, the drill is the lightest of all three, weighing only 3.4 pounds! The LED work light is a handy feature that may save you some frustrating balancing acts with a flashlight as well.
DEWALT DC970K-2
weighing in at 5.2 lbs, the Dewalt sits somewhere near the middle in terms of weight. That weight is well balanced, however, and as such won't contribute to fatigue or affect your drilling as much as it could. The drill sits comfortably in the hand. The chuck has a ratcheting feature, which can really save time with an otherwise tedious motion, and can provide a tighter grip on your bit shanks. This drill is compact and easy to use!
Our Cordless Drill Reviews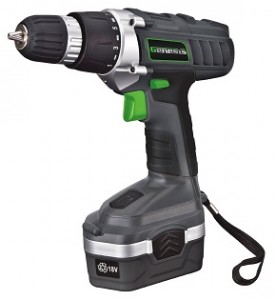 The Genesis is a real surprise for such an affordable drill. Its simple, no frills design is easy to use, and comes with all the necessary strengths that make for a good drill. Although the motor isn't the fastest out there, it's still capable of putting sufficient torque to task, and will serve dutifully around the house for routine repairs and the occasional difficult job.
The battery is nothing to write home about, but does its job well. The weight distribution is top heavy, which can make for an uncomfortable day if you're doing extended work, but the lamp and the magnet are excellent features that are a great addition for such an affordable piece of equipment.
The clutch offers a lot of options, perhaps more than its average user would ever make use of. All around, this is an ideal choice for someone who needs a dependable drill on a budget.
Pros: Excellent price, good performance, dependable
Cons: Ergonomics are lacking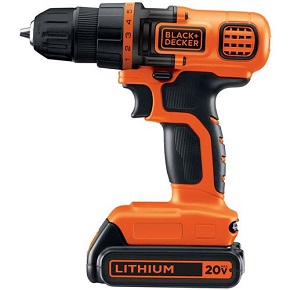 The Black and Decker is a joy to use. Ergonomically it is an excellent experience, due in part to the lithium-ion battery which also contributes greatly to the strengths of the motor. Because it's a 20v drill, this drill can handle almost anything the average homeowner would throw at it.
It charges very quickly, and maintains that charge when you're putting it to trials. If I could improve anything about this drill, I would definitely request more clutch settings. 11 is enough to do the job, but considering the number of settings available on competitors there's really no reason for this drill to fall short.
Overall, this is one of the best drills I have ever used, performing like drills that are twice as expensive. It's small, powerful, lightweight, and fills in that price point that's really just right.
Pros: Excellent ergonomics, great battery, high performing motor
Cons: Clutch settings are lacking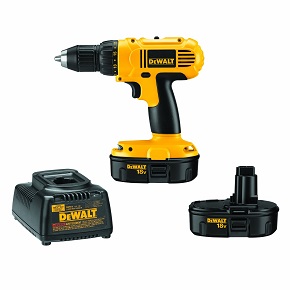 The real cream of the crop for those who are looking to spend a little more money to get the best. There's a reason this drill is a number one seller. Even though its battery is older technology and it's a little on the heavy side, that's easy to forget when you pull the trigger.
This drill operates smoothly, and has the power to handle all of the toughest household jobs. Tile, hardwood, you name it and this drill will do it. Thanks to the numerous options available on the clutch, as well as the dual-speed motor settings, this drill is easy to dial in to meet your exact requirements. One feature after another keeps leading to one conclusion.
This drill is an invaluable tool to have. Even though Dewalt could have done better in the battery department, and might have improved ergonomics by reducing weight, you can't fault them after experiencing the power and customizability it has to offer. It's a drill for serious DIY projects, and will serve you loyally through years of household repairs. I highly recommend this drill.
Pros: Excellent motor, lots of settings, best performance of the bunch
Cons: Battery could be better, could be lighter
In Conclusion
A drill is an indispensable household item. It's frustrating to not have one when you need it, and even more frustrating to have bad drill when you do. The Dewalt is an absolute joy to use; if you can spare the extra few dollars for it, I highly recommend you do so.
Whether you're a new homeowner on a budget, or looking to invest in the best drill you can get, these three drills are all excellent choices. They'll have you covered in all of your home repair and DIY circumstances.