Some links on this page are monetized by affiliate programs - see disclosure for details.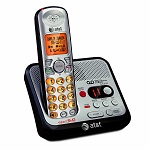 Despite the growing popularity of mobile phones, landline phones are still a necessity in many households and businesses. A landline phone is necessary in order for customers to get in touch with a business or for friends and family to call you when they just want to say hello.
Even if you own a mobile phone, a landline is great to have in the event that your cell phone is not charged or you are without service. Instead of being wired in one place, however, most households and many small and large businesses utilize cordless phones because they are portable and convenient.
Compare: The 10 Best Cordless Phones of 2018

Introduction: A Guide to the Best Cordless Phones
In the past, landline phones were connected with a cord. The cord from the handset plugged into the base of the phone, which was connected directly to the wall. Many find this very inconvenient because even though the cord is stretchy, you are essentially confined to one spot through the duration of your phone call.
A cordless phone has a base that plugs into a phone jack and a power outlet. However, the handset is powered by batteries, so a cord is not required. You simply charge the handset by placing it on the base, then you're able to move around your home or business freely without being restrained by a corded phone.
What are the different types?
Some of the latest cordless phones utilize modern technology to make them more advanced than ever. If you need a new landline phone because you are replacing outdated models or you're getting a phone line for the first time and you need a phone, consider a cordless phone for your next purchase. Before purchasing, however, make sure you understand the types of cordless phones that are currently on the market.
Basic cordless phones
These phones contain one base/charging unit and one handset. They may have modern features like caller-ID, speakerphone, and programmable phone books to store your most-used numbers.
Cordless phone with answering machine
If you do not have a voicemail service through your wireless provides, make sure you never miss an important call with a phone with built-in answering machine. You can record your own outgoing message that callers hear when you are unable to answer the phone, and you are able to hear your incoming messages with just the touch of a button.
Multi-unit cordless phones
If you have a business or a larger home, you don't want to have to run to another room every time your phone rings. This is where it is convenient to have a multi-unit cordless phone system. These phones come with multiple handsets and bases that can be put throughout different rooms of your home or office. They can all be linked to the same voicemail or answering machine, and they can all be programmed with the same phone book for your most frequently called numbers. You can even customize the ringtone for each handset on certain models.
Bluetooth cordless phones
You can connect your cell phone to your landline wirelessly through Bluetooth with one of these advanced models. This allows you to talk using your cellular service without running your battery dead.
What are the advantages of choosing cordless?
A phone helps keep you connected to your friends, family, clients, and emergency services. With a cordless phone, you can have the mobility of your cellular phone while in your home or place of business without running over your allotted minutes. A cordless phone lets you call out or receive calls anywhere within the range of the base. Cordless phones are easy to use, convenient, and are a must-have for keeping in touch with the world.
Which Cordless Phones are the Best on Amazon?
If you want a basic phone that doesn't cost an arm and a leg, this model from Vtech is perfect for the job. It comes with one corded phone, as well as one cordless phone for convenience. Both phones are equipped with caller ID and call waiting, so you don't have to worry about ever missing an important call, even when your phone is in use. Both units come with a speakerphone for hands-free communication, and you can even expand this system with a total of five handsets (sold separately), so you can have access to a phone in every room.
Get your most important messages while you're busy or away on this cordless phone, which is equipped with a digital answering system. You'll enjoy a long range, excellent clarity, and convenient features like Caller ID and call waiting. This is a very affordable model that can be customized with up to six cordless units. If you lose power, you don't have to worry, as there is a power backup option available on this model.
You'll always stay connected when you use this great model from Panasonic, which comes with a total of five handsets for ultimate convenience. Use the phones for your landline number, or you can link your cellphone using Bluetooth technology so you don't have to run your cell phone battery dead. These phones have a great modern design that looks great in any home or business,
Factors to Think About
Once you've decided that you need a new cordless phone, it's time to begin shopping. However, as you shop, you will encounter hundreds of different models, making your decision much more difficult as to which one to purchase. Keep these key features in mind to help narrow down your options, so you can choose the cordless phone that's right for your needs.
Price
Cordless phones range in price from less than $50 for a very basic model to several hundred for a top-quality model with multiple headsets. Figure out what you must have in your new phone, then set a purchase price according to your needs and your personal budget.
Number of handsets
If you have a smaller office or home, one handset may be sufficient. However, if you don't want to run across your home every time the phone rings, look for a model that is expandable for multiple handsets.
Functions
Modern functions make using your landline phone more convenient. Caller ID, call waiting, speakerphone, built-in answering systems, speed dial, programmable phone books, and other options are available on many of the most current models.
Warranty
Protect your investment by only purchasing a phone that comes backed with a warranty. Although warranties generally do not protect against drops and misuse, it will protect against defects and issues with the design or build.
Price
VTech CS6649 DECT 6.0
This system, which comes with two phones, retails for at a low price. Additional handsets can be purchased for an additional cost.
Panasonic KX-TGE243B
This cordless phone retails in the mid-priced range when compared to other cordless phone systems.
Panasonic Link2Cell Bluetooth Enabled Phone KX-TG7875S
This phone is the most expensive on the list. However, it does come with more handsets, and it also is Bluetooth-enabled.
Number of handsets
VTech CS6649 DECT 6.0
This set comes with one corded phone, as well as one cordless handset. It is expandable up to five different handsets, all sold separately.
Panasonic KX-TGE243B
This unit comes with three cordless handsets. Three additional handsets can be added, and they are sold separately.
Panasonic Link2Cell Bluetooth Enabled Phone KX-TG7875S
You will receive five cordless handsets with your purchase. You have the option to add one additional handset, which is sold separately.
Functions
VTech CS6649 DECT 6.0
Additional features on this phone include Caller ID, which stores up to 50 calls, as well as call waiting. It features a quiet mode, and it also has a speakerphone for hands-free operation. It also has a built-in answering system.
Panasonic KX-TGE243B
With this phone, you'll be able to enjoy a digital answering service, tone equalizer, eco mode for saving power, power back-up for when you lose power, and caller ID.
Panasonic Link2Cell Bluetooth Enabled Phone KX-TG7875S
With this phone, you'll get all of the modern features you need, including a digital answering system, Bluetooth technology, speakerphone, handset to handset and handset to base intercoms, an alarm, and talking caller ID.
Warranty
VTech CS6649 DECT 6.0
This phone set comes with a one-year manufacturer's warranty to protect your purchase.
Panasonic KX-TGE243B
Your phone is backed with a one-year manufacturer's warranty for parts and labor.
Panasonic Link2Cell Bluetooth Enabled Phone KX-TG7875S
You will receive a one-year manufacturer's limited warranty for parts and labor.
Conclusion: Our Cordless Phone Reviews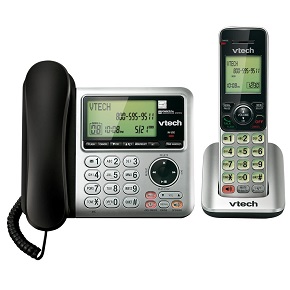 This phone set proves you don't have to spend a fortune to get a great product that's loaded with features. This model comes with one corded headset, as well as one cordless handset and charging base. It has a backlit display that shows the current time when not in use, and it can also be used to scroll through the 50 number caller ID that shows time of call, phone number, and name.
This model is equipped with an answering system that allows up to 14 minutes of recording. There is a built-in intercom feature that allows you to talk between the handsets or bases. For your convenience, there is a quiet mode available that silences the ringer, as well as a speakerphone that is activated with the push of a button.
Pros
Very affordable
It has many features, including an answering system
Expandable up to five handsets
It's trilingual
The corded phone can be mounted on the wall with the included base
It is very clear and loud
Cons
It is slow to navigate through caller ID
The menu is confusing for some
Some static may occur on the cordless set
The answering machine does not work with analog systems
It only comes with one cordless handset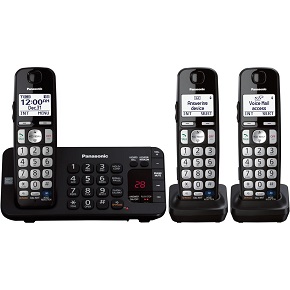 You'll get clear reception, a host of great features, and a modern design in any room with this cordless phone set, which comes with three separate handsets. You only need one jack to operate them, so it's very convenient for you.
This phone comes with a digital answering service, backlit LCD display, and caller ID functions. You'll also have incredible noise reduction, crystal-clear clarity, and a dedicated volume button. The extra-large keys are easy to push and are ideal for those who have difficulty seeing. There's even a back-up power mode that keeps you connected, even if the lights go out. You can also add three additional handsets if needed, which are sold separately.
Pros
Extra-large buttons and dedicated volume button are ideal for those with vision or hearing problems
It is easy to use
It has a power back-up function
The sound is loud and clear
Compatible with Key Detector
Comes with talking caller ID, so you don't even have to get up to look at the headset
It has a competitive price
Cons
There is no audible mode to hear messages
Additional handsets cost around $40 each
The speakerphone option is not as clear as other models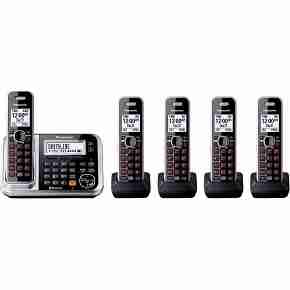 Be able to communicate no matter where you're at in your home or commercial building with this phone set, which comes with five cordless handsets that function on just one jack. You'll be able to talk with clarity on any of your handsets, which are all equipped with great features like talking caller ID, speakerphone, and a backlit display. You can even talk to others within the same building through the handy intercom feature.
You will never miss another important message with the built-in answering service. Link up to two cell phones through this Bluetooth-enabled set, so you can talk through your mobile line while your phone is charging. This phone set is easy to use, loaded with all of the modern features you could ever need, and looks great in any home or business.
Pros
Set comes with five handsets
It is easy to use
It has a very modern design
Talking caller ID
Bluetooth-enabled
The clarity and sound are great
Many different ringtone features
Built-in intercom
Include belt clips for portability
It has a great range
Clear, easy to read LCD displays that are backlit
Cons
It is slightly more expensive than other cordless phones
There is some interference when using the speaker option
It may be slightly difficult to set up
All in All
Even though cellphones are becoming more popular, a landline phone is still a necessity. Get the most out of your home phone by purchasing the Panasonic Like2Cell KX-TG7875S. You'll get five headsets, so you can conveniently communicate in every room, as well as many of the most modern features that keep you connected to your friends, family, and loved ones with ease.