Some links on this page are monetized by affiliate programs - see disclosure for details.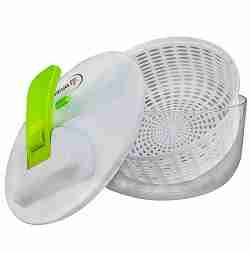 Salad makes a delicious (and nutritious) meal anytime, whether you just want something cool to enjoy during the hot summer months, are eating one before your main course, or you're watching your weight. One of the biggest drawbacks of eating a fresh salad at home is the prep work that is required.
You have to chop and cut all of your vegetables, clean them, and then make sure they're almost completely dry so that they remain crisp and delicious. If your veggies aren't properly dried before you make your salad, you may find that they're not as crisp, limp, and just not tasty.
If you're prepping a salad that will be used for a later meal, storing the vegetables while they're still wet means that your salad may turn out too soggy. Instead of spending extra time drying each leaf of lettuce or having to swallow down a limp salad, cut down on your prep work and make an impressive dish with a salad spinner.
Compare: The Top 10 Best Salad Spinners of 2018

What is a Salad Spinner?
A salad spinner is a small kitchen appliance that is used to dry out your salad vegetables. They spin out a majority of the water after they've been rinsed, resulting in crisp and delicious ingredients. These tools are very easy to use, and they can be used for more than just salads.
You can also use them for drying out fresh herbs after they have been washed, getting all water out of your cooked beans, and removing excess water from pasta before you serve it. Because they also have tightly fitting lids, you can also store your vegetables in the fridge for short periods until it's ready to use.
What are the different types?
If the idea of spinning your salad veggies is new to you and you'd like to give it a try, using one won't be a problem, since they're all very simple, but buying one may be a hassle. There are many brands and sizes to choose from, making the purchasing decision a little overwhelming. The first step in narrowing down this wide selection is to find out more about the different types and choose one which sounds the most appealing to you.
Spinners with cords – With these models, you simply pull a cord to make it spin. These are the least expensive, but the cords can easily break, requiring you to purchase a replacement model.
Pump spinners – These have a button on top of the lid that you press to make it spin. When it stops spinning, you simply press the button again until all of the water has spun out of the container.
Crank spinners – To remove all water from your salad vegetables, turn a crank and continue spinning until the vegetables are dry.
Battery-operated spinners – These are the easiest to use but typically the most expensive. All you have to do is press a button to turn it on, then turn it off when all of the water is gone.
What are the Advantages of Using a Salad Spinner?
There are several advantages of owning one of these tools, but the primary reason that most people have them is because of the taste difference. If you've ever eaten a salad at a restaurant that is crisp, cool, and delicious and can't achieve the same results at home, it's most likely because your vegetables are too wet, which leaves them soggy and limp. With a spinner, you can easily remove all the water to mimic the same great taste you find in the best restaurants.
Because the bowl is so large, you can also use it for storage in the refrigerator, and you can use it to dry a variety of other foods to cut down on the time spent during the prep process and also make your own recipes taste more delicious.
Who are the contenders for Best Salad Spinner in 2018?
Whether you're looking for a smaller spinner or you're new to using one and don't want to spend a fortune right away, this is a great option. This kitchen tool allows you to operate it easily with just one hand. Even if you've never used one before, you'll be spinning one like a pro in no time with this easy design. It has a wide base and non-slip ring so it stays sturdy while in motion, and it has a pump mechanism for smooth spinning and a brake system to stop it in its tracks. When you're finished using it, just pop it right in the dishwasher for easy cleaning.
One of the major issues with larger spinners is that they are difficult to store in your refrigerator, but this space saver lets you store your salad until it's time to serve it, keeping it crisp, fresh, and delicious. It features a brake button so you won't have to worry about your salad flying out of the bowl when you remove the lid, and it works quickly to remove water from your produce. It is very easy to clean, and it comes backed with a satisfaction guarantee.
While the other two may be good for a smaller household, you may need something that's a little larger for your upcoming party, shower, cookout, or other event. If you're feeding a crowd and you want to serve a salad that's comparable to the high-end restaurants in your area, you need this extra-large spinner. Don't be intimidated by its size, though. It's very easy to use, effectively spins all water out of all of your veggies, and it has a pump mechanism that outperforms many of the others on the market. Even though it's on the higher end of the price scale, the size of the unit itself makes up for the additional cost.
Considerations for Choosing the Right Brand
Quit serving your family limp salads and enjoy crisp veggies for your next meal or as your appetizer. You can clean your veggies to remove germs, but you won't have to worry about soggy lettuce and vegetables that just don't taste as good with one of these devices. Before you buy, keep an eye on these four features to make sure you end up with a product that gets lots of use in your home.
Price
In general, these kitchen items are fairly inexpensive. However, higher-quality products, ones that are easier to use, and those that have a larger capacity cost more. Keep price in mind, but also make sure that you don't settle for an inferior product or one that is too small to meet your cooking needs.
Warranty
Because these have a pump mechanism, if there is a flaw in the design or manufacture, it can fail prematurely, leaving you with a giant bowl that doesn't spin as it should. Protect your investment by purchasing a model that comes with a warranty.
Capacity
The capacity is important because you want to make sure you can prepare enough salad for your gathering. If you're making it for yourself, one other person, or your smaller family, a small capacity may work well for you. However, if you frequently serve salad to a large number of people or even if you want to use it to dry out pasta or for other purposes, look for a unit with a large capacity.
Materials
What the spinner is made of is important for a number of reasons. If the model is plastic, which most are, you want to ensure that it is free of harmful chemicals like BPA. You also want to invest in a higher quality plastic that doesn't easily crack or stain.
Price
OXO Good Grips
The smaller unit from this line is very budget friendly. A larger version is available for just a bit more.
Culina Space Saver
This unit is priced a little more than some spinners but is about average when compared to most.
Fullstar Salad Spinner
This version is on the higher end of the pricing scale but is still quite affordable, especially when considering the larger size.
Warranty
OXO Good Grips
This product comes backed with a satisfaction guarantee from the manufacturer.
Culina Space Saver
A 100 percent satisfaction guarantee is provided for this product by Culina.
Fullstar Salad Spinner
This unit doesn't come with a warranty. However it does have an unconditional money-back guarantee from the manufacturer. You can return it if you aren't fully satisfied.
Capacity
OXO Good Grips
This model holds 4.5 quarts of salad, which is just the right size for a family.
Culina Space Saver
This space-saving design has a 3-quart capacity.
Fullstar Salad Spinner
This unit is ideal for larger portions, providing you with 5.5 liters of space for your veggies.
Materials
OXO Good Grips
This is made with BPA-free plastic that is durable and safe for your family.
Culina Space Saver
This plastic unit is BPA-free and it is very durable, so it will easily last for years with proper care.
Fullstar Salad Spinner
Like the other two units, this unit is made with durable BPA-free plastic.
Final Results: See Our Salad Spinner Reviews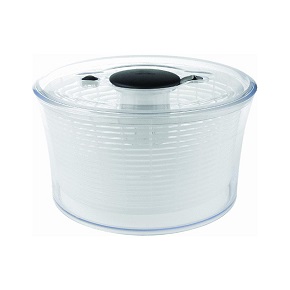 Many people have tried spinners in the past and have found them just too big of an inconvenience. If you're one of these people, you may have given up on the idea of spinning your salads, which is why you should give this model from OXO a shot. It is designed with a patented pump mechanism that smoothly and effectively spins all of the water out of your vegetables, herbs, pasta, and more with just the touch of a button. When you're finished spinning, just touch the brake button, and you're done.
Another great aspect is that most spinners require you to use both hands to keep the bowl steady, but you won't find wobbling to be an issue with this model, allowing you to operate it with just one hand. The interior basket can be used as a colander if needed, and you can use the clear bowl for serving or storing. The lid comes apart and all pieces are dishwasher safe for fast and easy cleanup.
Pros:
Very affordable
It comes with a satisfaction guarantee
It is easy to use
Doesn't wobble like other models
Feels very secure and sturdy
Comes in two different sizes, both of which are very affordable
The handle can be locked down for easy storage
It does a very good job in removing water from all vegetables
Cons:
The size is a bit small, so it's not ideal for larger servings
The plastic tabs on the spinner head feel a bit cheap and may even break over time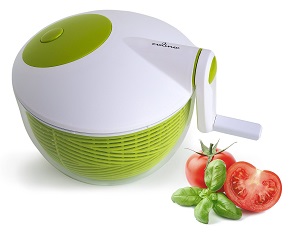 Another common complaint about this type of kitchen item is that they are just too large to store when not in use or to put in a full refrigerator when storing a salad. With this model, you'll be happy to see that it does not take up as much space as other units. The small design, which holds three quarts, is very compact, and the handle pushes down flat when not in use so you can keep your food cool and crisp in the fridge or store it easily in a cabinet when you've finished using it.
This model is very easy to use – simply add your rinsed good, put on the lid, and give the handle a turn. The fast action not only shakes off excess water, but it also helps reduce the germs found on raw food for a more healthy meal. When you're done, simply press the brake button to stop it right away. The inside basket can be used as a colander, and all pieces are easy to remove and clean.
Pros:
Affordable
Comes with a satisfaction guarantee
It does not take up a lot of space
It's easy to use
It effectively removes water and germs from raw vegetables
Pieces are dishwasher safe so they clean up in just minutes
The handle pushes flat for storage
The lid locks securely in place, so no more flying salad
Cons:
It is quite small, so it's not the best for larger gatherings or dinners
The clear plastic container feels a little thin and not as high quality as more expensive models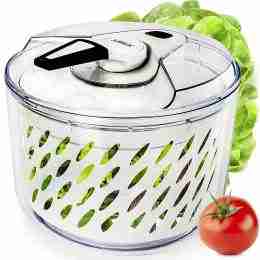 Instead of having to rinse and spin and do it all again when you have a large quantity of food to make, why not get it all done in the first shot with this extra-large spinner? This model holds over seven quarts, plenty of room for all of your salad, pasta, and more. This model has a lot of great features that really make it stand out, including ease of use. Simply give the handle a few pumps, and it will begin to spin out all of that excess water that makes your vegetables limp as time passes. It has a great pump mechanism that is quieter and more effective than others found on the market today.
Other notable features other than the ease of use and the size of the bowl is the locking lid that stays in place while spinning, the durable plastic design, and the brake button that brings it to an immediate stop when needed. Despite its large size, the handle folds down and the lid can be turned upside down to make it easy to store in your fridge or under your cabinets. This model comes with a satisfaction guarantee.
Pros:
It has a very large capacity for families and larger gatherings
It spins faster than many other models, more effectively drying produce and reducing the amount of germs found in your raw food
Easy to clean
It stores easily
Using it is very easy
It comes backed with a guarantee
Use the bowl and colander separately
Cons:
The plastic handle feels a little cheap
As with other plastic products, this may crack over time or when misused
Conclusion
Achieve the perfect salad in your own kitchen by utilizing one of the best salad spinners. You'll be amazed at how much fresher and more delicious your salads will taste with just the push of a button or the turn of a handle. If you want to impress your family and friends, try the Fullstar Salad Spinner. Even though the higher price may throw you off, the overall size and performance makes this a standout product. If you want to try out a salad spinner and see what all of the fuss is about, give this great model a spin.