Some links on this page are monetized by affiliate programs - see disclosure for details.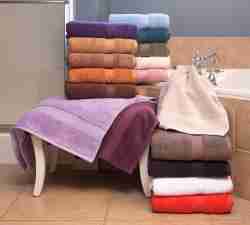 Bath towels can add such a nice touch of luxury to our everyday needs. Imagine the difference a good quality bath towel can make as you step out of the shower and reach for a warm and soft wrap to soak up the moisture clinging to your skin. Nowadays there are so many options for environmentally sustainable materials and premium grade cottons that last through many washings.
The range of sizes in bath towels help you meet all your towel drying needs. From large bath towels to the companion hand towels and washcloths, you can create a look that is attractive and functional.
But in considering what to pick, the options out there can be overwhelming. This guide serves to simplify that process for you by explaining key features to look for while offering information on the best bath towels available on the market.
Compare: The Top 10 Best Bath Towels of 2018

Bath Towel Buyer's Guide
Bath towels are typically 27" x 52" in size so they are just right for drying the entire body. Depending on your needs, bath towels can be utilitarian, like those you'd use in the gym or luxury-minded as in the ones you'd find at a spa.
Regardless of your needs, you can find suitable bath towels that are resilient and right for your budget. Mix and match for fun decorating options and be sure to include hand towels, which are usually 16" x 30", and washcloths sized as 13" squares to complete the look.
What are great quality bath towels such a necessity?
Bath towels can do so much more than drying us off. Depending on the spin and weave of the fiber, towels can soothe us with velvety feelings of caressing softness or stimulate our senses as they stand crisp and firm while we rub ourselves dry.
Whatever your preference, you can find a bath towel that meets your requirements and budget. If you need something that you can quickly use and toss in the wash, then go with a lightweight combed cotton gym towel. For anyone looking for a luxury feel, consider a heavier thick-piled Egyptian, Turkish, or Pima Cotton towel.
And don't forget matching hand towels and washcloths to handle smaller jobs in your daily toilette. With the options today on the market, you can mix and match to add style to your bathroom decor.
What are the different types you can buy?
Bath towels come in a variety of sizes and weights. Technically speaking, bath towels are measured in density of the fabric which is reported in grams per square meter (GSM). Gym or pool towels are the lightest, weighing in at around 350 grams. Beach towels and everyday bath towels are medium weight with a GSM of about 500. The luxury end of the bath towel line is above 600 GSM, and can go all the way up to a density of 900 GSM. These luxury towels are typically constructed of Egyptian or Turkish Cotton, which is similar to the U.S. grown Pima Cotton found in the Southeast of the United States.
Regardless of what you choose to buy, wash and dry your towels before using them. This removes any excess lint resulting from the weaving process and softens them up for that luxury feel. It also enhances the absorbency of your towels while removing any residual dyes. Always wash your new towels apart from other laundry to avoid discoloration and shedding. And never put your towels in the heavy duty cycle. Gentle washing is totally fine and will help your new towels last a good long while.
Which Brands are the Best on the Market?
Utopia 8-piece Towel Set
The Utopia set is versatile and functional in a good quality basic towel. The set comes with two bath towels, two hand towels, and four washcloths.
Pinzon 6-piece Egyptian Cotton Towel Set
This is a more luxurious set of towels made from Egyptian cotton. The set comes with two oversized bath towels, two hand towels, and two washcloths.
eLuxury 900 gram 8-piece Egyptian Cotton Towel Set
As the product title says, this is the highest grade cotton on the market. These are soft, plush, absorbent, and durable. These come with four bath towels, two hand towels, and two washcloths.
Features to Consider
Fiber
The fibers in the towel are judged by both length and strength. There are several options for fiber choices. Bamboo, which is typically blended with cotton, is an environmental choice due to its sustainability and mold resistance. Egyptian cotton, the standard in luxury fabrics, has extra-long threads which create its high absorbency. Organic cotton is pesticide free and companies that choose organic are also likely to select dyes that are healthy for the planet. Pima cotton is the American counterpart to Egyptian cotton in terms of absorbency and luxury. Finally, Turkish Cotton is soft, absorbent and durable.
Yarn Construction
Fibers can be spun in a variety of ways. Ringspun cotton consists of woven ropes of short and long strands. Ringspun yarn is very soft and velvety because the short fibers in the weave poke out and create a velvety finish. Combed cotton is more uniform as the shorter strands have been combed out. This leaves a more consistent weave that in turn provides the right consistency for your basic towel. Twist cotton is the third type of construction. The plushness of twist cotton depends on the number of twists per inch; the fewer the twists per inch of the yarn, the more luxurious and plush the towel will be. If you are looking for durability, look for a higher number of twists per inch. Finally, Terry Cloth is made with large loops with additional yarn added in for a super plush feel.
Tactile Features
How does the towel feel? Is it soft and fluffy or rough and coarse? There's no best way for the towel to feel against your body. You know what you like best, whether it be feeling caressed by a soft and supple towel or enjoying being ex foliated after your shower by a heavy duty coarse fibered towel. All of your needs can be met with towels on the market today.
Binding
Bath towels come with a variety of binding options. Regardless of what style you prefer, be sure your towel has a wide enough binding to prevent your towel from fraying. Patterned binding, such as ribbed or criss-cross gives your towel an extra look of style while staying true to its functionality.
Colors
There is such an array of options out there! Mixing and matching colors is a great way to enhance your decor. In addition, colors make it easy to keep things organized in your home with each family member assigned their favorite color. Gone are the days of trying to figure out whose towel is which on the towel rack! Colors help you have fun while enjoying one of life's simplest pleasures.
Fiber:
Utopia 8-piece Towel Set
This is a lightweight towel with a gsm of about 500.
Pinzon 6-piece Egyptian Cotton Towel Set
This is a thicker plush towel with 600 gsm.
eLuxury 900 gram 8-piece Egyptian Cotton Towel Set
The thickest plushest towel at 900 gsm.
Yarn Construction:
Utopia 8-piece Towel Set
This set is combed and ringspun for a soft and absorbent finish.
Pinzon 6-piece Egyptian Cotton Towel Set
This is also ringspun, and with the higher gsm, has a denser construction.
eLuxury 900 gram 8-piece Egyptian Cotton Towel Set
These Terry Cloth towels have added yarn to boost the absorption quality while maintain softness.
Tactile Features:
Utopia 8-piece Towel Set
Soft and absorbent with a lightweight feel.
Pinzon 6-piece Egyptian Cotton Towel Set
This towel has more give for a softer feel while maintaining high absorbency.
eLuxury 900 gram 8-piece Egyptian Cotton Towel Set
Super soft and absorbent, this is the premium luxury towel.
Binding:
Utopia 8-piece Towel Set
This set comes with a narrow binding scored diagonally.
Pinzon 6-piece Egyptian Cotton Towel Set
The Pinzon has a thicker binding with a diamond shaped hatch throughout.
eLuxury 900 gram 8-piece Egyptian Cotton Towel Set
The binding on the eLuxury is more detailed and intricate, adding texture to the border and edging.
Colors:
Utopia 8-piece Towel Set
There are four color options for this set, grey, plum, brown, and beige.
Pinzon 6-piece Egyptian Cotton Towel Set
Ten colors including muted shades and vibrant hues are available.
eLuxury 900 gram 8-piece Egyptian Cotton Towel Set
With 18 colors to choose from, you can choose a towel to match just about any color scheme.
Our Final Bath Towel Reviews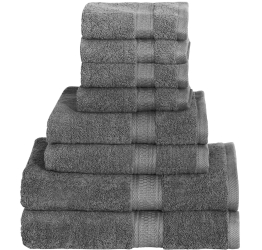 This set is the best value in form and function. These may be perfect for anyone on a low budget such as a college student or retiree on a fixed income. Also, consider these for a second set of matching towels when you have company coming or need to bring towels along with you on vacation.
Pros:
These are a nice medium weight option of 100% cotton.
Cons:
The hand towels and washcloths are not as thick as the bath towels. The binding is pretty basic, so if you are looking to enhance your decor with your new towels, these won't draw any more attention than your basic towel. Also, limited color choices.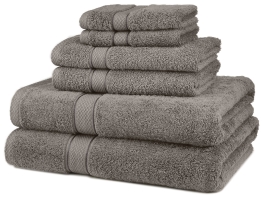 With more color options and higher absorbency, these towels are great for everyday use and for serving houseguests.
Pros:
These absorbent towels made of ringsupun yarn are soft and durable. They continue to soften with additional washings. They are made of Egyptian cotton and feature a nice diamond pattern ribbing enhanced with contrast colored edge detail.
Cons:
Because they are thicker, they do lint up a bit after the first few washings. There is a slight chemical odor, but this washes out after the first wash.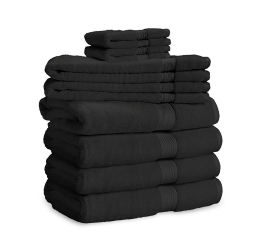 These towels will make you feel you're indulging in luxury every time you use them. The color palette is vast so you are sure to find the perfect match for any decorating motif.
Pros:
These towels have a super luxurious feel. They are fade resistant and hold up well in the wash. Unlike the other sets, this pack has four large bath towels as opposed to the standard two.
Cons:
Other than the fact that these are the more expensive option, the towels do not pose any issues if cared for properly.
Conclusion
No matter what your bath towel needs may be, there are plenty of options that fit your budget, your lifestyle, and your decorating ideals. From simple combed cotton to more luxurious ringspun and premium grade Terry Cloth, you can find a towel that meets your requirements for your home and on the go. Mix and match colors and styles to complement your decorating tastes whether they be bold and vibrant or calm and muted. With so many choices, you are sure to find the bath towel that suits you and that you can enjoy wash after wash.