Some links on this page are monetized by affiliate programs - see disclosure for details.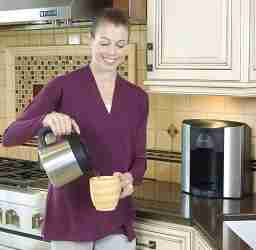 Most people rely on a strong, delicious cup of coffee each morning to start the day off right. Coffee is a great way to help you feel prepared and ready to tackle your day. At the end of the day, a nice, hot cup of decaf is a great way to wind down, especially when paired with your favorite dessert.
People everywhere drink coffee for a variety of reasons, whether it's to feel more awake each morning or simply because they like the taste. This is why home coffee makers are so popular. Whether you want to brew your own cup of joe each morning or you want a coffee maker to use for visiting guests, a coffee maker is a kitchen staple. For the fastest and easiest coffee, many people turn to drip coffee makers.
What is a Drip Coffee Maker?
A drip coffee maker is the most popular type of coffee maker. These coffee makers are favored because they are easy to use and are generally more inexpensive than other types. Drip coffee makers are great for using at home, as well as in the office.
The drip coffee maker gets its name by how the coffee is brewed. A reservoir is filled with water, and a filter is put inside of the coffee maker. The filter is filled with ground coffee. Once the appliance is turned on, water flows from the reservoir and drips over the coffee grounds. The filter prevents the grounds from flowing into the pot. The water and coffee ground are combined, and the resulting liquid, coffee, drips into the coffee pot.
What are the Different Types of Coffee Makers?
If you want the convenience of fresh-brewed coffee in your own kitchen or you want to treat your employees or coworkers to delicious coffee each morning before work, a drip coffee maker is a great choice because it is just so easy to use. You'll find that when shopping for coffee makers, there are so many different brands, sizes, and types to choose from. By educating yourself on the types of drip coffee makers and available features on the market, you're sure to find one that you'll enjoy using every day.
Automatic – These coffee makers have a large pot that can be used to make multiple cups of coffee at one time. This is a great option for offices, as well as homes with more than one coffee drinker.
Single serve – If you're the only person in your household that drinks coffee, you don't want to make an entire large pot that will just end up being poured down the drain. Instead, opt for a single serve drip coffee maker that makes just one cup at a time.
Programmable – These are by far the most convenient type. Instead of having to get up each morning and start your coffee maker, these appliances can be programmed to automatically brew your coffee at a set time. Fill your water reservoir, put in your filter and coffee grounds, and you'll have fresh brewed coffee waiting for you the minute you open your eyes.
What are the Advantages of Owning One?
Convenience is one of the most advantageous reasons to own an automatic drip coffee maker. Not only will you be able to make your own delicious coffee without even changing out of your pajamas, but you also won't have to spend a fortune running to the coffee shop every day.
Drip coffee makers are also preferred over other types because they are so easy to use. You don't have to fumble with a bunch of settings only to make coffee that is too weak or too strong. With a drip coffee maker, you can make the perfect cup of coffee every time with very little effort.
Who are the Contenders for Best Drip Coffee Maker?
Mr. Coffee TF5 4-Cup Switch Coffeemaker – This Mr. Coffee drip brewer provides you with an easy way to make up to four cups of coffee. This basic brewer is affordable enough for even the tightest budgets.
BUNN BT Velocity Brew 10-Cup Thermal Carafe Home Coffee Brewer – Make sure you always have a perfectly hot cup of coffee with this brewer, which uses a thermal carafe to hold in the heat until you're ready to pour.
Brew Express BEC-110BS 10-Cup Countertop Coffee System – This stainless steel coffee maker is a stylish option for any kitchen and has all of the features you want in a drip coffee maker.
Considerations for Choosing the Right Coffee Maker For Your Home
After you've decided which type of coffee maker you'd like to purchase for your home or business, it's time to narrow down your selection. Keep these key points in mind while you shop so you can be confident in your purchasing decision.
Carafe size
If you entertain guests in your home frequently or you plan to take your coffee maker in to the office, you want to make sure that you purchase a coffee maker with a large carafe that makes multiple cups at one time.
Programmable options
Most people are in a rush in the morning, and it's easy to forget to turn on your coffee maker. With a programmable model, you no longer have to worry about not getting your morning cup.
Color choices
You want to make sure that the coffee maker you choose matches your kitchen décor. Most coffee makers are available in neutral colors like black and white, but some models come in fun, bright colors to add a whimsical touch to your kitchen.
Price
Drip coffee makers are priced anywhere from $20 up to several hundred dollars. Consider the features you must have, as well as your budget, to find a model that's affordable for you.
Carafe size
Mr. Coffee TF5 4-Cup Switch Coffeemaker
This model brews up to four cups of coffee at one time, so it's ideal if only one or two people are coffee drinkers. However, for larger households and businesses, a coffee maker with a larger carafe would be a better fit.
BUNN BT Velocity Brew 10-Cup Thermal Carafe Home Coffee Brewer
This fast and efficient coffee maker brews up to ten full cups of coffee in just three minutes. It is a great choice for those who want their coffee and want it fast.
Brew Express BEC-110BS 10-Cup Countertop Coffee System
The carafe of this coffee maker is large enough to make ten cups. The minimum amount that can be brewed at one time is a single cup.
Programmable options
Mr. Coffee TF5
There are no programmable options on this coffee maker. However, you can make sure it's turned on even from across the room with the On indicator light.
BUNN BT Velocity Brew
This model does not have programmable features. It must be manually switched on to begin the brewing process.
Brew Express BEC-110BS
This coffee maker is equipped with a clock that can be set to automatically begin brewing your coffee at the same time each day.
Color choices
Mr. Coffee TF5
With versions available in white and black, this coffee maker matches the décor of any kitchen theme.
BUNN BT Velocity Brew
The stainless steel and black design of this coffee maker gives it a modern look that looks great in a kitchen or office.
Brew Express BEC-110BS
This model is stainless steel with black accents, so it has a contemporary design that looks perfect in any modern kitchen.
Price
Mr. Coffee TF5
Coffee makers don't come much cheaper than this. Both the black and white versions are available cheap
BUNN BT Velocity Brew
This coffee maker has a higher price tag because of its durability, innovative thermal design, and efficiency.
Brew Express BEC-110BS
This coffee maker is a more expensive automatic drip coffee brewer. However, the convenience it offers, as well as the modern styling, makes it a great choice for home or office use.
Conclusion: Our Drip Coffee Maker Reviews Are In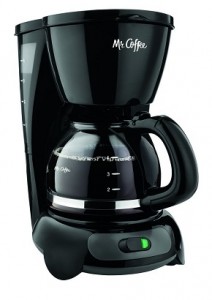 This economy coffee maker is short on features, but it easily brews coffee that's big in taste. This coffee maker is so affordable, it costs about as much as going to your favorite coffee shop every day for one week. This is an ideal coffee maker for those who are short on counter space, who don't drink a lot of coffee, or even for dorm rooms.
This coffee maker is equipped with a removable filter basket that is easily filled and cleaned. The warming plate is resistant to stains, and it is also easy to clean once it has cooled. The water reservoir has a marked window that measures your water so you can always make sure you have a cup of coffee that tastes just right.
Pros:
Pause 'n serve option allows you to stop the coffee maker mid-brew to pour a cup. It is small and lightweight, ideal for apartments and dorm rooms. It comes with a reusable filter that helps you save money. Extremely easy to clean.
Cons:
It is not programmable. It only brews a total of 20 ounces of coffee, not four full coffee mugs. The smaller carafe makes it more difficult to pour without drips or spills.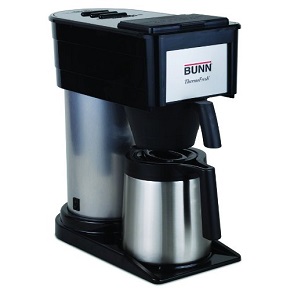 No one wants a cold cup of coffee, and with this BUNN coffee maker, you don't have to worry about that problem. Even if you can't get your coffee right away, the thermal carafe keeps it nice and hot until you're ready to pour your first cup. This, combined with a stainless steel reservoir with a built-in 800 degree heater and internal thermostat, ensures your coffee is always steaming hot.
The spray head design of this model produces a more flavorful coffee. Would you rather relax with a cup of tea? Not a problem—you can easily dispense hot water to make a hot cup of tea.
Pros:
It comes backed with a 3-year warranty to protect your purchase. The stainless steel design is very modern and looks great in your kitchen. Using this coffee maker is very straightforward and hassle-free. High-quality, durable materials that are built to last. It meets all North American Electrical Standards for safety. It brews a full pot carafe in three minutes.
Cons:
It does not have any programmable options. The carafe drips during pouring. The minimum amount that this maker will brew is 20 ounces, so if you don't drink a lot of coffee, a lot will go to waste.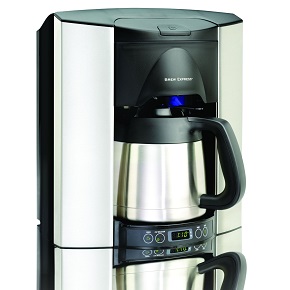 If convenience is what you want, convenience is what you get with this Brew Express drip coffee maker. You'll enjoy waking up to the smell of your favorite coffee each morning by using the programmable feature. Did you forget to fill the water reservoir? Not a problem—this model hooks right up to your water line so you never run of water. No more forgetting to fill it, and no more messes.
During your gatherings or business meetings, no one ever has to wait for a fresh cup of coffee. No recovery time is required, so you can brew carafe after carafe without hesitating. The thermal carafe has great styling, but it's also functional. It keeps your coffee hot until it's ready to drink. Cleaning the carafe is very convenient.
Pros:
Choose from a single serving up to ten cups, so no more wasted coffee. The auto-fill feature means you no longer have to fill a water reservoir. This model has been tested through thousands of uses to ensure quality. It is heavy-duty enough for business use, but it's stylish enough for any home, as well.
Cons:
A separate pump and reservoir is required if you don't have a water line, which creates an additional expense. Travel mugs do not fit for single serve use. It is priced more expensively than many other models.
A Final Thought
When selecting your coffee maker, make sure that you choose one that's designed to fit your needs and built to withstand daily use. With the Brew Express BEC-110BS, you can rest assured that you've purchased a product that's made to last through thousands of cups of coffee. The modern design will enhance your kitchen or office space for years to come, and the versatility of being able to make just one single cup or ten is truly unmatched in other models. Even with the higher price tag, you'll find that you save money over time with less wasted coffee and no need to buy replacements every few months. This drip coffee maker gives you just another great reason to wake up in the morning .