Some links on this page are monetized by affiliate programs - see disclosure for details.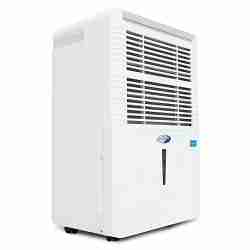 You probably already know the effects of air that is too dry. During the winter, you may have struggled with dry air from your primary source of heat that led to coughing, dry skin, and dry hair.
But did you know that having too much moisture in the air can be an even bigger issue? Not only does too much moisture, or humidity, cause problems with your electronic devices, but it can also cause serious health issues. This is when a dehumidifier should be used in your home or office.
A Guide to Dehumidifiers
Humidity occurs when there is moisture in the air. While air shouldn't be too dry, it also shouldn't have high humidity, or too much moisture. This can occur for a variety of reasons, including improper air flow and circulation, water runoff from your home or business, and living in a very humid climate.
A dehumidifier is a type of machine that is designed to suck in the interior air, remove the excess moisture, and then release it back into the room at the proper humidity level.
What are the different types?
The primary difference between this type of equipment is the area that it can effectively dehumidify. Before you make a purchase, make sure you know how the problem is affecting your home or business, whether it's throughout the entire area or just one small portion.
Small capacity – These machines are best for smaller areas, like bathrooms or small bedrooms. These are best for spaces that are damp and not completely wet.
Medium capacity – These handle medium areas, like an average-size living room or bedroom, and they can be used for damp or wet areas.
Large capacity – These heavy-duty machines are best for larger spaces, including a large open office space or a few open rooms in your home.
Whole-house units – These units can be purchased as standalone products or they can be installed permanently to your central heating and air system to prevent moisture and the damage caused by extra moisture.
What are the Advantages of Owning a Dehumidifier?
If your home or commercial space has damp or wet air, this can lead to a myriad of issues. Whether you've recently experienced a flood or your air ducts aren't providing sufficient air flow, a dehumidifier can help remove the excess humidity before it becomes a very big (and expensive) headache.
Too much moisture in your air can lead to musty smells, damage to your electronic devices, and even mold on your ceilings, flooring, and walls that can put your health in danger and cost a fortune to remedy. With a dehumidifier, you'll have the proper moisture level in your home or business without putting your building, personal possessions, and health at risk.
Who are the contenders for Best Dehumidifier?
Eva-dry Electric Petite Dehumidifier Edv-1100 – If you need a small device that effectively eliminated excess moisture from small spaces and is available at a great price, this model from Eva-dry is all you need. It is ideal for small spaces, including closets and bathrooms, it's extremely quiet, and it's priced competitively. It's small in size and price, but big in performance.
Keystone KSTAD50B Energy Star Dehumidifier – If one of your primary concerns is how much energy you'll be using, you can't go wrong with this Energy Star-certified device. This small, compact, and lightweight unit packs a punch, working in spaces up to 3,000 square feet. It is quiet, easy to use, and effectively removes excess moisture quickly. It has three different modes, an easy-to-clean filter, and has an affordable price tag.
Frigidaire FAD704DWD Energy Star 70-pint Dehumidifier – Don't let mold and mildew ravage your home. Instead, keep your air quality perfect with this great model from Frigidaire. It helps improve the air quality, reducing the odds of getting mold and mildew that can destroy your home and it removes bacteria so the air is easier to breathe and less harmful to your health. It is set up for continuous run mode, and it has other great features include auto shutoff alert when the tank is full.
Considerations for Choosing the Right Dehumidifier For Your Home
These products are definitely investments, and you want to buy the best one that effectively removes moisture from the air in your home or business before it causes damages or health issues. To make sure you choose the perfect product, keep the following points in mind before you buy.
Price
You can purchase a small dehumidifier for under $100, while a larger model for your whole home may cost hundreds or thousands of dollars. While you should certainly comparison shop to find a price that fits within your own budget, you should also make sure you never sacrifice size or quality just to get a lower price.
Recommended space
A tiny unit designed for a damp closet isn't going to effectively clear the air in your whole house, so you need to evaluate your needs and purchase a product accordingly. The larger the space, the larger the unit you should purchase. You should also purchase a larger unit if you have a smaller space that is very wet in order to effectively remove the humidity that could lead to mold, mildew, and musty smells.
Warranty
Things happen and over time, products quit working and require repairs or replacements. You shouldn't have to worry about this after just using your equipment for a week or two, though. If there is a defect that affects the functionality of your product, a great manufacturer's warranty will protect your purchase so you don't have to invest more of your hard earned money.
Water reservoir size
The water reservoir size goes hand in hand with the size of the unit itself. For larger rooms, you want a larger reservoir that holds plenty of water without having to be dumped. This also holds true for smaller spaces that are very damp. For continuous running, look for a model equipped with a drainage system.
Price
Eva-dry Edv-1100
This is one of the cheapest models available.
Keystone KSTAD50B
This comes with a price which is about average when compared to similar models.
FRIGIDAIRE FAD704DWD
This large-capacity model retails for the most in our group. It is one of the more expensive portable units you'll find.
Recommended space
Eva-dry Edv-1100
This unit is best for smaller spaces, including bathrooms, closets, and RVs. It can also be used in medium-size spaces that are not very damp.
Keystone KSTAD50B
This unit can be used in spaces up to 3,000 square feet, so it is great for larger bedrooms, living rooms, or multiple rooms in an open floor plan.
FRIGIDAIRE FAD704DWD
This top-selling unit has the capacity to draw up to 70 pints of water per day, and it is best for spaces up to 1,400 square feet.
Warranty
Eva-dry Edv-1100
A 1-year limited warranty from the manufacturer is included with your purchase.
Keystone KSTAD50B
You can feel confident in your purchase knowing it is protected with a 1-year limited warranty.
FRIGIDAIRE FAD704DWD
A 1-year parts and labor warranty is included, as well as a 5-year warranty on the sealed system.
Water reservoir size
Eva-dry Edv-1100
This unit holds up to 16 ounces, so it's great for smaller areas. If used in large or very wet areas, it will need to be emptied quite frequently.
Keystone KSTAD50B
Up to 50 pints can be stored in this unit before the water reservoir will need to be emptied.
FRIGIDAIRE FAD704DWD
70 pints per day can be extracted from the air in your home with this unit.
Conclusion: Our Dehumidifier Reviews Are In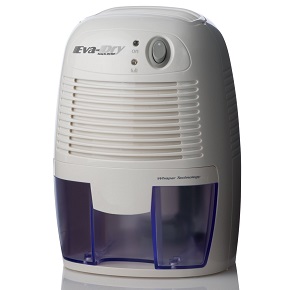 Small, affordable, and excellent performer are just three adjectives that can be used to describe this unit. Whether your RV feels a little stuffy and musty or your closet is at risk for mold and mildew, this ultra-portable and energy-efficient unit is ready to perform. It features a 16 ounce water reservoir, and the unit automatically shuts off when it is full. It is also spill-proof so you don't have to worry about it making a mess.
This unit is very quiet, so you can run it overnight without it disturbing your sleep. It also is small enough to put just about anywhere, from your nightstand to a table in your RV.
Pros:
It works very well. It is the perfect compact size for smaller spaces. Very affordable. It comes backed with a warranty. It has an auto shutoff feature. Easy to set up and use.
Cons:
It doesn't work in larger spaces. It's not built to last as long as more high-end units. The cord is quite long and bulky.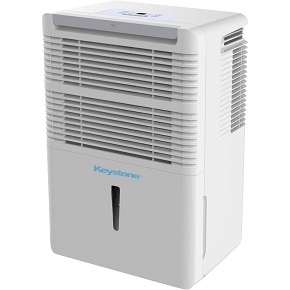 Keep your home clean, healthy, and comfortable with this great unit from Keystone. It is strong enough to pull up to 50 pints of moisture from spaces up to 3,000 square feet. Even though it has plenty of power, you won't have to worry about seeing an increase in your energy bill, as this unit is Energy Star-certified to keep it more efficient.
Your air will be cleaner than ever, as this unit not only removes excess moisture but also dust, which collects on the reusable filter that's easy to remove, clean, and install again. It has three different settings for you to choose from, including Normal, Turbo, and Auto-Defrost. If you have a continuous moisture problem, you can set it up for continuous draining with a hose, which is sold separately.
Pros:
It is easy to use. It is very powerful. Energy efficient. It works in large spaces. It has an auto shutoff mode for when the water reservoir is filled. Electronic controls and an LED display. Rolling casters make it very portable. Auto-restart keeps settings intact in the event of a power outage. It has a 24-hour timer.
Cons:
The hose hookup does not hook to a standard hose. It is a bit difficult to put the container back in after emptying it.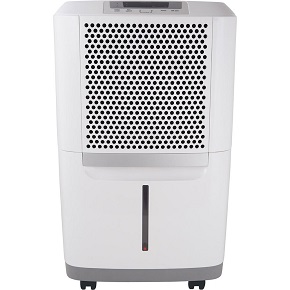 If performance is what you want, performance is what you'll get with this unit, which has a large-capacity water reservoir to help remove the moisture from the wettest areas. This model is ideal for spaces up to 1,400 feet, and it effectively removes up to 70 pints per day using the water reservoir, or it can be hooked up to a hose for continuous use.
The washable filter helps trap in bacteria, allergens, and a host of airborne particles that can leave your home unhealthy. This unit is on casters, so it's easy to move from room to room to remove moisture in the air that leads to mold, mildew, and other problems caused by excess humidity. It has electronic controls that make it easy to use, an auto shutoff feature when the tank is full, and it is very energy efficient.
Pros:
It's easy to use. Large water reservoir capacity. It is easy to move. It has electronic controls that can be used to change settings. Two fan speeds. It is backed with a great warranty. It has an extra-long 6-foot cord so you never need to use an extension cord. The antibacterial filter keeps your air healthy and clean. It has different humidity controls to correct air quality as quickly as possible.
Cons:
It is a bit expensive. May leak over time, so it is best to use the hose option for continuous draining.
You want to eliminate excess humidity as soon as you notice it's a problem to avoid serious damage to your home or business. There's no better way to do this than with a high-quality dehumidifier that's built to perform. The FRIGIDAIRE FAD704DWD is one of the bestselling dehumidifiers on the market. It's easy to use, draws out excess moisture in a flash, and has a high capacity, so it can be used in the largest spaces. It's backed with a great warranty, and it helps make your air less humid and healthier than ever, all in one ultra-portable unit.