Some links on this page are monetized by affiliate programs - see disclosure for details.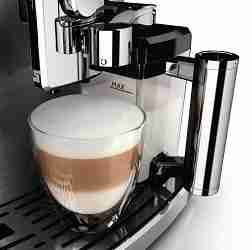 Many people all around the world enjoy drinking espresso. Known for its non-bitter flavor, it has a taste that is similar to coffee, just stronger. While many enjoy the taste, others like it for its strength. Instead of having to drink multiple cups of coffee to feel energized, just one small cup of espresso is enough to wake you up in the morning.
If you go to a coffee shop every day, you know just how expensive espresso can be. It's also a pain to wait in a long line, especially when you're rushing to get to work in the morning. Skip the lines and quit paying a fortune for your daily espresso when you can make it and enjoy it in your own kitchen at a fraction of the price with your own espresso machine.
Espresso Machine Shopping Guide
Many people believe that espresso is a type of roasted coffee, but in fact, espresso is just the method that is used to brew the coffee. One roast can be used, although most espresso drinks are made with a combination of roasts for unique flavor. Coffee grounds are tightly packed, and then high pressure water is forced through the grounds to create a highly concentrated shot of coffee.
This process can continue to make a larger cup or the shot can be used in a blended drink. An espresso machine is a type of coffeemaker that utilizes this type of brewing and allows you to create your own custom espresso drinks just like those you'll find in your local coffee shop.
What are the different types of Espresso Makers?
You will find that if you own a regular coffeemaker, it will not be able to make espresso, which is why you need to buy a machine designed specifically for this purpose. If you've been considering making this purchase, the first step is distinguishing between the types of machines available to make sure you find your perfect product.
Manual machines – These machines require you to pull down on a handle to filter the water through the coffee. While these do require more work, many users swear by the taste produced by these machines over other types that do all of the work for you.
Automatic machines – These machines are some of the easiest to use. You do not have to use your own power to use these. In fact, all you have to do is add water, add your coffee grounds, and with the touch of a button, you'll be enjoying espresso in no time. While these are easier to use, they do not produce as strong of a flavor as manual machines, many coffee aficionados believe.
Pod machines – These take the convenience level up a notch by using pods that are pre-filled with coffee grounds, so you don't even have to measure them out, and you don't have to worry about cleaning up a big mess.
Steam machines – These are one of the most popular types of machines. They are easy to use, like automatic machines, but they use steam to develop the pressure needed to create espresso shots. Like other automatic machines, the picky coffee drinker may not enjoy the taste or strength as much as they would from espresso made with a manual machine.
What are the Advantages of Owning an Espresso Machine?
Even though you have to make an initial investment when you purchase one of these machines, over time, you will find that you can save money. Espresso from coffee shops can cost $5 or more, which really adds up over time, particularly if you enjoy these drinks on a daily basis.
With your own machine, you can create your own delicious, hot espresso without spending a ton of money every day. You also won't have to worry about waiting in long drive-thru lines to get your coffee, and you can create your own customized flavors and blends right in your own kitchen.
Who are the contenders for Best Espresso Machine?
Nespresso Pixie Espresso Maker – If you can pay dollars a day for your morning espresso, you'll be able to quickly make up the cost for this household espresso maker. This machine is extremely affordable, one of the most affordable home models available, and it's very easy to use. There aren't a lot of complicated controls, so you can quickly and easily make your own espresso right in your kitchen in just minutes. It also uses pods, which provide you with the perfect amount of coffee grounds and less mess than other machines.
DeLonghi Magnifica Super-Automatic – If you enjoy a variety of coffee drinks, this machine is just perfect for you, allowing you to switch from espresso to cappuccinos with ease. This machine is very easy to use, has a very modern design that will look exquisite on your countertop, and does all of the work for you, from grinding the beans to brewing the perfect drink.
SAECO Philips Xelsis EVO – This high-end machine is similar to those found in your local coffee house. You'll get lots of high-end features not found on inferior models, including six profile settings for customized drinks, a double boiler that allows you to brew quickly, and it even cleans and descales itself automatically. It looks great, is easy to use, and has every function you could ever need to brew the perfect espresso.
Considerations for Choosing the Right Espresso Maker For Your Home
You won't be able to make espresso from just any old machine, and specialty machines can get quite expensive, so you want to make the right purchase the first time. Don't just jump the gun and buy the first machine you see. Instead, carefully evaluate each and every product to look for convenience features, great styling, and other factors that are important to you, including these four key points.
Price
These coffee machines can range in price from a few hundred dollars for a basic household model to several thousand dollars for a model that is comparable to those found in coffee houses, restaurants, and commercial businesses.
Type of Brewer
Make sure you know what kind of brewer you would like to use, whether it's a manual brewer, one that uses pods, or an automatic model that quickly brews your espresso.
Warranty
As mentioned, the prices for these machines can go into the thousands, and who wants to spend this kind of money for a product that just doesn't work as it should? Before you make your invest, ensure the product you're purchasing is fully backed with a warranty from the manufacturer.
Versatility
Do you just want espresso, or would you like to be able to make other drinks as well? Machines that just make espresso may be less expensive, but they don't offer a whole lot of versatility. You may pay more for a machine with multiple functions and settings, but you'll likely get much more use out of it.
Conclusion: Our Espresso Machine Reviews Are In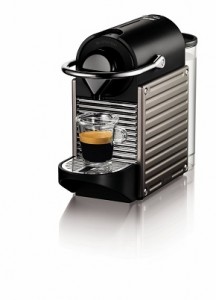 Like the name Pixie suggests, this machine is small and doesn't take up a lot of counter space. The price tag is also small, but don't be fooled by the price or size – this machine packs a lot of power and flavor in one convenient size. You won't have to worry about using messy beans or grounds. Instead, this machine uses pods with premeasured grounds for the perfect shot each and every time.
If you don't want an espresso shot, there is a one-touch lungo option for a larger drink that isn't quite as strong. This model is equipped with features found on the most high-end machines, including a large 24-ounce water tank, one-touch operation, water level indicator, and auto shutoff.
Pros:
More affordable than many other models. It has a convenient cord storage feature for easy storage. It is easy to operate. Uses pods that eliminate the need of measuring out coffee. It has a very sleek design that looks great on any counter. It has a folding drip tray. It's finished in just 30 seconds or less. It has programmable buttons.
Cons:
Replacement pods can get expensive. It may leak over time. It does not allow you to make other types of coffee and doesn't really allow you to personalize your drink.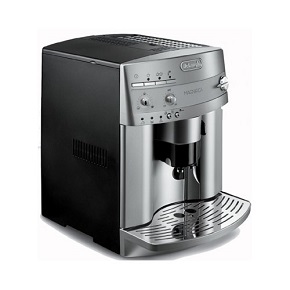 If you enjoy your espressos but want the ability make different coffee drinks, this machine is for you. You can not only make strong, delicious espresso with the touch of a button, but you can also make a cappuccino that rivals the one in your favorite local coffee shop. This machine is loaded with all of the great features you could ever want in a mid-priced machine.
This machine does all of the work from you, from grinding the beans to brewing in no time at all. Other standout features include a cup tray that keeps you cup warm, three-hour auto shutoff, steam and coffee thermostat, adjustable spigot height, and a water-level indicator. This machine has a great size that doesn't take up too much space on your counter, it's very easy to use, and it delivers consistent results from cup to cup.
Pros:
It's easy to use. It has a modern design. Programmable controls allow you to easily customize your favorite drink. Built-in grinder. It has a built-in frother. It has a double boiler system so you don't have to wait between brews. Brews quickly. It has an auto rinse and decalcification feature. It makes more than just espressos. Operates quietly.
Cons:
It is a bit expensive. It doesn't get as hot as more expensive machines and doesn't deliver as much pressure, so the espresso is not quite as strong as that which is produced by high-end machines.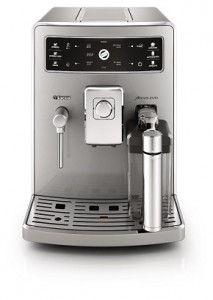 You'll never have to throw away money at the coffee shop again once you have this machine in your kitchen. It goes beyond just making the perfect espresso – it also quickly makes lattes, macchiatos, and espresso lungo. Do you have a personal preference when it comes to your drinks? You can save it right into the machine, as well as five additional programming settings so every user can have his or her favorite drink made with the push of a button.
This machine is very easy to use, has a modern stainless steel design that will look fabulous in your kitchen, and it has great features for exceptional drinks, including a milk frother and built-in grinder. The double boiler allows you to quickly make drink after drink, and you can adjust the taste with multiple settings. This machine is as close as you can get to the machines found in professional shops, only in a smaller size and with a less expensive price tag.
Pros:
It has six user settings that allow you to save your favorite drink settings. Grinds and brews all with one machine. It operates quickly. It looks very modern. Easy to use. It has multiple settings. It automatically cleans and descales itself for optimum performance. Comes with an excellent warranty.
Cons:
The cost is quite expensive. The buttons require some force to push.
In Summary
Why waste your time and money at the local coffee shop when you can enjoy the same great taste at home with your own espresso machine? Personalize your own drinks with ease with the SAECO HD8954/47. This high-end machine does come with a high price tag, but with its versatility and ability to make multiple hot coffee drinks, it pays for itself over time. The time and money you'll save makes this a small appliances that's well worth the investment you make.