Some links on this page are monetized by affiliate programs - see disclosure for details.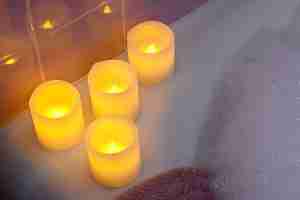 Candles are perfect for creating that special ambience for a soothing and relaxing environment. Whether you are dining by candlelight, creating a festive mood, relaxing in your bedroom, or lighting a garden path, flameless candles can maintain the overall tranquility of the evening while reducing worry that an open flame can cause. In addition, flameless candles are ideal for events where children or pets might be included, such as parties, spiritual gatherings, or weddings.
There are many types of flameless candles to choose form. Tea lights, votives, tapers, and pillars are all options in flameless candles. Additionally, some come with remote control so that you can light and extinguish the candle from afar. Timers are an additional feature on some, which allows you to better control the life of the candle battery even when you are away from home or sleeping.
Regardless of your lighting needs, there are flameless candles on the market that will fit your budget and your decorating ideals.
The Best Flameless Candles of 2020

Introduction: What is a Flameless Candle?
A flameless candle is a device that looks and feels like a candle, but does not have an actual cotton wick that burns when lit. Instead, the "flame" in a flameless candle is a battery powered bulb that sits in the candle where the wick would be in a traditional wax candle. The flameless candle gives off a comparable light to a burning flame in a wax candle. The battery compartment in a flameless candle is usually nestled into the base, therefore this portion of the candle is almost always made of plastic.
What are the Advantages of Using a Flameless Candle?
When using a flameless candle, you can rest easy that your added ambience does not pose a safety hazard while sleeping in bed or in a tent, enjoying a candlelit meal, decorating for the holidays, or celebrating out of doors. Although safety is the number one reason to go with flameless over a traditional candle, there are many more reasons beyond taking added precautions with an open flame. Some people are allergic to the wax, scent, and/or smoke of a standard candle, so the flameless candle allows for the same enjoyment without any accompanied complaints.
No smoke means no carbon emissions, so people focused on protecting the environment would enjoy the many benefits of a flameless candle while knowing their choice is better for the planet. Lastly, the external environment won't affect your flameless candle; they are both wind and waterproof so your "flame" will stay lit even if it gets wet or caught in a gust.
What are the Different Types?
Just like regular wax candles, flameless candles come in a variety of sizes and shapes including tea-lights, votives, tapers, and pillars. Flameless candles are typically made of plastic, but some have a waxy finish to better simulate traditional candles in the way they look and feel. Some flameless candles can be operated remotely and some have a timer feature so that the candle will extinguish at a predetermined time.
What Do Flameless Candles Look Like?
While flameless candles do resemble real ones, the resemblance does have limits. These candles probably aren't going to fool anyone, especially up close. However, you can find flameless candles with an artificial "melted wax" design. They look the most like real candles.
Flameless candles also have a few benefits over real ones. They're much more reliable. Flameless candles will still provide light even when placed outside on a windy day. Plus, they can't start a fire if they're accidentally knocked over.
No matter what type of candle you prefer, you should be able to find a flameless version. Tea lights, tapers, large candles, and other options are all available. Plus, because you don't have to worry about lighting them with fire, flameless candles are easier to place.
What are the Best Flameless Candles on the Market?
These wax candles are designed to have the real look and feel of a pillar candle. The flame is set deep within so you don't actually see the bulb of the candle. The flicker is delightfully subtle so it doesn't grab your attention. Rather, it enhances the relaxing mood with its smooth appeal both in its candle texture and smooth light intensity.
Of all the tea light choices, the Homemory has a subtler wavy glow. This is important because tea light candles typically feature an open flame rather than a flame that eventually settles inside the candle's interior. The Homemory's gradual change in light intensity is more realistic and fits in well in settings where you'd typically use tea lights.
With variations in sizes within the pack and the options for remote control and timer settings, the Vinkor flameless candles offer versatility and function in a realistic set of candles. Unlike most flameless candles, the Vinkor candles operate on two AA batteries.
Features to Consider
The features of flameless candles center mostly on how realistic they appear. People typically want a candle that does not call into question whether its real or not, because let's face it – the purpose of the candle is to impart a sort of ambience to the overall feel of the room. Additional features include how the candle is powered and how much of a dent it may put in your pocket book. But don't worry. Regardless of your flameless candle needs you can find something suitable that will fit your budget.
Flame
Is the flame a light flicker, a constant pulse, or wavy in its intensity? Technology in flameless candles has advanced so that the many options are available in just about any style of candle.
Candle style
From tiny tea lights to large and wide pillar candles, the type of candle you can find in a flameless option is the same as what you would find with traditional wax and flame candles.
Candle surface
Plastic and wax are used alone or in combination for the shape and structure of flameless candles. Both materials have their assets depending on your needs. In the home you may prefer the realistic look of wax, but while camping, plastic may be more functional and durable.
Power
All flameless candles are battery operated and can be powered on or off with a tab switch at the base. Some have the added feature of remote control that is operable from up to sixteen feet away.
Price
There are flameless candles to fit just about any budget.
Flame:
Divine LED Real Wax Flameless Candles
These candles have a subtle flicker
Homemory LED Tea Light
The wavy intensity of these candles are more subdued
Vinkor Flameless Candles
The LED flame actually moves so not only do you get intensity of light but also of wick position.
Candle Style:
Divine LED Real Wax Flameless Candles
These are pillar style and the box comes with six that are the same size and shape.
Homemory LED Tea Light
These small round tea light candles fit into any votive or tea light holder.
Vinkor Flameless Candles
The Vinkor box set has 5 pillar candles ranging in size including 4 inch, 5 inch, 6 inch, 7 inch, and 8 inch.
Candle Surface:
Divine LED Real Wax Flameless Candles
These have a waxy exterior
Homemory LED Tea Light
The Homemory tea lights are plastic.
Vinkor Flameless Candles
All candles in this set are made of wax and have a plastic base.
Power:
Divine LED Real Wax Flameless Candles
These are powered by an on/off switch at the base and use CR2032 coin shaped batteries.
Homemory LED Tea Light
Battery operated (CR2032) with an on/off switch at the base.
Vinkor Flameless Candles
The Vinkors use two AA batteries and also have remote control power with a ten-tab remote device.
Price:
Divine LED Real Wax Flameless Candles
The Divine LED are moderately priced. In the package you get 6 similarly sized candles
Homemory LED Tea Light
These tea lights are at a great deal considering the number of candles you get per box. 24 candles are a suitable number for many decorating ideas that utilize tea light candles.
Vinkor Flameless Candles
The Vinkors are more expensive due to the added control features and individual look of each candle in the five piece set.
Reviews: See Our Final Flameless Candle Recommendations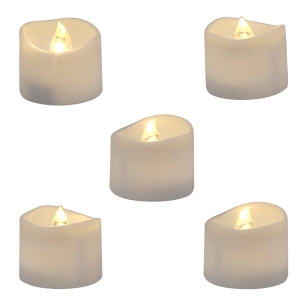 These tea lights are versatile for all your lighting needs. Put them in paper bags to light a sidewalk, set them floating in water on a table top display or in a pool, or place them in any beautifully designed candle holders for a unique glow.
Pros:
This pack has an ample quantity so that you can enjoy many tea lights at once. The wavy flicker imparts the same light quality as a regular tea light candle. If you place inside a votive holder you can hardly tell the lights are not actual flame.
Cons:
There is no remote or timer, so when you are finished with the lights you need to turn each one off by the switch on the bottom.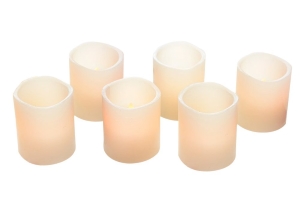 These waxy candles are so realistic in both the exterior wax finish and the melted look of the rim. Because the light is set deep within the candle, they are almost indistinguishable from actual wicked candles.
Pros:
The realistic candle finish is an aesthetic plus. The pack comes with six candles, so you can really add some nice ambience to your home.
Cons:
Although the LED lights boast 100 hours of charge, some may fall short depending on the time they've been sitting on the shelf. Your best bet is to have some back up CR2032 batteries on hand.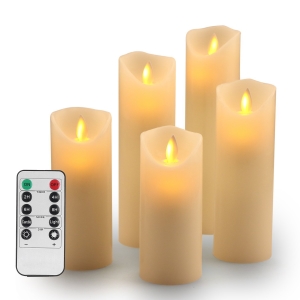 The Vinkor flameless candles have both remote control and timer features. The pack features candles in varied heights including 4, 5, 6, 7, and 8 inches.
Pros:
These candles have added versatility because they operate by both remote control and a timer. The timer has options for 2, 4, 6, or 8 hours, so you can leave them glowing knowing you won't burn out the batteries. Also, these candles have a wax finish for an added realistic feel.
Cons:
The flame does not flicker which may detract from the likelihood of this candle seeming real.
In Conclusion
With so many options in flameless candles, it's clear that you can meet any of your candle lighting needs with a safer option. From tea lights to pillars, the choices are vast. Flameless candles provide an extra measure of safety without compromising the beauty you can add to your surroundings. Options in battery type, timer functions, and remote control give you additional convenience if desired. The simulation of both wax and flicker appearance hides the fact that these candles are not your traditional style. With flameless candles you can enjoy all the benefit and relaxation that candlelight imparts with the added assurance that you will maintain a safe environment.
Look forward to renewed decorating ideas with added versatility when you incorporate flameless candles into your interior design and don't forget the benefits of flameless candles for outdoor picnics, camping, and walkway lighting to add a bit of glow to your fun.