Some links on this page are monetized by affiliate programs - see disclosure for details.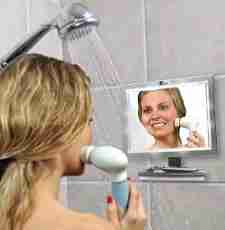 If you've ever taken a hot shower, you know the effect it has on your mirrors. By the time you're through, you can't even see yourself because it's all fogged up. Wiping it dry doesn't help – in fact, it usually makes it worse. You have to open your doors, turn on the fan, and wait for quite a bit for all of the fog from the steam to dissipate.
This makes it a pain to try to shave, wash off a face mask, or apply moisturizer. Instead of waiting on a foggy mirror, why not just bring one into the shower with you that's designed to never fog up?
Compare: Best Fogless Shower Mirrors of 2017

Shopping for a Fogless Shower Mirror?
A fogless shower mirror is a piece of glass (or reflective plastic) that comes inside of a frame (usually plastic) that mounts inside of your shower. Usually, it mounts with adhesive, so it's easy to put on securely, but it's also easy to remove without damaging your shower walls.
These mirrors come in a variety of sizes, and they use special materials and coating to prevent fogging that occurs from steam.
With one of these mirrors, you don't have to worry about fog from a steamy shower. You can do many of your grooming tasks right in the shower as well, including shaving, waxing, plucking your eyebrows, washing your face, rinsing off a face mask, or ensuring hair color is completely rinsed out of your hair. It's very convenient, so you won't have to jump out of the shower to look into the mirror, and you won't have to wait for the fog to clear before you use it.
See Also: The 10 Top Rated Flat Iron Hair Straighteners for Your Bathroom
What are the different types?
If you think you'd like to add one of these handy products to your bathroom, it's important to first distinguish the types available, as well as the differences between them.
Plastic/acrylic shower mirrors – These mirrors are made of reflective plastic or acrylic that look like glass, but they're more durable and will not shatter if accidentally dropped. These are not only purchased because they are shatter-proof but also because they are more affordable than products made with glass.
Glass shower mirrors – Like the mirrors on your wall, these are made of glass. While they are more prone to breaking than plastic, they do not peel and they always give a clear reflection. These are usually more expensive and more difficult to find.
Mirrors with shelves – Keep your razor, soap, and other grooming aids right at hand with a mirror that has a built-in shelf for extra storage space. The shelves are typically very small and do not stick out too far, so they don't take up a lot of extra space, even in smaller showers.
Lighted mirrors – If you have an enclosed shower or a dark shower curtain and no lighting close by, your shower may be dim, which may make it difficult to see in a mirror, even if the surface isn't covered in fog. With built-in LED lighting, you'll get a clear view in any type of lighting.
Who are the contenders for Best Fogless Shower Mirror?
The Shave Well Company Fogless Shower Mirror – If you want an affordable mirror to add to your shower, this is priced just right, costing less than $20. This is a basic mirror that doesn't fog up, no matter how steamy you like your showers. It is one of the only truly fog-free mirrors available, and you don't need any special tools or treatments to keep it this way. Because it is not made of glass, you don't have to worry about it shattering if it breaks.
Fogless Shower Mirror with Squeegee by ToiletTree Products – This large mirror comes with many great features, including a fogless design that only requires filling it with hot water, durable adhesives that are more reliable than suction cups, and a small shelf that doesn't take up a lot of space but is the perfect spot for your razor or bar of soap.
Deluxe LED Fogless Shower Mirror with Squeegee by ToiletTree Products – If all of the light doesn't quite hit your shower behind your shower curtain, this model comes with built-in LED lights framing the reflective surface that make it easier to shave off every last whisker, pluck every stray eyebrow, or remove a facial mask completely without any residue. It comes with a guarantee that it will always stay fogless, and you never have to treat it with any kind of sprays or chemicals.
Considerations for Choosing the Best Fogless Shower Mirror
You want to be completely satisfied with your purchase, so before you start shopping for this product, know what to look for before you even begin to browse. By deciding which of these four features are most important to you, you can purchase a high-quality product that you'll enjoy using.
Size
If you're already cramped for space, a smaller mirror may be just right for your shower. If you want a large mirror for shaving or performing other tasks, invest in a larger product.
Mounting
You want your mirror to stay in place, but you don't want to spend hours trying to hang it. Luckily, most come with easy-to-use adhesives, hooks, or suction cups that install in just minutes. The main thing you want to look for is how secure the mounting method is, as you don't want your mirror to fall while you're using it. Removing it should also be considered, as you want to be able to remove it if necessary without damaging your shower.
Maintenance
Try to avoid mirrors that require heavy maintenance and the use of chemicals, which can be quite expensive. Many models only require hot water or nothing at all to be truly fogless.
Size
The Shave Well Company Mirror
This is a smaller product, but it's great for smaller shower areas, measuring just 5" x 7".
ToiletTree Products Mirror with Squeegee
The reflective surface itself measures in at 5" x 7", and the frame adds a little extra length and width.
ToiletTree Deluxe LED Fogless Shower Mirror
This is one of the largest mirrors on the market, measuring 9.5" x 7.5".
Mounting
The Shave Well Company Mirror
This mirror attaches to a hook that is mounted with sturdy adhesive. This allows you to pull it down from the hook for easy cleaning.
ToiletTree Products Mirror with Squeegee
Silicone adhesive and double sided tape, both included with your purchase, ensure a secure installation.
ToiletTree Deluxe LED Fogless Shower Mirror
The silicone adhesive that's included lets you mount this securely on any type of surface.
Maintenance
The Shave Well Company Mirror
All you have to do is hold the mirror under shower steam to equalize it and make it completely fog-free. To clean it, simply remove it from the hook.
ToiletTree Products Mirror with Squeegee
This product comes with a squeegee that makes it easy to clean. The fog-free design uses hot water with no additional maintenance or steps required.
ToiletTree Deluxe LED Fogless Shower Mirror
It comes with a self-storing squeegee for easy cleaning, and it retains its fogless properties with the attached hot water reservoir.
Conclusion: Our Fogless Shower Mirror Reviews Are In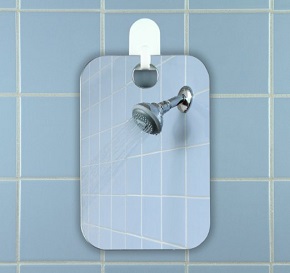 If you want an affordable mirror, this one fits the bill. Don't believe that the cheap price means poor quality, though – this mirror is designed to last. It is made of shatter-proof materials, so you never have to worry about broken glass in the shower. It has an adhesive hook that keeps it securely in place.
All you have to do to keep the fog off is hold the mirror into the steam of your shower. It will remain fogless throughout your entire shower, no matter how long or hot it is. It is easy to mount, the perfect size for any shower, and it is very easy to clean.
Pros:
It is shatter-proof. It is extremely affordable. The adhesive hook is strong and holds it well. The mirror can remove for easy cleaning.
Cons:
Over time, the backing may begin to peel off. The mirror has to be removed and held in steam before every use.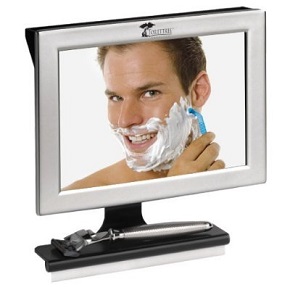 Some mirrors require chemicals or holding them in water or steam to make them fogless. With this mirror, all you do is add hot water to the back, and you never have to worry about fog. In fact, it includes a Fogless for Life guarantee.
This unit also comes with a small shelf attached that is the ideal size for your razor, tweezers, or other small grooming and beauty products. This mirror is easy to mount, cleans up easily with the included squeegee, and can be removed if needed without damaging the walls of your shower.
Pros:
It's easy to clean. It isn't too expensive. It is easy to mount and remove. It's truly fogless. It's backed with a guarantee. Doesn't require chemicals to remove fog. It is a good size. It also functions as a shelf. Shatter-proof. It comes in black, white, or silver to match your décor. It swivels.
Cons:
It can be difficult to remove the mirror to refill the water reservoir. The swivel hinge is plastic and may break over time.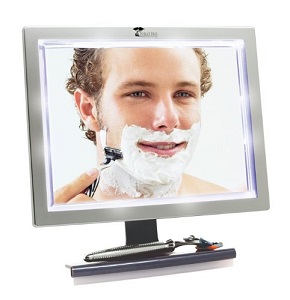 If you want the best of the best, you'll get it all with this mirror from ToiletTree. It has many great features not found on other mirrors, including LED lighting so you can see in dimmer shower areas, a shelf for storing your razor, and a hot water reservoir that prevents steam from fogging up the surface.
It has a large size that makes for easy viewing, a shelf for your razor, and a squeegee that stores within the mirror for easy cleaning while you shower. Plus it is guaranteed never to fog, and it won't shatter if it's dropped.
Pros:
It mounts securely with double sided tape and adhesive. It has lights covering the surface to give you the best view. It's large. It's easy to install. It has a built-in shelf. Uses hot water to keep it fogless with no sprays required. It looks attractive. It swivels to change position. It's easy to remove if needed and does not cause damage. It does not rust.
Cons:
The backing may peel off over time. It is more expensive than other shower mirrors.
All in All
Why hop out of the hot water to peek in the mirror while shaving, tweezing, waxing, or taking care of your skin when you can do it all right in the shower? With a fogless mirror, you never have to worry about waiting for condensation to go away, and it's always ready to use.
If you want a high-quality mirror that's large, has LED lighting so you can see even better, and is easy to clean and maintain, consider the ToiletTree Deluxe LED Shower Mirror. Even though it comes with a higher price tag than other mirrors, it has all of the features you could want, including a guaranteed fogless design that makes this product stand out above the rest.